We've all seen those evolution charts where humans, seemingly out for a stroll on the African plains, grow and morph in successive stages, from Australopithecus to the better-known Homos: habilus, erectus, and finally, our own sapiens, which said "Screw this walking" and jumped into a passing chariot. The evolution of SUVs could inspire its own chart, starting with primitive post-war Jeeps and transforming into family-friendly Explorers (which invented fire), hairy-backed Hummers, Lexus crossovers, and time-traveling Porsche Cayenne Turbos. 
But like human development, the evolution of the sport-utility vehicle is more complex than that simple line would have us think. For more than 20 years, beginning with models like the 1996 Toyota RAV4, SUVs and cars have interbred and proliferated. Some wooly mammoths have survived—Escaladus humongous among them—thanks in part to cheap gasoline. But the evolution chart would show the modern species shrinking rather than growing, to the point that a brand called Mini could field an "SUV" without anyone being too confused.
The all-new 2018 BMW X2 actually shares its transverse-engine platform with every Mini model, along with the slightly larger BMW X1 crossover. But take one look at the X2, and you'll see that BMW has found some intriguing design clay to work with; this X2 doesn't look like a conventional X1 with a reshaped, coupe-style rear end. In that vein, the X2 is not simply a Russian-doll version of BMW's even-numbered oddly-named "Sports Activity Coupes," the larger X4 and X6. Instead, this eye-catching BMW completes the SUV evolution, or de-evolution: The X2 looks like a hot hatchback (or even a shooting brake) with all-wheel-drive and just a touch of lift in its stylish shoes.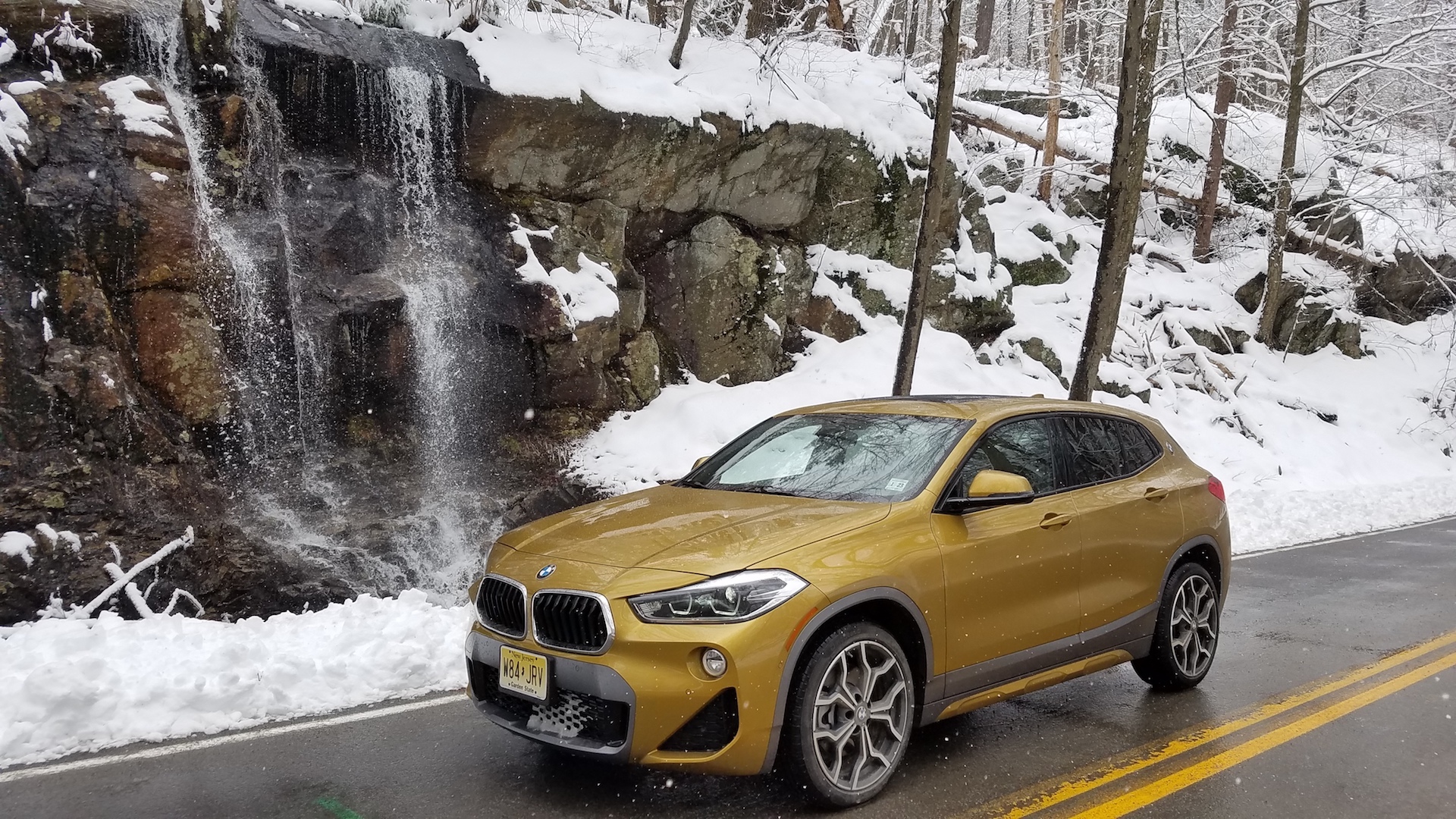 X2 puts a handsome, hatchback spin on the X1, Lawrence Ulrich
Consider a Volkswagen GTI, a car that this writer grew up with (and beat up on) like a favorite teddy bear: This X2 is just four inches longer and barely three inches taller than VW's benchmark hot hatch. Granted, today's GTI is by far the roomiest, most-practical hatchback in the compact segment; but with rear seats erect or folded, cargo space in the GTI and this X2 are nearly a toss-up. The X2 xDrive 28i then adds standard AWD, putting it on philosophical par with hatches like the VW Golf R or a previous-gen Subaru WRX—and in direct competition with a booming luxury field in the Audi Q3, the Mercedes-Benz GLA-Class, and now the sexy Jaguar E-Pace. 
I offered silent thanks for that AWD when I pointed the X2 into New York's third major snowstorm since the beginning of spring. I was ready to point fingers at climate change; Scott Pruitt, the EPA's storm-tossed administrator, would probably blame the Snow Miser. Even covered in white stuff, this X2 is a dynamic-looking little car, with a shape that's familiar yet (for now) unique. The BMW neatly avoids the oddity or gawky proportions of some small crossovers, including that GLA-Class or BMW's own Humpty-Dumpty-esque X4. The wagon-like roofline helps, as does the relatively low stance. The X2 introduces the newest version of BMW's classic twin-kidney grille, with a base that widens at the bottom to emphasize the car's width and sporty stance. Spunky wheel arches and BMW's hallmark Hofmeister kink on the rear window pillars are great design touches. And for the first time on any X model, those C-pillars flash a set of blue-and-white BMW roundel badges.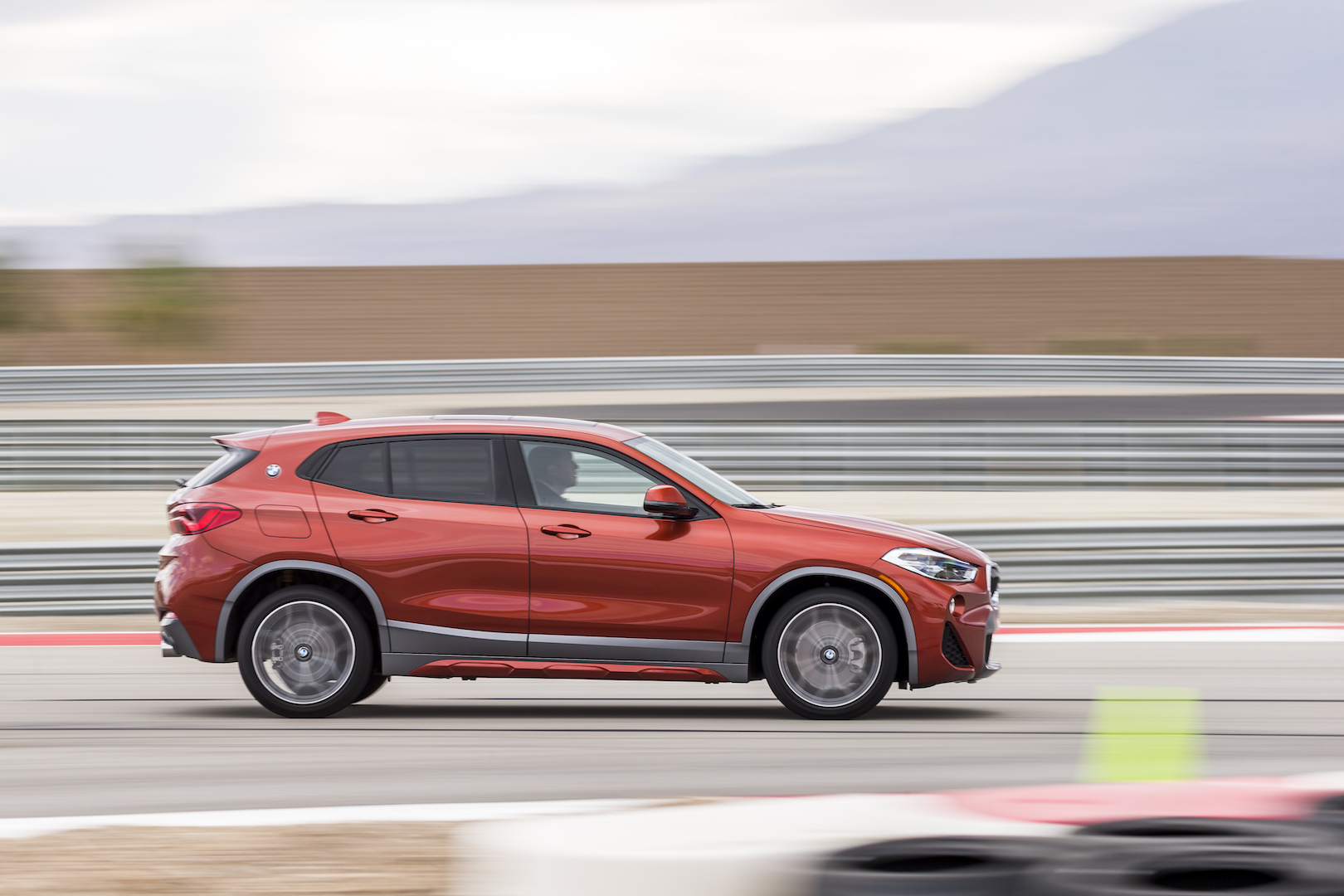 Why, yes, it does come in colors other than Galvanic Gold., BMW
In and around New York, my test X2 drew extra admiration with its "Galvanic Gold" paint. It's the "launch color," the one that BMW proudly splashed on X2s that toured the international auto show circuit. The updated retro color recalls the "Harvest Gold" that ruled suburban kitchens in the late Sixties and early Seventies, along with "Avocado" and "Almond," but BMW's version is deeper, more metallic, and sophisticated. I'm even thinking it could be part of a hot new color trend, a return to when gold was a highly popular color on cars of the Sixties and Seventies. (I'm already seeing similar jewel-tone shades on other new cars) The color is definitely a love-or-hate kind of thing; one highly-allergic female friend said that "it hurts my eyes." But put me firmly in the "love" camp: The daring shade really fit the X2's personality. It also contrasted well with "Frozen Gray" exterior trim that frames the fascias, wheel arches and rocker panels.
The X2 rides the same wheelbase as the X1, but it's 3.2 inches shorter and sits 2.8 inches closer to the pavement. The driver sits lower as well, though I had a little trouble finding a just-right relationship between the seat and steering wheel. Compared with that X1, the smartly packaged X2 gives up almost nothing in rear-seat kneeroom (just 0.3 inches fewer) or headroom. The only sacrifice is cargo space, where the X2 swallows about 25 percent less gear behind its 40/20/40-split rear seats. 
The interior is a bit BMW-perfunctory, but there's enough richness, tech, and advanced safety features to win people over. That includes lovely, legible driver's gauges and displays rendered in "black panel" technology that goes entirely matte-black when you shut off the ignition. My tester's comfy seats were clad in standard "Sensatec" faux leather, but you can get the real thing instead if you prefer, including in zesty red. Adjustable, multi-colored ambient lighting is standard, and trim choices include genuine aluminum or matte oak.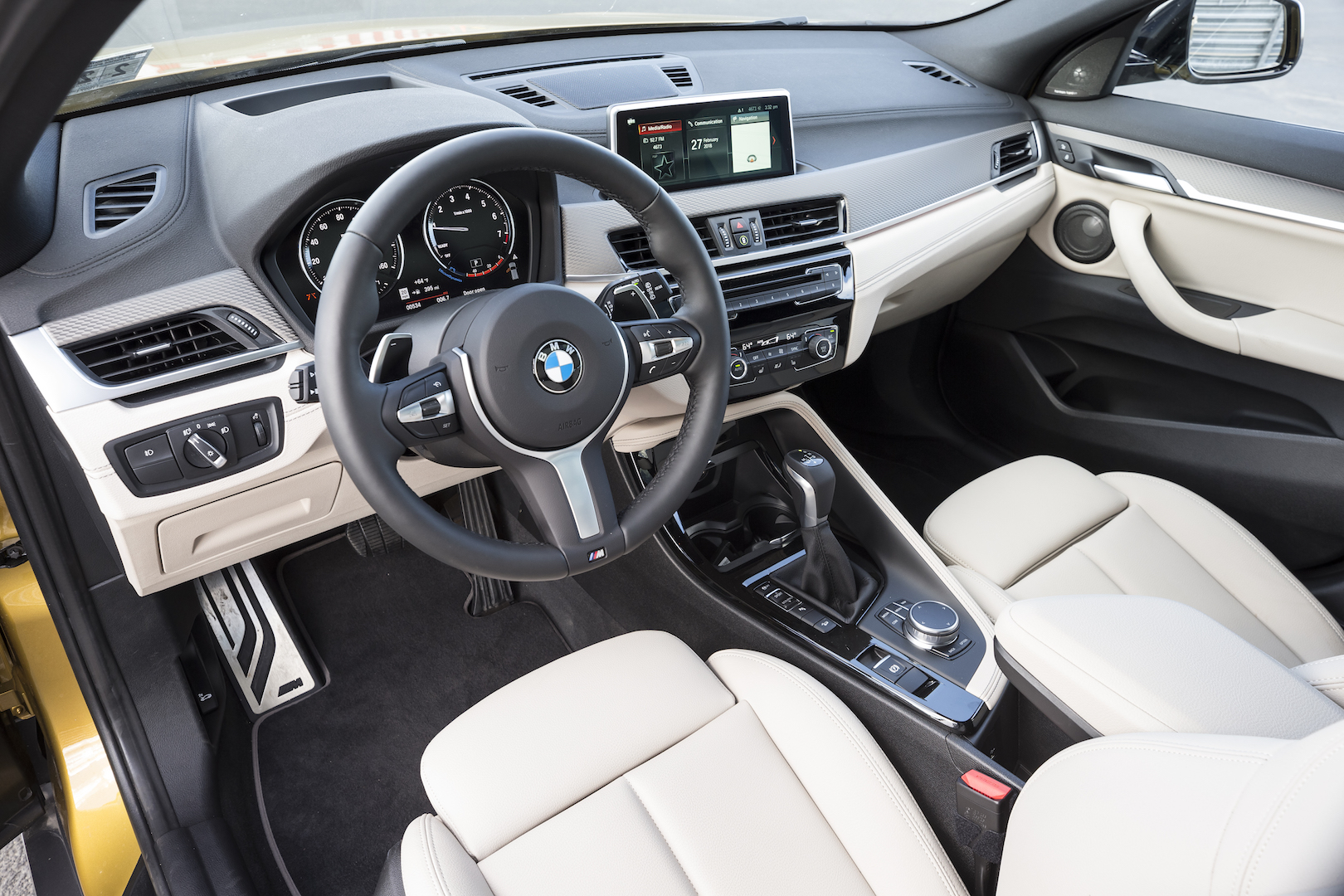 Handsome driver's display, two-tone interior, iDrive infotainment: Yep, it's another Bimmer, BMW
BMW's familiar 2.0-liter four-cylinder, with direct injection and a twin-scroll turbocharger, sends 228 horsepower and 258 pound-feet of torque to the front wheels when cruising, or all four wheels when required. The eight-speed Steptronic transmission connects via an extra-tall, somewhat clunky-looking shift lever, as in the Mini. Enthusiasts should consider the M SportX package, despite its $4,650 price, for its metal paddle shifters alone. 
The BMW's throttle and turbocharger felt a bit boggy at low engine speeds, even in Sport mode—especially compared with fire-breathing BMWs like the X4 M40i and X6 M. And in manual mode, that transmission refused to shift at anything higher than 6,500 rpm, though the engine clearly had more to give.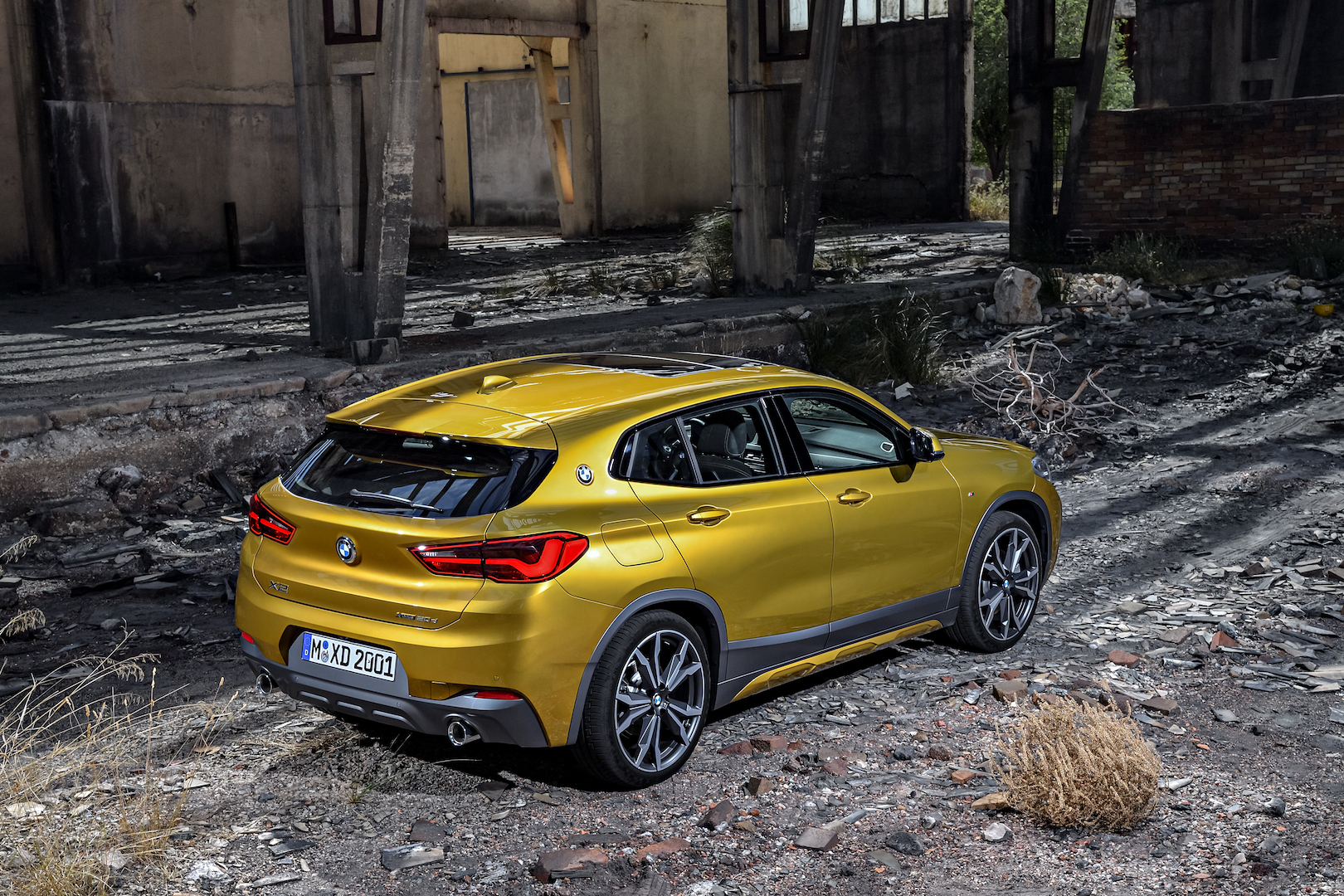 A BMW professional shot this. Man, those guys really know how to bring out the gold , BMW
Still, turned loose in the backwoods a few hours north of Manhattan, this X2 felt friskier than the Q3, Mercedes GLA, Jaguar E-Pace, or its Mini Countryman cousin. BMW says the suspension tuning is firmer and sportier than either the Mini or X1, with adjustments to springs, dampers, roll bars, steering rack, and more. That brings a touch of brittleness on poor road surfaces, but it's easily tolerated. 
And the BMW drove like a sum'bitch in the snow. Even on all-season Pirelli Cinturato tires, the X2 gripped the snow-melty pavement like an Olympic bobsled pinned to its track. The X2 felt so secure that I felt comfortable shutting off traction and stability control, even on narrow, no-shoulder roads lined with steep and perilously wooded slopes. BMW claims a conservative 6.3-second dash to 60 mph, but I'd peg it closer to six seconds flat. For comparison, Jaguar's E-Type R-Dynamic requires a 295-hp turbo four to get from 0-60 in 5.9 seconds. Yet the BMW feels decisively nimbler and more car-like than the Jag, for one Captain Obvious reason: Saddled with the porky Land Rover Evoque platform, the Jaguar's 4,175 curb weight is a shocking 510 more than the BMW's. And while Jaguar offers a less-powerful base model, that E-Type R-Dynamic's base price of $48,245 is $8,900 more than the Bimmer.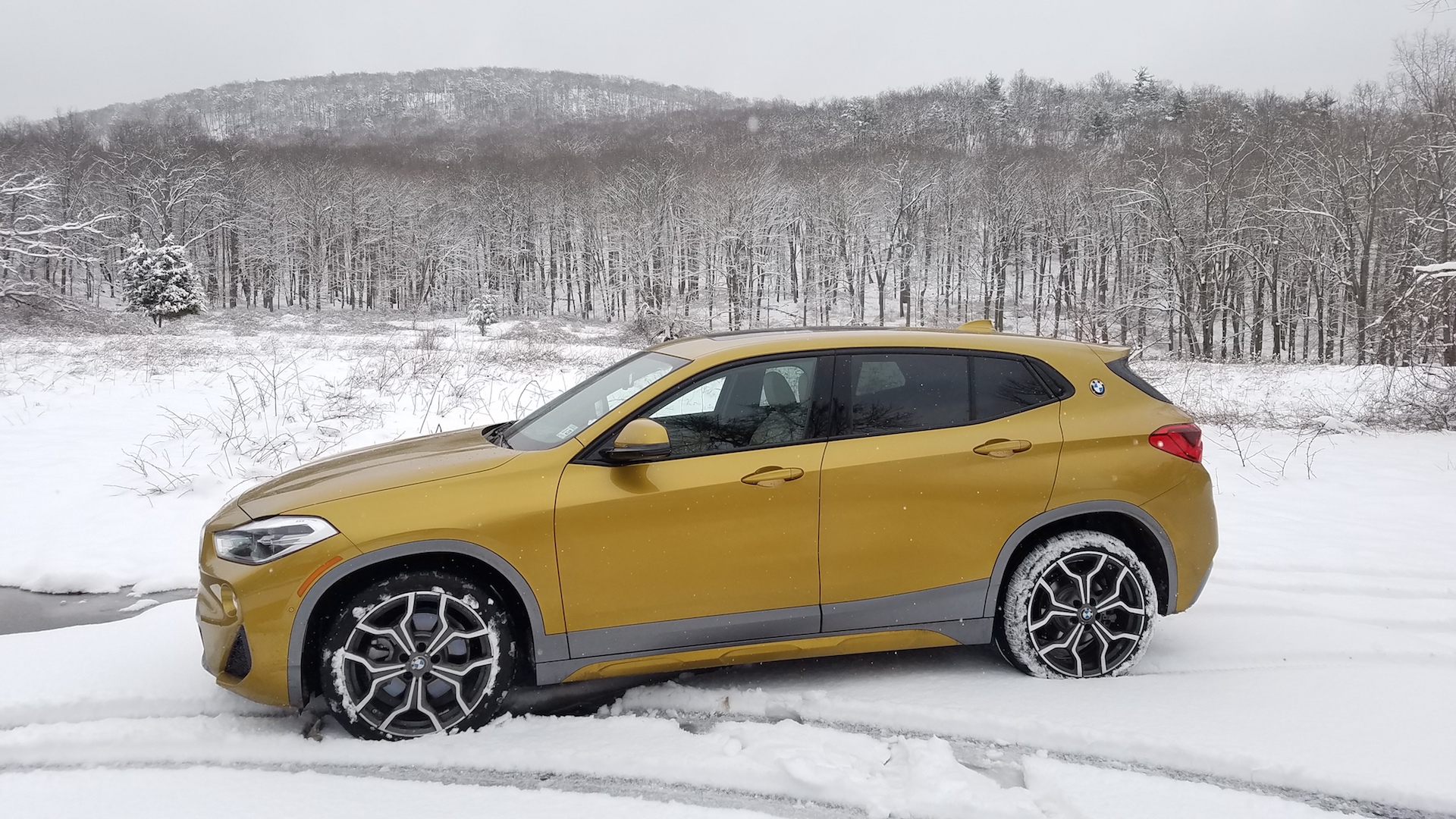 With intelligent xDrive AWD, X2 can really rock the snow.
That doesn't mean I'm totally in love. The BMW still weighs 3,662 pounds, about 320 more than an all-wheel-drive VW Golf R. I swore I could feel every one of those 320 pounds when I pitched the BMW into corners as rudely as I or the car could stand. The X2 does seem to out-handle its crossover competition, but it's not as tossable as conventional hot hatchbacks. Perhaps that's asking too much from any vehicle that melds taller height and huskier SUV genes into its evolutionary stock. (Damn Neanderthals). 
Secondly, the BMW is still somewhat expensive considering its size and utility, with a starting price of $39,395 that climbed to $50,920 for my decently optioned test car. That's my biggest gripe with these pseudo-hatchbacks, which seem ruled by a law of diminishing returns: By the time you equip the X2 the way you want it, you're tempted to move one step up in size and practicality—here meaning an X3 or X4—for not much more money. Adopting traditional coupe-style pricing, the X2 already costs about $2,600 more than the X1. BMW fans who seek to maximize real estate will notice that a decisively larger X3 28i costs $4,250 more than a base X2, at $43,645. Go easy on X3 options, and you could sneak one out the door for the same price as my $51,000 X2. 
Of course, few people who fall for an X2 will be stretching a tape measure across the way-back. The X2 is a fashionable, perky runabout for singles and empty nesters, or a useful city car for a married couple with one child (preferably the smallest in his class). So why not get a conventional hatchback, or other car? Well, take Subaru out of the picture, and very few mainstream hatchbacks or sedans can be had with AWD. (As for that Golf R, it's amazing, but it actually costs $1,200 more than the X2, so even that's not some screaming bargain).
Style and performance aside, the X2's AWD is a three-letter lesson in why so many Americans are switching to crossover SUVs, no matter size or shape. I'm certain of one thing: The average American car buyer would be far more impressed with the X2's ability to cling to wet roads or chug up snowbound driveways than with its acceleration or driving dynamics. Plus, you can get it in gold.
Lawrence Ulrich,The Autance's chief auto critic, is an award-winning auto journalist and former chief auto critic for The New York Times and Detroit Free Press. The Detroit native and Brooklyn gentrifier owns a troubled '93 Mazda RX-7 R1, but may want to give it a good home. Email him at [email protected].