After having driven a Sunday brunch's worth of soft-boiled SUVs and crossovers dainty as a French éclair in 2017, the Chevrolet Traverse proved a literally squarer, more satisfying meal. Put Chevy's redesigned SUV on the list of the year's biggest, best surprises. 
I honestly wasn't expecting all that much from the new version of the Traverse. Released back in 2009, as General Motors was tumbling into bankruptcy, this three-row family hauler struck me as thoroughly capable' but duller than suburban lawn care. The Traverse was the most bus-like and utilitarian of a GM family that also included the Buick Enclave and GMC Acadia.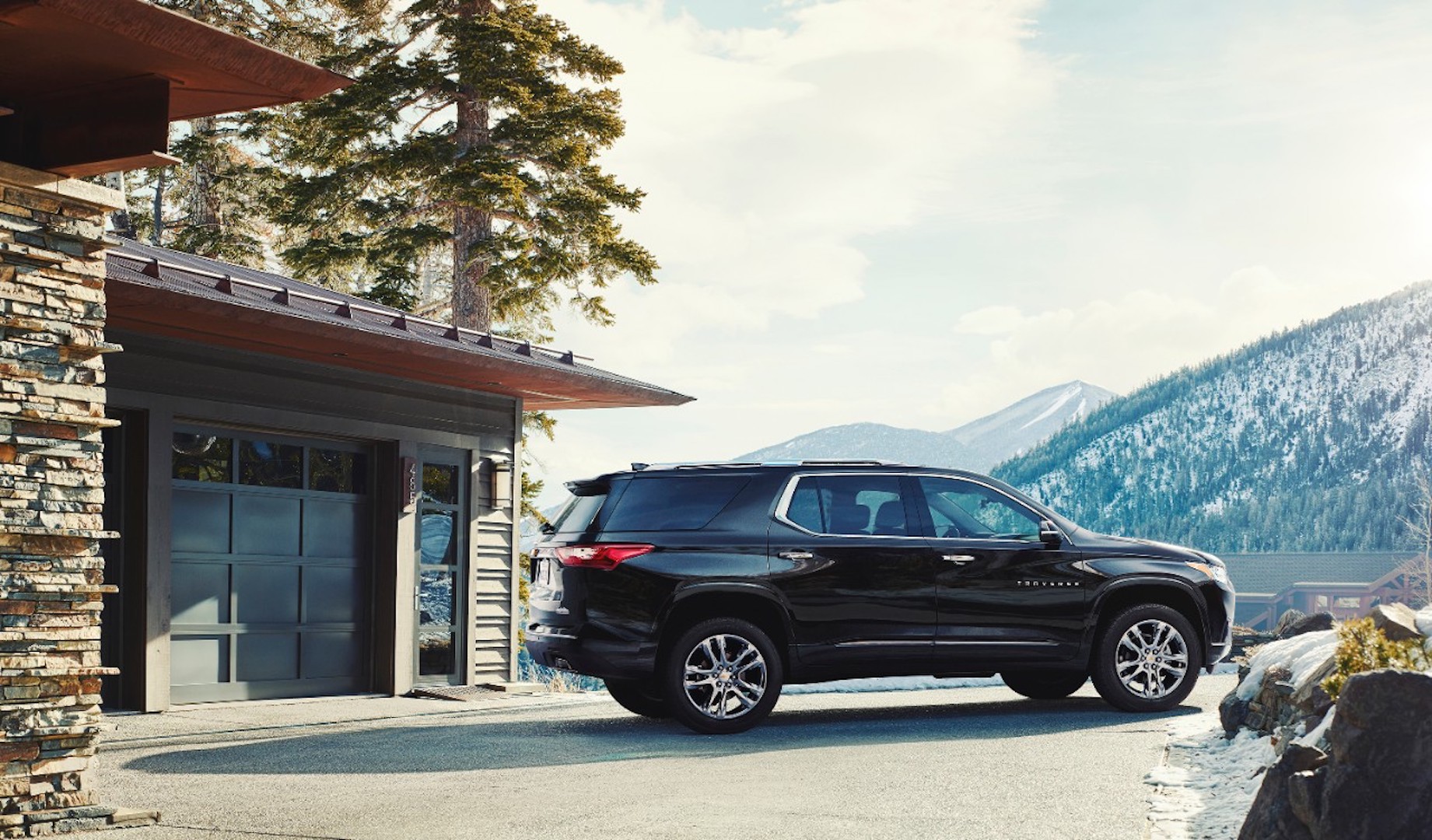 Traverse High Country, for fancier types wth modern mountain hideaways, Chevrolet
But where the all-new Acadia and Enclave have been downsized, the Michigan-built Traverse actually expands slightly for the latest version, including a two-inch wheelbase stretch to 120.9 inches—just 10 inches shy of the original Canyonero, the Chevy Suburban. This new package carves out more passenger and cargo space than anything in the class—a long roster of minivan alternatives than includes the Honda Pilot, Ford Explorer, Toyota Highlander, and Mazda CX-9. Interior space squeaks past even the enormous Volkswagen Atlas, whether you're talking space behind the third row, second row, or with all seats folded.
The bigger surprise is that the Traverse drives more like a smaller, nimbler SUV than the seven- or eight-passenger truckster it is. Its outstanding chassis tuning convinced me that the engineers earned their overtime, or at least took inspiration from the Camaro team. Shedding up to 360 pounds versus the previous model, including a 111-pound reduction for the chassis alone, the Traverse combines a tranquil ride with skillful handling that defies its girth.  Of those competitors I just cited, only the CX-9 feels more sprightly and car-like—and that Mazda is a relatively scrawny SUV, with decisively less cargo space and a third row that should really be described as row 2.5.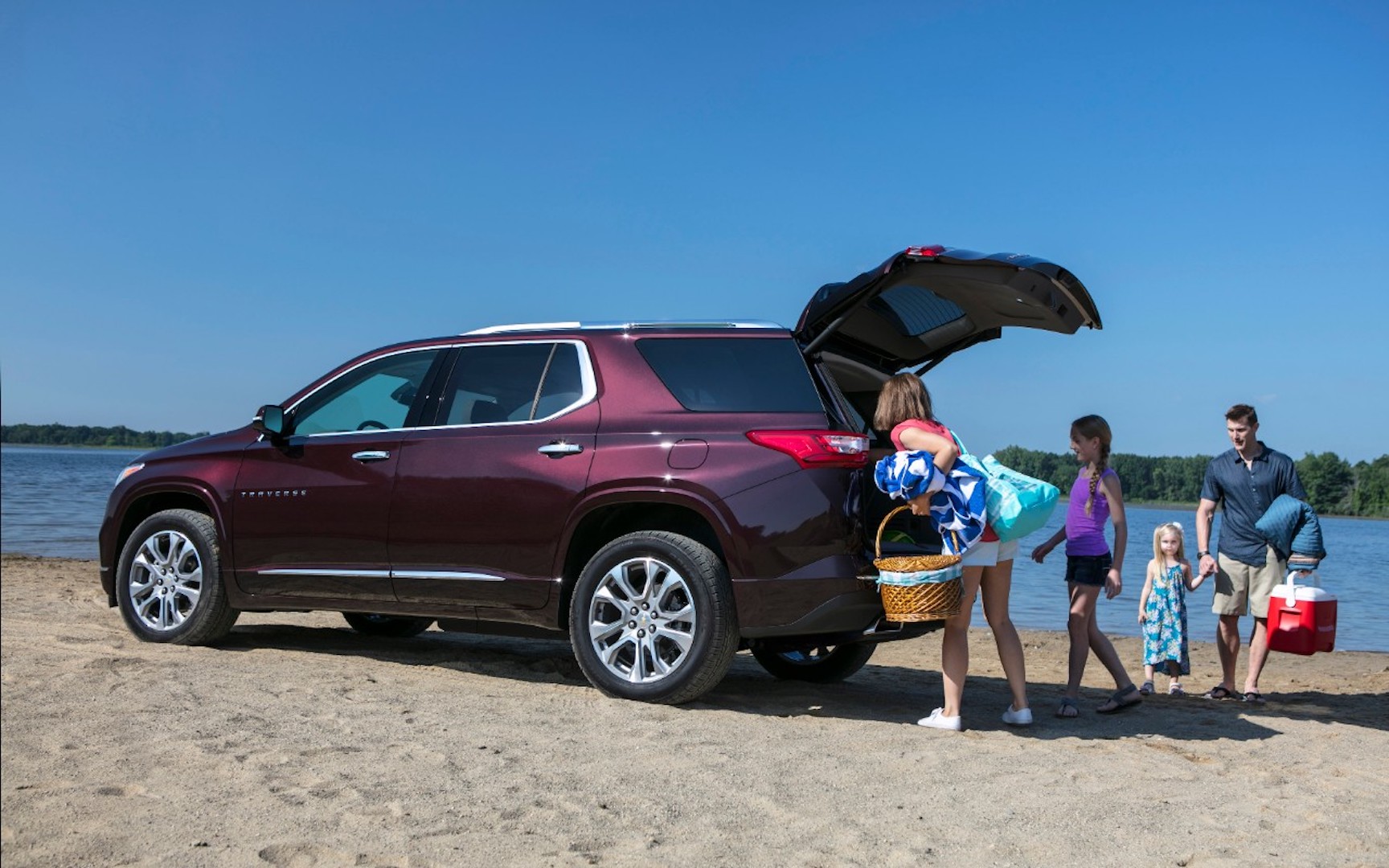 "Seriously, honey, aren't you glad we didn't get the minivan?" , Chevrolet
Chalk up another win for the restyled body. This Traverse is one big, handsome lug. Not surprisingly, the Traverse's Coke-bottle profile, with its nipped waist and crisply flared fenders, came out of Chevy's truck design studio, and it previews styling cues you'll be seeing on one of GM's most critical models: A redesigned Silverado pickup for the 2019 model year, followed by a new Tahoe around 2020. Where so many minivan alternatives, especially the insipid Asian variety—the Pilot, Highlander, and Pathfinder—seem like culprits for the nation's low-testosterone phenomenon, the brawnier Chevy seems sure to attract dads who'd like to hold their head up on the way to school, band practice, or a convenience-store run for Huggies. Yet the Traverse isn't a macho Mack Truck cartoon (not a Dodge, in other words), so moms won't mind taking the wheel and admiring those muscles as well. I find it the best-looking Chevy truck in years. And the styling bodes well for models to come, including the Silverado (in Z71 off-road trim) that Chevy dropped a few days ago at Texas Motor Speedway prior to its January auto show debut in Detroit.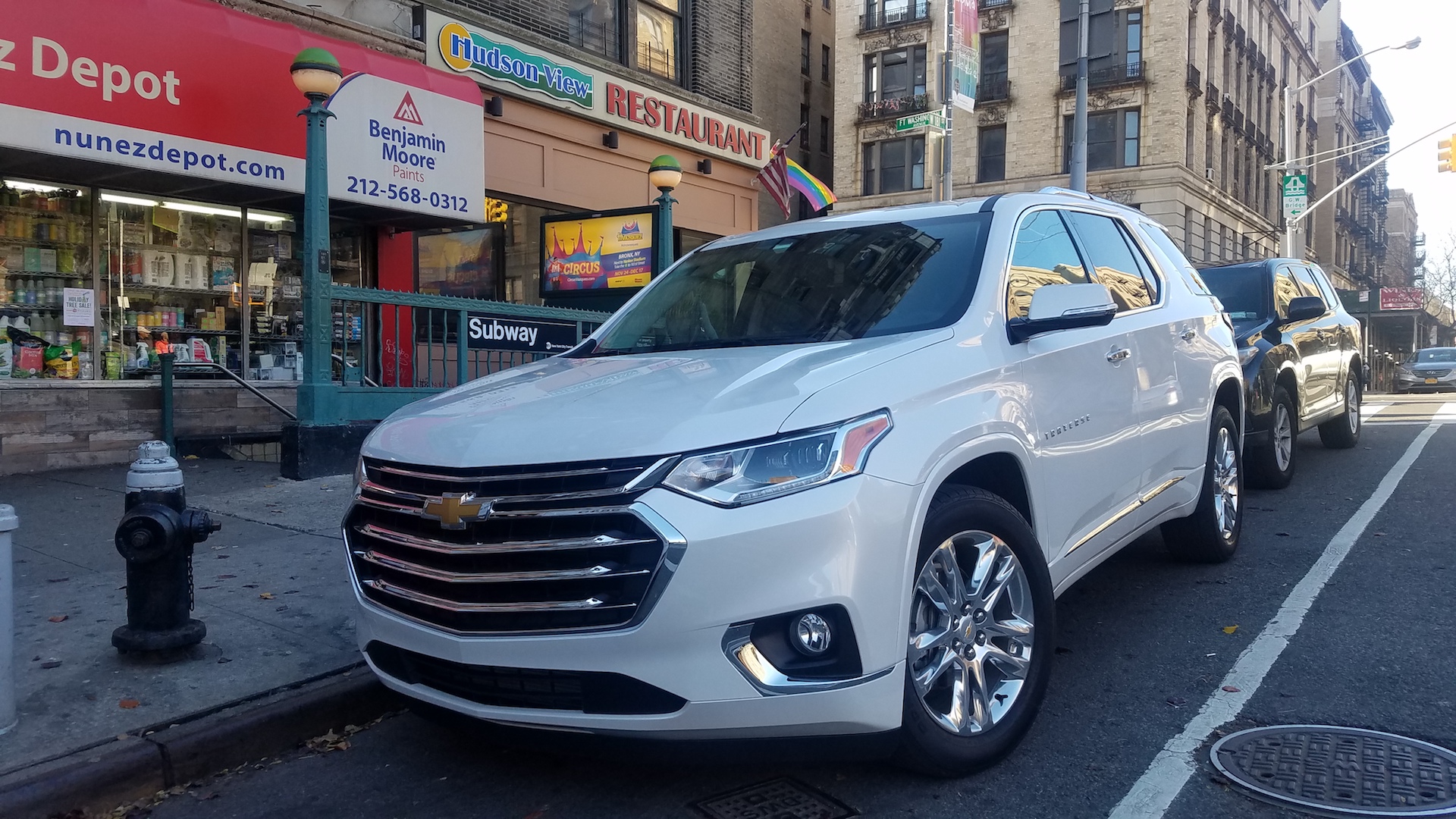 Traverse, lookin' good in Manhattan's Washington Heights, Lawrence Ulrich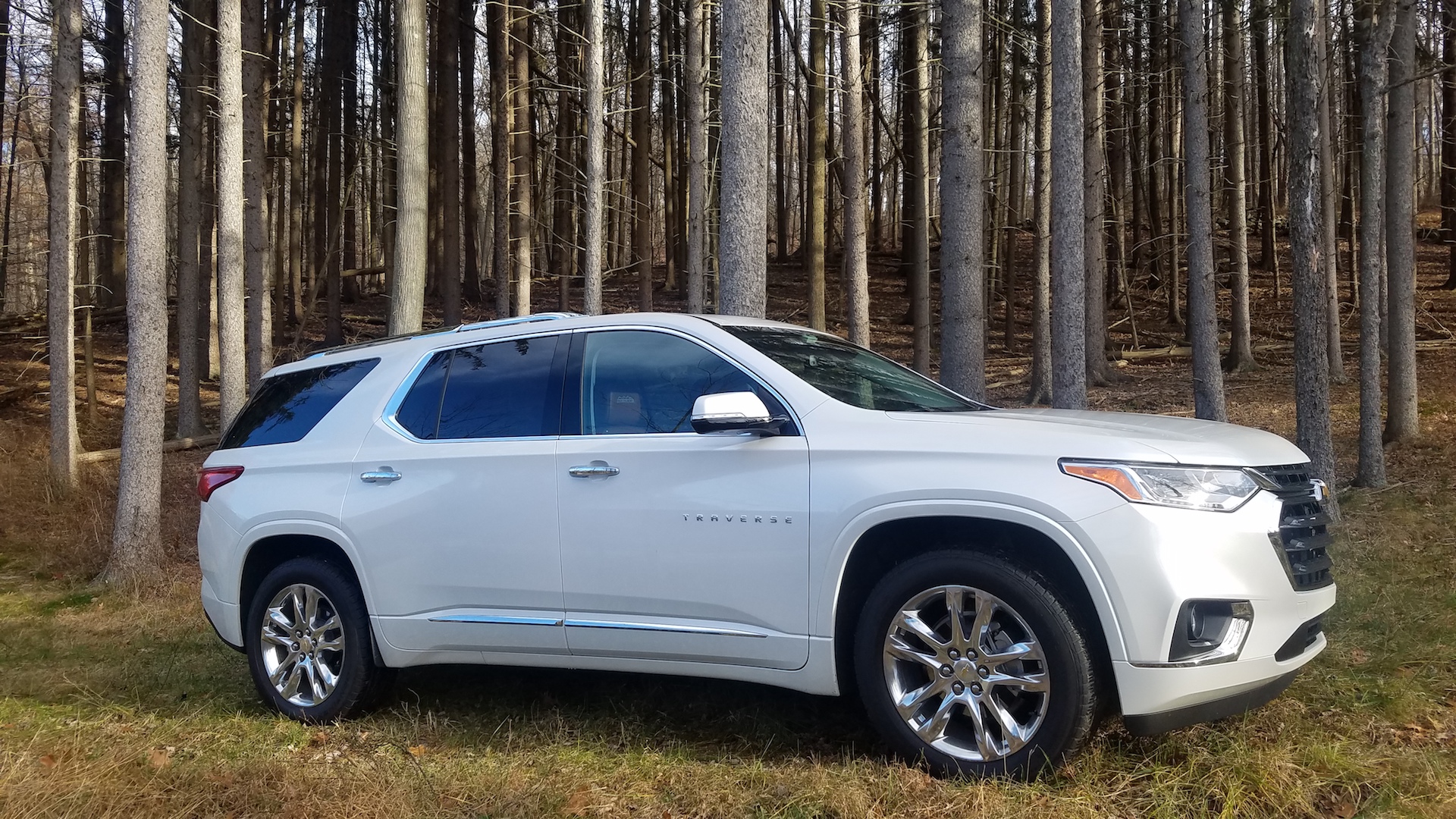 And again, roughing it in the New York woods, Lawrence Ulrich
There's also useful muscle behind the Chevy's big chrome grill (or the blacked-out version on the RS trim level). GM's direct-injection, "high feature" 3.6-liter V6 gets a 10-percent bump to 310 horsepower (up from a base 281 horsepower), with an identical 266 pound-feet of torque. That's accompanied by an efficient nine-speed transmission that's as impressively tuned as the suspension. It replaces GM's sluggish old six-speed—or more accurately, renders it obsolete. 
Throw in the Traverse's substantial weight loss, and this Chevy can surge from 0-60 mph in a fleet 6.7 seconds, a full second quicker than before. After years, nay decades, of mediocre GM automatics, this Hydra-Matic nine-speed, co-developed with Ford for transverse-engine applications, is a keeper. The three extra cogs fit into the same space as the former six-speed, and the entire unit weighs just 22 pounds more. There's none of the obtrusive gear hunting or indecision that plagues some rival nine-speeds, including from Chrysler and Honda. Squeeze the throttle gently, and the tranny eases down one gear. Hammer it, and it may downshift three or four gears at a go, but without long delays or clunky engagements. The combination makes this big beast quite adept at passing, able to squirt through holes in traffic in snappy fashion.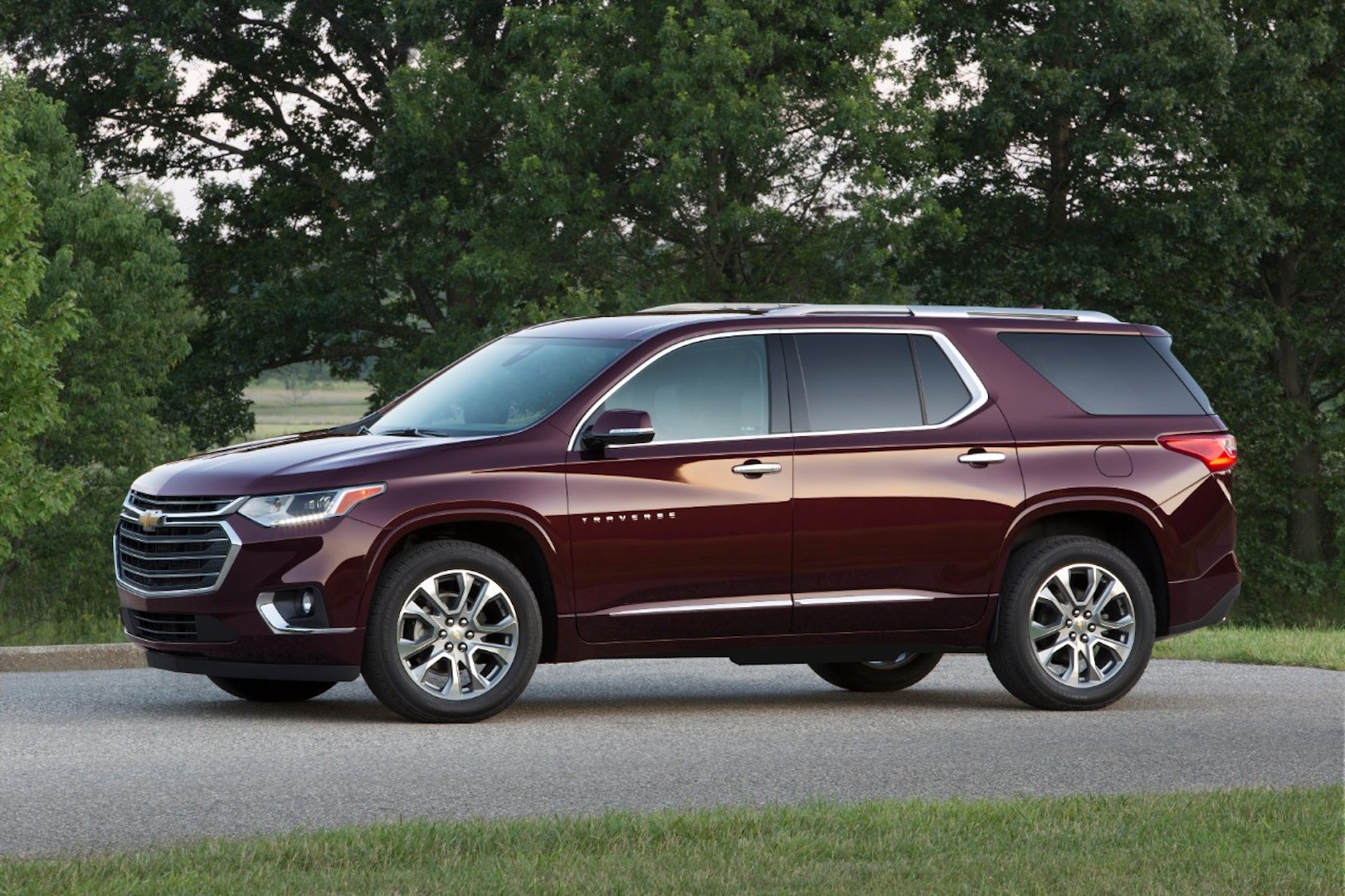 Traverse has more passenger and cargo space than anything in its class, Chevrolet
As with most SUV rivals, the transmission still likes to get you into higher gears quickly, in the interest of fuel economy. I'd actually appreciate a pair of paddle shifters, or a Sport mode to hold lower gears in certain situations. Chevy's solution is a switch that lets you select the shortest gear the transmission will shift to, handy for downhill towing of up to 5,000 pounds. But the Traverse never lugged or refused a downshift. The transmission's two overdrive gears, eighth and ninth, pay off with a nice benefit in fuel economy: 18 city/27 highway miles per gallon for front-drive versions, and 17/25 mpg with optional AWD. A turbocharged, 2.0-liter four-cylinder model generates 255 horsepower and 295 pound-feet of torque; that's good for a 2-mpg gain in the city at the expense of a 1-mpg highway penalty, at 20/26 mpg.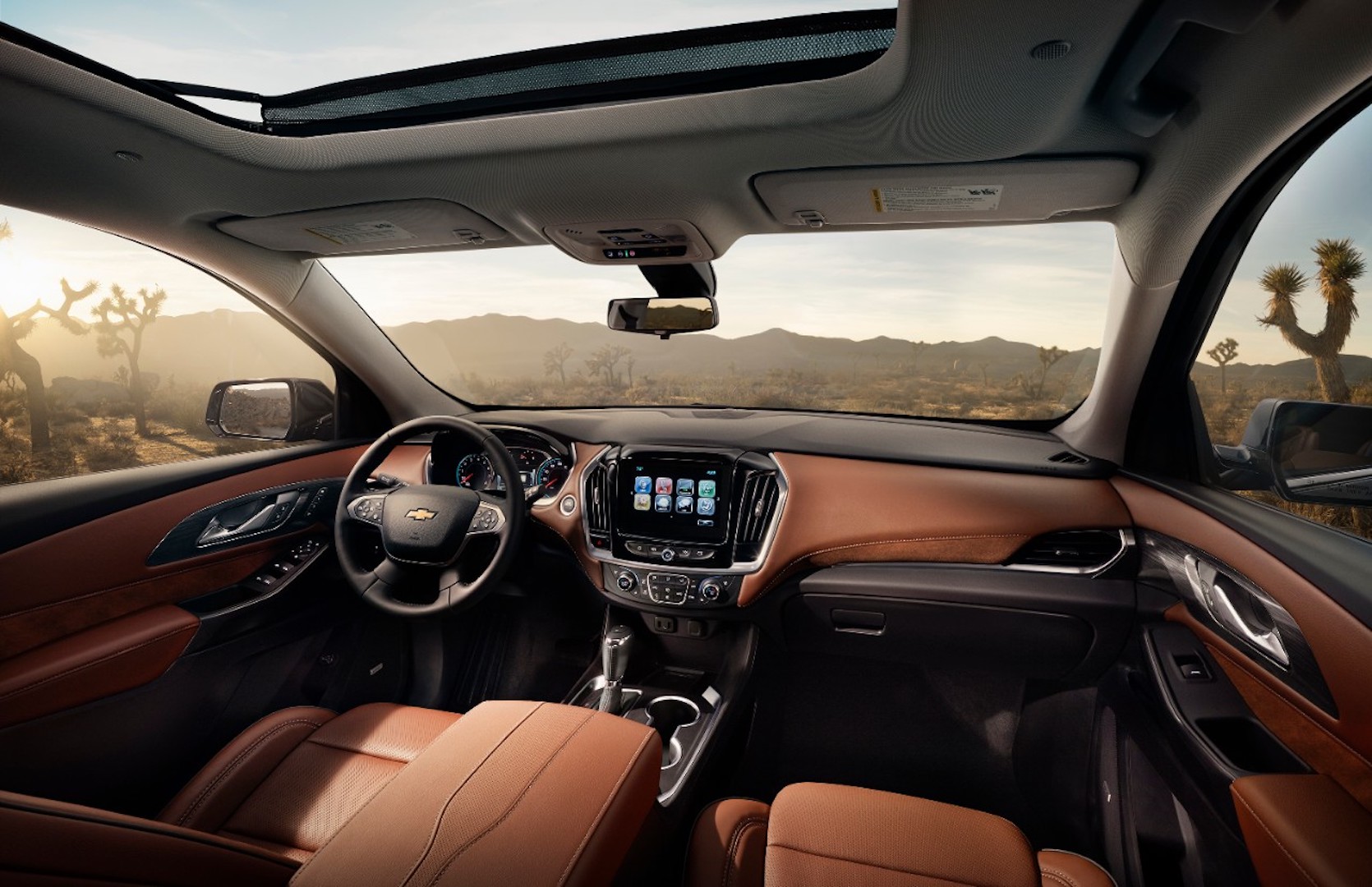 Chevy infotainment system is aging, but the rest is mostly new and appealing, Chevrolet
Some shoppers will surely fret that the fuel-saving, engine stop/start system can't be defeated via a switch. But my own worries proved groundless: This is one of the smoothest, least-obtrusive systems around, including a motorized pinion that "pre-energizes" the starter to match its rpm with the engine flywheel. 
The redesigned interior speaks to efficiency as well, with seating for seven or eight, 23 cubic feet of luggage space behind the third row, and a vast 98.2 cubic feet with all seats folded. How roomy is that? A Cadillac Escalade holds less, at a maxed-out 94 cubic feet. With the Chevy's decks cleared and its no-hands tailgate opened with the waggle of a foot, you can actually lay four-by-eight sheets of drywall or plywood flat, as you could in a big pickup or commercial van. 
Up front, the wide, deep center console is big enough to swallow a laptop or file folders. You'll find 20 different storage cubbies, including a clever secret stash spot behind the optional, 8-inch touchscreen. There's more hidden underfloor storage in the rear, with cupholders galore and up to seven USB ports.
Dude, no one will never find our secret stash spot. Unless they own a Traverse., Chevrolet
Where a front-drive Traverse starts at $30,875, my test car flaunted the High Country treatment—the top-shelf analog to GMC's Denali models—at a price of $52,995. Now, for more than a decade, several GM brands have had a misbegotten love affair with two-tone, black-and-tan interiors, whose poorly chosen materials and colorings made them look like an irradiated dachshund. This one fares better, with swaths of chocolate-colored leather and faux-suede inserts for the wraparound dash and doors, and more leather for the seats and console. 
Chevy's MyLink infotainment unit is smartly framed in that dash, but the system is really showing its age, with a cramped 8-inch screen, homely graphics, and some clumsy functions. Apple CarPlay and Android Auto hookups, along with available 4G LTE WiFi, help counter some of the obsolescence.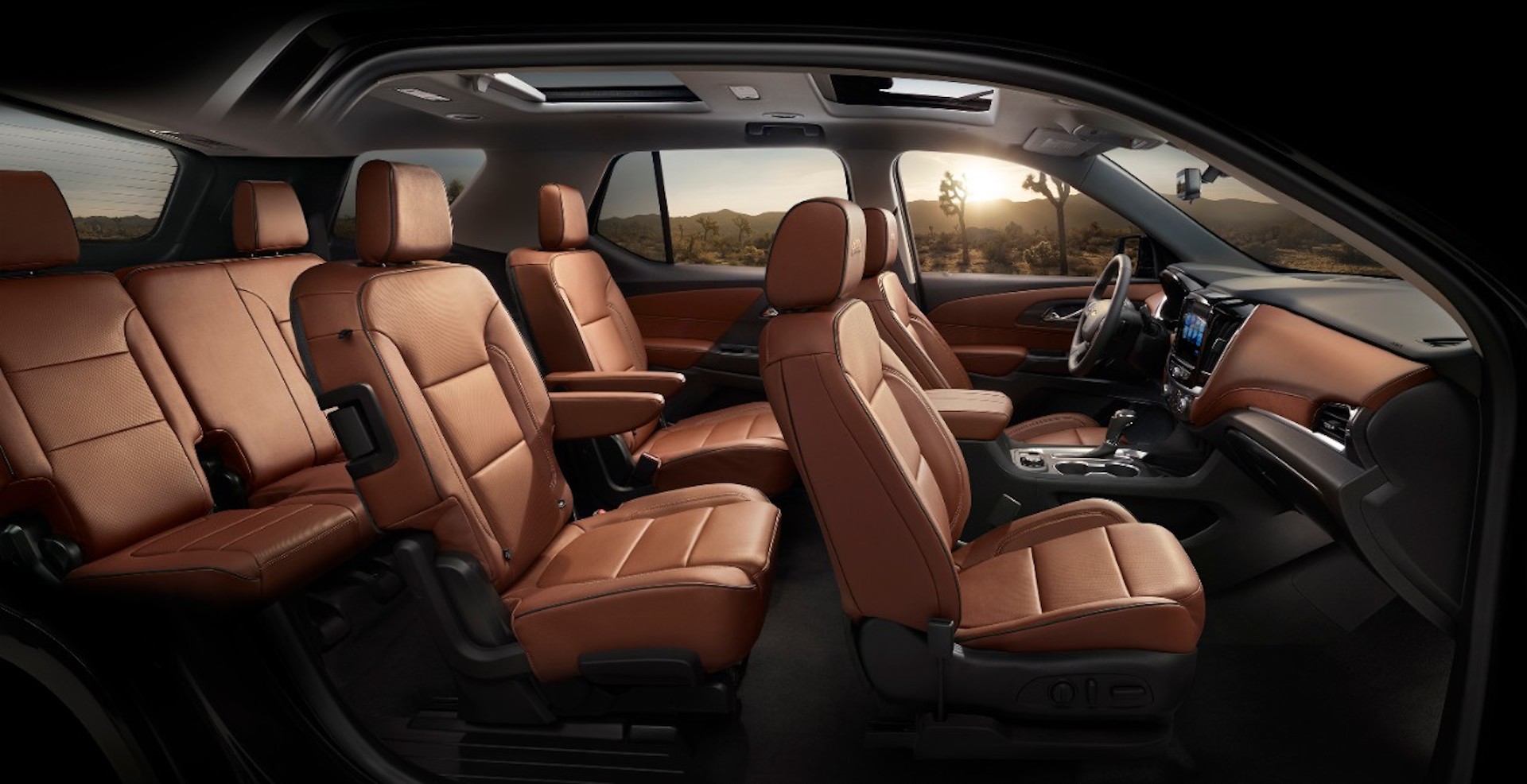 Seven-passenger Traverse, in leather-swaddled High Country trim, Chevrolet
Along with a gamut of safety gear—including a 360-degree surround view camera system, automated pedestrian braking, and a lane-keeping system—High Country goodies include wireless phone charging, tech-y "D-Optic" LED headlamps, onboard 4G LTE wi-fi, a power-folding third row, a panoramic sunroof and 20-inch bright alloy wheels. There's still some budget plastic in the Chevy's nether regions, but that's true of virtually any model in this (rather) affordable class. 
The Chevy's one major stinginess involves the rear captain's chair that tilts and slides with a one-touch lever to open access to the third row, even if a child seat is in place. Yes, the singular form is correct: Some Scrooge in Chevy's counting house decided the Traverse should offer a single, right-hand "SmartSlide" chair, on the theory that children and other occupants can always climb aboard from the curb side of parking. This assumption fails to consider owners who park in driveways, garages or mall parking lots, and might prefer to load kids or gear from the driver's side. It also forgets that many cities, from New York to Boston, feature one-way streets that let you park on the left-side curb as well. In GM's defense, riders can simply walk between the captain's chairs to get to the way-back. But seriously, how much extra would it have cost to put the handy seats on both sides? 
Regardless, owners can skip the argument entirely skip the captain's chairs entirely in favor of an optional second-row bench that ups the Traverse to an eight-seat total. For its part, the third row features split-bench seating for three, though the center position is cramped. Most adults could tolerate an hour or two in the way-back, despite a slightly knees-up seating position. Still, VW's Atlas offers the widest, easiest access to the segment's most comfortable third-row.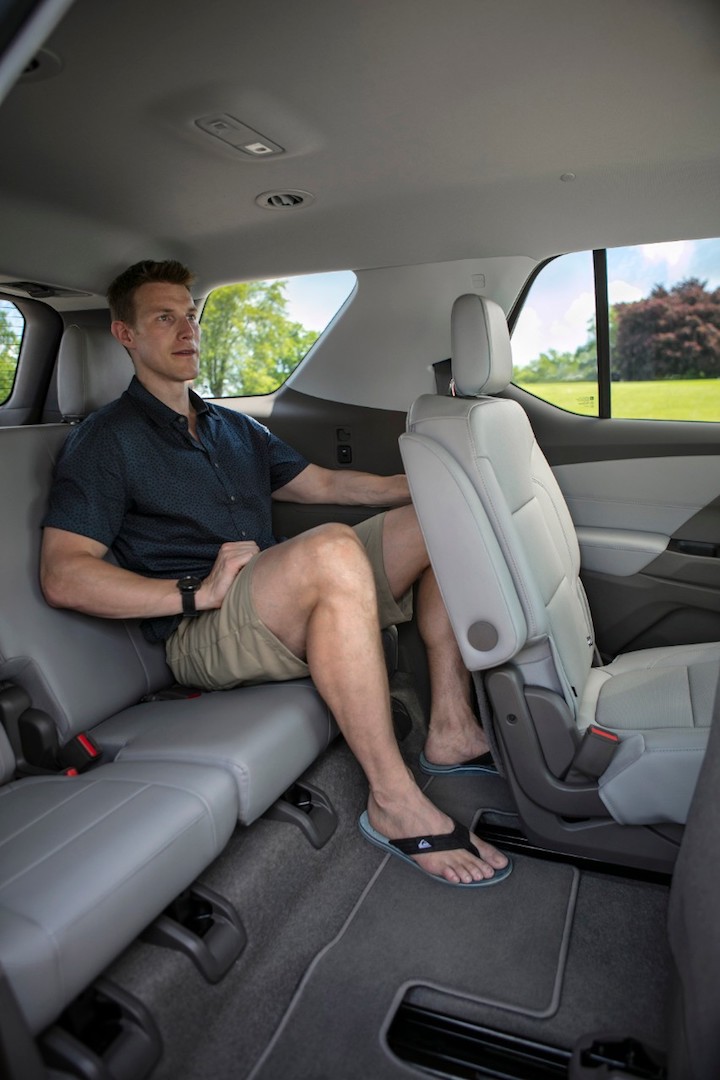 Fairly beefy guys fit OK in the way-back, despite the usual knees-up stance, Chevrolet
So give the Atlas wins for its near-magical third row, and a fresher infotainment system: Virtually every other category shows a win in the Chevy's ledger: The Traverse's appealing body makes the bland Atlas look like an old shipping container; the Chevy is more than a second quicker to 60 mph than the pokey, six-cylinder VW, at 6.7 seconds versus 7.9 seconds; the AWD Traverse delivers a 1-mpg edge in city fuel economy, and does two mpg better on the highway. And counter to the usual performance hierarchy—Euros on top, others below—the Chevy is a decidedly sharper-handling, more dynamic machine than the Atlas, or any competitor shy of the Mazda.
The balance between a cushy ride and confident handling has been executed especially well. The Chevy gets MacPherson struts up front, including hydraulic ride-control mounts; and a five-link rear with hydraulic mounts, an isolated cradle, and a clever bump stop formed from two types of urethane that cushions coil springs and avoids bottoming out. ZF shocks at all four corners adopt pre-loaded valve (PLV) technology, which helps twin-tube shocks perform more like the pricey, sophisticated monotube variety. The dampers smooth the ride without sacrificing body control, and reduce noise and vibration in the process. 
So equipped, the Chevy passed one key local test, soaking up every bump on my cobblestoned Brooklyn street—whose Belgian Block construction happens to be a familiar test feature at automakers' proving grounds. Heading north toward the Catskills, the Chevy proved equally adept on a muddy, snowy two-track, with one ergonomic glitch: The multi-mode AWD's console controller is awkwardly placed near the driver's right elbow.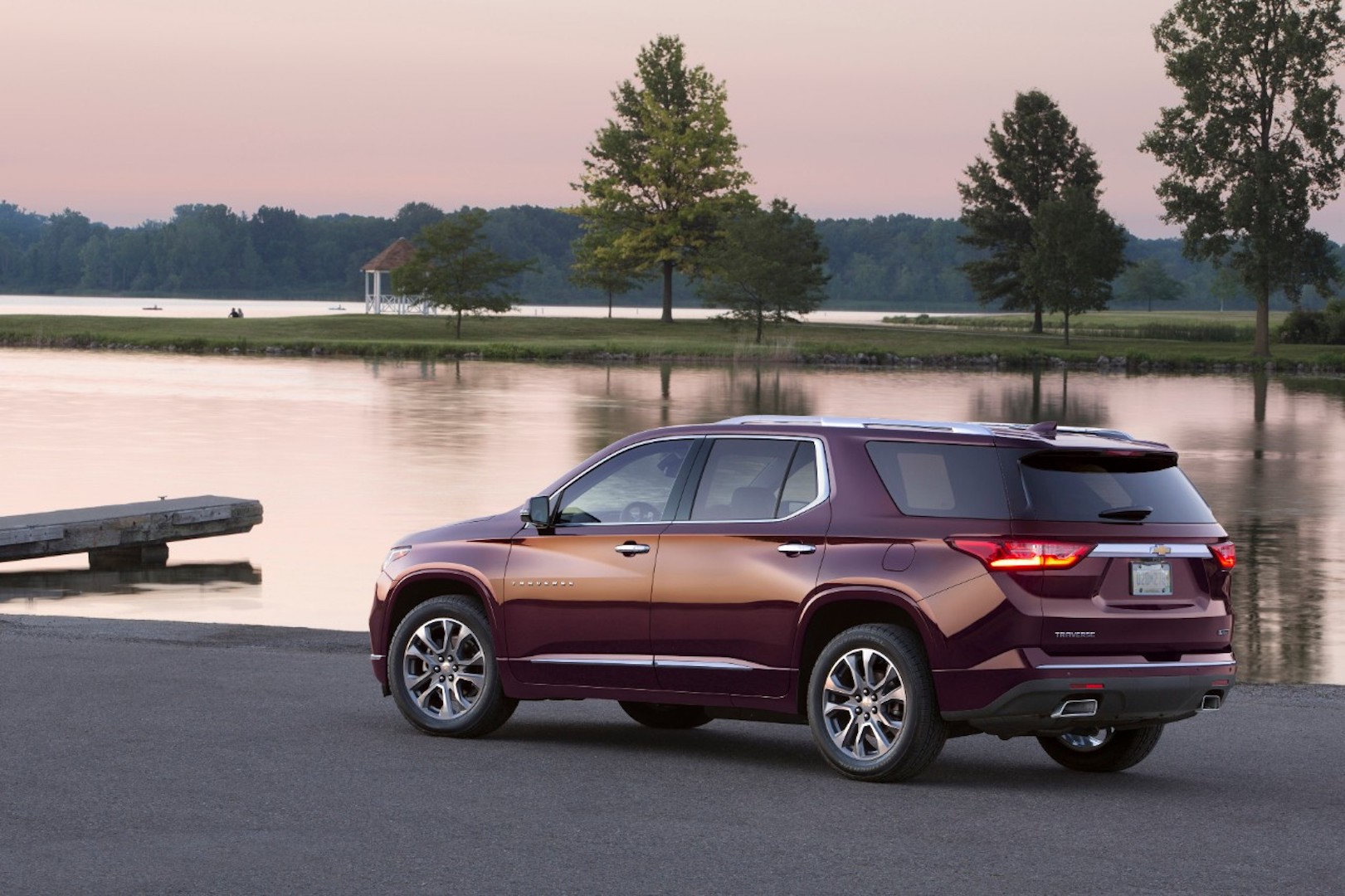 Traverse is smooth as a glassy lake, doesn't mind speedboating, either, Chevrolet
What I didn't expect—but maybe should have, considering evidence like the Camaro, Corvette or even the Volt and Bolt—was how smartly the Chevy steered and handled. Even with its lightened body, the AWD Traverse can top 4,600 pounds. Yet the handling could fairly be described as "sporty," at least by sumo-wrestler terms. The Traverse's body stays remarkably flat through curves, with none of the wallow or roll you might expect in such a big beast. Brakes are strong, with good pedal feedback. I'd actually love to see this Chevy tackle an autocross course—okay, an extra-wide autocross course—against haughtier three-row competition, such as the Land Rover Discovery or Mercedes GLS-Class. Because I think the Chevy would win. Move to public roads, and the Traverse will keep pace with smaller, sportier SUVs. On the fast-paced, serpentine Saw Mill Parkway north of Manhattan, a guy shot past me in a BMW X5, likely figuring he'd seen the last of me. Nothing doing: Up and over a blind uphill curve, I walked around his X5 at nearly triple-digit speed. [If anyone from the Westchester County Sheriff's Department is reading this, he's totally exaggerating. Heh, heh. —Ed.] And while the BMW driver definitely blinked, the Chevy never bobbled. 
Bottom line: The Chevrolet Traverse seems to shrink around its driver, even as it carves out more room than the previous version. Throw in looks and performance that exceed the modest expectations of this often-boring class, and the Traverse gives families all the excuses they need to not buy a minivan.
Lawrence Ulrich,The Autance's chief auto critic, is an award-winning auto journalist and former chief auto critic for The New York Times and Detroit Free Press. The Detroit native and Brooklyn gentrifier owns a troubled '93 Mazda RX-7 R1, but may want to give it a good home. Email him at [email protected].