It was just past Bakersfield that I started to doubt the Ford F-150 Diesel and I would make it home. We'd gone almost 700 miles by this point without stopping for fuel, this gray wundertruck and I, but directly ahead lay two mortal enemies of efficiency: the stubborn ring of mountains around Los Angeles, and the city's rush hour traffic sloshing over their dusty peaks like an overfilled cup.
A little more than an eighth of a tank left, according to the gas fuel gauge, which the computer calculated should be enough to carry us another 150 miles based on the day's fuel burn rates. We were about a third of that distance from the finish line—just 50 miles from proving that you really can make the 730-mile round trip between Los Angeles and San Francisco on a single tank of fuel in the 2018 Ford F-150 Diesel. Then we started to climb.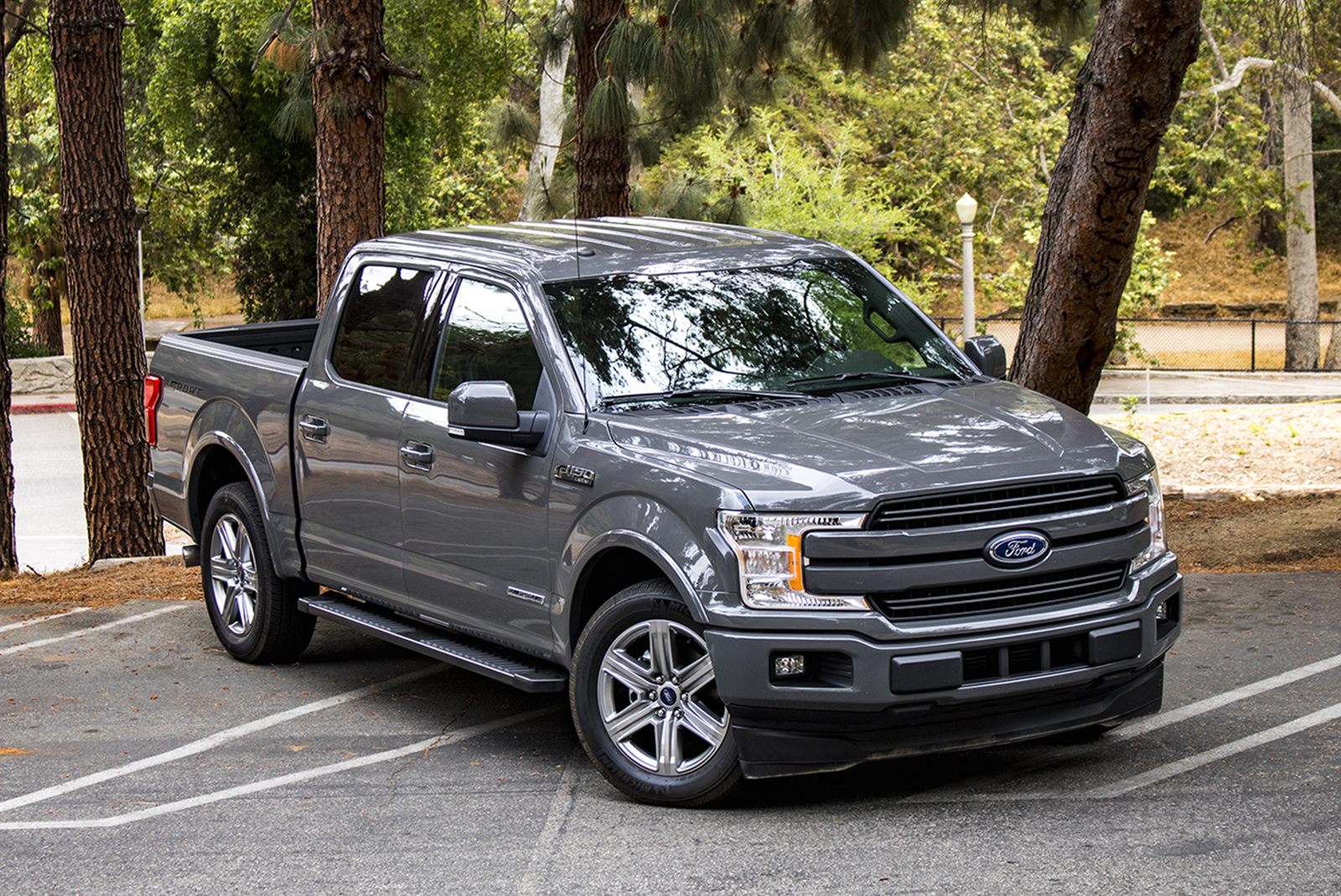 Kyle Cheromcha
With each blip of the throttle, the estimated range left in the tank seemed to drop, the delta between the miles to empty and the miles to my apartment shrinking at an ever-increasing clip. Two miles driven cost me six; the next 10 subtracted 25. 
But this oil-burner wouldn't be denied. Less than two hours later, I was ensconced on my couch, marveling at how Ford managed to squeeze around 850 miles—yes, 850—from a single 26-gallon tank in the F-150 Diesel. For those playing along at home, that's a real-world average of almost 33 miles per gallon. Chuck your emissions testing baggage in the bed, because this excellent rig showcases the true promise of a modern diesel engine in a segment that's gone far too long without them: the half-ton pickup truck.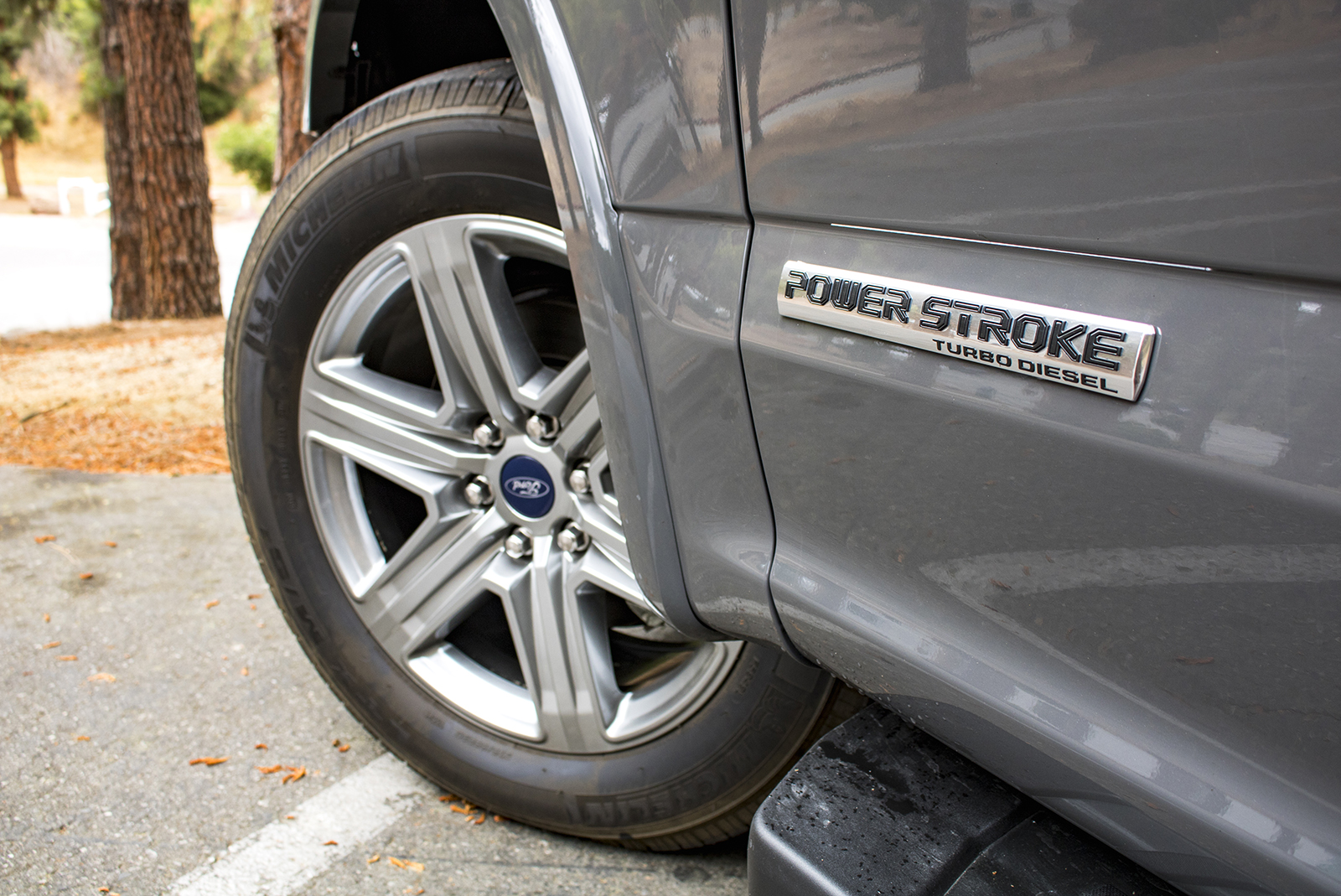 Kyle Cheromcha
F-150 Diesel Proves an Old Dog Can Learn New Tricks
As the best selling vehicles in the country since the Reagan Administration, the Ford F-Series pickup trucks need no introduction. On top of that, the current generation of the F-150 has been around since 2014, so chances are you've had time to form an opinion. But if not, you should know the F-150 received a mid-cycle refresh this year to keep up with the Joneses that introduced some Super Duty-influenced exterior styling, standard auto start/stop, and a new Bang & Olufsen sound system on higher trims.
To these eyes, the new front-end design is a little busy, but the "Lead Foot" paint job on my tester was an unequivocal winner. The rest of it is, well, a full-size truck—which is to say, this Ford looks a lot like every other full-size truck on the market. (This segment isn't exactly known for its tolerance of revolutionary changes.) The only real disappointment lies inside; while the interior is incredibly spacious and comfortable—I'll go to my death defending large trucks as excellent road trip vehicles—it also looks a little cheap, and it's definitely lagging the new 2019 Ram 1500 in terms of luxury. And come on, Ford: give me a column shifter. 
But obviously, we're here to talk about the most significant addition to the lineup: a 3.0-liter PowerStroke turbodiesel V6 engine. It's the first time FoMoCo has ever stuck a diesel engine in its flagship truck. It's not cheap; non-fleet customers can only get it as a $4,000 option on the Lariat, King Ranch, and Platinum trims, meaning the cheapest F-150 diesel Joe Sixpack can buy is around $48,000. My rear-wheel-drive Lariat SuperCrew model was optioned up to $54,620. You'll be doing an awful lot of driving if you want to balance out that surcharge with lower fuel costs.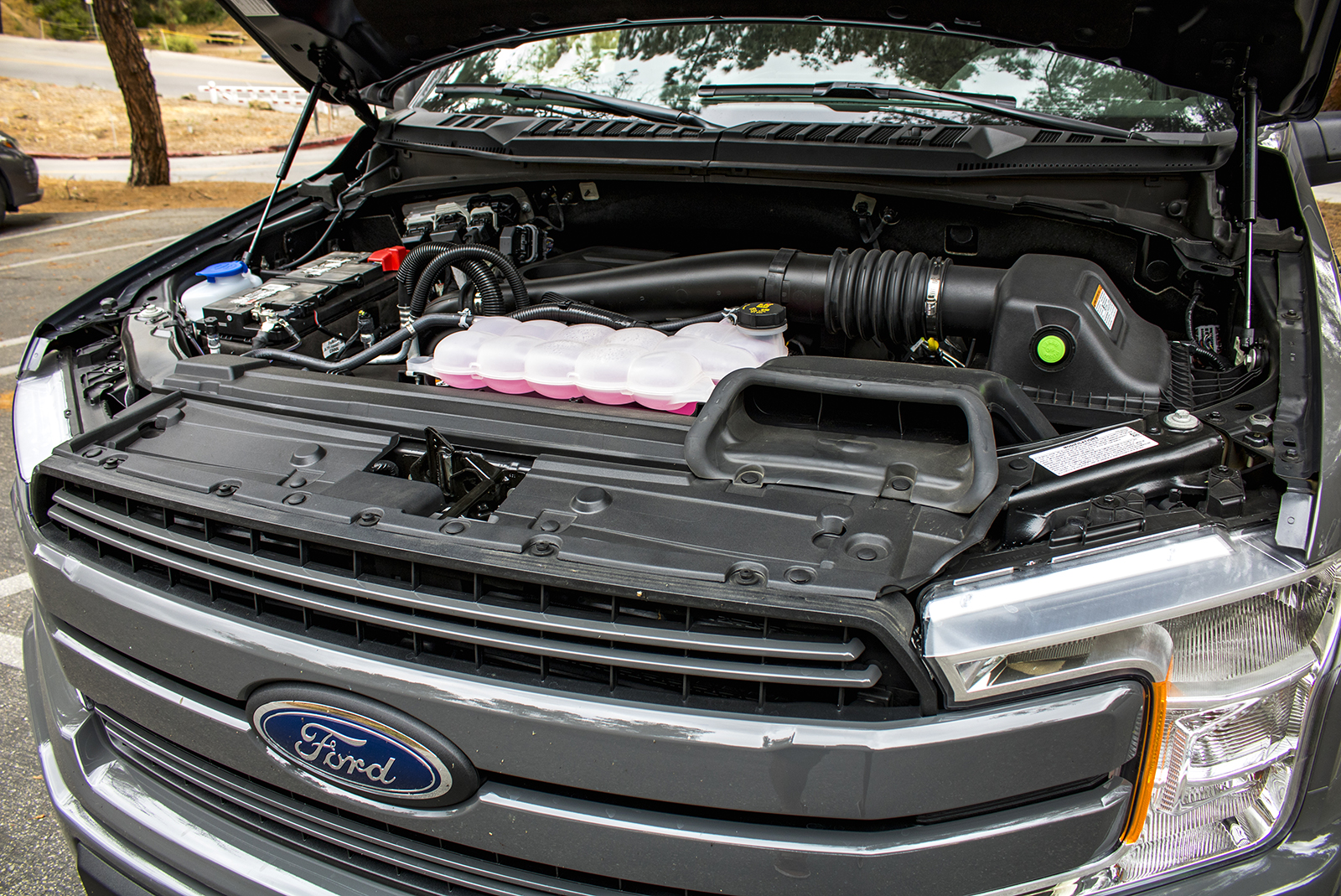 Kyle Cheromcha
Details on the Diesel
The news that Ford was finally sticking a PowerStroke turbodiesel engine in the F-150 was like going back to your high school reunion and finding out those two "will they/won't they" lovebirds finally settled down together. It just makes sense, really—the diesel's fuel economy and towing power make it pretty much a no-brainer in any pickup. (Diesel trucks actually outsold hybrid and electric vehicles in America last year.) Why the long wait? Ford has always figured that anyone who wants the extra oomph of a diesel engine also needs the ability to tow 20,000 pounds, and that's why its heavy duty trucks exist. They've also been wary of our complicated relationship with compressed ignition in this country—the fumes of Dieselgate still float among us—but thankfully, they've realized the time has come to spread the good gospel.
Despite the PowerStroke name, this 3.0-liter turbo V6 isn't just a shrunken version of the company's larger diesels found in the beefy Super Duty models. It's actually the product of a mid-Aughts union between Ford and PSA (Peugeot-Citroen) over in Europe, where the engine's ancestor once powered cars like the Jaguar S-Type. 15 years later, a similar version of the current Ford engine sits under the hood of the 2018 Land Rover Discovery Diesel. 
Make no mistake though, the PowerStroke is a Ford product through and through. With upgraded goodies like a forged crankshaft and a variable-geometry turbocharger, the Ford F-150 Diesel makes 250 horsepower at 3,250 rpm and an eminently usable 444 pound-feet of torque that comes on strong at 1,750 rpm. For reference, that's 10 more horsepower and 24 more "torques" than in the new Ram 1500 Diesel. The EPA mileage ratings are also very impressive for a truck this size, no doubt helped by the 10-speed automatic transmission: 22 miles per gallon in the city, 30 on the highway, and 25 combined. The 10-speed automatic certainly helps with that as well.
You might be surprised to learn that at 11,400 pounds, this new diesel model isn't the strongest in the F-150 lineup. That would be the V6 EcoBoost, which can haul a class-leading (and frankly, staggering) 13,300 pounds. But the diesel offers a smoother pull thanks to its linear power curve, while the EcoBoost can feel jerky when fully laden. For buyers who just need a pickup to haul their boat to the lake or their ATV to the off-road park, the diesel will offer a far more civilized experience.
And then there's the range. This isn't supposed to be a small heavy duty truck. No, the F-150 Diesel is about fuel economy, and I had to know if Ford was blowing smoke with its claim of 30 miles per gallon on the highway.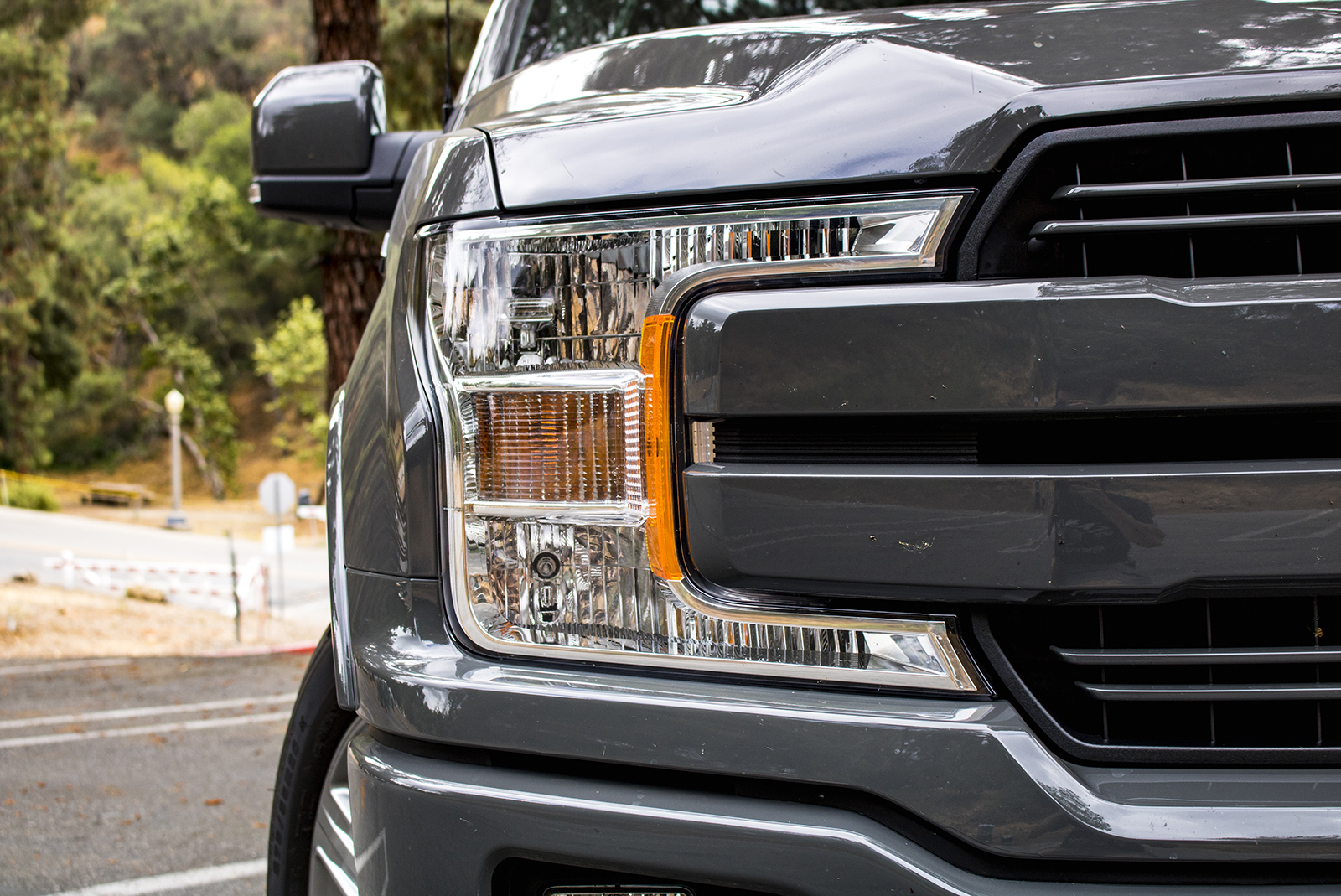 Kyle Cheromcha
The Ford F-150 Diesel Range Test
With the plan set, snacks packed, and the GoPro stuck fast in place, I topped off the 26-gallon tank at a gas station around the corner from my apartment in Hollywood. The truck's computer was already against me, calculating about 540 miles of range based on the heavily-mixed driving conditions it experienced in the days prior. I wasn't too concerned, because I had math on my side: 26 gallons at 30 miles a gallon should be good for 780 miles. And if not, well, there's always a lesson in failure.
It was around 5:30 in the morning, and if I was to have any hope of triumphantly crossing the finish line in 740 miles, I needed to get this Ford out of Dodge before people with real jobs started filling up the freeways—at a sensible, economical speed, of course. Driving the exact speed limit in California can veer between torturous and downright dangerous depending on the pace of traffic around you. But between its hefty size, comforting weightiness, and an engine all too happy to sit at 1,400 rpm at 65 miles per hour, I quickly settled into a groove and let the rat race pass me by.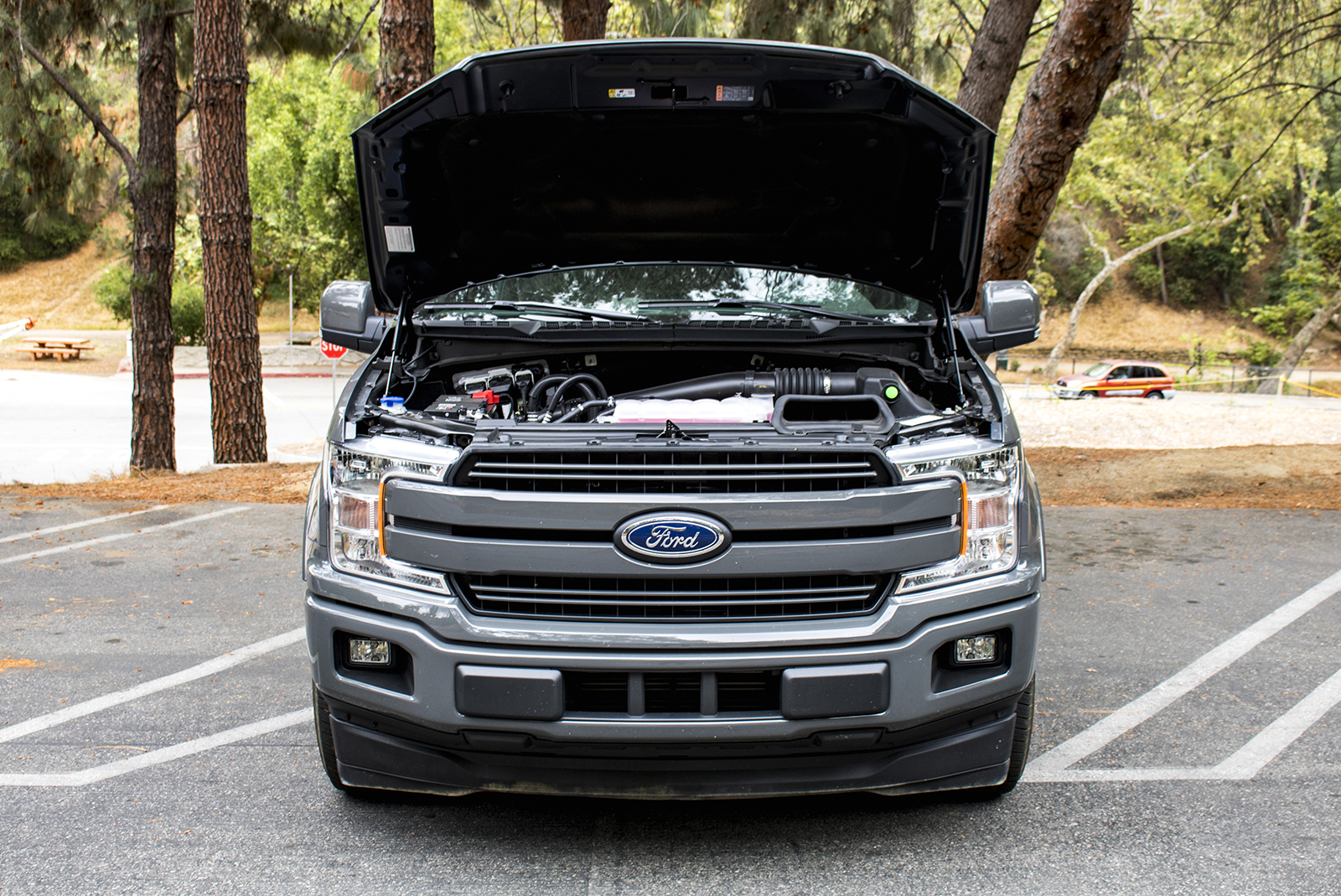 Kyle Cheromcha
Even factoring in its low engine speed at a cruise, the mini-PowerStroke is incredibly quiet. You'll still hear a bit of that garbage-truck-rumble under load, but in normal driving you'd be hard-pressed to tell it's a diesel without looking at the low-redline tachometer. Several hours later, a glance at the map revealed we had made it to the halfway point to San Francisco, a desolate stretch of I-5 in the supremely flat Central Valley. Amazingly, we had burned almost exactly a quarter tank of fuel. More importantly, after traveling more than 200 miles and vaporizing 6.5 gallons of diesel, the remaining estimated range in the tank had actually gone up to 546.
The rest of the first leg went smoothly, with the average fuel economy figure slowly increasing as the F-150 Diesel gobbled up the highway miles. A spell of traffic heading into San Francisco dinged the numbers a little bit, but as we rolled over the Bay Bridge, avoided crushing a start-up founder on an electric scooter, and somehow found a perfect parking spot on the Embarcadero, I was legitimately shocked to see the truck still had over half a tank left.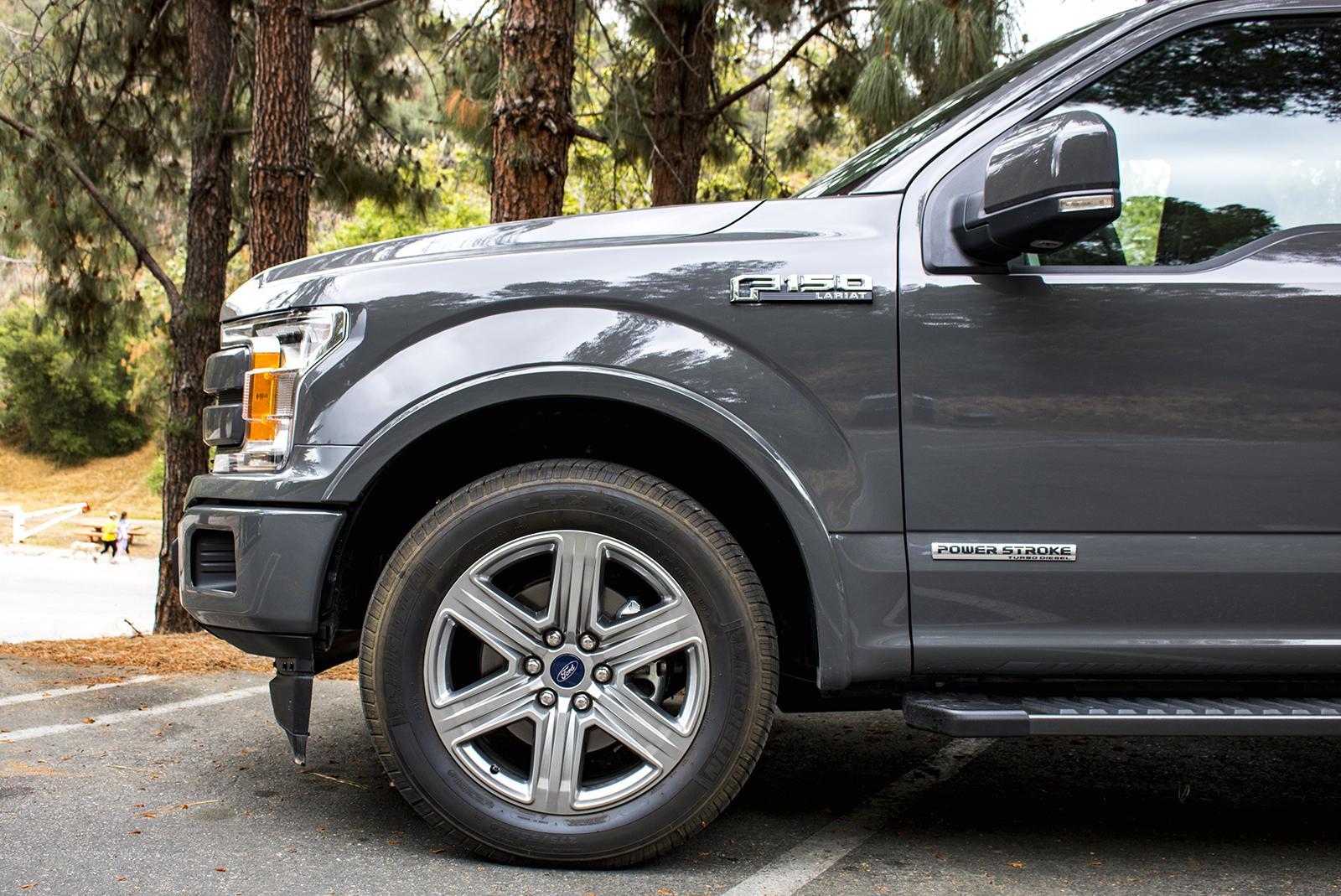 Kyle Cheromcha
Having waved hello and goodbye to the Golden City in less than 20 minutes, I climbed behind the wheel just before 1 p.m. for the 370-mile journey home. The truck had acclimated to the mission and showed just enough range to make it back, but now it was my turn to play pessimist. For one, the fatigue was setting in—I-5 through the middle of California is as flat and straight as any Midwest highway—but more importantly, we were on pace to run smack into the city's famed rush hour (really, all-hour) traffic at the most critical stage of the journey.
But the southbound leg proved itself just as efficient, at least for the first four hours. The distance to Los Angeles fell twice as fast as the miles to empty thanks to the wonders of cruise control. I was feeling better—so much so that I couldn't resist punching the throttle to pass more than a few slow-moving semi-trucks, appreciating the instantaneous surge of torque and the flat power curve. The halfway point saw almost exactly a quarter tank left. 
Then we passed Bakersfield, and things started going to shit in a hurry.
A lapse, a screw-up, the inevitable result of driving for nearly 10 straight hours—whatever you want to call it, I completely forgot about how crossing those mountain ranges would destroy my mileage. Now it was the inverse of before, with the distance to empty shrinking twice as fast as the distance to the finish line. I cursed myself for being so loose with the throttle out of sheer boredom, as rush hour commuters slowly built up around me, unaware of my anxiety.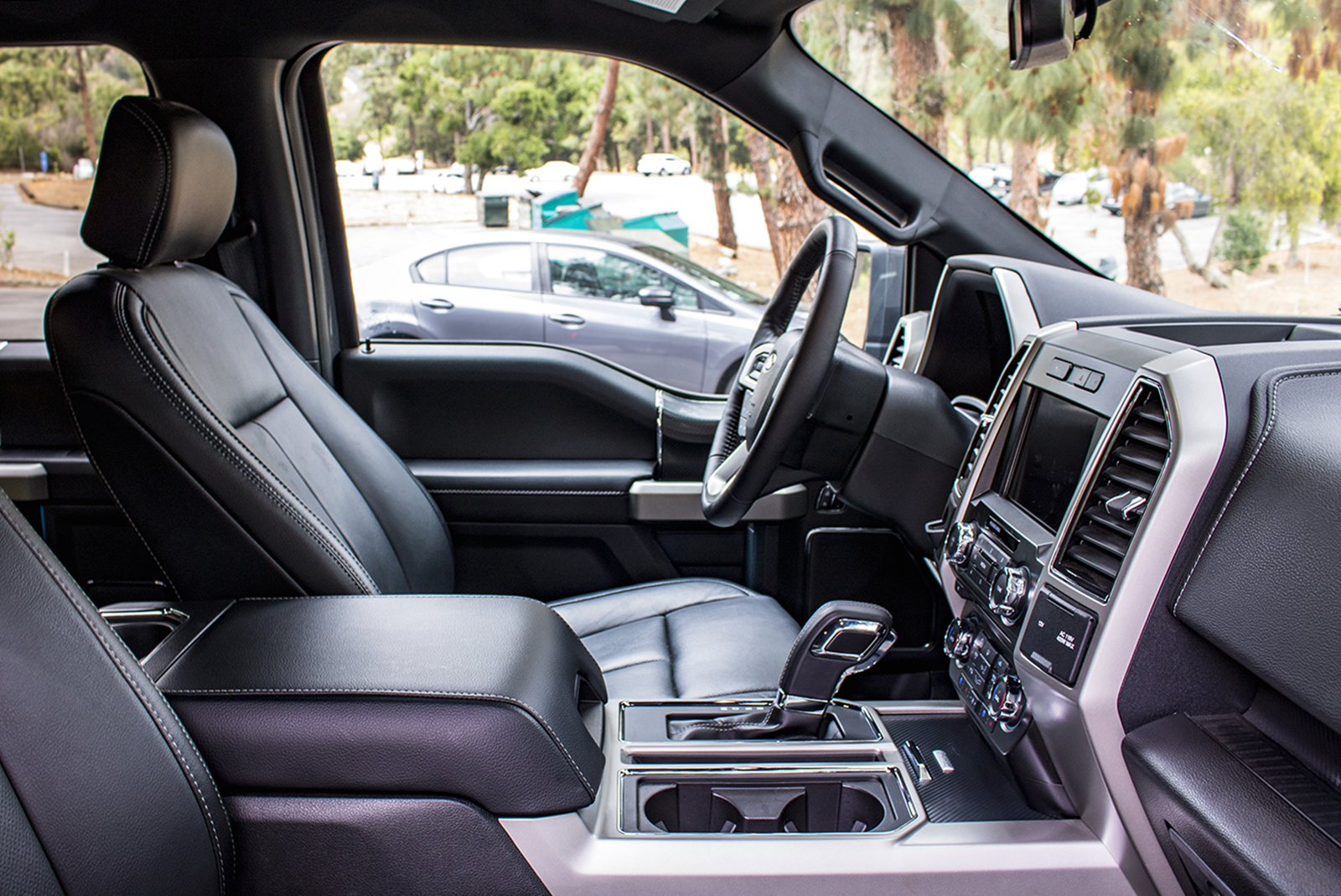 Kyle Cheromcha
Just when things were looking darkest, the Ford and I finally began to descend into the north edge of the San Fernando Valley, meaning Los Angeles was just 30 miles away. Those 30 miles held a few stressful stretches of stop-and-go traffic and one more mountain range, but just after 7:30 p.m., the truck and I triumphantly rolled back into Hollywood like the stars we were. The Ford F-150 Diesel hadn't just made it round trip from L.A. to San Fran on a single tank—it had done so with astonishing ease.
F-150 Diesel Range Test: The Results
Here are the final numbers, since gauge-cluster readouts aren't always accurate. The F-150 Diesel covered 737.7 miles and used 22.473 gallons of fuel, good for a real world figure of 32.83 mpg, which alone would be mighty impressive. Here's the best part, though: with 3.527 gallons left in the tank, it was actually capable of going another 115 miles—which pushes the total range up to 850 miles.
It's worth noting that while the majority of my time was spent on a dead-flat highway—great conditions for fuel economy—the hilly and highly-trafficked areas surrounding both Los Angeles and San Francisco balanced that out somewhat. Granted, you won't achieve this just puttering around town, nor will you get anywhere close to that with a full bed or a trailer in tow. But this result is still relevant, because more and more people are using pickup trucks as daily drivers without either of those encumbrances.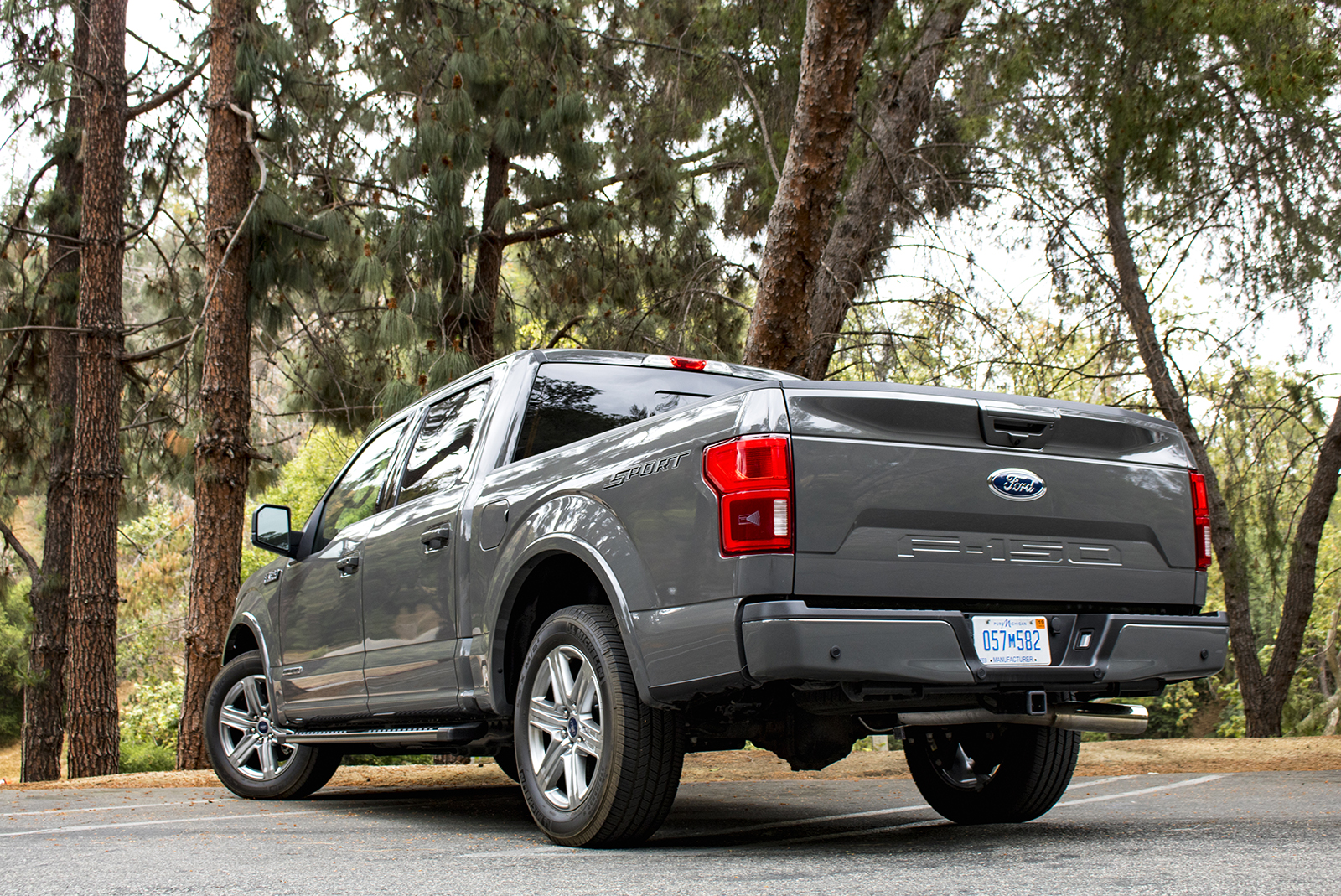 Kyle Cheromcha
So the 2018 Ford F-150 Diesel really is the most fuel-efficient full-size truck you can buy today—and then some. But it's also surprisingly comfortable and refined, showing that a diesel engine can have a proper home in a half-ton. And with both GM and Ram bringing their own oil-burners to market, it looks like a bold new front is opening up in the ongoing Great Pickup Arms Race. Whose side are you on?
The 2018 Ford F-150 Diesel, By the Numbers
Base Price (as tested, including destination): $47,375 ($54,620)
Powertrain: 3.0-liter PowerStroke turbodiesel V6; 250 horsepower, 444 pound-feet of torque; 10-speed automatic transmission, rear-wheel drive with on-demand four-wheel drive optional
Fuel Economy: 22 mpg city, 30 highway, 25 combined
Towing Capacity: 11,400 pounds
Payload Capacity: 2,020 pounds
Number of people I saw texting on the highway: More than you want to know