Kia and Hyundai—er, make that "Genesis"—continue to bootstrap themselves into uncharted luxury territory, designing cars in sizes, styles, and price ranges that once seemed utterly out of their league. The 2018 Kia Stinger is the latest. This handsomely wrought rear-drive (AWD is also available) car melds design elements of a sedan, coupe, and hatchback, and balances the capabilities of a sport sedan and a comfy grand tourer. Sounds familiar? Yep, it's the same formula that drives the Audi A7 and A5/S5 Sportbacks, the BMW 4-Series and 6-Series Gran Coupes, and even—gulp—the Porsche Panamera. Naturally, the Kia costs less. A lot less.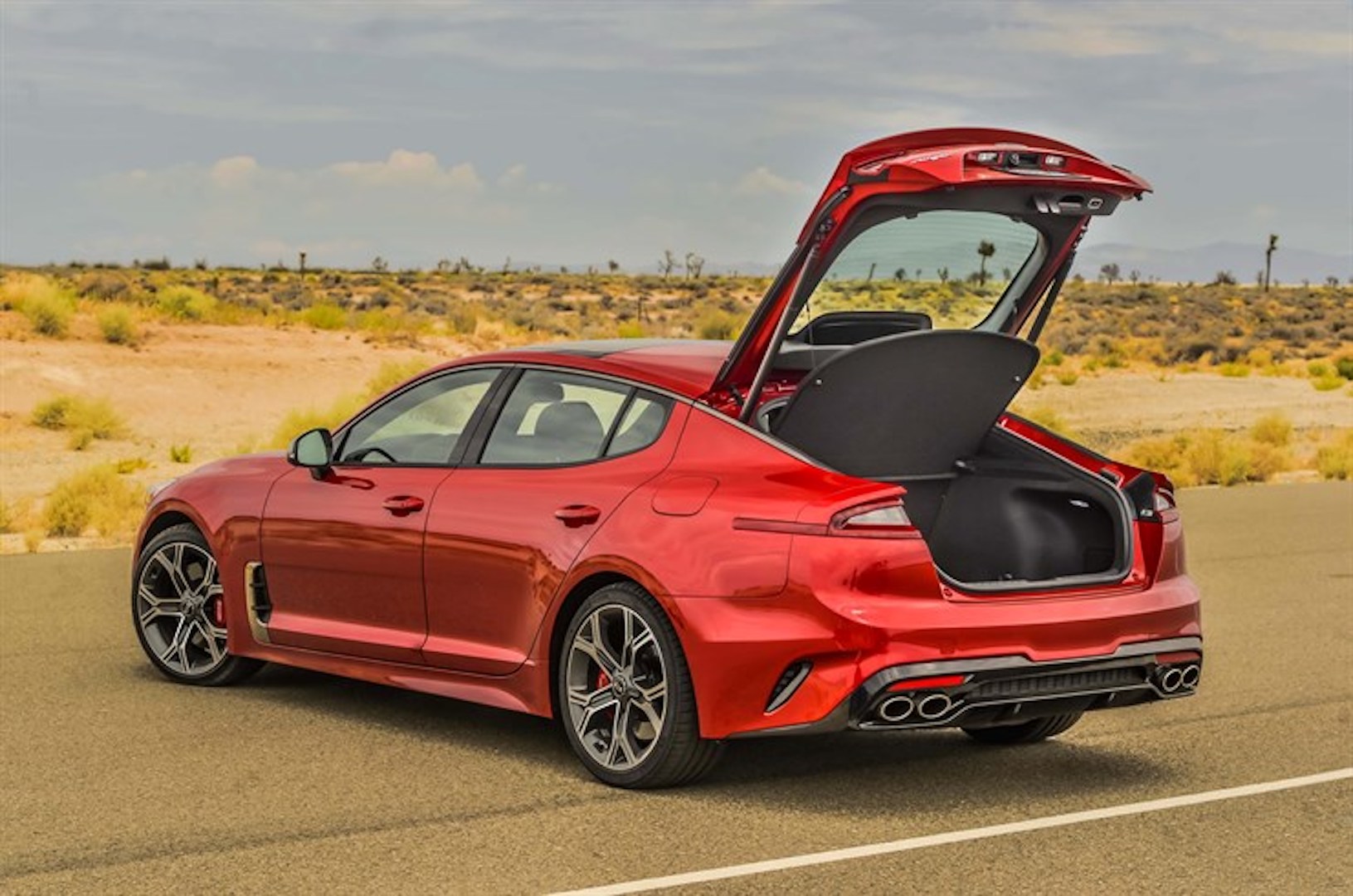 Slick looks, performance and hidden-hatchback versatility, Kia Motors
I just drove the Stinger in Los Angeles, from a rehabbed, Seventies-styled hotel in North Hollywood, through sprawling canyons, and finally on handling courses—a road course and a 6.5-mile oval at Hyundai's California Proving Ground in the Mojave Desert. Kia has put the kibosh on journalists' driving impressions until Oct. 6, when we hope you'll check back for a comprehensive review. But Kia's high-zoot, high-powered interloper still gave us plenty to talk about. Namely, the following: 
1. Going strictly by numbers, Kia has a winner on its hands
For a base price below $33,000, the Stinger brings a 2.0-liter, twin-scroll turbo four with 255 horsepower and 265 pound-feet. It's good for a respectable 5.9-second jaunt from 0-60 mph. But for a shade under $40,000 to start, the Stinger GT is especially eager to stick it to the lofty Germans: a twin-turbo, 3.3-liter V6 generates 365 horsepower and 376 pound-feet of ready, steady torque. The upshot is more horsepower and torque than an Audi A5, S5, and A7; a BMW 440i or 640i; or Porsche Panamera V6. Oh, and a higher top speed—167 mph, in a Kia!—than any car in its ostensible class, including models that cost tens of thousands of dollars more. The Stinger's 4.7-second hustle to 60 mph also bests a half-dozen competitors, from BMW to Infiniti, trailing only the Audi S5 Sportback's 4.5-second run. The Porsche Panamera V6, which starts above $85,000, is a full second slower to 60 mph.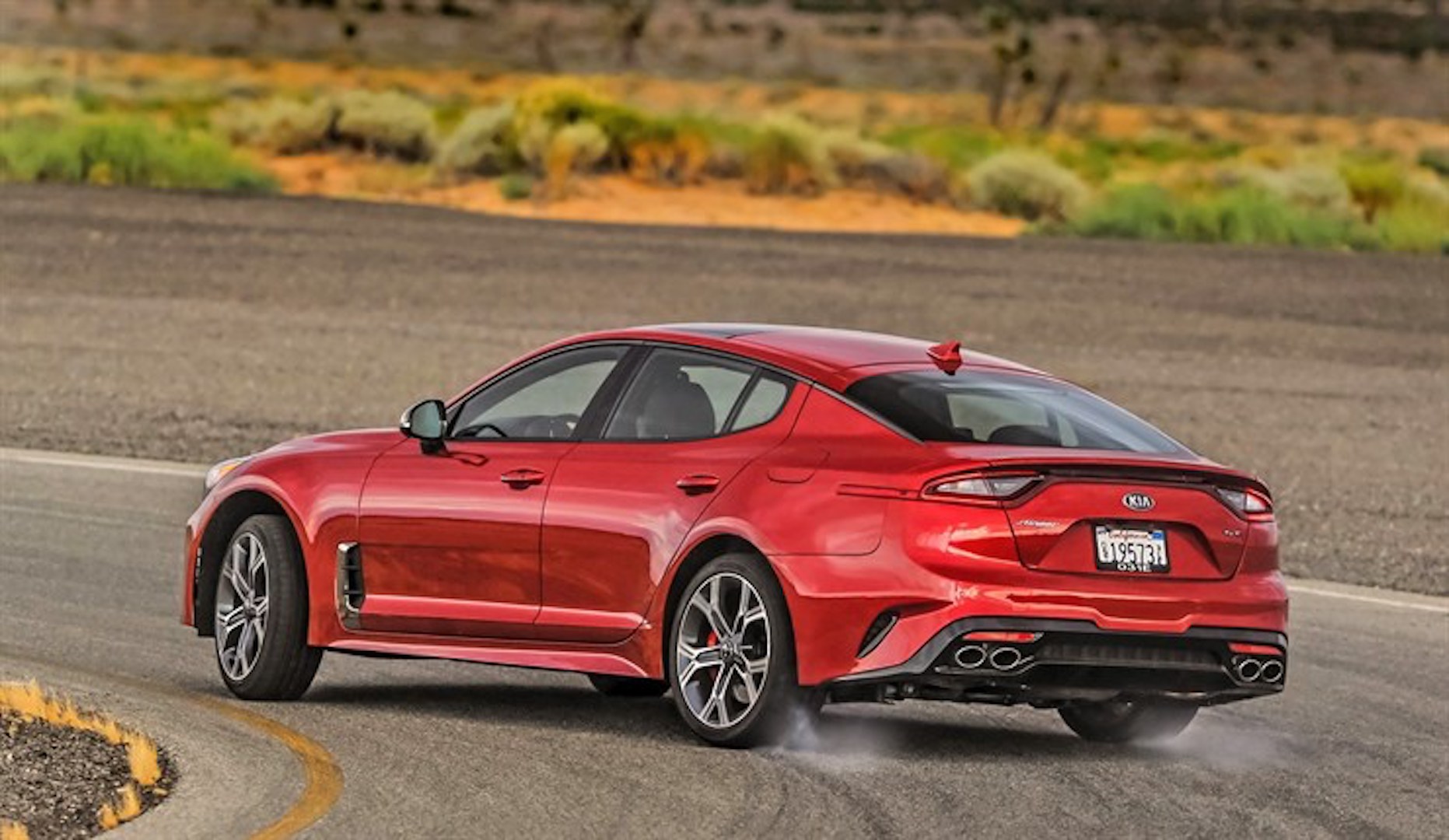 Stinger buzzes the Mojave at California Proving Ground, Kia Motors
2. The name still stings a bit
Having grown up with Dusters and Roadrunners, Gremlins and Barracudas, I understand the penchant for cute, cartoony car names. But while "Super Bee" made perfect sense for a Plymouth muscle car of a more-innocent time, "Stinger" just seems inapt for an elegant GT that strives for the social and performance standing of European luxury cars. A "Kia Stinger" hot hatch to buzz other young-hooligan rides? Absolutely. But I'm already picturing the poor guy at the Mandarin Oriental, surrounded by swells, when the valet asks what car to bring around: "I'm the Stinger," he mumbles. Hoo boy.
3. The Kia has style to spare….
Talk about surreal: The Stinger bowled over style-conscious Los Angelenos like pins in The Dude's "Gutterballs" dream sequence. Thank the Stinger's classic rear-drive GT proportions, with a long hood, proper axle-to-dash ratio, sweptback body and a generously overhanging tail.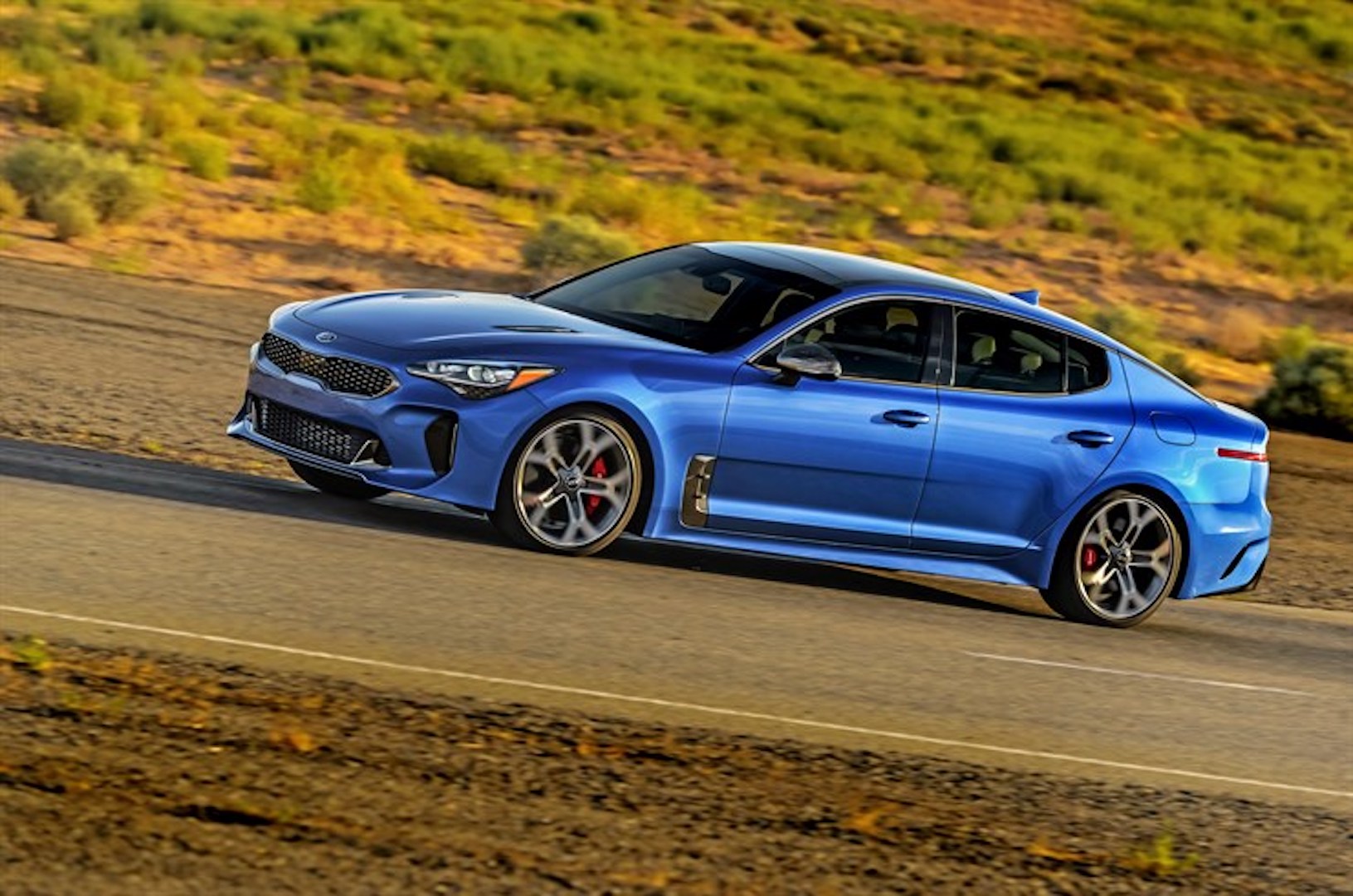 Believe it: That pretty car really is a Kia, Kia Motors
4. ...and squeezes lots of space into a modest package
At a hair over 190 inches, the Kia is a tweener that splits two size classes. It's roughtly eight inches longer than an BMW 4-Series Grand Coupe, but nearly six inches shy of an Audi A7. Yet the Stinger's 114.4-inch wheelbase is just 0.3 inches shorter than the A7's, and about eight inches longer than that of the 4-Series. That super-stretched wheelbase helps carve out the most rear legroom in the class, along with a generous rear hatch (expanded via split-folding rear seats) that's nearly a dead ringer for the A7's vast luggage compartment.    
5. Interior impresses, but only to a (price) point
Like nearly any Kia or Hyundai, the Stinger goes head-to-head on features with cars that cost more. A short list of available goodies includes a 16-way power driver's seat with adjustable bolsters; soft Nappa leather; a knockout Harman Kardon audio system with 15 speakers, 720 watts, seat-mounted subwoofers and resonance chambers in the center roof pillars; a head-up display; and 18 different driver assistance systems. There's even some genuine metal trim. The whole thing looks remarkably spiffy for a car that starts below $33,000, despite obvious shout-outs to the Germans like the yacht-like (and Audi-esque) console shift lever, or "turbine wheel" vents straight from the Mercedes playbook. But in terms of perceived luxury, not to mention design originality and sophistication, the Kia won't be confused with pricier Audis, Bimmers, and Benzes that it competes well with in other areas. Though at these prices, it's probably unfair to expect everything.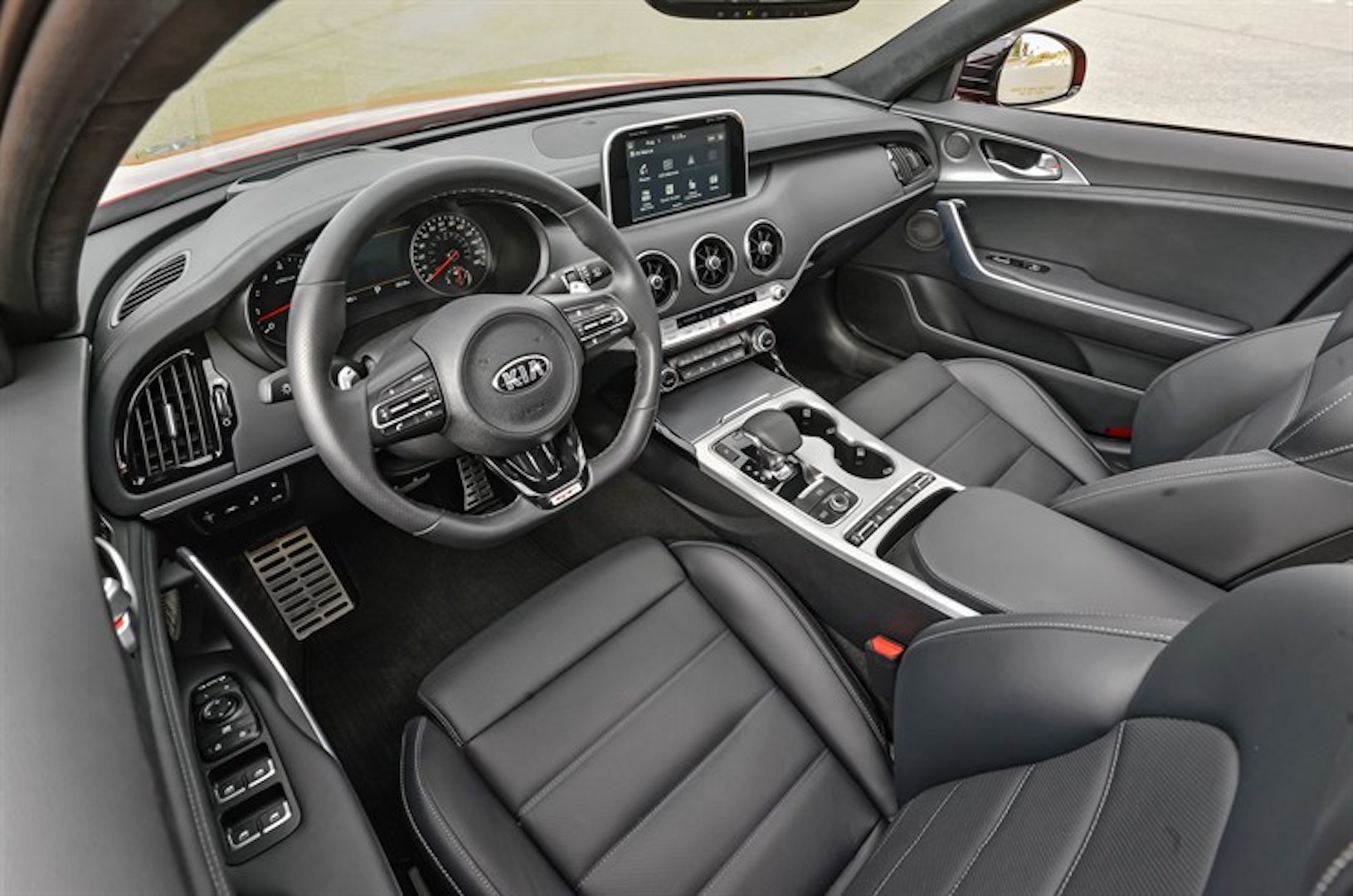 Shipshape interior, especially at a starting price below $33,000., Kia Motors
6. Don't car designers have to sign non-compete clauses?
Even after spending a half-day in a convoy of Stingers, my eyes glanced at the tail of a silver car, and my brain said: "Hey, what's that Audi doing here?" Peter Schreyer was a leading Audi designer, likely destined for the company's top spot, before Hyundai poached him as its design chief. (Schreyer now leads global design for both Hyundai and Kia.) Like Ian Callum—the chief designer who moved from Aston Martin to Jaguar, and promptly cribbed from his own DB7 to create the Jaguar XK—before him, Schreyer clearly has no compunction about pilfering his sketches from the Audi wastebasket. Kia executives in Los Angeles, to their credit, didn't even argue when I called Stinger an Audi A7 homage. "Oh, absolutely," one said. (Now, if I had said "shameless rip-off," an argument might have ensued.) There's arguably a touch of Jaguar in the roofline and sinewy flanks, as well. But hey: If you're going to copy, copy from the best, right? 
7. If styling traces to Ingolstadt, performance inspiration hails from Munich
Schreyer isn't the only top talent plucked from Deutschland. Albert Biermann was the longtime chief engineer of BMW's renowned M Division before taking his talents to South ... Korea. As director of high-performance development for Hyundai and Kia, Biermann has worked his Bavarian magic on the Stinger. That includes personally leading 6,000 development miles on the Nürburgring Nordschliefe, and 1 million miles of testing overall. Those 'Ring miles helped develop robust cooling for engine and transmission oil, and all manner of performance goodies: An adaptive suspension, torque vectoring, Brembo brakes with four-piston front calipers, an optional GKN limited-slip differential (for GT models), and, for AWD models, a rear-biased AWD system.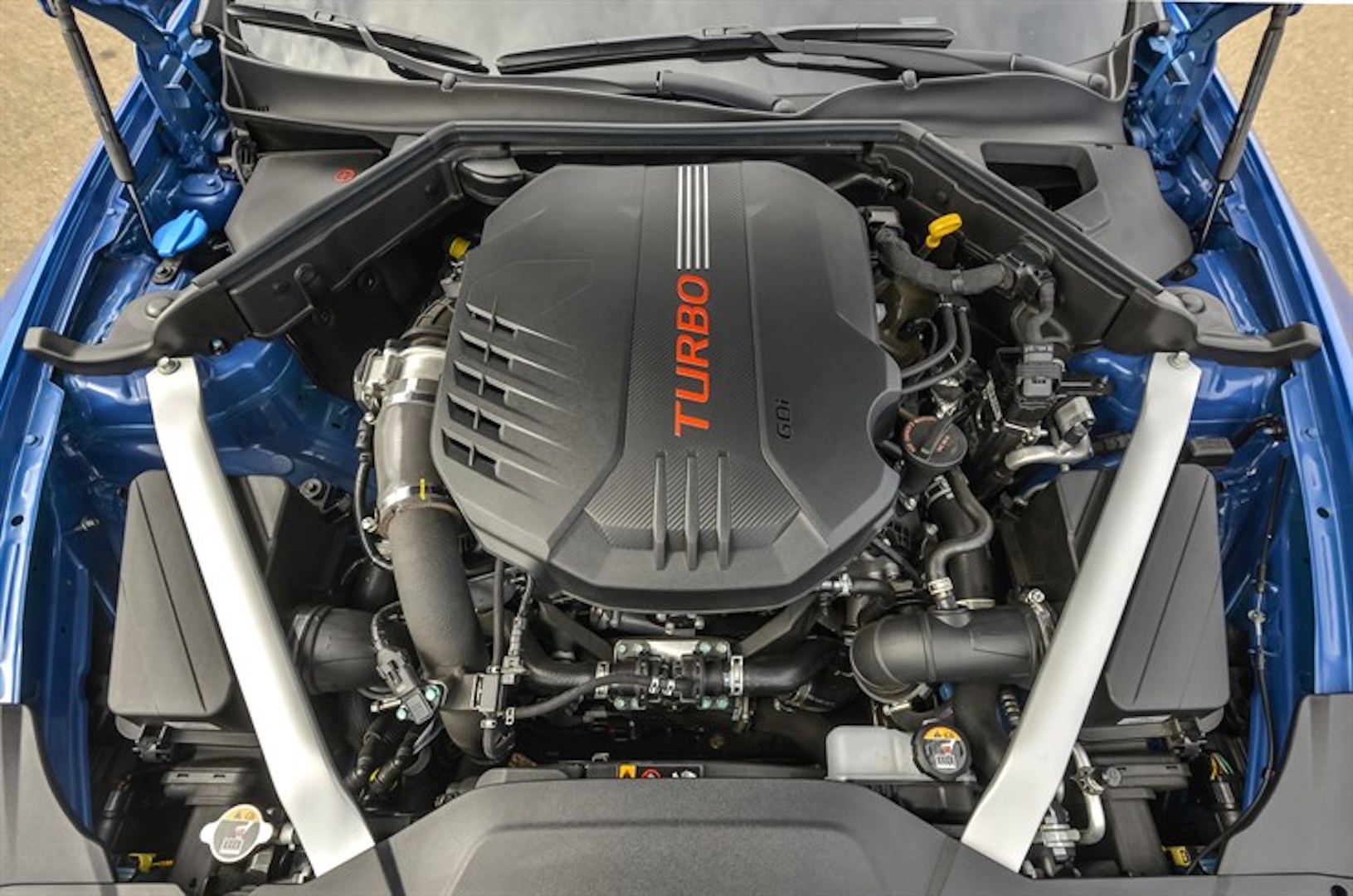 Twin-turbo, 3.3-liter V6 brings 365 horses; 0-60 mph in 4.7 seconds, Kia Motors
A five-position drive mode selector adjusts the electronic suspension, steering, throttle, stability control, and an eight-speed, paddle-shifted automatic transmission, which was developed in-house. To smooth aerodynamic function at that lofty 167 mph, the Stinger gets front wheel air curtains with functional vents, a full belly pan with engine-cooling NACA ducts, and an elegantly curling trunk-lid spoiler that does its job with no weighty motors and moving parts. New Michelin Pilot Sport 4 all-season tires, tuned especially for the Stinger, are derived from Formula E racing experience, with Michelin claiming best-in-class dry- and wet grip, excellent steering reactivity, and generous wear characteristics. How well does it all come together? Check back on Oct. 6 for all the relevant beeswax on the Stinger.