The 2018 One Lap of America road rally kicked off Saturday, continuing a tradition that Brock Yates Senior, one of America's finest automotive journalists, started more than 30 years ago with the now-defunct Cannonball Run.
This year, nearly 80 cars of all makes and models have enrolled in the event, which started at the Tire Rack headquarters in South Bend, Indiana. What was originally designed to protest the 55 miles-per-hour speed limit implemented across the country in the '70s has evolved into a weeklong rally that covers over 3,500 miles from Illinois to Texas, and involves 15 to 20 different competitions at a dozen venues along the preset route.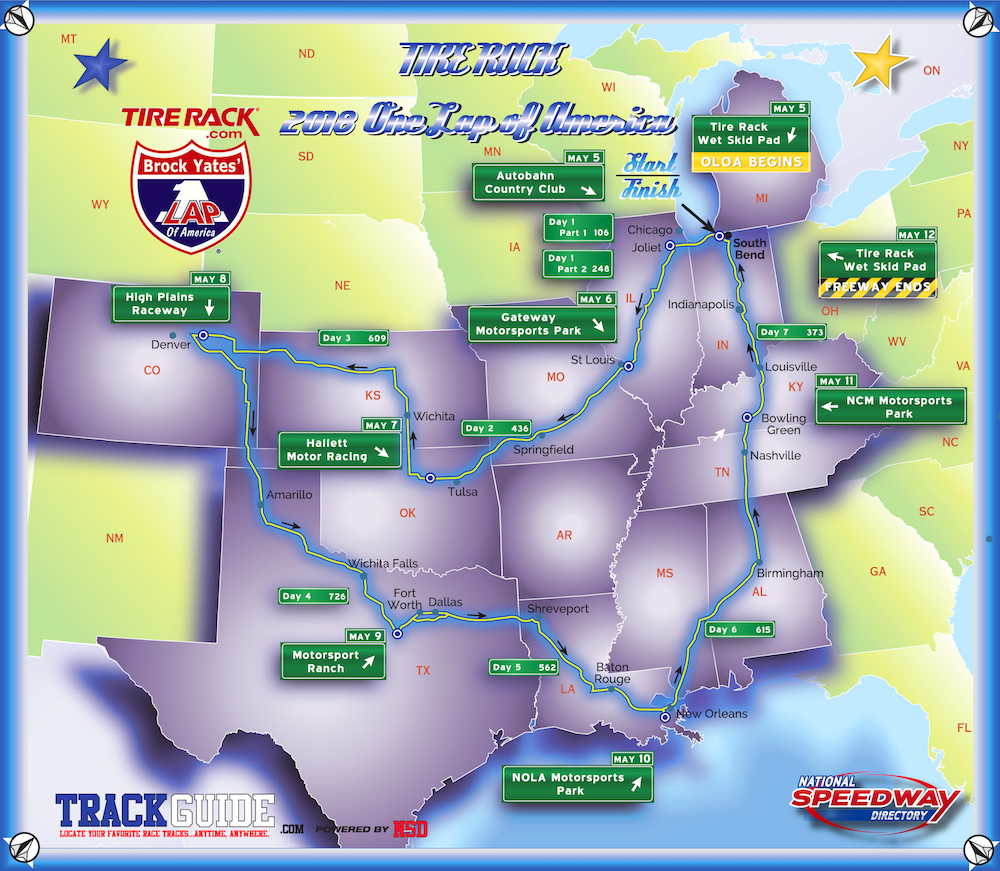 The 2018 One Lap of America route., OLOA
Perhaps one of the most interesting things about the One Lap of America is that unlike other similar events, it's not designed for the uber-wealthy only. In fact, the cost of entry per team is only $2,900 and this year's lineup will feature vehicles ranging from a Toyota Prius to heavily modified Corvettes and BMW M cars. Furthermore, the entire event— consisting of track and public roads—must be completed on only one set of tires, further keeping costs lower to participants.
The Drive recently had the opportunity to chat with Woody Rogers, a product information specialist at the Tire Rack and a One Lap of America veteran.
The Drive: Woody, can you describe One Lap of America in your own words?
Woody Rogers: It's a weeklong racing loop that starts and finishes at the same place—the Tire Rack skidpad in South Bend (Indiana). During the one week, participants drive on public roads at the speed limit, and also partake in several different competitions at a dozen or so different locations, including racetracks. Through the course of the week, drivers travel about 3,500 miles from one stop to another and they don't get very much sleep.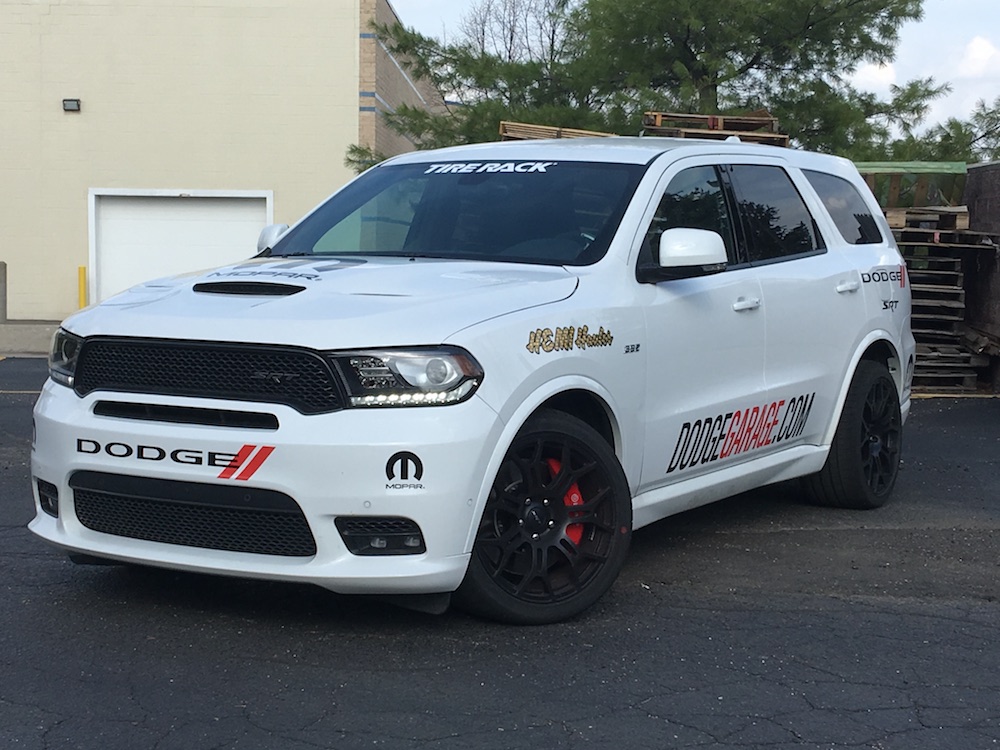 A participating Dodge Durango SRT., OLOA
​TD:
What does the average team look like and what are they asked to do throughout the week?
WR: Teams typically consist of two or three drivers and usually one or two of them are the designated track superstars. Different teams have different strategies on how to get the job done, as some of then choose to rest their track driver so he or she will be fresh for the track outings, while some just split the driving duties evenly. Also, teams have to be self-sufficient at all stages of the race. When they get to a track, they must unload everything out of their car, send their track driver out for three flying laps, and then come back and load everything up before continuing to the next stop.
The teams are given points and scored according to their on-track performance, and ultimately ranked against their own class and overall.
TD:  Sounds like it's go, go, go, no?
WR: Most teams cover 500 miles per day. It's a weeklong event and they cover more than 3,500 miles, so you do the math. Most folks get three to four hours of sleep per day. It's truly an endurance challenge.
​TD:
About the tires, they must complete the entire thing—public roads and track events—on just one set, correct?
WR: That's correct. It's a diverse challenge. During the competitions, they can visit short and long road courses and even ovals. Heck, I've seen Lamborghinis and Ferraris tackle dirt ovals. The venues change every year and they can be big, important race tracks or small, unknown holes in the wall. In the end, teams have to use only one set of tires and they can only carry one spare per size. So, if a vehicle uses a staggered tire setup they get to carry two spares.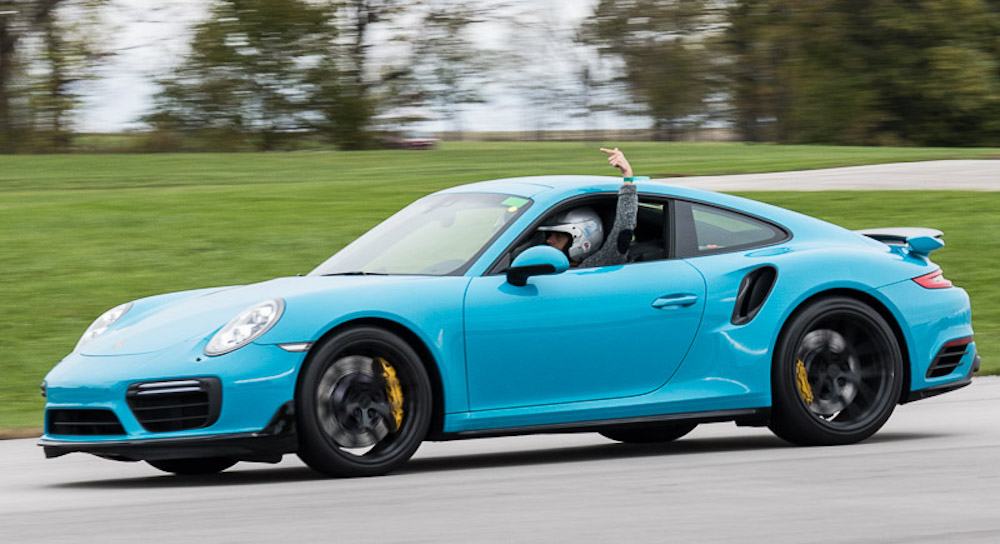 A participating Porsche Turbo S., OLOA
​TD:
Given the variety of vehicles you guys welcome, it must be tough to choose a tire, I'd suppose.
WR: Cars of all kinds run every year, but the Nissan GT-R seems to be the car of choice. It's not hard for the tires nowadays, as tire performance, much like the cars', has come a very long way in recent years. Tire performance and treadwear have improved severely since I've been around here, so about 10 to 12 years.
Every year most cars don't even have to use their spares, with only one or two cars suffering from mishaps on public roads.
Another thing that's important when it comes to tires is the ride quality and how well they can adapt to different conditions. Remember that drivers will travel half of the country in one week, so think of the weather they will face. Some parts will be dry and hot while others will be wet and cold, but all along they also need something that won't beat them up too much during the highway miles. The Max Performance Summer category is what most people choose over the Extreme Performance Summer category (200 treadwear), and within that category, most teams choose Michelin.
​​TD:
Why Michelin?
WR: It's a reliable tire and it offers the pliability that mostly everyone is looking for. From 2010 to 2015 the overall winner sported Michelin. Last year 58 percent of class winners had Michelin.
​TD:
Do teams have to buy their own tires?
WR: Yes, they buy their own tires and they have to be sourced from Tire Rack inventory. No team gets special tires. We brand them on the side wall to make sure they run the same tires we sourced them and everything is fair when they get to inspection. A dozen tire manufacturers or so participate with us and offer the competitors a 20 percent rebate.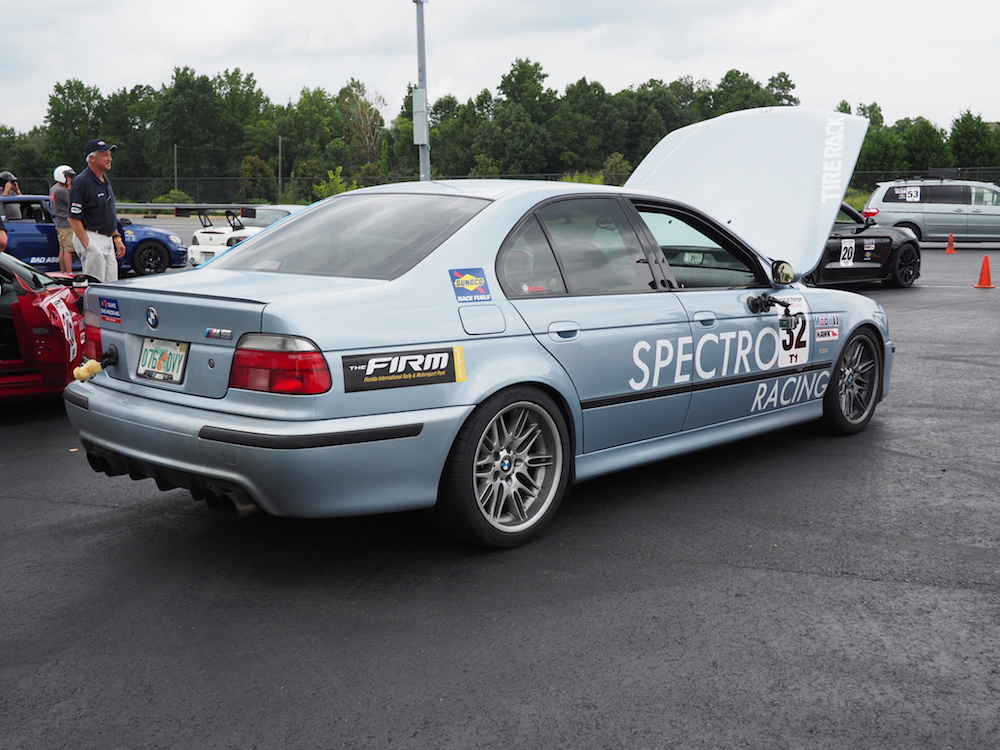 A participating BMW M5 proves it's not all about new cars., OLA
TD:  Lastly, what tire safety tips do you offer to rally participants as well as the general public out there?
WR: I love this question. It's really a two-method approach. First, visually inspect your tires about once per month. Make sure the tread is sufficient for the kind of weather conditions you endure, and make sure they're properly inflated. Lastly, don't wait until your tire pressure monitoring sensors warn you. When that happens, your tire pressure is already 25 percent lower than it should be, and you're already in "almost dangerous" territory.
Fans can follow all the action on the One Lap of America Facebook page.