Welcome to Critic's Notebook, a quick and off-the-cuff car review consisting of impressions, jottings, and marginalia regarding whateverThe Autance writers happen to be driving. Today's edition: the 2018 Land Rover Range Rover Velar R-Design HSE.
The name "Velar" may date back to the code word used within Land Rover to refer to the original Range Rover (as seemingly every first drive of the crossover mentioned), but it seems likely the people who mocked up that first off-roader to bear the now-iconic brand would spit their Earl Grey all over their 1960s-era blueprints if they could see the vehicle that boasts the moniker circa 2018. Those men (not to be sexist, but let's not lie, they were probably all men) poured their blood, sweat, and tears into creating a two-door, body-on-frame, coil-springed off-roader with a hose-out vinyl interior; to see, 50 years on, that the modern Velar is a four-door, leather-lined unibody machine this fashion-focused inside and out might make them wonder what sort of vehicular apostasy their successors had committed.
But plenty has changed in the transportation world since the days when Saturn V rockets were launching men towards the heavens. Sport-utility vehicles have gone from occupying a tiny niche in the automotive ecosystem to the dominant life-forms in much of the world, as aging, ever-fatter human populations seek easier ingress and egress and neurotic, paranoid adults aim to find "safety" in vehicles that seem more reassuring due to taller ride heights and traction-enhancing four-wheel-drive systems. With an ever-wider array of customers buying these machines, the SUV market has undergone a remarkable course of speciation. The world of the original Range Rover—where one shape and size was enough to claim dominance in the market—is long since passed. Sport-utes now come in nearly as many sizes, powertrains, and body styles as conventional cars ever did. 
So it falls upon the Velar to tweak the mission of its parent brand. Land Rovers—Range or otherwise—are expected to be all-conquering vehicles, invulnerable to climatic fury and capable of clambering over and/or through terrain that would stymie 99 percent of other vehicles on sale today. They're assumed to be comfortable, capacious, and technologically advanced (if occasionally gremlin-prone). They have not, however, generally been thought of as glamorous. At least, until now.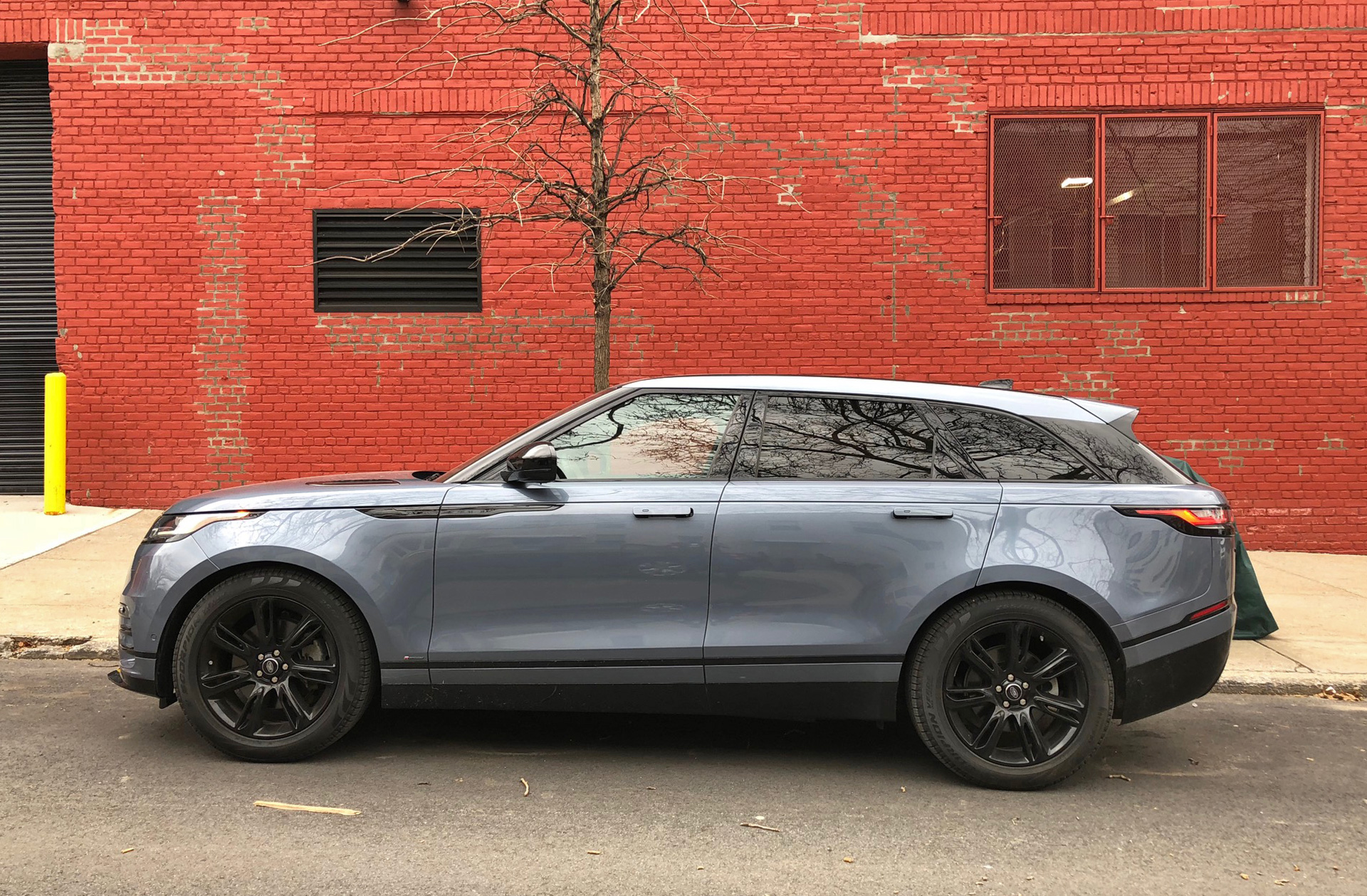 Will Sabel Courtney
The Pros:
God, this is a pretty truck. No, truck's the wrong word; it doesn't even work as an offhand generalization, the way you could colloquially apply it to most crossovers. The Velar is more exaggerated wagon than boxy sport-ute, with a squashed greenhouse and angular pillars front and rear. It looks they designed it by rolling the clay model of the full-size Range Rover into the wind tunnel and cranking the airflow up to 11.  And sure, taste is personal, but it's hard for me to imagine a more appealing combo than my Byron Blue test car with its black wheels and accents. 
Land Rover nailed the details here. The pinholes in the leather subtly form Union Jacks; the high-def graphics in the infotainment system's lower screen (which controls climate control and the car's driving modes) shift elegantly between views of the vehicle as it shuffles between drive modes. The more time you spend poring over the Velar's interior and exterior alike, the more it rewards you—a nice little bonus when you're spending this sort of money on a vehicle. 
It may be a Range Rover, but it drives like a big Jaguar. Or, rather, it drives like a big Jaguar ought to drive, in this author's humble opinion: Pliable and smooth, but more than happy to hustle on command. The ride and handling balance is superb—for any passenger vehicle, much less a crossover. It's not nearly as harsh and aggressive as the F-Pace with which it shares much of its bones; potholes don't rattle the cabin, and expansion joints pass underwheel with barely a thump. Yet pop the Terrain Response 2 system into Dynamic mode, roll the drum-shaped shifter into Sport, and it'll rip through traffic with a precision and verve that would make Jason Statham tip his hat.
Credit for that also goes to the 380-horsepower supercharged V6 nestled beneath the hood. While poseurs will likely be satisfied with the 274-hp turbo four and a handful of Americans who subscribe to multiple car magazines might go for the 2.0-liter turbodiesel, the ubiquitous JLR six is the choice for anyone who bought the sporty Range Rover because they actually wanted to drive a sporty Range Rover. (Though, to be fair, a weekend in the V6 Velar left me anxious for Land Rover to unleash the 500-plus-horsepower Velar SVR already.)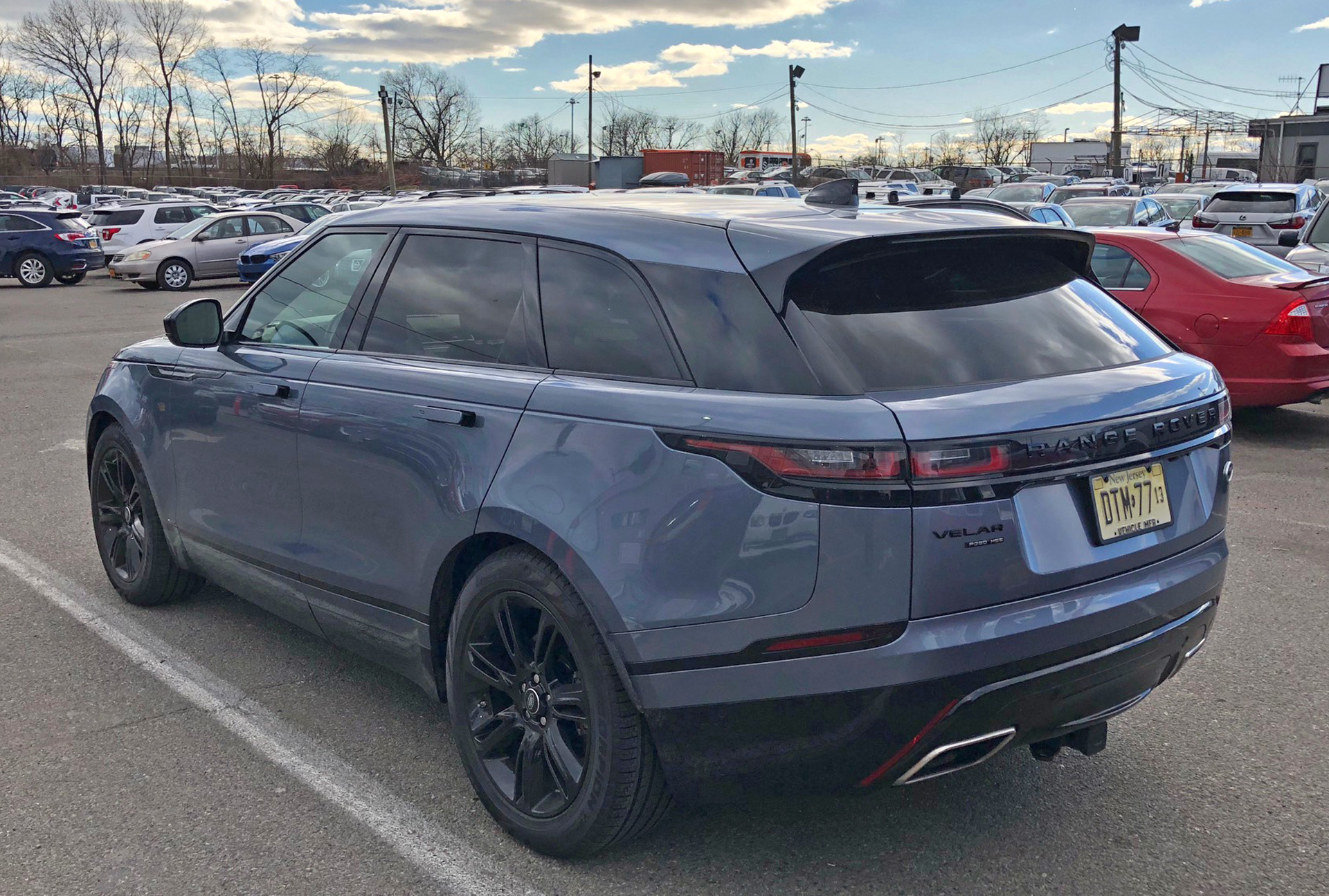 Will Sabel Courtney
The Cons:
It does sacrifice a bit of space on the altar of style. The front is perfectly roomy, and the trunk surprisingly commodious, but the area in-between—the back seats—is rather lacking as result. One glance at the rear bench and it's clear that a family car this is not—at least, not if those kids are planning on entering puberty.
The newest version of the JLR infotainment system, dubbed Touch Pro Duo, is better yet again than those it preceded—but it's still wanting in a few places. The radio presets are frustratingly small and maddeningly vague – exactly what you don't want from the buttons you probably hit on the stereo more than anything else. And oddly enough, it seems that going over to the new format has cost the InControl Touch system the colorful home page tiles that it has elsewhere; turn on the car, and after the de rigueur legal notification cleared, I was left staring at three slate-colored, largely-blank information tiles. 
The forward alert warning is, shall we say, hyperactive. It acts like a driver's ed teacher with a new set of Coke-bottle glasses that make traffic ahead seem even closer than it is; it's prone to scream its shrill alert even at regular, entirely-safe following distances. I usually manage to tolerate such systems in test cars; I had to shut the Velar's off within a day of driving. 
Can a Land Rover—even a fashion-first Range Rover—be a Land Rover without low range? It's a question that also applies to several vehicles in the lineup nowadays; the Discovery, Disco Sport, and Evoque all either offer two-range four-wheel-drive as an option or not at all. I didn't have a chance to put the Terrain Response system's off-road modes through their paces (except for a brief button-pressing adventure at a stop sign, which sent the car rising and falling as the suspension cycled through its modes), but past experience with the system in other models has proven that Land Rover has a damn good idea what it's doing. A Velar, I'd imagine, would be more capable in mud, muck, snow, or sand than most any of its direct, urban-chic competitors. And the numbers don't lie; the Velar V6's approach angle of 24.3º, departure angle of 26.3º, and breakover angle of 20.1º all compare quite favorably with the full-sized Range Rover, and its 9.9 inches of ground clearance is less than a house mouse's body behind Rangie Prime's 11.7. (That said, the Velar can only wade through 25.6 inches of water as opposed to the other model's 35.4, so if you regularly run across yard-deep rivers in your daily life, the full-blown Range Rover is still the one for you.)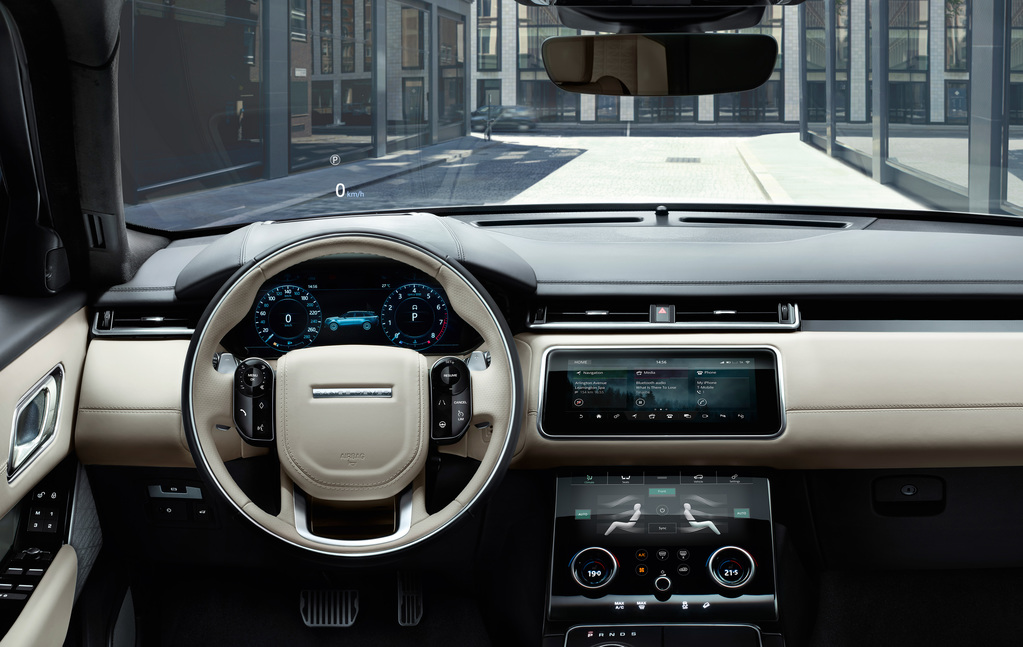 Land Rover
The 2018 Range Rover Velar V6 R-Dynamic HSE, Ranked:
Performance: 4/5
Comfort: 4/5
Luxury: 4/5
Hauling people: 3/5
Hauling stuff: 4/5
Curb appeal: 5/5
"Wow" factor: 3/5
Overall: 4.5/5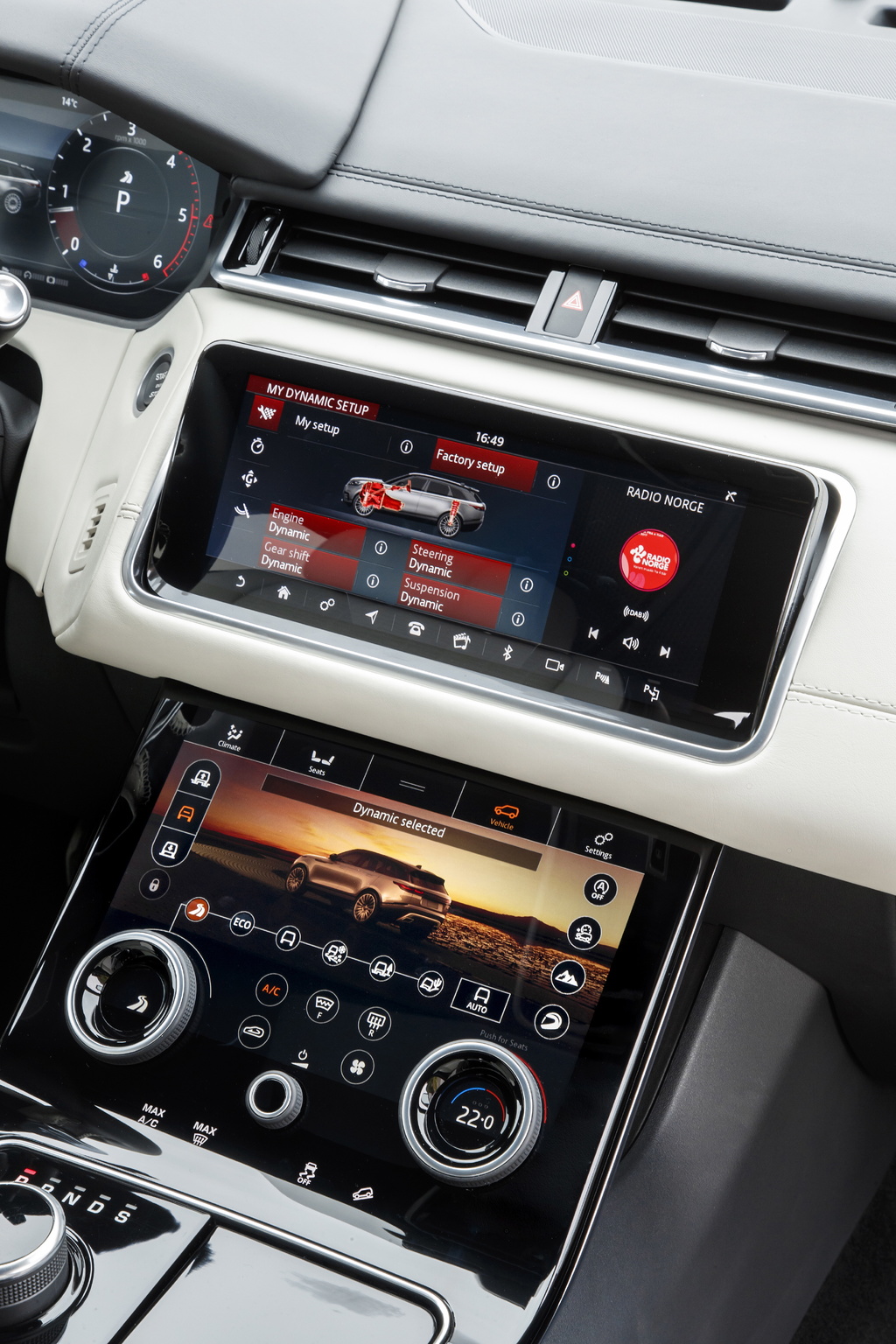 Land Rover
The Bottom Line:
As of 2018, Land Rover's decade-and-a-half-long transformation of Range Rover from sole luxury vehicle to mini-model range aimed at Richie Riches of all stripes is effectively complete. There are now Range Rovers in coupe, convertible, and two-box hatchback body styles, ranging in price from around $42,000—just $6,000 over the average new car transaction price last year—all the way to $300,000 and above with the arrival of the new Range Rover SV Coupe. 
But it's the Velar, with its focus on urban-centric fashion over rural-minded function, that seems to point the way to tomorrow for the brand. If Land Rover defined off-roading excellence in the second half of the 20th century, then perhaps Range Rover will define automotive luxury in the first half of the 21st. After all, all signs point to the global love affair with crossovers to continue for the foreseeable future; the fundamentals of human nature that prompt people to choose such vehicles aren't likely to change anytime soon, and advancing technology means picking a tall wagonoid over a conventional car involves fewer sacrifices by the year. (And as forthcoming vehicles like the Audi E-Tron, Mercedes-Benz EQ C, and JLR's own Jaguar I-Pace demonstrate, a societal switch to electric power won't put the kibosh on the trend.) 
While the world is sure to embrace crossovers from all sorts of companies—especially, as Tesla has proven, in the high-end market—no brand combines luxury, sportiness, and utility in a single vehicle quite the way Range Rover does. As long as brand equity and name recognition mean anything, Land Rover and its premium branch will continue to be one of the standards by which SUVs are judged. The Velar needs to be good, in order to prove that Range Rover can succeed as more than just a company that builds gussied-up off-roaders. If people want SUVs of all stripes, Land Rover has to build exactly that if it wants to thrive. But if the Velar is any indication...expanding the brand won't be problematic at all.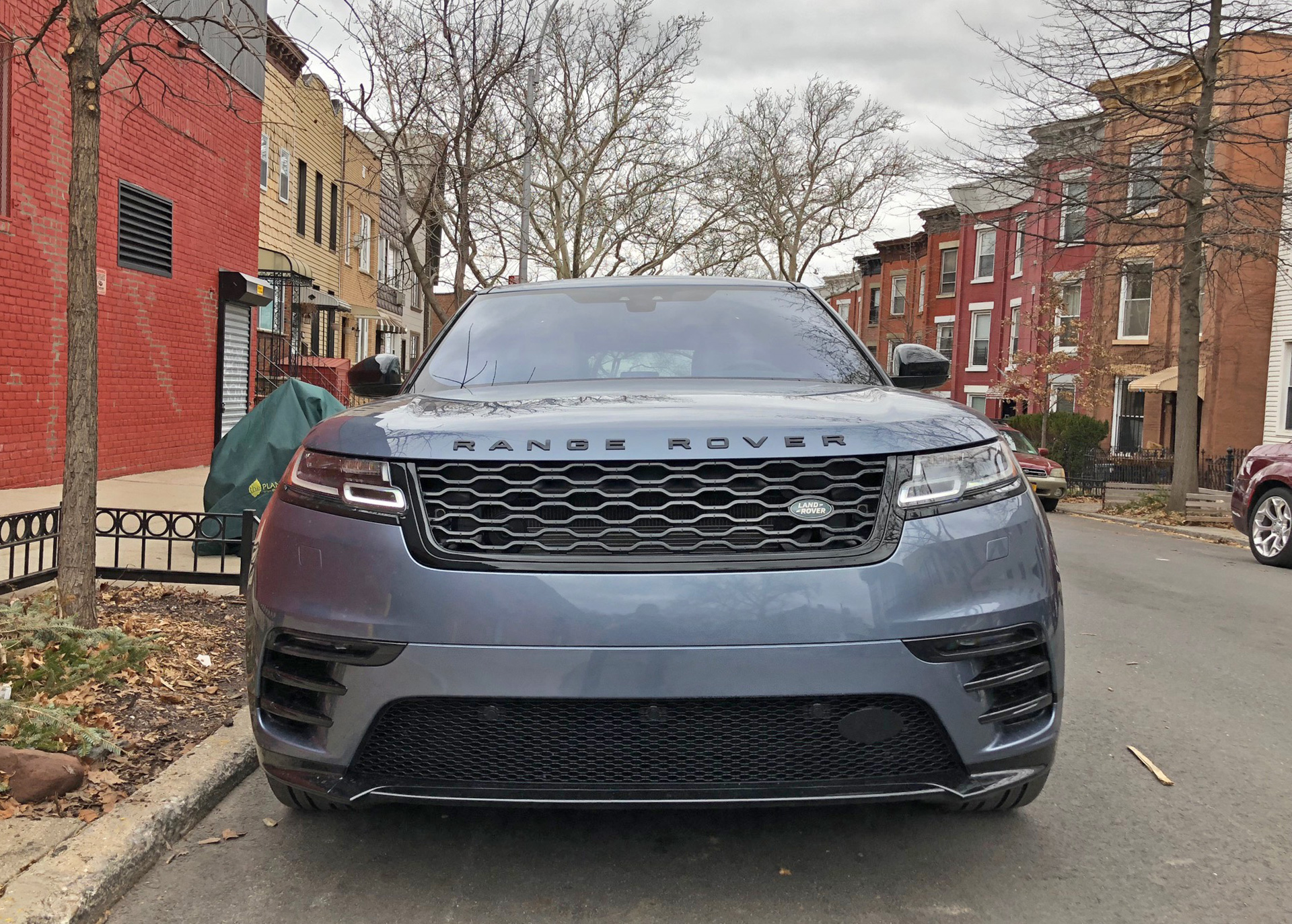 Will Sabel Courtney
The Land Rover Range Rover Velar R-Dynamic HSE, By the Numbers:
Base Price (Price as Tested): $78,095 ($89,555)
Powertrain: 3.0-liter supercharged V6, 380 horsepower, 332 pound-feet of torque; eight-speed automatic; all-wheel-drive
Fuel Economy: 18 city, 24 highway (EPA)
0-60 MPH: 5.7 seconds (Car and Driver testing)
Top speed: 155 mph
Oddly specific maximum tow weight: 5,512 pounds if equipped with trailer brakes, 1,653 pounds without