As the Matchbox toys of the automotive world, American muscle cars are ripe for experimentation—or exploitation—in the form of special editions. Get it right, and you end up with a Plymouth Superbird, a future collectible and classic. Get it wrong, and you end up with a 1998 Corvette Indy Pace Car, a purple-and-yellow poseur with as much class as a Franklin Mint collector plate.
The 2019 Ford Mustang Bullitt is no Superbird in terms of investment potential; not least because Ford will build many more over a two-year run than the mere 135 Hemi Superbirds produced in 1970. But kudos to Ford for offering the Bullitt exclusively as a fastback coupe (no convertible) with a six-speed manual transmission, a vote for authenticity over incremental sales. 
Since no Bullitt review can last two sentences without dropping the words "Steve McQueen" and "iconic," this Mustang's backstory and provenance, it must be said, is pure marketing hokum: A tie-in with McQueen's Bullitt, a forgettable 1968 movie with one unforgettable car chase in a fastback Mustang GT390. If Jeep decided to sell a Jurassic Park-edition Wrangler, it would amount to precisely the same thing, yet car fans would bare their teeth and roar for Jeep's blood like so many T.rexes.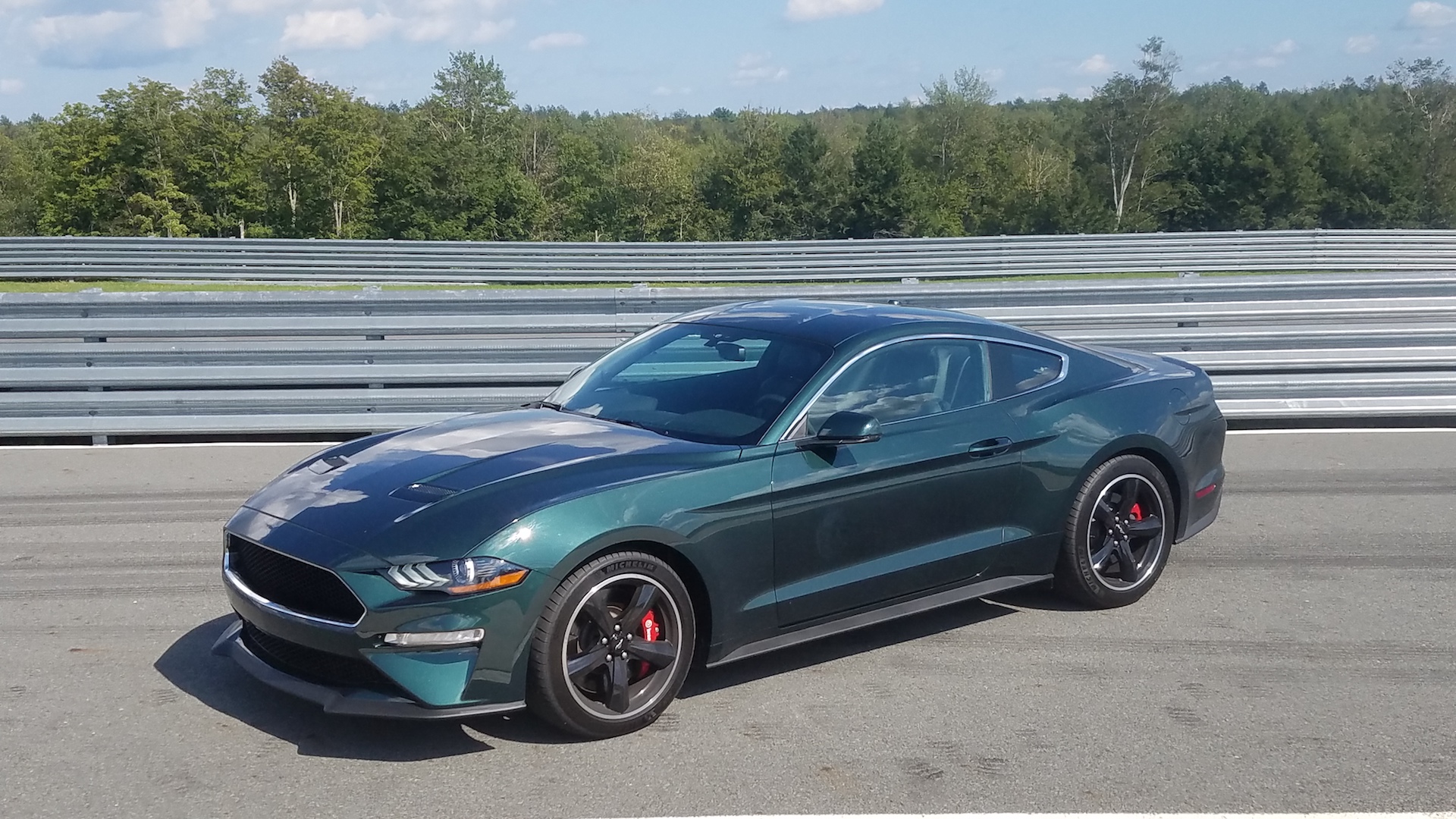 Bullitt gets a two-year model run, following editions in 2001 and again in 2008-2009, Lawrence Ulrich
Fortunately, judged on its merits, Ford's special-edition 'Stang is one hell of a muscle car. This Bullitt could pierce the hardest heart with its power and personality. Its style stops people in their tracks—including some civilians who normally don't give a shit about cars—and its V8 thunder will send them running for shelter. And while the Bullitt still can't touch the Chevy Camaro SS 1LE as a precision-handling instrument—as I learned while driving Bullitt hot laps at New York's Monticello Motor Club—the Ford is roughly as fast, and looks more handsome and sophisticated than the cartoony Chevy. 
Now, I get a huge kick out of the hellacious Dodge Challenger family, with its straight-up, retro-Detroit vibe. But the Mustang takes a different tack, and I can see the long-play upside to its approach. There's no mistaking this for anything but a Mustang, yet the Ford isn't afraid of progress or frozen in amber; it looks like a modern, approachable, not-ridiculous automobile. It's a muscle car that you might buy, and take a significant other to dinner in, without eliciting eye-rolls or snarky cracks about male enhancement. And as it did back in 1964 1/2, the Mustang surely appeals to more women buyers than its purely macho competitors.
The Ford's curious visual effect, somehow elegant and murderous at the same time, is heightened by the Bullitt's brilliant Highland Green paint; Shadow Black is the only other choice on the list, and the correct answer to whether you want it instead is "Hell no."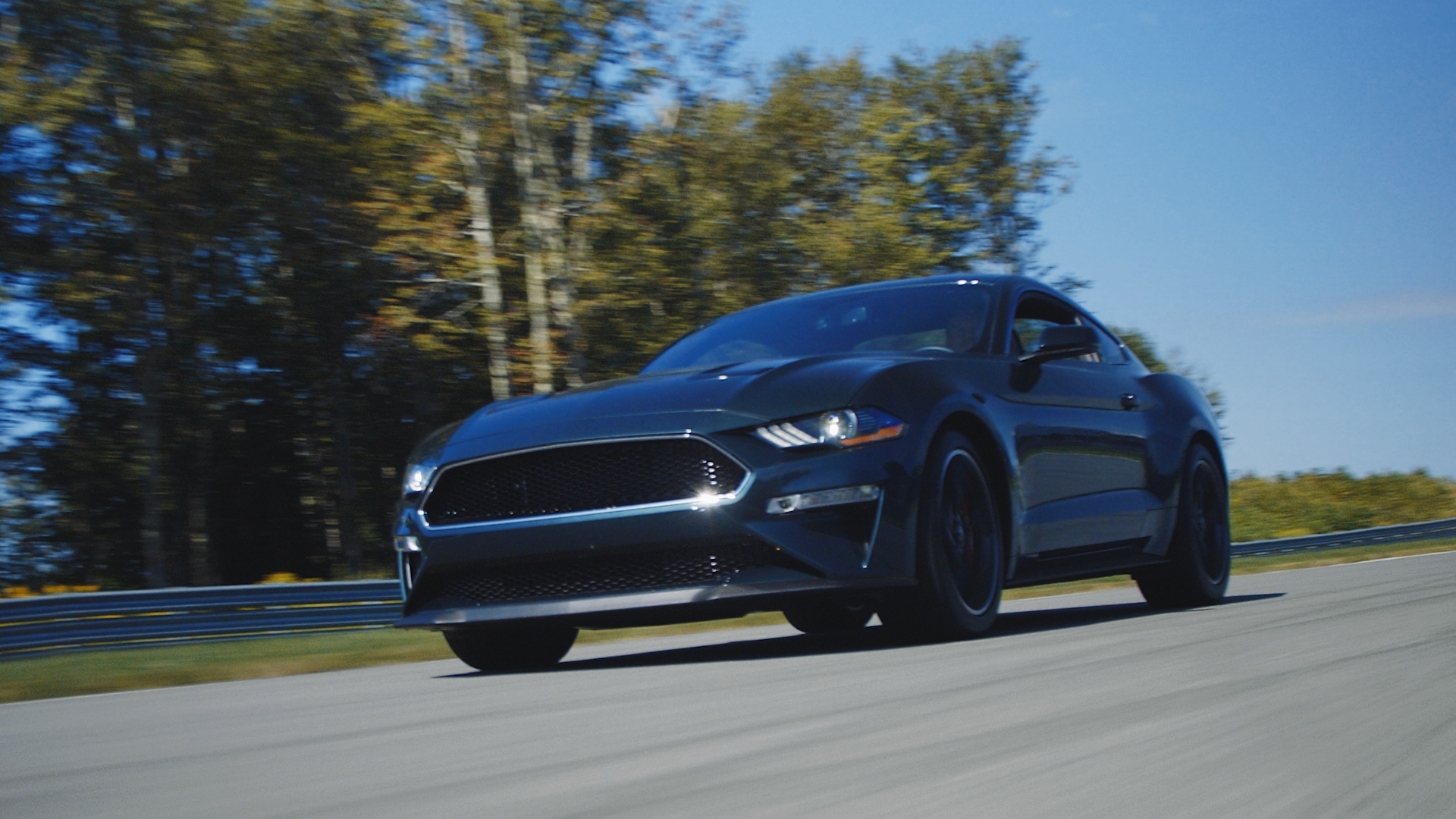 Bulllitt is quick enough to top 140 mph on Monticello's longest straight, Chris Szczypala
The 480-horsepower Ford should run neck-and-neck with the (slightly lighter) 455-hp Camaro in a straight line, with Ford citing a 4.2-second squirt to 60 mph and a 163-mph top speed given enough straightaway, the latter topping a standard GT by eight mph. At Monticello's full road course, the longest straight line is a roughly one-mile stretch, with a slight downhill kink. Here, the Bullitt shows me a consistent 143 mph before it's time to whang on the brakes before a slow uphill switchback. 
Those Brembo red-painted calipers make for a poor contrast with the green paint—silver or yellow would look better—but I can't complain about the stopping force, thanks to six-piston front calipers that don't fade after eight or more consecutive hot laps. On a hot-and-humid New York day that's stymieing Roger Federer at the U.S. Open, the Mustang does flash an "Axle Overheat" warning during my opening laps, but after a brief cool down, it vanishes for the rest of the day.
Ford did make a package of engine oil, transmission and differential coolers standard on the Shelby GT350 beginning with the 2017 model, after some owners filed a lawsuit due to claimed overheating issues. But I was neither surprised nor particularly offended that a more standard-issue Mustang GT, as with any street-focused car, might reveal some fragility when subjected to track abuse in seriously hot conditions.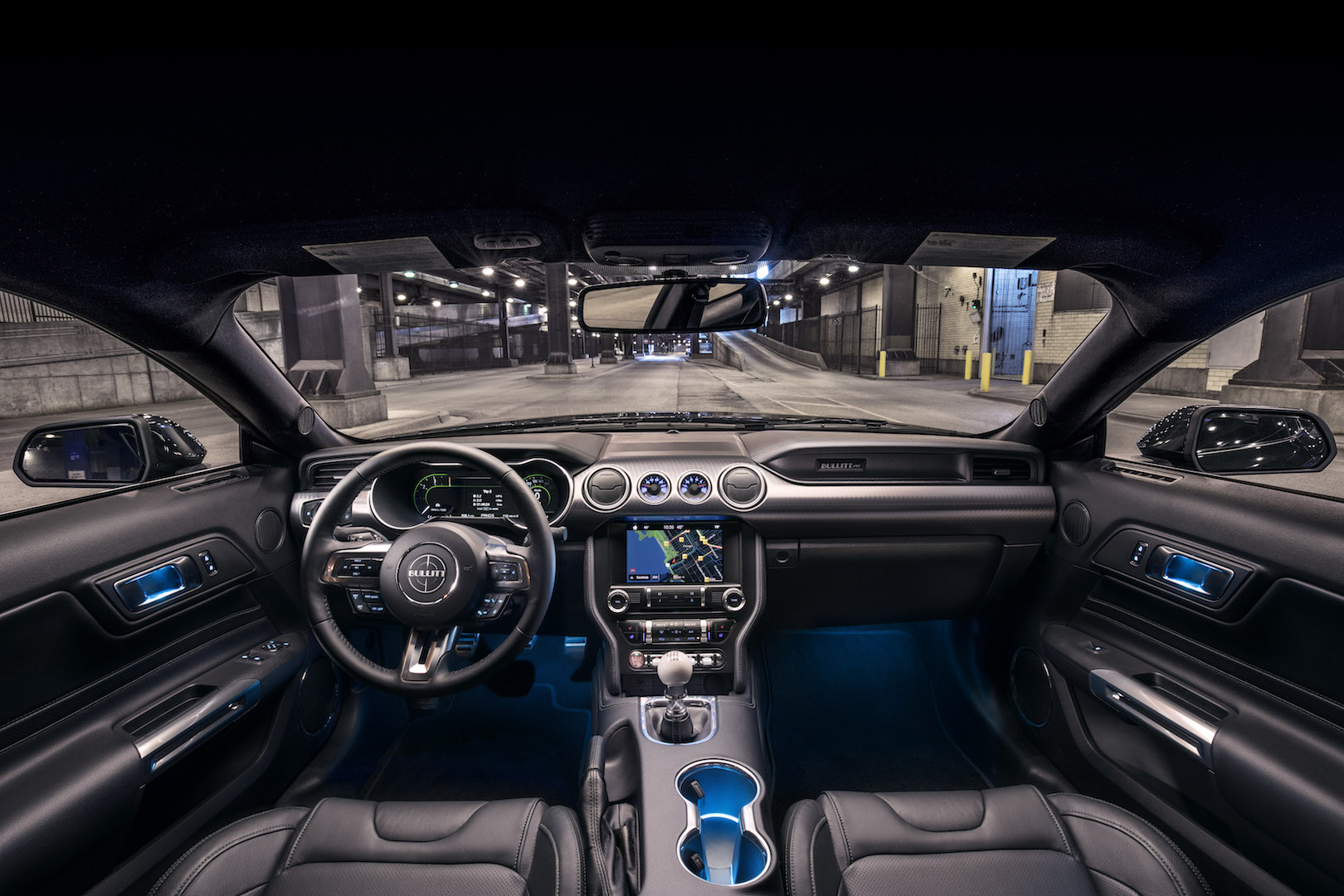 Cue ball shifter, digital gauges, aluminum trim are cabin highlights, Ford
Bottom line, the Bullitt isn't designed to be a track car like the Shelby: It's basically a Mustang GT Premium with the Level 1 Performance Package that's a $3,995 option on standard GTs. Its key equipment includes those Brembos, a Torsen limited-slip differential, sportier suspension and a strut-tower brace; an upsized engine radiator and rear sway bar; recalibrated active exhaust; retuned electric steering, ABS and stability control; oil pressure and vacuum gauges inside; and rippling "engine turned" aluminum dashboard trim.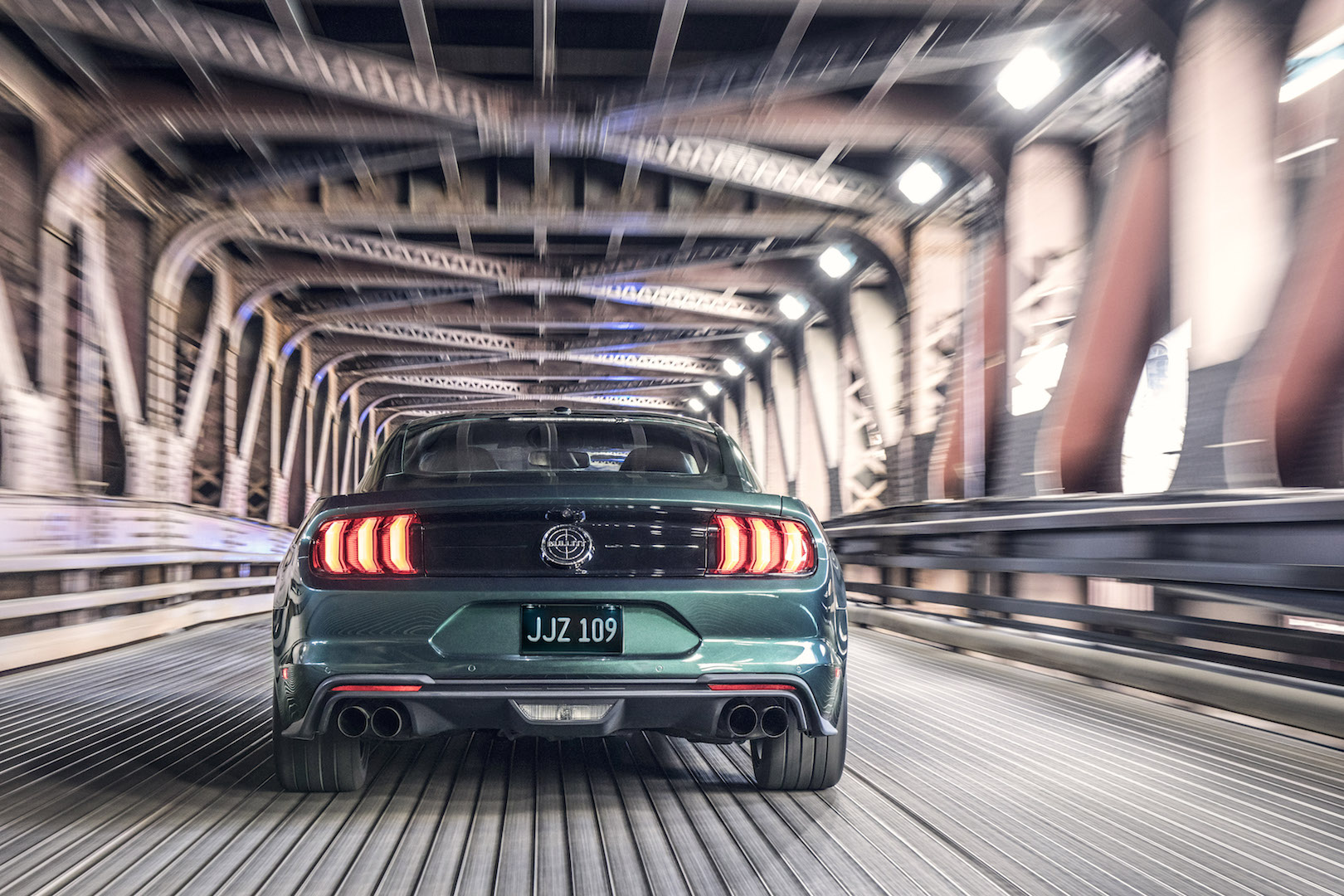 Bullitt is born to rumble on city streets, Ford
To that, the Bullitt adds unique goodies. Black wheels pay homage to vintage Torq Thrust alloys. Inside, you'll find a charming cue-ball shift knob and green stitching on seats—including the excellent, body-snugging Recaro buckets (a $1,595 option) that were AWOL on my test model, much to my on-track dismay. But my Bullitt did add optional MagneRide magnetic shocks for $1,695, and a $2,100 electronics package whose biggies include navigation, a Bang & Olufsen audio system, a blind-spot monitor, and ambient lighting. 
That minimalist grille does without the 'Stang's traditional galloping-pony emblem, and there's no side badging whatsoever. (Yes, the front end is probably the least-distinctive element of the new 'Stang, but it's growing on me). Chrome surrounds wrap the windows and grille, a tasteful bit of jewelry to offset that unbroken sea of green. For a car that's otherwise so blessedly unadorned, the plate-sized "Bullitt" emblem on the rear decklid comes across as a style violation. The crosshair symbol looks okay, but its too-delicate, Art Deco font—repeated on the steering wheel—recalls a Flapper Night poster at a Fort Myers supper club.
The Mustang interior, overall, remains good-not-great; the basic black plastics that work fine in a four-cylinder, sub-$30,000 'Stang look even more basic as the price broaches 50 grand. But the 12.4-inch driver's instrument display is damn good, if a bit cumbersome in its menu selections. Its reconfigurable screens, including a candy-cane-shaped tachometer in selectable Sport mode, are one nice touch. And the eight-inch central touchscreen is brightly lit and mostly helpful.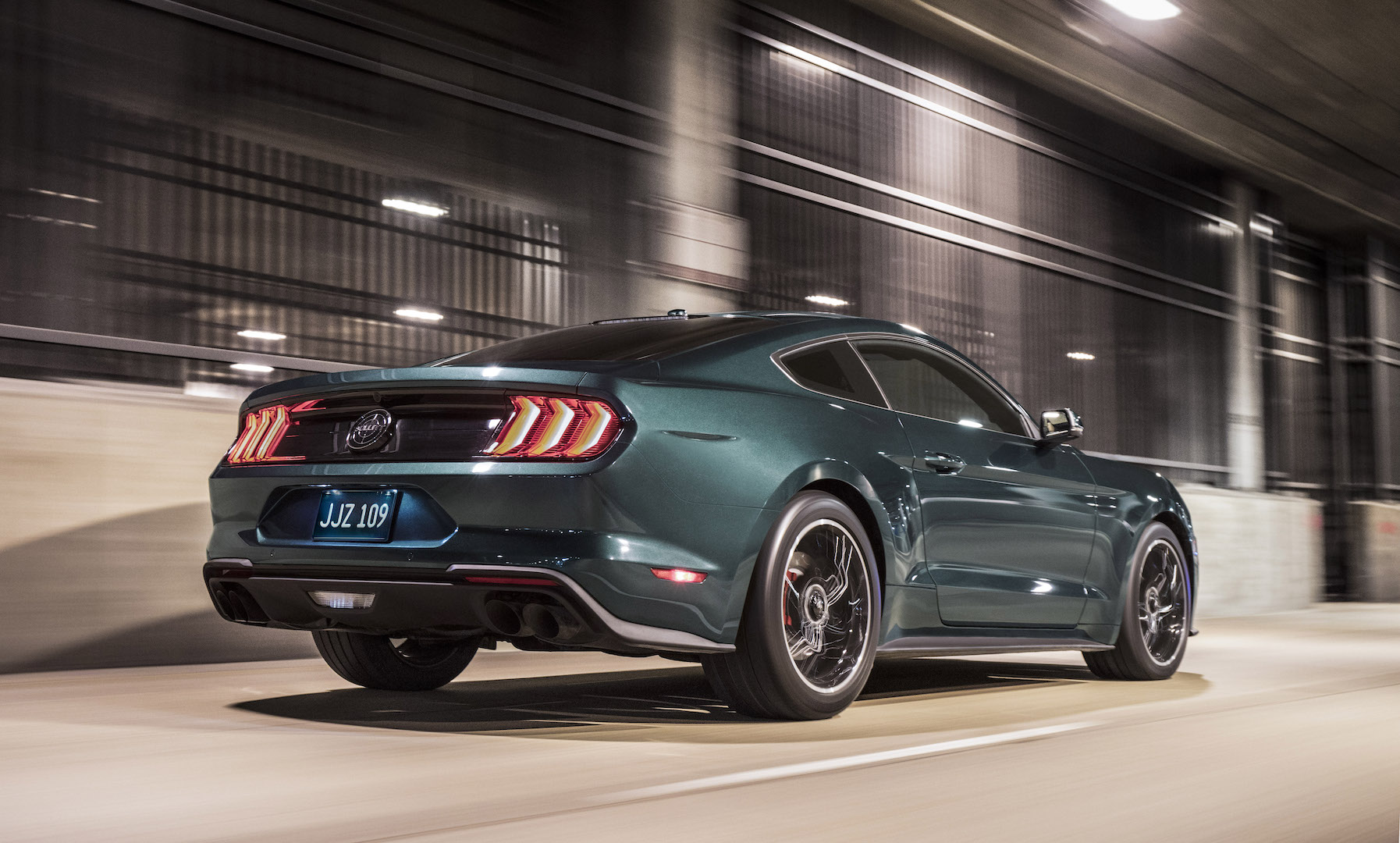 Highland Green paint pays homage to McQueen's '69 GT390, Ford
With apologies to the late McQueen, the real star of this car is a wily Coyote: The 5.0-liter, 32-valve Coyote engine, here bumped to 480 horsepower. Sure, the flat-plane crankshaft Voodoo engine in the Shelby GT350 is even better, but the Bullitt packs another American V8 that you barely believe is an American V8. The soaring 7,400-rpm redline, the way the power is packed way up high, tempting you to come and get it; I could listen to this thing rev all day, and that's exactly what I did. Sure, there's much to be said for the Camaro SS's 6.2-liter, Corvette-derived pushrod V8, which underlines the old saw that there's no replacement for displacement. The Chevy's 455 pound-feet of torque tops the Bullitt's 420, which is unchanged from the standard Mustang GT. And if down-and-dirty grunt is what you prefer, the Camaro may be for you. 
But as much as I enjoy the beefy Chevy mill, I like Ford's better, because I love wringing out a great, high-revving eight-pot. The Ford's Marshall stack wail also sounds better than the Chevy's—this despite ditching the 'Stang GT's tube that pipes induction noise into the cabin, while keeping some engine enhancement via the audio system. Versus a standard GT, the Bullitt brings a better-breathing engine and a more-expressive note through its active, two-stage exhaust. 
The torque peak may be unchanged versus the GT, but the Bullitt's twist rides a healthier curve throughout much of the powerband, including as many as 15 additional pound-feet between the 4,800-rpm peak and 7,400-rpm redline. Credit Shelby GT350 components for the Bullitt's 20-hp gain over a GT, with a freer-flowing intake manifold with longer runners, and an enlarged throttle body of 87 millimeters vs. 82. Like all 2018 Mustang GTs, the Bullitt's 5.0-liter V8 actually grows to more than 307 cubic inches, up from 302, with thinner, spray-in cylinder liners that allow a larger bore. Oh, and for future owners: Do pop the hood regularly to show off the naked, open-element air filter that also improves flow.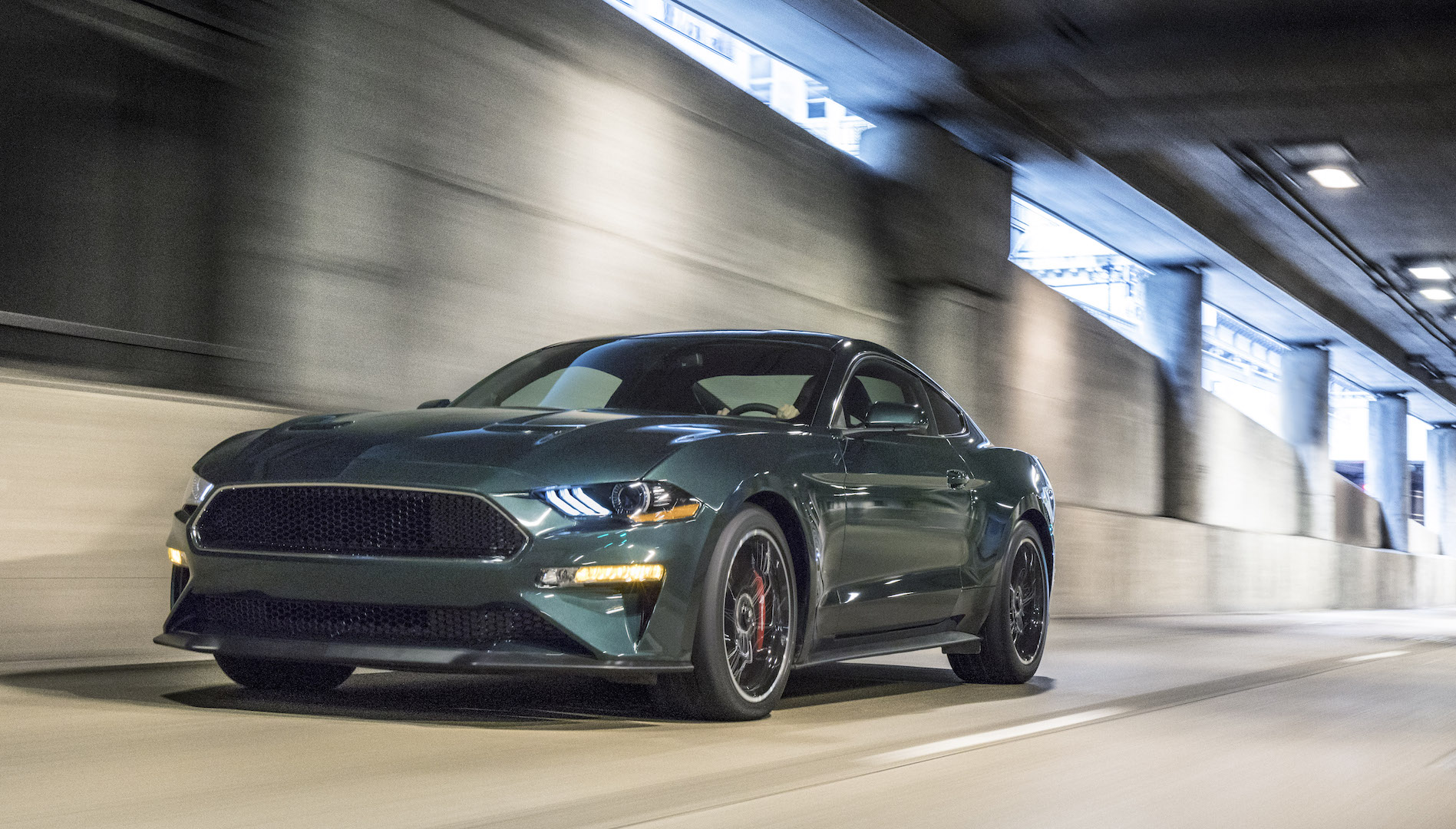 A 20-hp bump to 480 horses lets the Mustang blitz 60 mph in 4.2 seconds , Ford
Here at Monticello, the Bullitt proves two things: That it can get around a track surprisingly quickly, and that it's much happier away from a track. The Bullitt's steering is nicely weighted, as is the clutch. Gearing is ultra-tall, but that's not a deal-killer; second gear is good for 75 mph, and I nip 110 mph before I hit the fuel cutoff in third gear. A few people have complained about the shifter's supposedly long throws, but the travel is actually millimeter-perfect, the feel nicely solid and mechanical. This is a Mustang, not a Miata. 
Yet the Bullitt's operative attitude on track is understeer, followed by transitions to oversteer that aren't always fluid or natural. The Bullitt can feel like it's fighting itself near the limit, and the chassis reveals a touch of that old-school, muscle-car float that Chevy has managed to banish from the giant-killing Camaro SS 1LE. Just a week earlier, I'd tested a Mustang GT with the $6,500 Level 2 performance package, including a stiffened suspension and hyper-aggressive Michelin Pilot Sport Cup tires in enormous 305/30/19 size front and rear. That Mustang would surely have beaten this Bullitt around the Monticello circuit, but at the expense of a rocky ride and non-stop tramlining on public roads, as those massive front tires sniff out every crack in the pavement. The Bullitt "makes do" with skinnier 19s shod in Michelin Pilot Sport 4s, but these are still great and more-versatile tires; the PS4s combine outstanding dry and wet grip with decisively longer life than the fast-wearing Cup rubber.
The manual transmission's new rev-matching feature came in handy on track and street alike, even if I still love to heel-and-toe for myself. I'd definitely prefer the rev-matching feature to be controlled some analog switch, not by having to toggle through the driver's display menu. And in around-town driving, I sometimes found the rev-matching throttle blip a little too aggressive, and ended up shutting it off. When you're rolling up to a light at 25 mph, there's no need for the Ford to automatically boot the revs so rudely.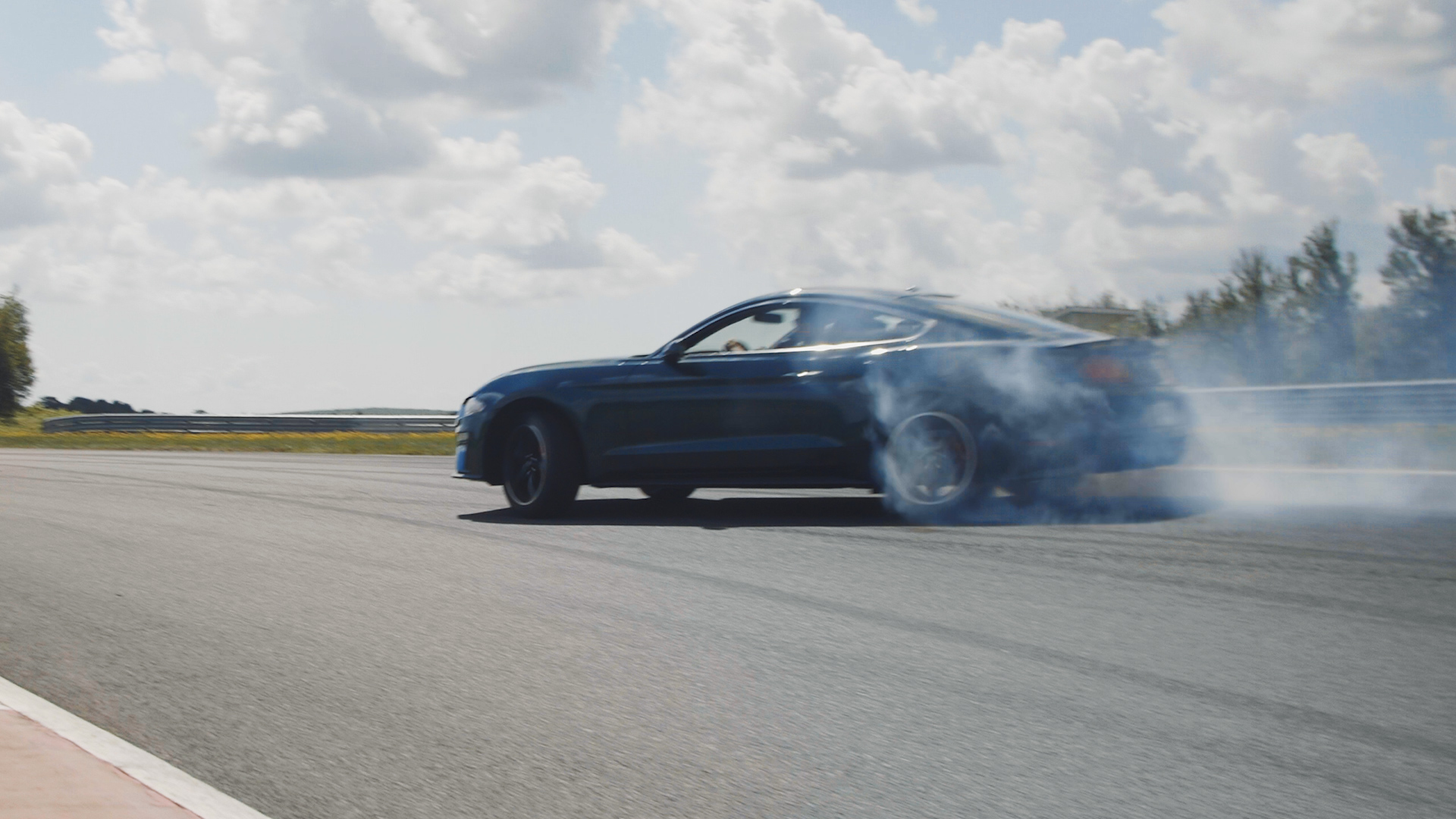 Bullitt ignores No Smoking signs, including at Monticello Motor Club, Chris Szczypala
For all my nitpicks at Monticello, the mega-powered Mustang has no trouble galloping past cars with stronger track resumes. I blow past a race-prepped Lotus Exige and a Porsche Cayman—and more unfairly, one of Monticello's race-school Spec Miatas—and watch them all disappear in my mirrors. And back in a more-natural habitat, the killer backroads near Monticello, this movie-based Mustang proves ready for its closeup. The understeer that undermines the Bullltt on track is barely an issue on public roads, where the Mustang dispatches turns with effortless speed and confidence. And from these upstate forests to the tunnels of Manhattan on my return route, the Coyote V8's hair-raising howl is a glorious constant. 
Back in Brooklyn, as the Bullitt rumbles below decaying, elevated subway lines, I'm ready to film my own cop movie, on the lookout for bad-guy cars to blow away. A black Dodge Charger would be nice. Oh, and this Mustang loves, loves burnouts, with or without engaging its Line Lock feature that sidelines rear brakes to let you melt as many tires as your budget and conscience will allow.
So how much will you pay to star in this Bullitt sequel? Starting from $47,590, my Bullitt reached $51,290 with the optional magnetic ride suspension and electronics package. That's a lot of money for a Mustang, but it's still $10,000 less than a Shelby GT350, and nearly $20,000 less than a GT350R. The Bullitt costs $2,350 more than a Mustang GT Premium with the same level of equipment, minus the Bullitt extras of course. That seems quite fair: That $2,350 nets you 20 more horses and a fatter torque curve, a sound that's better suited to car chases, the cue-ball shifter and other interior mods, plus the public admiration you'll receive with this gorgeously green Bullitt. All you have to do is be able to drive a stick.
Lawrence Ulrich,The Autance's chief auto critic, is an award-winning auto journalist and former chief auto critic for The New York Times and Detroit Free Press. The Detroit native and Brooklyn gentrifier owns a troubled '93 Mazda RX-7 R1, but may want to give it a good home. Email him at [email protected]