Last fall, I drove the 2020 Ford Mustang
Shelby GT500. It's a track-focused, 760-horsepower howitzer of a car that comes with a caveat the size of Dearborn, Michigan: unless you're at ten-tenths and in the unrestricted confines of the track, it's thoroughly uncommunicative and, dare I say, boring. Enjoyable, but not as wildly addictive as the less powerful Mustang Shelby GT350.
I got a lot of hate mail because of that opinion, including texts and DMs from fellow automotive writers inquiring if I had some kind of brain injury. I don't—at least, not to my knowledge—and I stand by my conclusion. But given I'm a glutton for ridicule and it's been some time since I truly riled everyone up, I thought it's high-time I filled up my inbox again thanks to what I believe is a far more explosive admission about Ford's most powerful Mustang ever. 
What I didn't tell you at the time of my GT500 screed was that to get to the pony car's launch, I drove from Los Angeles to Las Vegas, which is not out of the ordinary given it's a fairly short three- or four-hour trip. But to do so, I grabbed the keys to Mazda's refreshed Miata, complete with the upgraded 2.0-liter four-cylinder motor.
And after driving it to and from Las Vegas, hammering it through the Mojave and Death Valley, and racing through the canyons surrounding Sin City, I can say that the Miata is better than the GT500 in every single non-quantifiable way. 
Deal with it, haters.
Jonathon Klein
The 2020 Mazda Miata RF, By the Numbers
Base Price: $32,345
Powertrain: Naturally aspirated 2.0-liter four-cylinder | 6-speed manual | rear-wheel drive
Horsepower: 181 horsepower @ 7,000 rpm 
Torque: 151 pound-feet of torque @ 4,000 rpm 
Passenger Capacity: 2
Curb Weight: 2,339 pounds
The Promise: The quintessential sports car.
The Delivery: An experience that's better than cars with six times the horsepower.
Let's just get this out of the way right off the bat as the Miata and the GT500 don't have any comparative performance specs. The Miata's 2.0-liter four-cylinder produces just 181 hp and 151 pound-feet of torque. Doubling the Miata's cylinder count and displacement, with a little extra for good measure, the GT500's supercharged 5.2-liter V8 slaps down a comical 760 hp and 625 pound-feet of torque. 
Surprising no one, the bantamweight Miata is nearly a ton lighter than the 4,171-pound GT500 heavyweight, and that's with all the carbon fiber accouterments Ford stuck to the top-spec 'Stang. The Miata will have its doors blown off as the Ford rockets to 60 mph in half the time and carrying on to a 45 mph faster top speed. Mustang owners, though, only have access to a seven-speed dual-clutch transmission, while the Miata faithful still can row their own gears. 
Then there's the price difference. The Miata comes in at $32,345 compared to the Mustang's almost double $73,995—dealers have been asking a lot more, too. You do get a lot more, as you saw above, and if we were playing Risk, the Miata's pint-sized forces would be overrun in only a handful of turns and the GT500 would be left to conquer the globe, imposing its dictatorial rule over everyone. 
But wars aren't won by on-paper performance, and the two cars, though wildly different, are aimed at the same enthusiast market. Yet, there's only one I'd actually buy and that's the little Miata.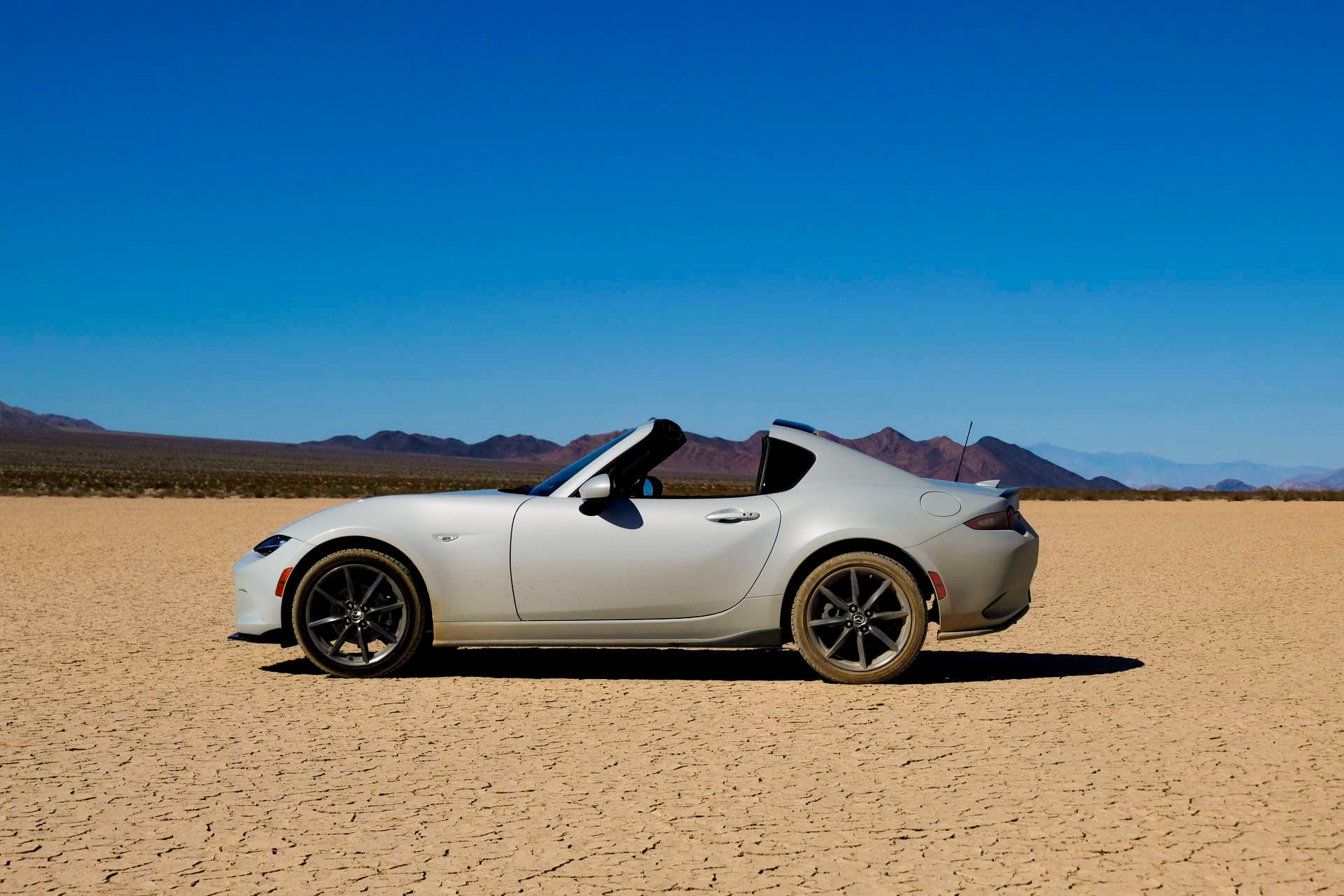 Jonathon Klein
Once, I was definitely not in the "Answer is always Miata" club like so many of my friends and colleagues. The dynamics heaved and hoed like a cargo freighter in a southern squall, by design I might add according to Mazda, and the naturally aspirated engine was out of breath like an asthmatic in a marathon, even with so little heft to move. Then there was the sports car's ergonomics, coffin-like interior dimensions, and non-telescoping steering wheel, which made liberating my 6'4" frame hysterical to watch. "Give me a Toyota 86!" I cried every time someone brought up the Mazda. 
And it wasn't love at first sight, as nothing on its exterior has changed since the ND generation's introduction in 2015. I was never blown away by the new design. The monotonous nature of California and Nevada's Highway 15 provided little to no discernible differences between Mazda's first go and its refresh, that is except for the newly telescoping steering wheel which made my fitment far better. Given the arrow-straight highway isn't the best test of a sports car, when the opportunity to turn off the 15 and head into Death Valley, I hopped off the interstate, refueled just outside the national park, and blazed off into the wilderness.
But this mid-cycle refresh really does change things. For the 2019 model year, the Miata got a power bump from 155 hp to the current 181 hp. It might as well be a brand-new motor. What was once a lifeless, breathless piece of whatever, the engine pushes the Miata forward with a newfound urgency.
Midway through the 3,000 square-mile park, snaking my way through its desolation and mountainous outcroppings, the Miata and I suddenly clicked. Along some of its more tortured tarmac writhings, the Miata's trademark pitch and roll being all but neutralized. Corners that once elicited the outside wheels seemingly wanting to lift off the pavement kept the Miata's composure.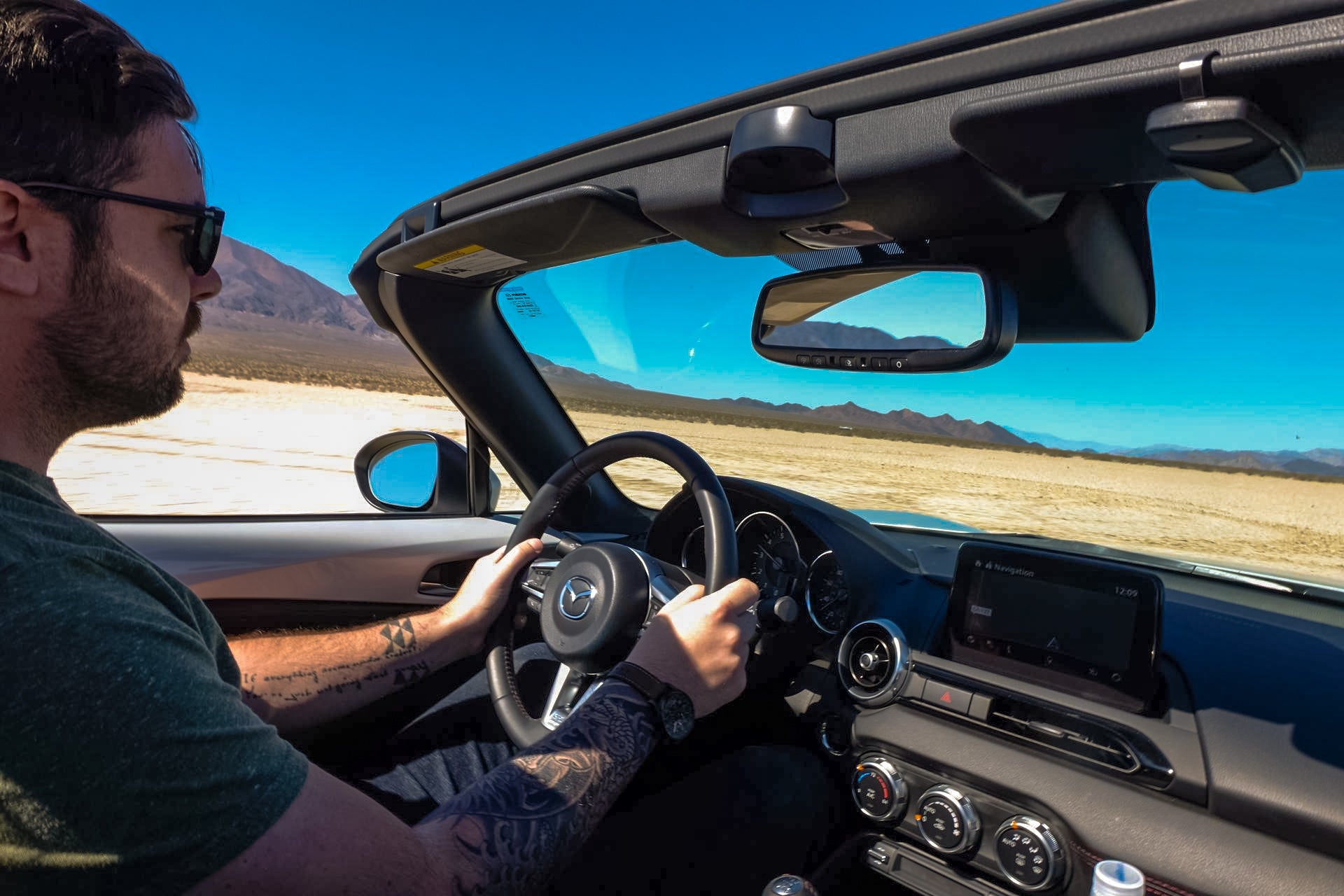 Jonathon Klein
Even the Miata's electric power steering, which was good in the first go-around, has been made better. There's more weight and road noise coming through the lithe steering wheel and I could place the Mazda's tires exactly where I wanted, clipping apexes, bouncing curbs, or initiating short slides after corner exit. Even slow speeds are hysterical good fun, but because of the new motor, you no longer have to be content with slow car fast. It's vastly better at highway passing now, too.
There's also no real electronic nannies to get in the way of fun, as a simple push and hold of the traction control button disables the system and the car's stability control altogether. The Miata wants the human doing the driving, not the car.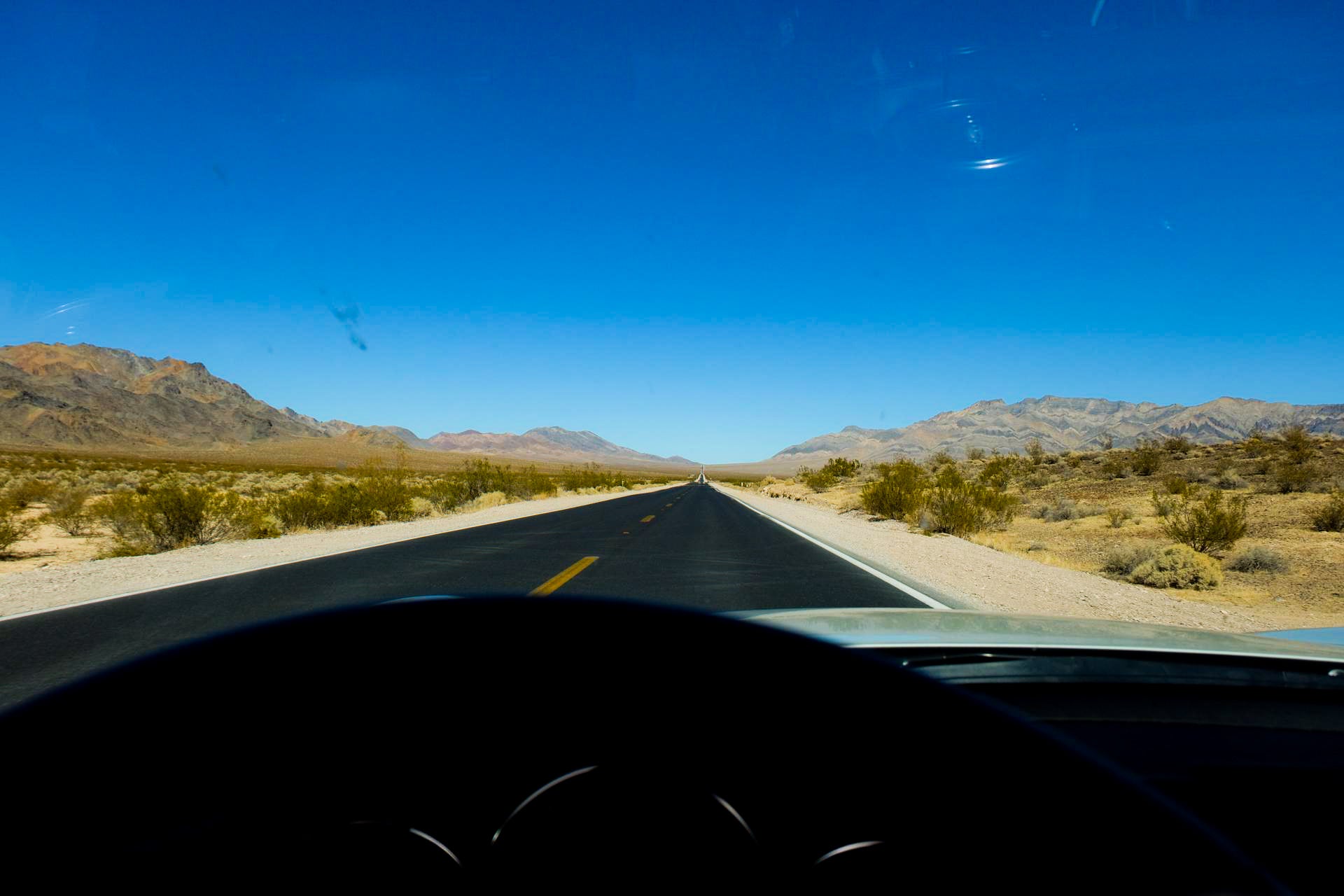 Jonathon Klein
Back into the mountains, on my way toward Pahrump and then finally to Las Vegas, the car and I got into a perfect groove and there was no stopping us. My initial smirk raised to an unwavering smile—I couldn't get enough of the little Miata. I repeatedly wondered how Mazda could change the car so minimally when it feels so exceedingly different? Mazda might as well call it the NE Miata, as far as I'm concerned. And whereas I would've gladly exited the previous version after six hours on the road, I was sad to leave. 
The Miata is finally the sports car I wanted it to be. And it's comfortable enough to keep me searching for the next perfect road. It took a long while, but I get why people are in love with these micro machines. But that brings me back to why I'd choose the scrappy Miata over the effortlessly fast Shelby GT500.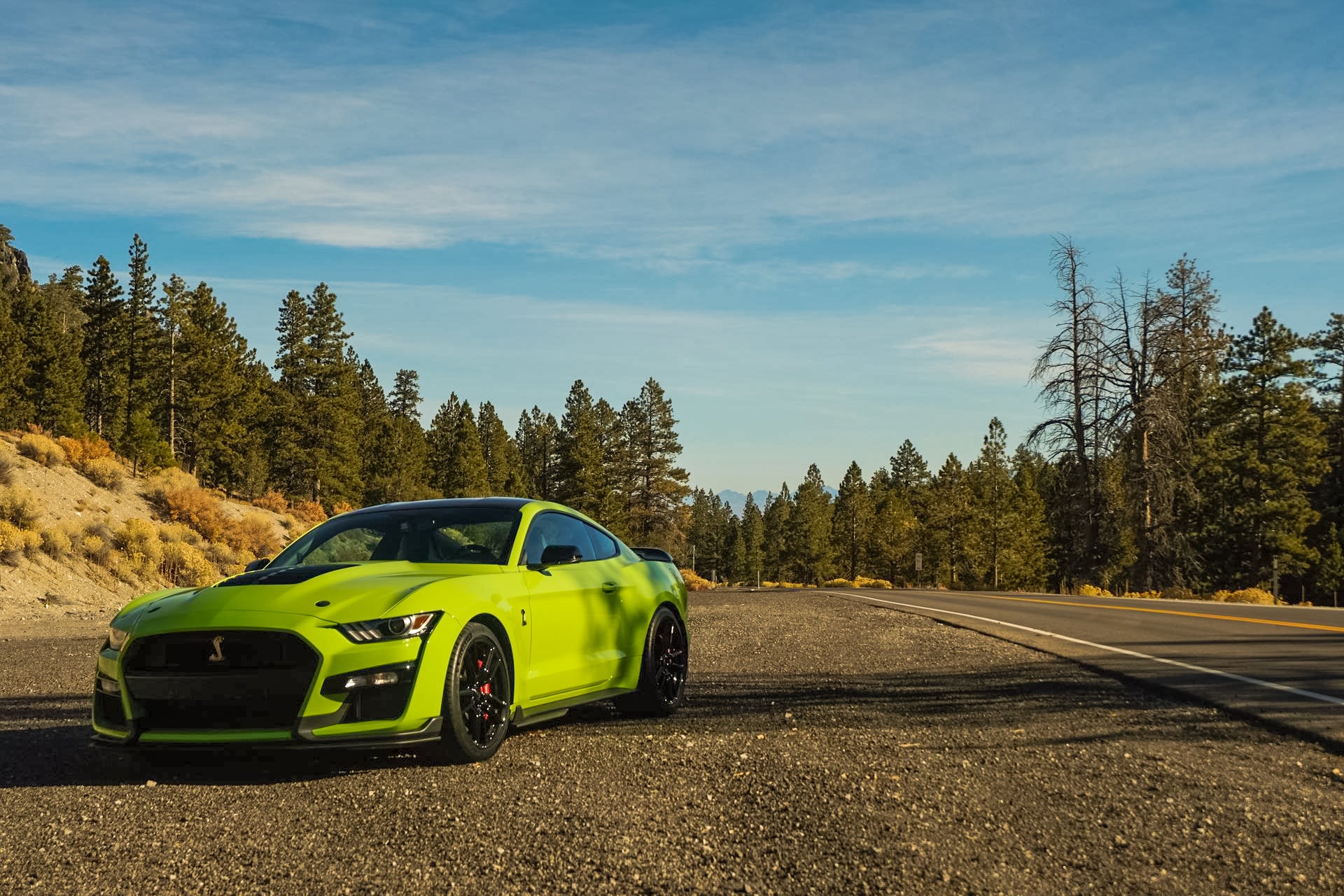 Jonathon Klein
"Lightning bolt-fast with an animalistic V8, a snappy dual-clutch gearbox as quick as any PDK, and over 700 horsepower flowing to the rear wheels," I said at the end of my review, "the 2020 Ford Mustang Shelby GT500 is as close as the Blue Oval will ever come to a modern Porsche 911 fighter." The caveat, however, came next with me relaying, "It's not quite a widowmaker, though, and it doesn't feel like a GT500 through and through. From behind the wheel, practically nothing sets it apart from its base-spec brethren apart from the view out over that bulging hood." 
It got worse, ending with, "And on track, driving skill is almost inconsequential unless you're running at the very limit. The 2020 Ford Mustang Shelby GT500 may be practically perfect in every way, but whoever bought a Mustang for its Mary Poppins-perfection?"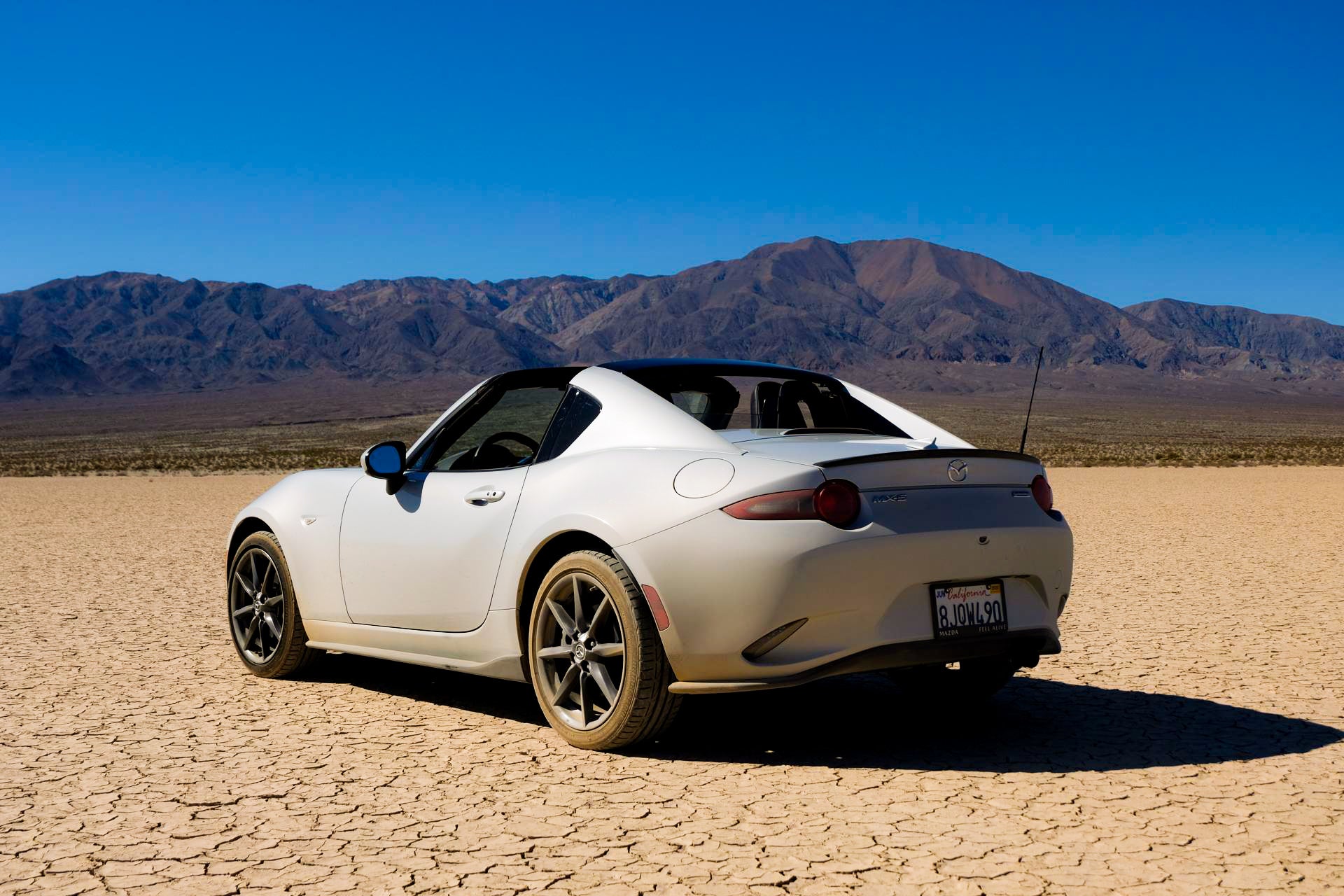 Jonathon Klein
The latest Miata is the Ford Mustang Shelby GT500's antithesis. It's a fantastic machine that makes you yearn for the open road, a great canyon, your favorite racetracks, and the world's greatest backroads, all while the limitless sky makes up your headliner. And whereas the GT500's electronic interference and over-engineered mechanical grip turn zeroes to heroes instantly upon sitting in its buckets, the Miata will remind you of the joyous purity of just driving.
That's why I'd choose the teensy Mazda Miata over the Hellcat-beating Ford Mustang Shelby GT500. I suppose we should all just be happy we live in a world where we have such a choice to make. 
But for me, I guess the answer is always Miata. I await your objections. 
Got a tip? Want to yell at Jonathon? Send us a note: [email protected]