Swapping the Porsche Boxster and Cayman's flat-six engine for a turbocharged four-cylinder was, at least in our little car world, a big, swinging moment. When it happened in 2016, hardcore fans of the models' elegant dynamics spit fiery bile at the grunty torque curve and blarrty sonance. A Porsche that sounded like a Subaru WRX? It was blasphemy enveloped in vape smoke.
Others grudgingly praised the 2.5-liter four's throttle response, around-town drivability, and more efficient nature. Per usual, the remaining 7.68 billion people in the world carried on with their lives blissfully unaware, only 0.0001 percent of them knowing for sure whether a Cayman was a car or a tax haven.
2020 Porsche 718 Boxster GTS 4.0 , Porsche AG
Of course, those who know, know. Right? Despite purists who insist the turbo four was to blame for letting down the flaps on the cars' sales in recent years, both 718 models still offer a superb sports-car experience: a brilliant chassis and the most responsive boosted four ever devised. Could it be that people just don't desire pure sports cars the way they used to? Remember that the Boxster alone, in its early-2000s heyday, sold upward of 10,000 cars in the U.S. yearly. Now U.S. sales of both 718 models together have dwindled from 5,087 in 2017 to 3,380 in 2019.
Then again, maybe Porsche—in its bid to hit emissions targets and open a new front in the war for power within the mid-engine platform's packaging constraints—did underestimate the demands of the senses. Shouldn't a pair of cars whose very existence celebrates the sensory qualities of driving carry the most expressive powertrain available?
That was where the most recent Cayman GT4 and Boxster Spyder, with their motorsports-derived parts and more complex chassis, came in. Now the 718 GTS 4.0 arrives to extend the welcome-home party for the atmospheric flat-six. It's also lighter, cheaper, and more road-oriented.
Can it capture the same magic? Let's take a look.
(Disclosure: Porsche flew me to Portugal and paid for all my food and booze as well as track time on Circuito do Estoril, where Ayrton Senna made that brilliant drive back in '85 to win the Portugal Grand Prix on a rainy Sunday in a Lotus JPS. Not starstruck at all. No sir. Not this guy.)
The 2021 Porsche 718 Boxster/Cayman GTS 4.0, By the Numbers
Base Price: $90,000 (Boxster); $89,000 (Cayman)—estimated
Powertrain: 4.0-liter flat six | 6-speed manual transmission | rear-wheel drive
Horsepower: 394 hp @ 7,000 RPM
Torque: 309 lb-ft @ 5,000-6,500 RPM
0-60 mph: 4.3 seconds
Top Speed: 182 mph
Curb Weight: 3,157 lbs (Boxster); 3,166 lbs (Cayman)
The Promise: Manual transmission, compliant ride, great balance, perfect body control, and a flexible engine. What more could anyone possibly want from a sports car? Maybe gearing that doesn't double most B-roads' speed limit in second gear. But that's it.
Does It Deliver? Take a guess.
Indeed, the Cayman GT4 and Boxster Spyder were the variants everyone could believe in. The latest-generation of those two, with their 911 GT3 front suspension and tweaks to rear geometry, naturally aspirated flat-six and dazzling kinetics gave enthusiasts an adrenalizing gift, something to aspire to in an age of bloated, compromised sports cars. It was a performance flagship that finally put the mid-engine platform on a pedestal where it so desperately belonged.
Today, the GTS 4.0 furthers the hope. With the engine of the GT4/Spyder and the chassis of the 718 S, the new GTS both recaptures the feelings of the older, six-cylinder cars and adds more dynamic range with the newest suspension setups, mechanical diff, and stability tech. 
The engine is the top line, however, flavoring the driving experience with its revvy good nature. It's mostly the same midrange blaster as in the GT4/Spyder, based on the 9A2 from the Carrera 991.2 with the turbos removed. Engineers extended bore and stroke for an extra liter of displacement and added a new crank, conrods, and pistons, and fresh heads and valvetrain. Cylinder deactivation functionality at low torque loads (below ~73 lb-ft) again make an appearance to help improve efficiency and reduce emissions.
What Is a GTS?
As we were reminded on a recent trip to Portugal where we sampled two of Porsche's GTS models—the 2020 Macan GTS and the 718 fraternal twins—GTS is both an economy package of options and a prize pack of features you can't get on the S model.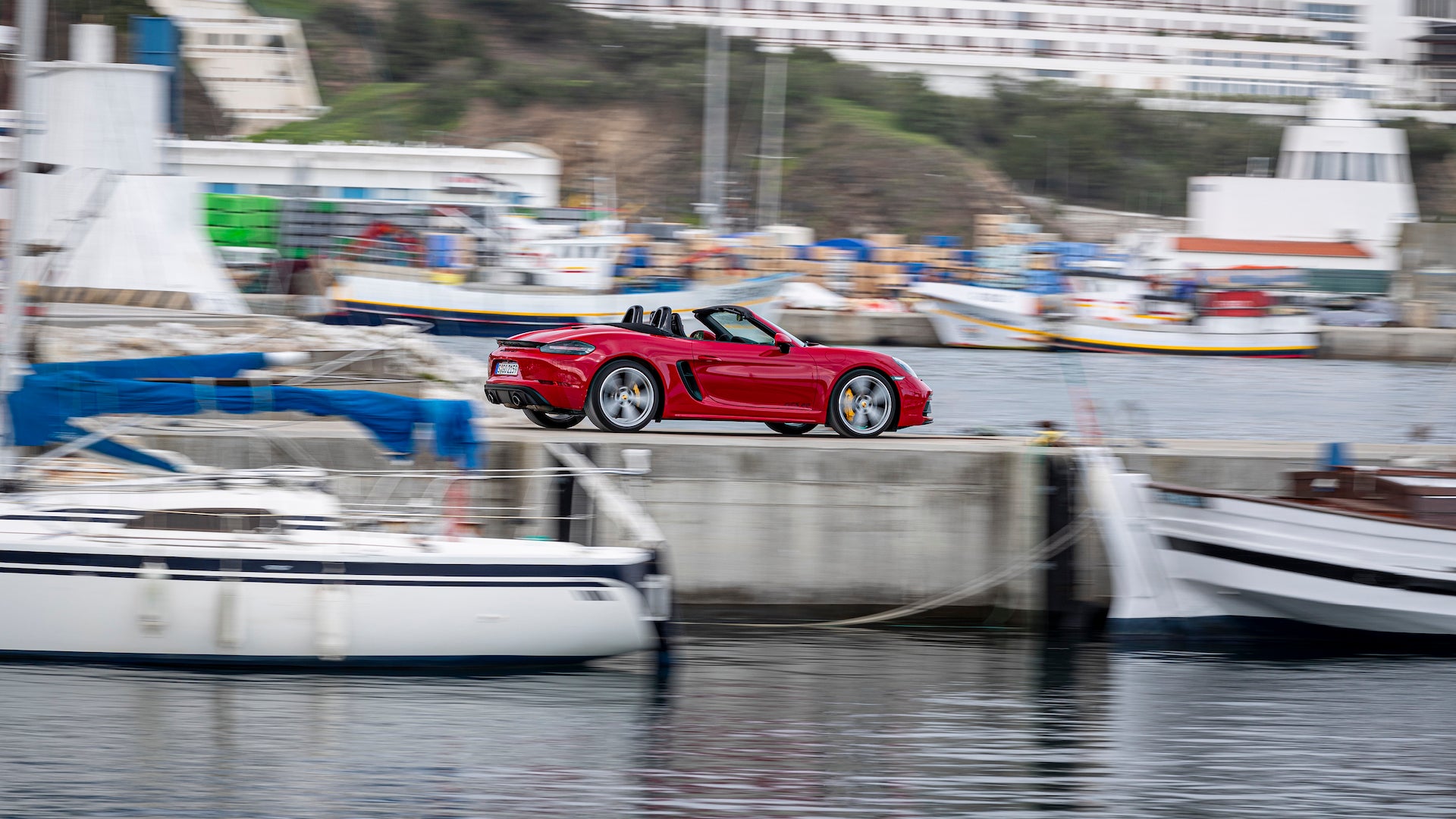 2020 Porsche 718 Boxster GTS 4.0, Porsche AG
In the case of the 718 GTS 4.0, the big prize is that 4.0-liter, naturally aspirated flat-six from the Spyder/GT4. Here it's slightly de-fanged to 394 horsepower, by way of a tighter rein on available revs (topping at 7,800 rpm instead of the Spyder/GT4's 8,000 rpm). Torque is the same, however, making for an identical around-town drive, while retaining the engine's broader appeal; it's as long-limbed and flexible as ever.
We sampled the Boxster GTS on a selection of Portuguese A- and B-roads, and the Cayman GTS on track at the legendary Estoril circuit, which was where we could find out if the standard mid-engine coupe's sublime MacPherson-struts-all-around chassis would make us miss the higher-spec GT4/Spyder.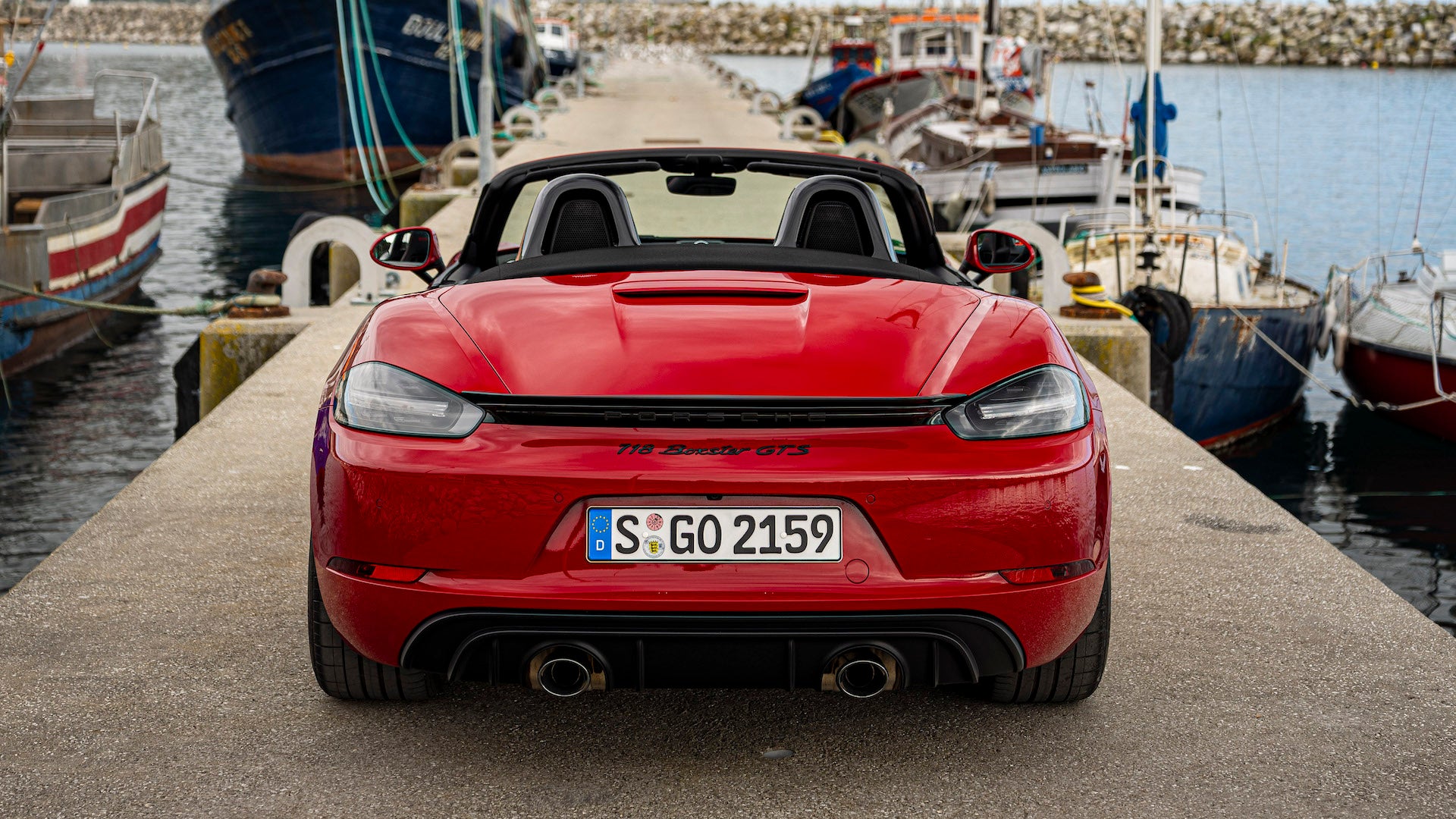 2020 Porsche 718 Boxster GTS 4.0 , Porsche AG
Gearing is still a major impediment to keeping a driver's limbs working happily on public thoroughfares. With second gear heading up to double the speed limit on this coastal Portuguese B-road, it's hard not to consider it a one speed in application. Get it on the track, however, and those long legs make for some exhilarating laps, highlighting what a box of chocolates that engine is. A six-speed manual is the only gearbox available currently, and it's still a tactile match, with slightly longer throws than the GT4/Spyder but perfectly snug engagements that don't rely on extreme notchiness to add feel.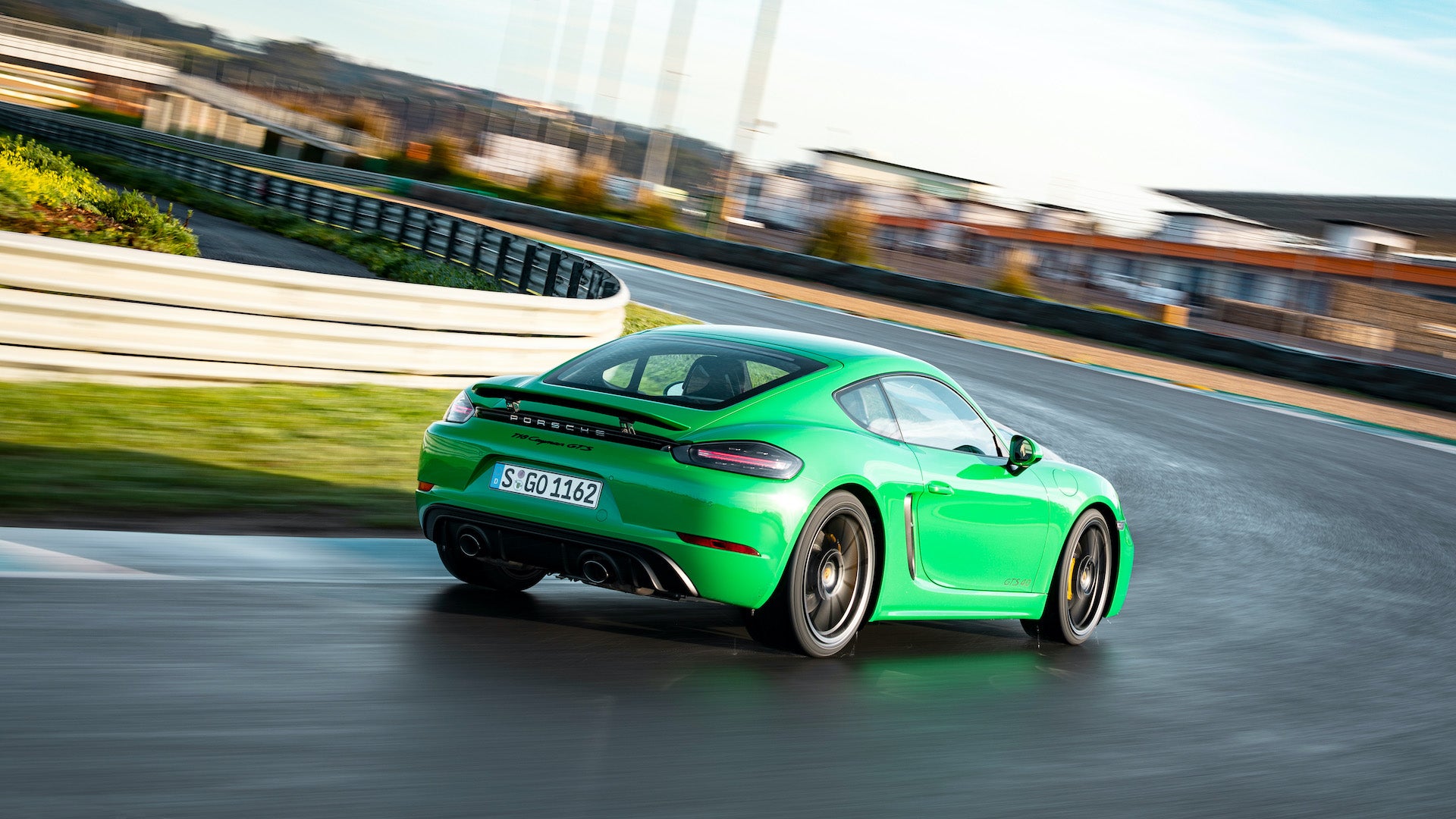 2020 Porsche 718 Cayman GTS 4.0, Porsche AG
On the road, where the GT4/Spyder's hard subframe mounts compromise ride quality, the GTS is more compliant, making for less jarring road trips on sketchy pavement. Porsche's more streetable, 20 mm lower Sport PASM active dampers are standard on the GTS, and the normal setting is a spine's best friend. On track, the compromise is a bit less turn-in clarity and mid-corner bite than the GT4/Spyder's chassis provides, but it's easy to adapt to the difference, and the Cayman's natural balance and nimbleness pierces through.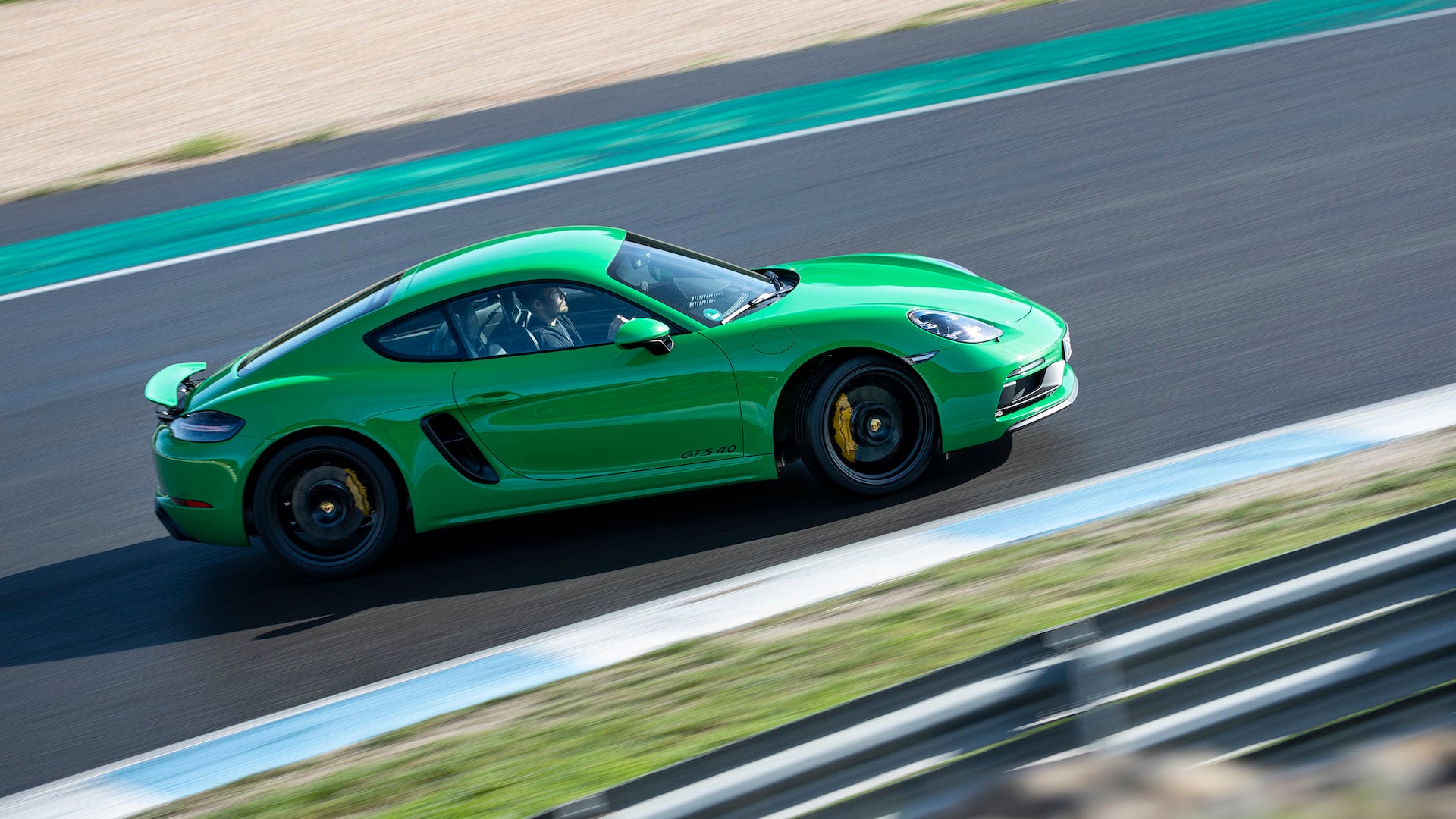 2020 Porsche 718 Cayman GTS 4.0 , Porsche AG
A slight weight advantage over the GT4/Spyder, owing to the GTS's smaller brakes and lack of extra aero gear, and the standard Sport Chrono package's active driveline mounts, also contributes to the GTS's brisk, lithe, and composed character on track. Capturing the spirit of the short-lived Cayman R of the past, the GTS makes the GT4/Spyder unnecessary for all but the most hardcore driving demands.
GTS as an Options Package
Just like the latest Macan GTS, the 718 GTS 4.0 follows the template of past GTS models, costing around eight grand less than a Boxster/Cayman S with similar boxes ticked. Like in the outgoing GTS with the turbo four, The Sport Chrono package (a $2,090 option on S models), with its Sport Plus mode, launch control, and active driveline mounts is standard. Some big-ticket items are standard, like mechanical limited-slip differential with PTV (Porsche Torque Vectoring) ($1,320), PASM Sport Suspension with 0.78 inch (20 mm) lower ride height compared to standard 718 models ($2,080), Sport Design Package ($3,050), 20-inch 718 Sport wheels ($1,660) painted in Satin Black ($1,290), tinted rear taillights ($740), and LED headlights that swivel into turns based on steering angle and road speed ($1,640). Porsche hasn't released the 718 GTS 4.0's MSRP yet, but expect the base to be around $90,000 for the Boxster and $89,000 for the Cayman.
Other Alcantara-rich add-ons like the Alcantara-covered GT Sport steering wheel GT Sport steering wheel with Alcantara rim and shift lever ($890), Sport Seats Plus with seat centers in Alcantara ($810), Alcantara door panels, door armrests, shift lever and center console storage cover in Alcantara ($340), A-pillars and roof liner in Alcantara (Cayman only) ($1,190). GTS 4.0 lettering on doors in black ($310).
It helps that there's nothing else that comes close to the 718 GTS 4.0's driving experience in its class. No competitor offers this combination of sound, tautness, and streetablity at any price. Neither the Supra, BMW Z4, mighty C8 Corvette—not even the Audi TT-RS rocketship—can compare with the 718's sublime, scalpel-like appeal and involvement.
Of course, that price, raging mightily toward six figures, will cause some indigestion, as will that infuriatingly tall second gear. Still, the new GTS proves Porsche knows its brand and its fans. We'll soon see whether it knows its customers as well.