After decades of teasing Americans with grey market imports and a brief, glorious run of legal sales in the 1990s, the reborn four-door Land Rover Defender 110 finally launched in the U.S. in June 2020. Following closely behind and hitting showrooms just a few months ago is the two-door 2021 Land Rover Defender 90—itself a far more compelling SUV solely based on its lack of rear doors. For purely selfish reasons, this is the Defender that would best suit me, an unmarried person with no children or pets. Indeed, Land Rover seems to agree, as a company spokesperson jokingly referred to the Defender 90 as "the selfish Defender." 
I have never been one to revel in excess and if you don't actively use all the additional space the Defender 110 comes with, it tends to be a lot of extra SUV to lug around. The comparatively bite-sized Defender 90 is much easier and more pleasant to maneuver. And once moving, you can barely tell the difference between the two from behind the wheel.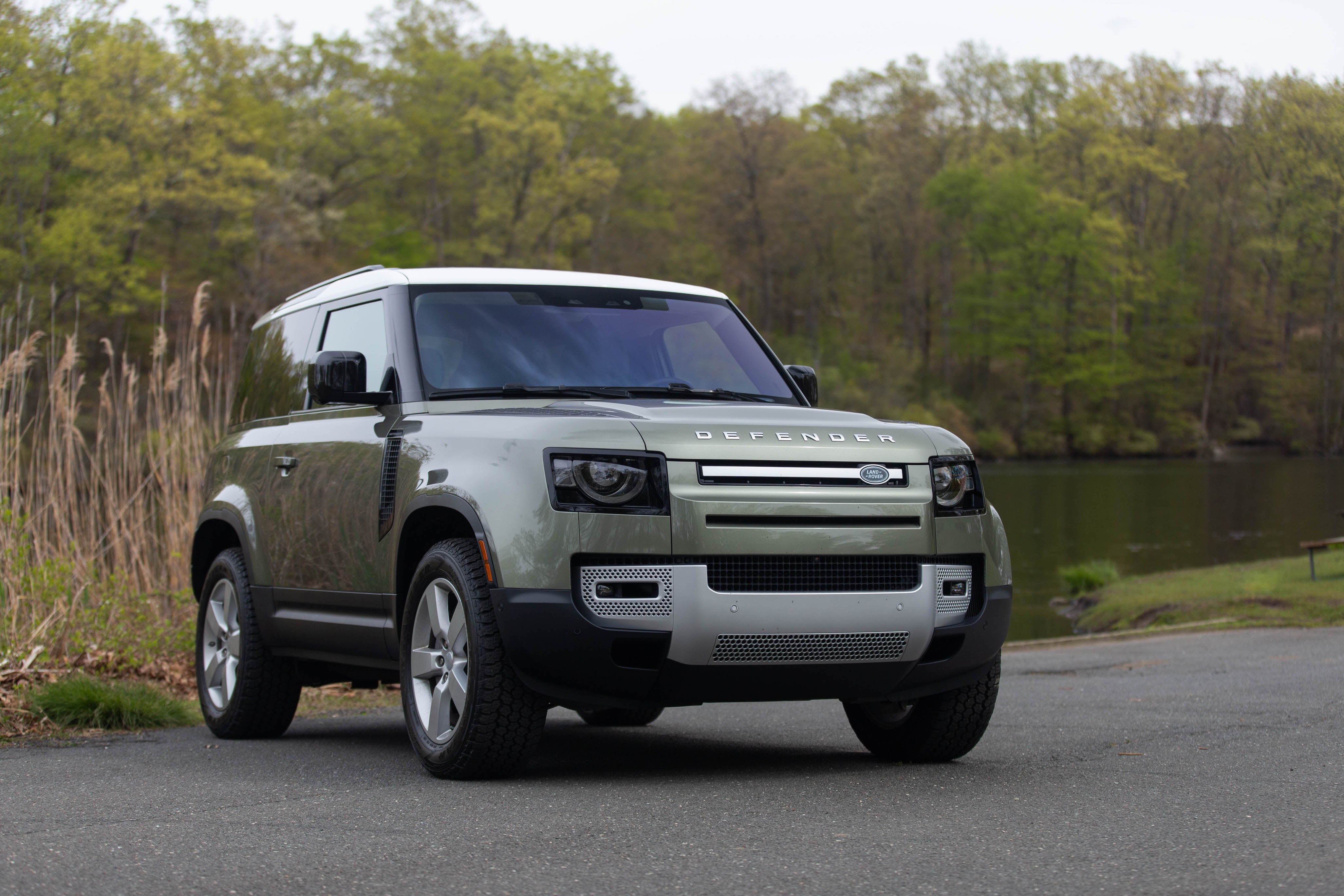 Kristen Lee
2021 Land Rover Defender 90 First Edition: By the Numbers
Base Price (as Tested): $47,450 ($66,475)
Powertrain: 3.0-liter twincharged (turbo+electric supercharger) mild-hybrid inline-six | 8-speed automatic | all-wheel drive
Horsepower: 395 @ 5,500 rpm
Torque: 406 lb-ft @ 2,000 rpm to 5,500 rpm
Curb Weight: 4,830 pounds
Max Ground Clearance: 11.5 inches
Off-Road Angles: Approach angle/departure angle/ramp angle: 38° approach | 31° breakover | 40° departure
Cargo Space: 15.6 cubic feet
Seating Capacity: 6
Towing Capacity: 8,201 pounds
EPA Fuel Economy: 17 mpg city | 22 highway | 19 combined 
Quick take: A super-smooth highway cruiser and everyday driver with an interior you won't mind getting dirty.
Some Sacrifices Must Be Made
The modern revival of the beloved Defender nameplate also means the erasure of all the things that made classic Defenders horrific to own and drive: rickety bodywork, a rattly ride, and breathtakingly slow acceleration. And while classic Defender apologists will insist these are "quirks and features" and not "problematic deterrents," they likely also cannot deny classic Defender ownership isn't for everyone. 
This is so not the case with the new Defender, as it's as easy to drive and enjoy as your run-of-the-mill Toyota Highlander.
The Defender 90 loses 10 inches in wheelbase and 17 inches in overall length over the Defender 110. Designers elongated its doors slightly to make second-row ingress and egress easier. Rear passenger legroom, however, remains unchaged, according to JLR's own
numbers. But while the 110 comes with 34 cubic feet of cargo volume behind its second row, the 90 cuts that down to 15.6 cubic feet. Smaller package. Some sacrifice.
Your standard Defender 90 P300 now comes with a 2.0-liter, turbocharged inline-four engine, good for a claimed 296 horsepower and 295 pound-feet of torque. You also get 18-inch wheels, 3D-surround camera, cruise control, a 10-inch touchscreen, and LED headlights.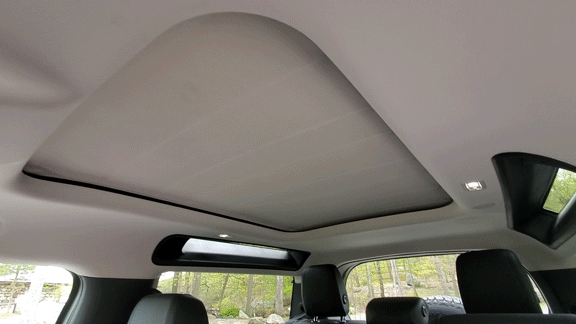 Kristen Lee
The Defender 90 First Edition Land Rover loaned me had a white contrast roof, a folding fabric roof, 20-inch wheels, a leather interior, a nicer sound system, and the optional center jumpseat in the front row. This jumpseat was by far the most exciting part for me, as I cannot remember the last time I sat in anything with a front bench seat.
The First Edition also came with JLR's lovely mild-hybrid, turbo- and supercharged inline-six, which is just about the smoothest engine the automaker currently produces, making a healthy 395 horsepower and 406 pound-feet of torque. You wouldn't think something as large and boxy as a modern Defender—even a two-door—can haul ass, but it absolutely can thanks to that unit. Of course, a V8 two-door Defender is in the works as the true halo powertrain. That one will really get up and go, based on my experience here.
Driving the Defender 90
Here's my third and final full disclosure for the sake of transparency: I drove the Defender 90 recently at a one-day Jaguar Land Rover event that also packed in the 2021 F-Pace (review here!) and the 2021 XF (review here!). As a result, I only got about 45 minutes of seat time in each car, so this review is a cursory one without off-road driving impressions. And keep that in mind if you're reading other Defender stories from the same event; be wary of any strong declarations. There simply wasn't enough time for a full evaluation.
The Defender is 90 is tall. You get that sense walking around it, looking at it, and especially climbing up into it. I would have appreciated a B-pillar handle to pull myself up with, but I could still scramble into the car without much issue. Once settled in the driver's seat, I looked out across the roads with a perspective anew. I was sitting so high up! I towered over the lesser Mercedes-Benz GLCs and Audi Q5s. I could see over everyone (though it's likely no one except people driving semis could see over me. Selfish Defender indeed!). It was a pretty special feeling.
On the highway, the Defender 90 didn't feel wobbly or out of control like Jeep Wranglers tend to do. It was happy to camp out at a 70- to 75-mph cruising speed, despite its great height and off-road tuned suspension. There's very little play in the steering; a small adjustment in your hands results in a direct wiggle of the front tires. Thanks to its electrically powered supercharger, there's also non-existent turbolag. The inline-six delivers gloriously uninterrupted power while making a velvety, BMWish noise to boot. I know the V8 version is coming, but I shall go out on a limb here and say ya don't need it. Normalize wanting nothing more than an inline-six!
The engine is, once again, a jewel among what JLR currently produces. Acceleration feels like an event and when matched with the excellent ZF eight-speed auto, it makes you briefly forget you're behind the wheel of something that weighs nearly 5,000 pounds and has the height of a small shed. Passing some woeful economy car? The inline-six Defender 90 laughs in the face of such a non-challenge.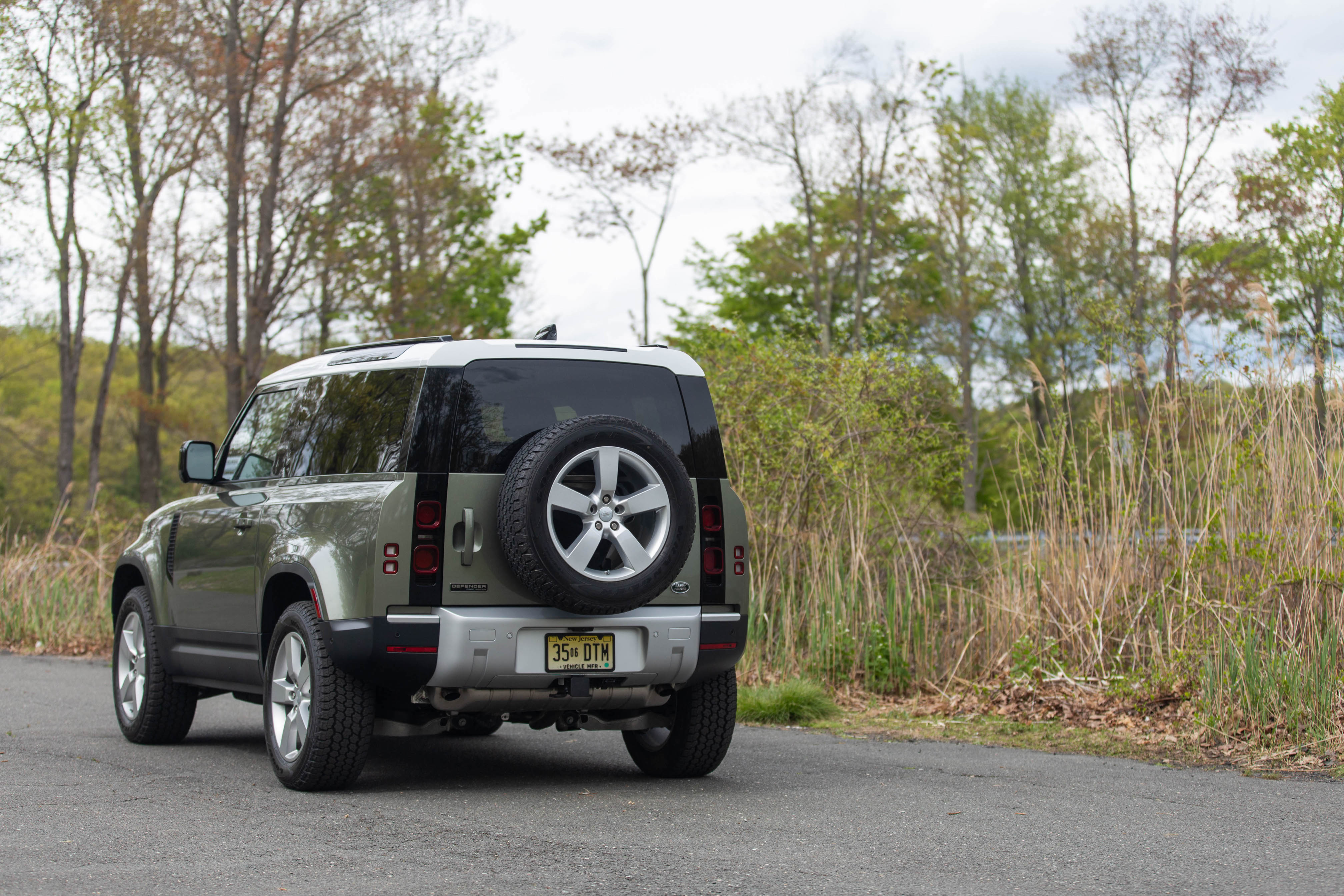 Kristen Lee
No typical JLR electrical gremlins made themselves known during the 45 minutes I spent with the car, but this isn't to say they never will. 
All this combined with the upscale interior and you'll quickly realize the new Defender is a Defender in name only. Gone are the quirks. Here to stay is a luxury vehicle that's almost too precious to use as piece of farming equipment. Almost.
I say almost because despite the new Defender clearly targeting an upscale buyer, Land Rover still gave it certain interior touches that hint at a utilitarian purpose. The trunk, for example, is lined with rubber that's easily washed. Similarly, touchpoints such as the door handles, arm rests, and parts of the dashboard are upholstered in a wetsuit-like material JLR calls "Robustec," which also seems like it's incredibly simple to clean.
Owing to the fact that you have to climb both up and into the backseat, I'd say those should be reserved for only occasional human usage, as I can see them becoming a bit of a pain to access every day. But once you're back there, it ain't bad! Legroom is decent and the SUV is wide enough for you to fit three passengers back there in a pinch. 
That Front Bench Seat
Of course, the thing I was most eager to try out was the center jump seat in the front row. 
When not in use, that seat folds down into an armrest with a cupholder. But when needed, it quickly unfolds into a slightly raised seat, complete with a rigid headrest and its own seatbelt. It makes using the rearview mirror difficult as it basically obscures the rear window, but you can always rely on the Defender's other mirrors and its digital rearview camera.
Since I was alone, I had a little difficulty figuring out where to put my feet without crowding imaginary front passengers on either side, so I elected to keep my knees together and my feet flat on the floor. However, this then put my knees basically level with the dashboard, which I am uncomfortable with because incredibly bad shit can happen when legs and dashboards meet in a crash.
A JLR spokesperson said the Defender 90 "meets all applicable FMVSS criteria." And for those of you wondering about an airbag for the center jump-seat passenger, the spokesperson also said, "The front passenger airbag extends to provide protection for the jump-seat passenger. There is not a separate airbag." 
Still, the bench seat is fun idea, though JLR estimates only 10 percent of its buyers to option their Defenders with it. 
Where Does It Land?
When you start getting into the more dedicated off-road SUVs, cross-shopping doesn't happen neatly across price points. 
As a result, the Defender 90 competes with Jeep Wranglers, Mercedes-Benz G-Classes, and the upcoming Ford Broncos. Already, I can tell the Defender has the Jeep beat in terms of ride and interior quality, though the G-Wagens can be outfitted with all the force of Mercedes-Benz luxury, which is considerable.
But as a livable, everyday SUV, the Defender is pretty great. It's even better as the truncated 90 version, since you can fit it more easily into parallel parking spots along with five of your friends. The only caveat is you'll really have to squeeze 'em in there.

Land Rover
Got a tip? Hit me up at [email protected]