As promised, Acura made its mark at this year's Monterey Car Week with the grand finale of its NSX hybrid supercar: the 2022 Acura NSX Type S. Starring mild power and torque increases, new styling front and rear, and a handful of tweaks under the skin, the NSX Type S will be the only NSX to be produced for the model's final model year and joins the TLX sedan and MDX SUV in Acura's Type S renaissance. 
To start, the Acura supercar's hybrid powertrain now produces 600 horsepower and 492 pound-feet of torque, increases of 27 hp and 16 pound-feet, respectively. This was accomplished via new turbos borrowed from the NSX GT3 Evo race car, six percent more boost, new fuel injectors, new intercoolers, as well as a hybrid battery that's had its capacity increased by 20 percent and output bumped by 10 percent.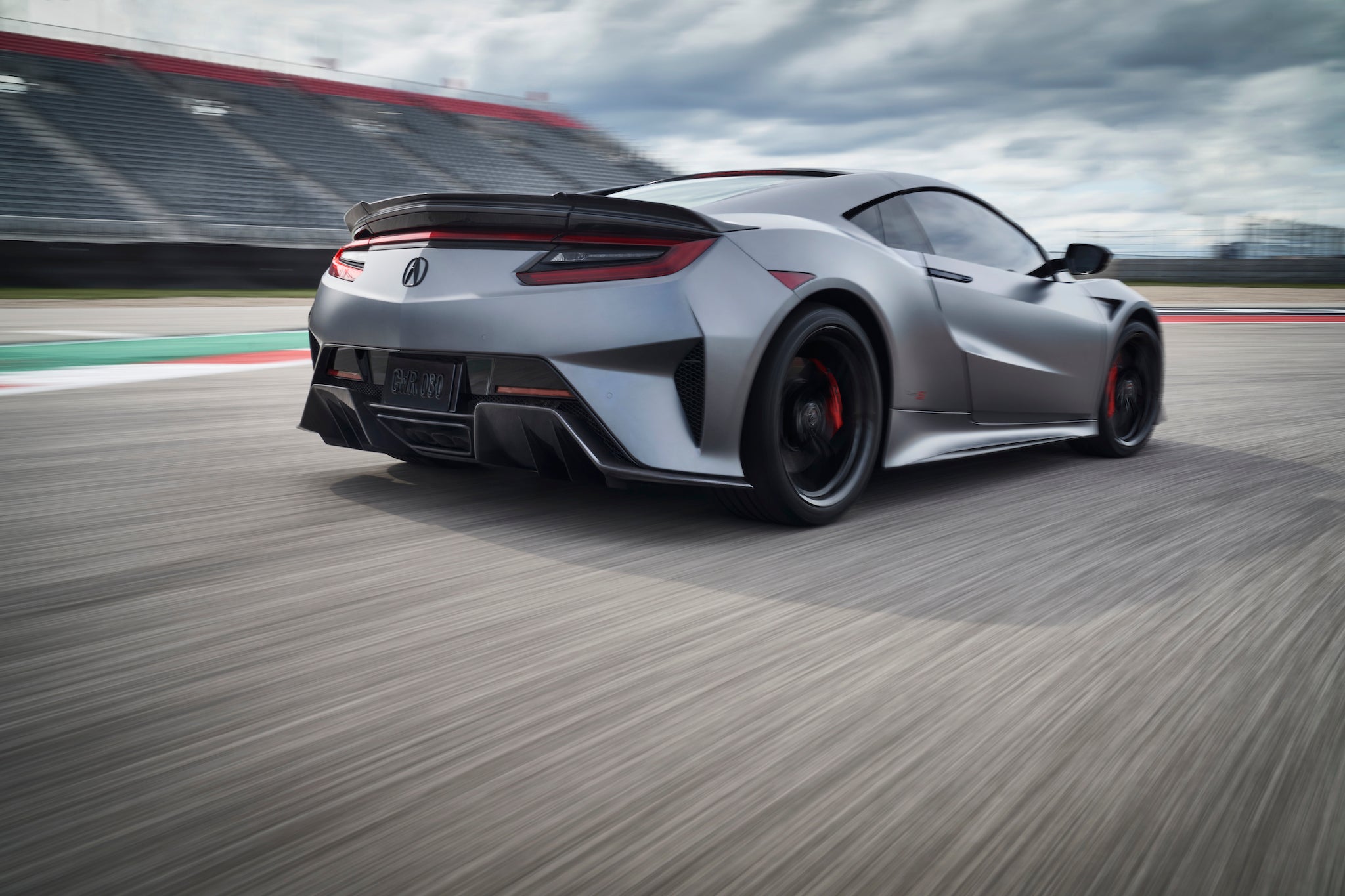 Acura
The two electric motors dedicated to the front axle (NSX has three e-motors total, in case you forgot) have had their gear ratios lowered by 20 percent, lending to a more aggressive launch while this car's nine-speed dual-clutch automatic gearbox now upshifts 50 percent quicker and gains a new Rapid Downshift Mode, which immediately jumps to the lowest gear possible when the left paddle is held down. Super Handling All-Wheel Drive continues to provide torque vectoring while the NSX's drive modes and active engine sound have both been refined upon and optimized.
Tracks front and rear have both been widened by a fraction of an inch and are capped off with new wheels wrapped in stickier Pirelli P Zero tires. The adaptive dampers have been retuned while a carbon fiber roof is now standard, lowering the center of gravity. 
Speaking of weight, a new, optional $13,000 Lightweight Package is now available and bundles together carbon-ceramic brakes, a carbon engine cover, carbon interior trim, and 58 pounds of total weight savings. 
As a result of all of this tinkering, the Type S apparently laps Honda's home track of Suzuka a full two seconds quicker than the 2021 NSX.
Cosmetic changes include new carbon-laden fascias on both ends that are said to provide better aerodynamics and a new rear diffuser inspired by the one found on the NSX GT3 racer. Standard black door handles, mirror caps, exhaust tips, and badges, as well as a new matte Gotham Gray paint option (limited to just 70 cars) should be quite popular with the Batman cosplayer inside every supercar buyer.
Weirdly, the pictures Acura released don't really contain any clear looks at the interior, but based on the one obscured and very red shot of the steering wheel, it doesn't look like the company has done much to keep the NSX's innards fresh, still appearing to use the same, dated last-generation Honda infotainment system.
The 2022 Acura NSX Type S starts at $169,500, which is $12,000 more than the outgoing non-Type S model—while a Lightweight Package-equipped car will run you $182,500. Just 350 will be produced, 300 of which will be dedicated for the U.S. market.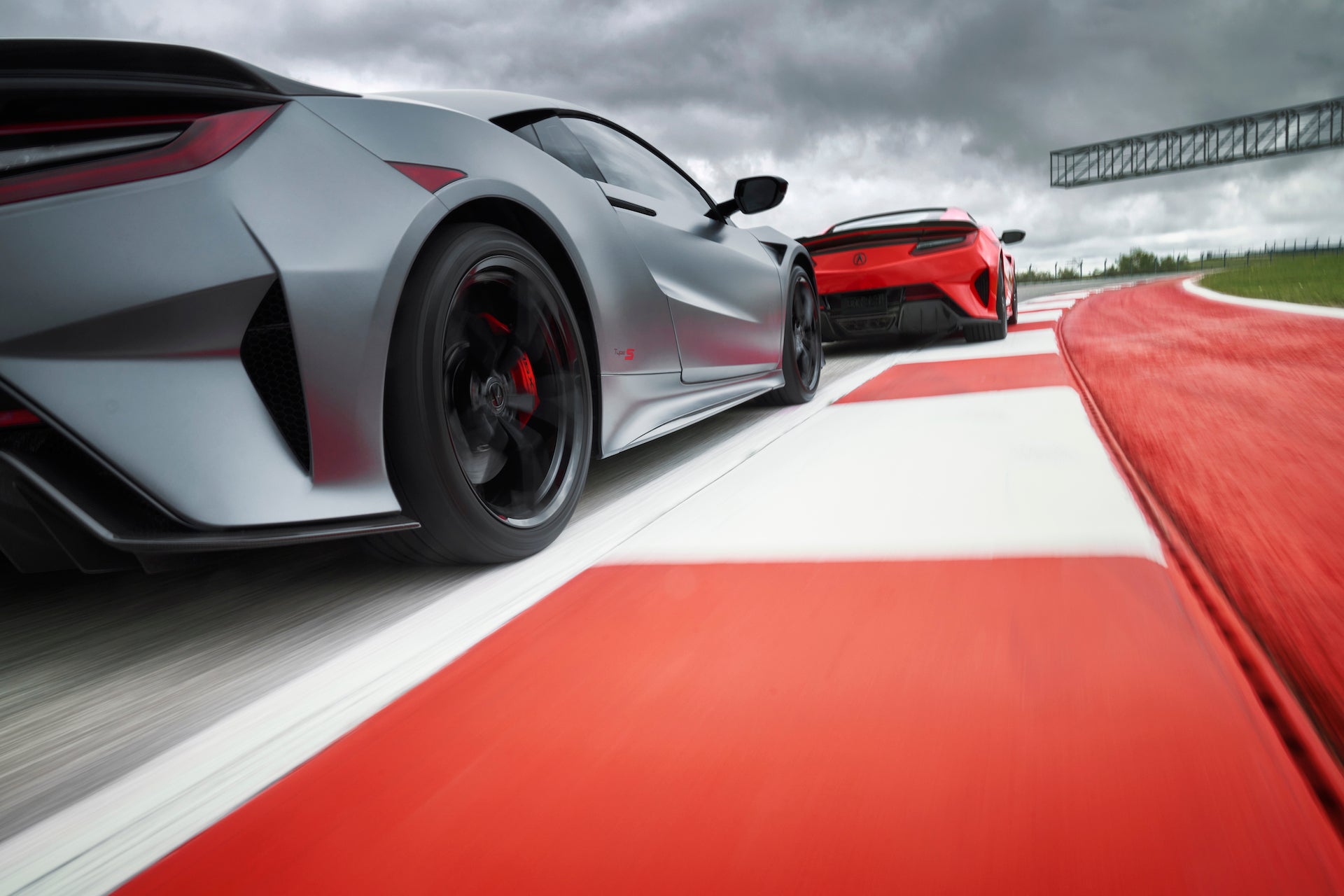 Acura
Acura
Got a tip or question for the author about the NSX Type S? You can reach them here: [email protected]