We've finally progressed far enough along in electric vehicle technology that horsepower and chassis tuning can sit shotgun next to range, convenience, and environmental impact on the list of priorities. These have always been benefits of our ongoing modern EV renaissance, but brands are starting to address them specifically and develop models for enthusiasts who seek corner-after-corner thrills. For BMW, this has resulted in the 2022 BMW i4 M50.
It's a mid-tier Gran Coupe that proportionally mirrors the current 4 Series and possesses a level of chassis tuning akin to its multiple-character M badge siblings, such as the M340i and M440i. It naturally sports a lot of weight but makes up for this in power output that leaves even the M3 and M4 in the dust. With this in mind, here's how the Bavarian brand set up the i4 to go hard in the paint on its EV high cards, yet also created a comfortable sedan that'd be an easy EV transition for any consumer in search of modern European luxury.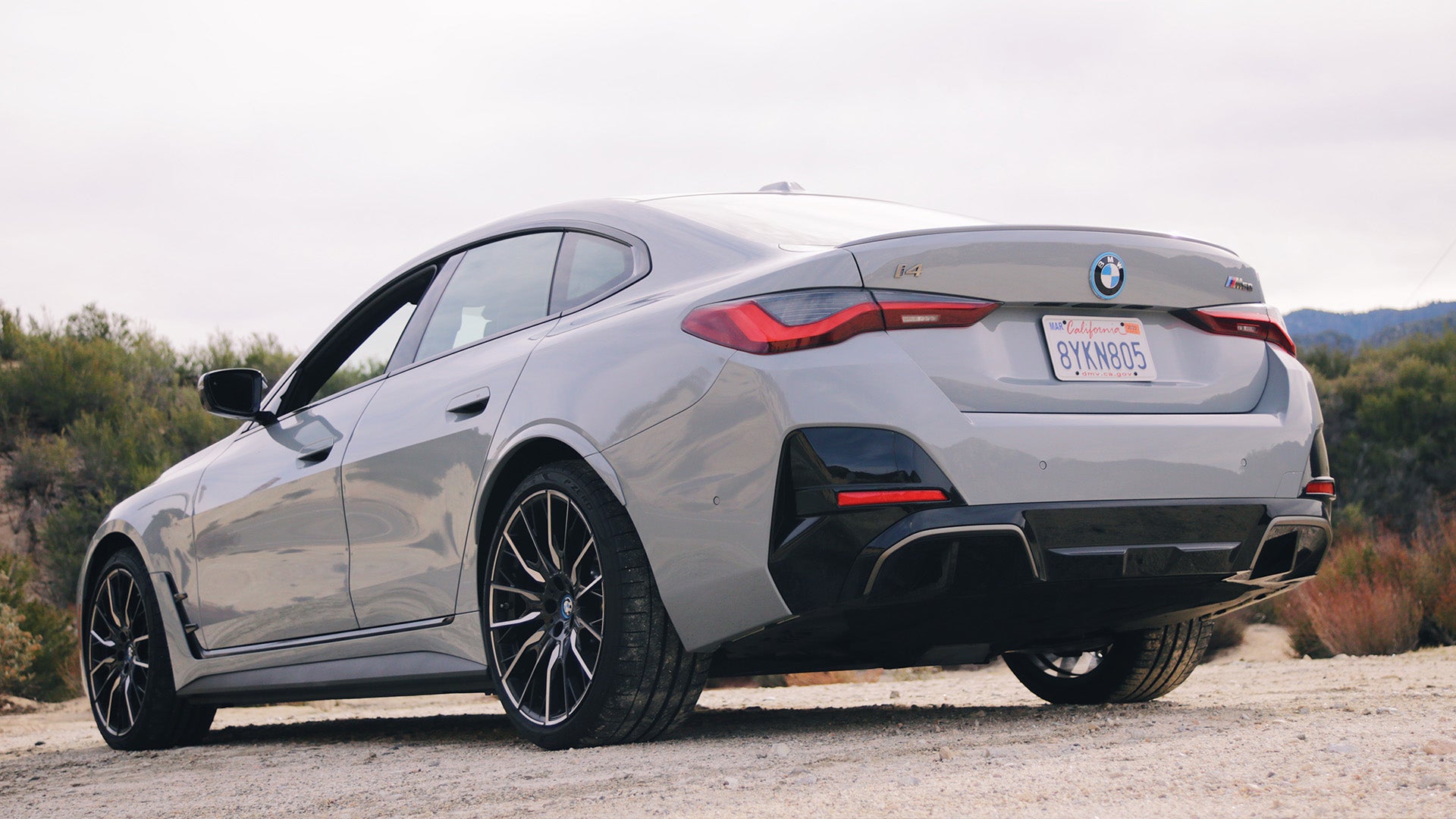 Peter Nelson
2022 BMW i4 M50 Specs
The Basics
The i4 M50 sits in the entry-level spot of BMW's current all-electric lineup, with iX and i7 occupying the space above. The M50 portion of its name denotes the enthusiast-centric, high-horsepower trim that stops short of full M status. Near-M, if you will.
Its body style is classified by BMW as a Gran Coupe—so, four normal doors, sweeping hatch-like body lines, and a genuine hatchback type of trunk. This means it's technically a five-door by BMW's specifications, which feels weird to say since it's not a small hatchback like the now-gone Hyundai Veloster N (well, I guess that's a four-door hatch, but you get the idea), but rather a dimensionally large 5,018-pound near-sedan.
However, I dig the look. It's got that front grille, but otherwise, it's a handsome and muscular package overall, and I'm especially fond of the rear three-quarter view.
The interior is, by and large, standard new BMW fare. The latest iDrive 8 infotainment system is a joy to use over pretty much every other automaker's system (center console wheel for the win, forever), it possesses pleasant, substantial materials throughout, comfortable leather seats, and a massive screen on the dash instead of physical gauges. The ship for any form of analog gauges in new cars sailed long ago, but at least all-digital fare makes more sense in an EV. You know, futurism and whatnot.
Rather oddly, I don't fit in the i4 M50 all that well. I think this might be due to the Gran Coupe body style, as the new M4 and M340i fit me like a glove—they're wonderfully tall-guy friendly. The i4's got leg and shoulder room aplenty, with the former having loads of adjustment for any body type. But, measuring in at six-foot-three, I had to recline the seat quite a bit to not bump my head on the regular, even with a decent amount of tilt factored in.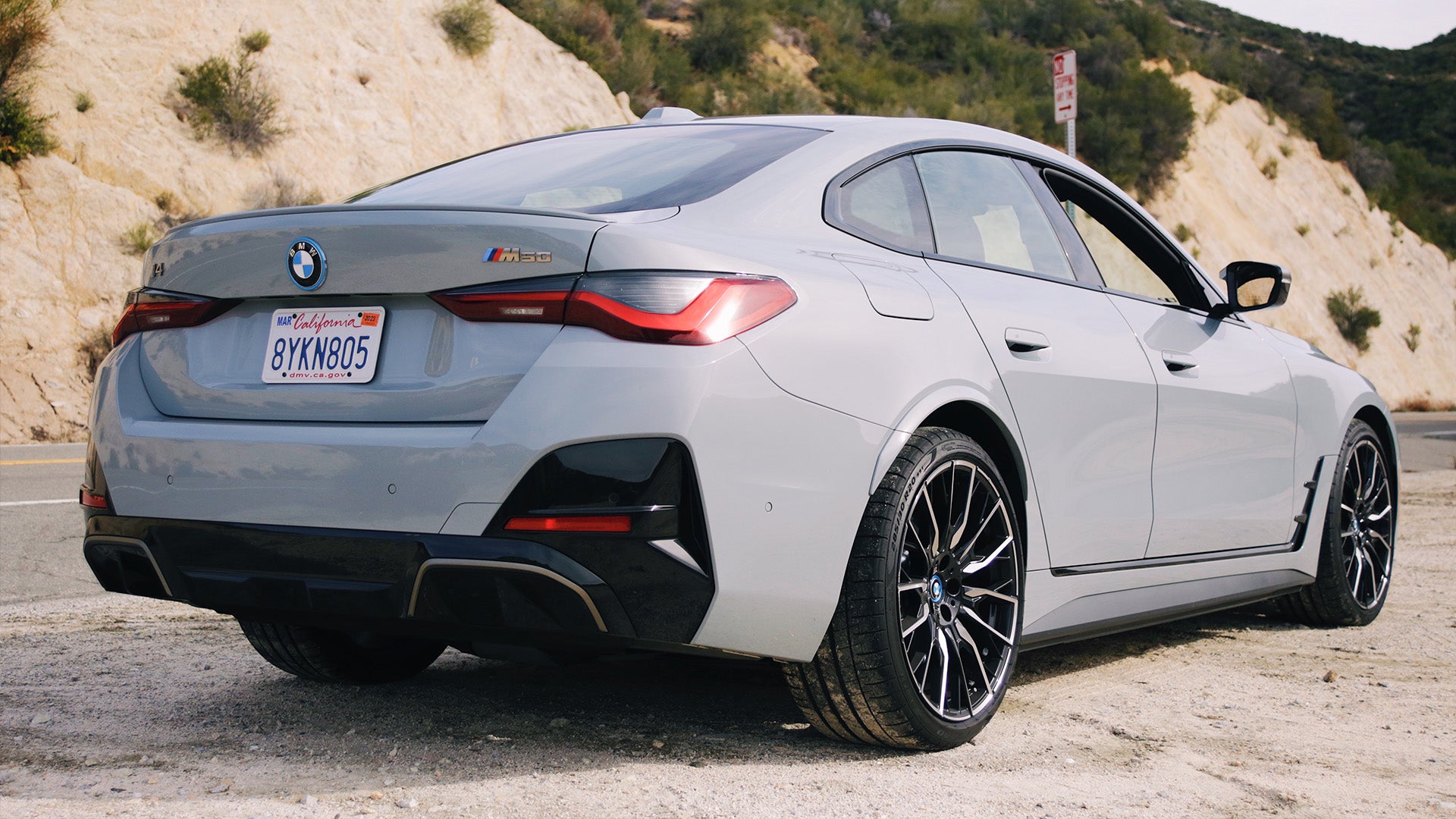 Peter Nelson
Driving the BMW i4 M50
As far as cut-and-paste daily driving experiences between a modern internal combustion BMW and the i4 M50, it was a near carbon copy. I haven't driven the M50's direct gas counterpart, the M440i Gran Coupe, but I did spend a lot of time in the M340i last summer. Rolling around town, the i4 oozes modern M-lite BMW—good overall visibility, a brake pedal that's a little grabby, and a large yet athletic feel. It's generally comfortable around town and possesses a very solid ride quality, especially in Comfort mode. The M50's front dampers and springs are situated in a double-joint independent setup, whereas the rear is a five-link fully independent setup with air suspension. Its dampers' rebound has also been re-engineered over the standard i4 to cut down on brake dive—a fine addition for any BMW product with an M in its badge.
The i4 is one of the most serene and stress-free environments to be in while stuck in traffic. It's well-insulated from the outside world and its advanced driver assistance tech—such as lane keep assist and radar cruise control—is intuitive and a breeze to quickly turn on and off. Add in the fact that there's no drivetrain noise or vibration to speak of and it'd be my preferred place to be if I were enveloped in the traffic-ridden, daily SoCal commute life.
As far as sounding like an M-lite Bimmer, Hans Zimmer himself had a hand in the sounds that the i4 produces—dubbed Iconic Sounds Electric by BMW—and they're generally neat, albeit a tad cheesy. Though, I must admit that I thoroughly enjoy the symphony of science fiction while ripping along in Sport Boost, which at times had minor-key aggression that resembled Return of the Jedi's speeder bikes.
When driven the way sporty BMWs ought to be driven, its EV high card quickly flipped over and revealed that this thing is serious business. The B58-powered M340i and 440i are quick, but 536 hp and nearly 600 lb-ft of instant torque are truly a force to be reckoned with. Its different modes all dispensed power in different ways, but even the most laid-back Eco Pro mode let the i4 scoot along thrillingly at full throttle. According to BMW, it'll hit 60 mph in just 3.9 seconds, full-tilt. It definitely feels quicker.
Then, Sport mode was truly jaw-dropping. The thing rocketed off the line with no drama at all—it just grabbed and lunged. The sensation wasn't necessarily scary—a lot of runway was required, though—and thankfully its immense front and rear vented brakes with four-piston front, single-piston rear calipers always felt up to the task of taming it back to a chill EV cruiser. Highway passes were effortless, too, but then so was reaching very-expensive-speeding-ticket territory.
This meant that it was especially fun in the twisties. While rocketing along my favorite selection of Southern California's idyllic mountain roads, the i4 M50 was the first car to ever give me a light bout of motion sickness. The thing possessed supercar-level grip and confidence from corner entry to corner exit—for its size, it's very impressive on tight, twisty roads. BMW boasts that its near-actuator wheel slip limitation has a hand in this, which enables the M50's rear-wheel-biased propulsion to send precision amounts of power to the front wheels to improve overall stability. The front tires see as much as 255 hp, whereas the rear motor puts out a maximum of 308.
By that same token, the muscular i4 disallowed a lot of tomfoolery. Its power output was heavily dependent on steering angle, which meant I had a good buffer to prevent me from charging through a guardrail and off a cliff in spectacular fashion. Still, given this much power, brakes that could be stood on corner after corner, a brilliantly damped suspension in Sport mode, as well as amazingly direct steering and front-end feel, it was no surprise that my body couldn't quite hang for an extended amount of time. Totally worth it, however.
In fact, it was the steering that surprised me the most. Sure, having a bunch of weight in the middle, plus two electric motors that are mounted way down low—with the front end having barely any mass forward of the front shock towers—means light, direct, quick-turning steering. But it was still a shocking experience at first as my brain just wasn't ready for Lotus-resembling front-end sharpness—plus a wonderfully quick steering ratio—in a big, 5,000-pound vehicle.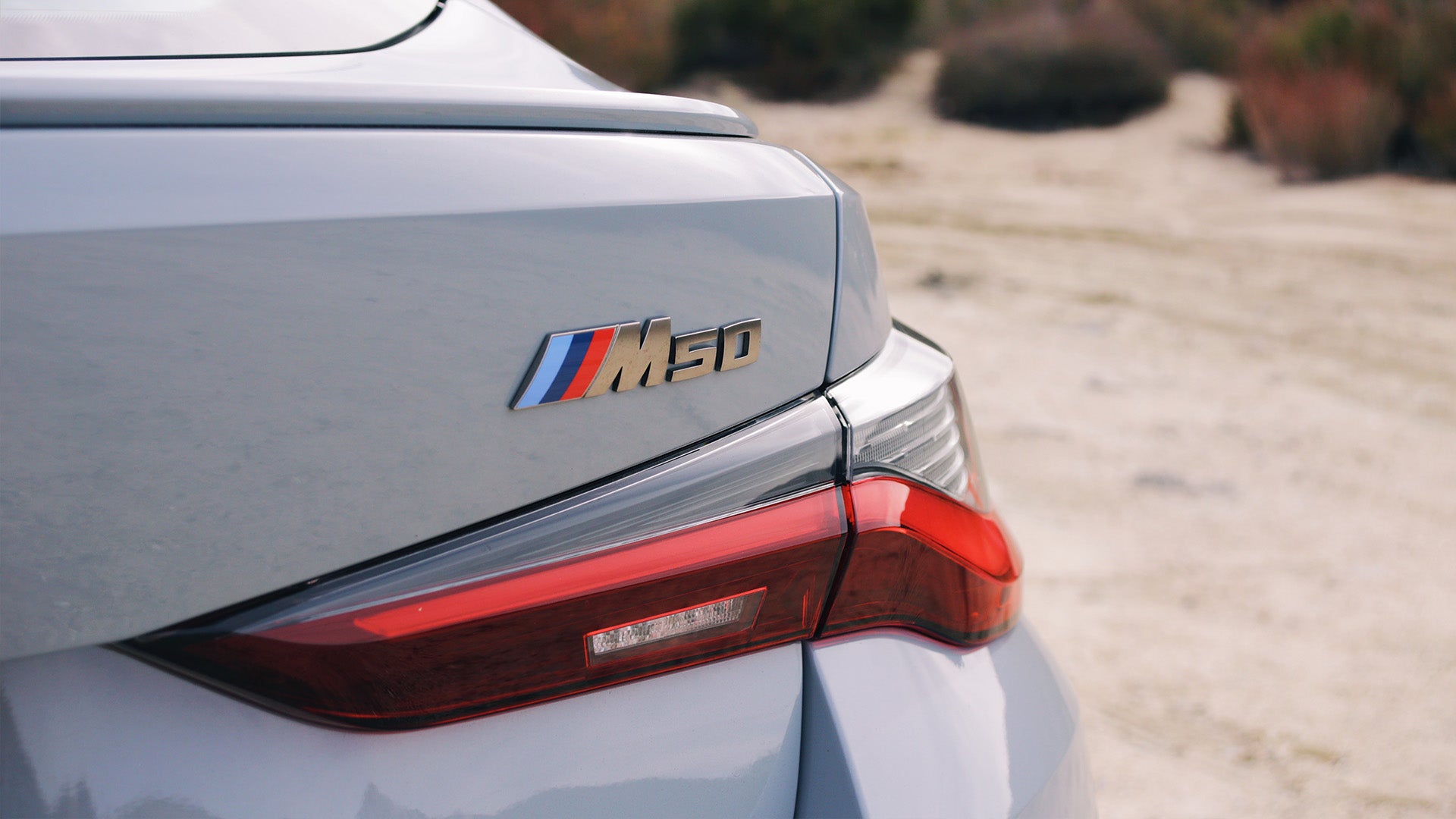 Peter Nelson
The Highs and Lows
Corner-after-corner hijinks in the i4 M50 came at an immense cost: range. If someone lives near the fun roads, or if DC fast charging is nearby, this isn't as much of a concern. But driving high up into the mountains, far from any infrastructure besides pavement, road signs, and guardrails, range anxiety truly rears its ugly head. Especially while barreling along, discharging batteries faster than you can say who killed the electric car? The optioned 20-inch wheels have a mighty hand in this—BMW says the range is cut down to 227 miles from the 270 you'd supposedly get with the standard 19-inch wheels. That's a big drop.
Ultimately, I wasn't able to spend nearly as much time in the twisties with the M50 as I have with its gas-powered siblings. Though, after making my way back down from the mountain with just 28% charge left and 50 miles of Los Angeles Basin traffic to battle through, I did learn that the i4's Eco Pro mode goes to work. It only used up 11%, as opposed to getting there in Comfort mode and factoring a bit more speed into the equation, which burned up 23%. When driven reasonably, I was impressed by how little battery the big beast needed.
Outside of becoming thoroughly acquainted with the joys of electrified motoring, BMW did an excellent job making EV ownership quite easy for anyone who wants everything about a modern Bimmer—especially if they already have experience with it—and only swapping out the method of propulsion. The charge port is even in the same spot as pretty much every BMW gas door, ever. This could be an issue for folks who lack the ability to back into parking spaces—be sure to tack on the $700 Parking Assistance Pro Package.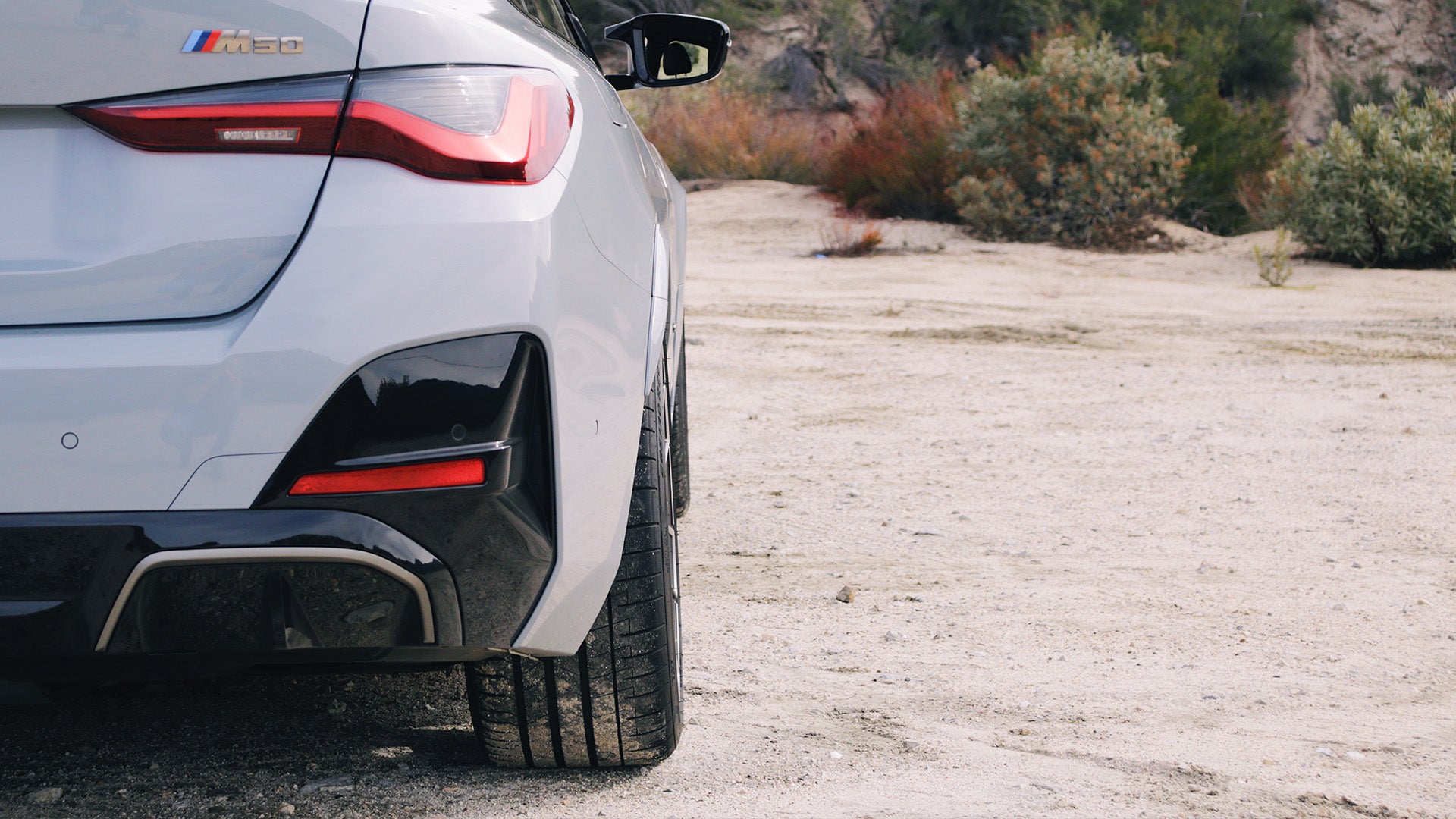 Check out that rear camber! Peter Nelson
BMW i4 M50 Features, Options, and Competition
When it comes to how my 2022 BMW i4 M50 tester was optioned, the added accouterments were substantial. Brooklyn Gray Metallic paint came in at $550, while BMW's Driver Assistance Pro Package hit $1,700. That $700 Parking Assistance Package included a very good 3D camera, while the Premium Package upped interior luxuriousness for just $950. Wireless charging cost $200, 5G network access was $300, the head-up display with curved instrument cluster added $1,000 to the bill, and the brilliant Harmon Kardon sound system tacked on another $875.
Though, the biggest addition of them all was the High Performance Package at a not-cheap $2,500. BMW states that it includes the handsome 20-inch Style 868M wheels and its entire M Technology Package. Thankfully, other important corner-carving amenities—notably adaptive M suspension and M sport brakes—are standard.
As far as how the 2022 BMW i4 M50 stacks up against the competition, its biggest rivals are the Tesla Model 3 Performance and, while it's not perfectly matched lineup-wise, the Mercedes-AMG EQE Sedan. The Mercedes being one class size bigger starts at around $95,000 and sports slightly more range and similar acceleration specs, though puts down a lot more power at 617 hp and 701 lb-ft of torque. The Tesla has more range, hits 60 mph about one second faster, possesses hp and torque numbers in the mid-400s, and starts at a far-less $55,630. The Tesla also beats out both in range with as much as 315 miles.
There's also the Polestar 2 BST Edition 270 with similar range, brilliant handling chops, less power, and similar pricing. This is the car that I'd love to drive back to back with the i4 M50, as I'm quite intrigued by the prospect of letting chassis engineers go to town with EVs' inherently low center-of-gravity to develop true handling monsters.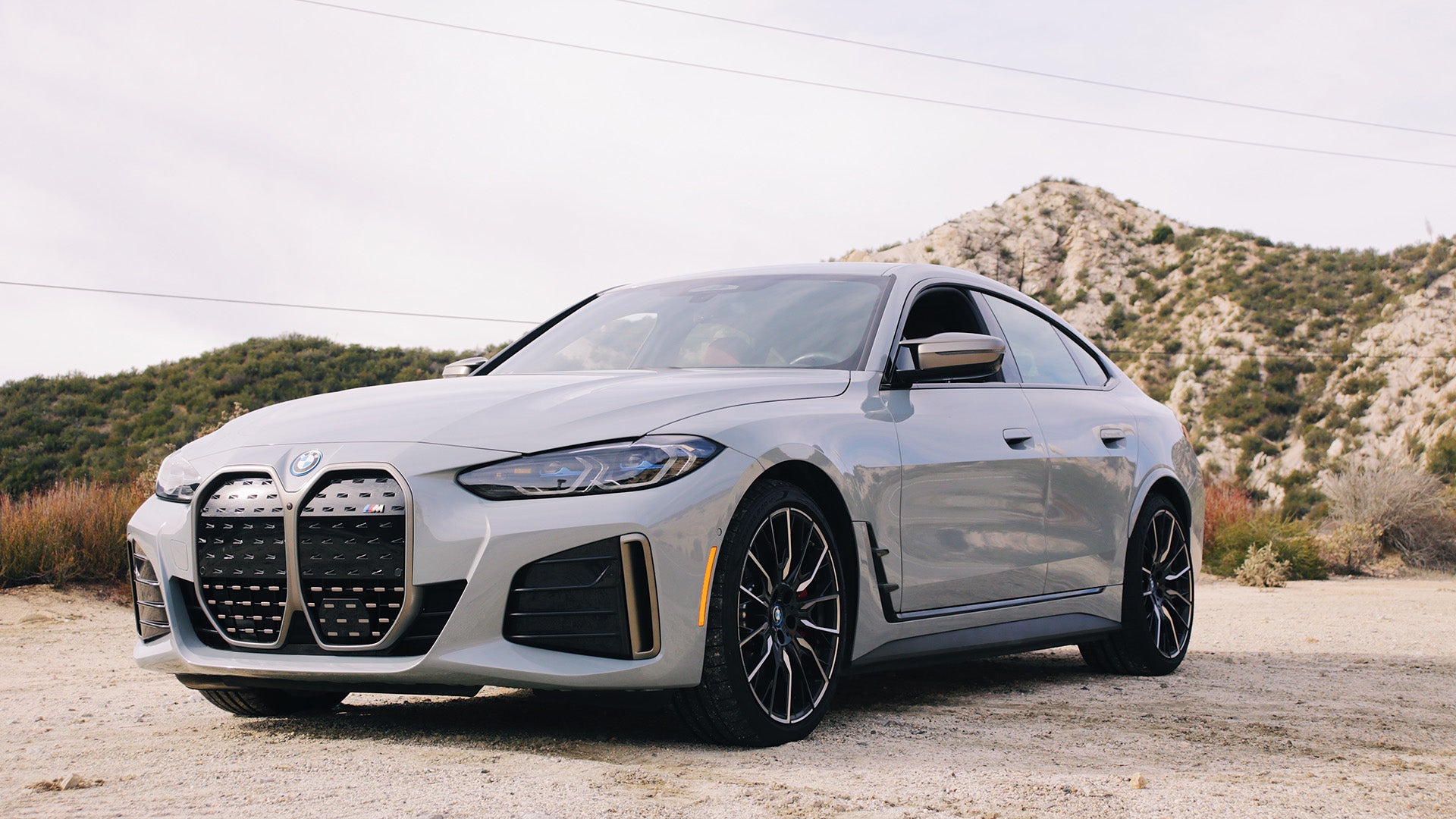 Peter Nelson
Sustainability
First and foremost, it was a neat experience wheeling the M50 along while leaving a very, very small carbon footprint. Figuring out how to fill up its wattage is, my lacking local charging infrastructure notwithstanding, very easy as well, especially once you've got a good suite of charging apps set up on your phone.
The ways that the i4 recuperates energy is intuitive as well—I didn't go too hard with one-pedal driving, but I definitely dug how variable it was in Eco Pro mode, which I can only assume made the most of discharging current in bumper to bumper traffic.
Finally, BMW says that its powertrain is rare Earth metal-free and that its electric motors possess an efficiency factor of 93% against its ICE engines' sub-40%.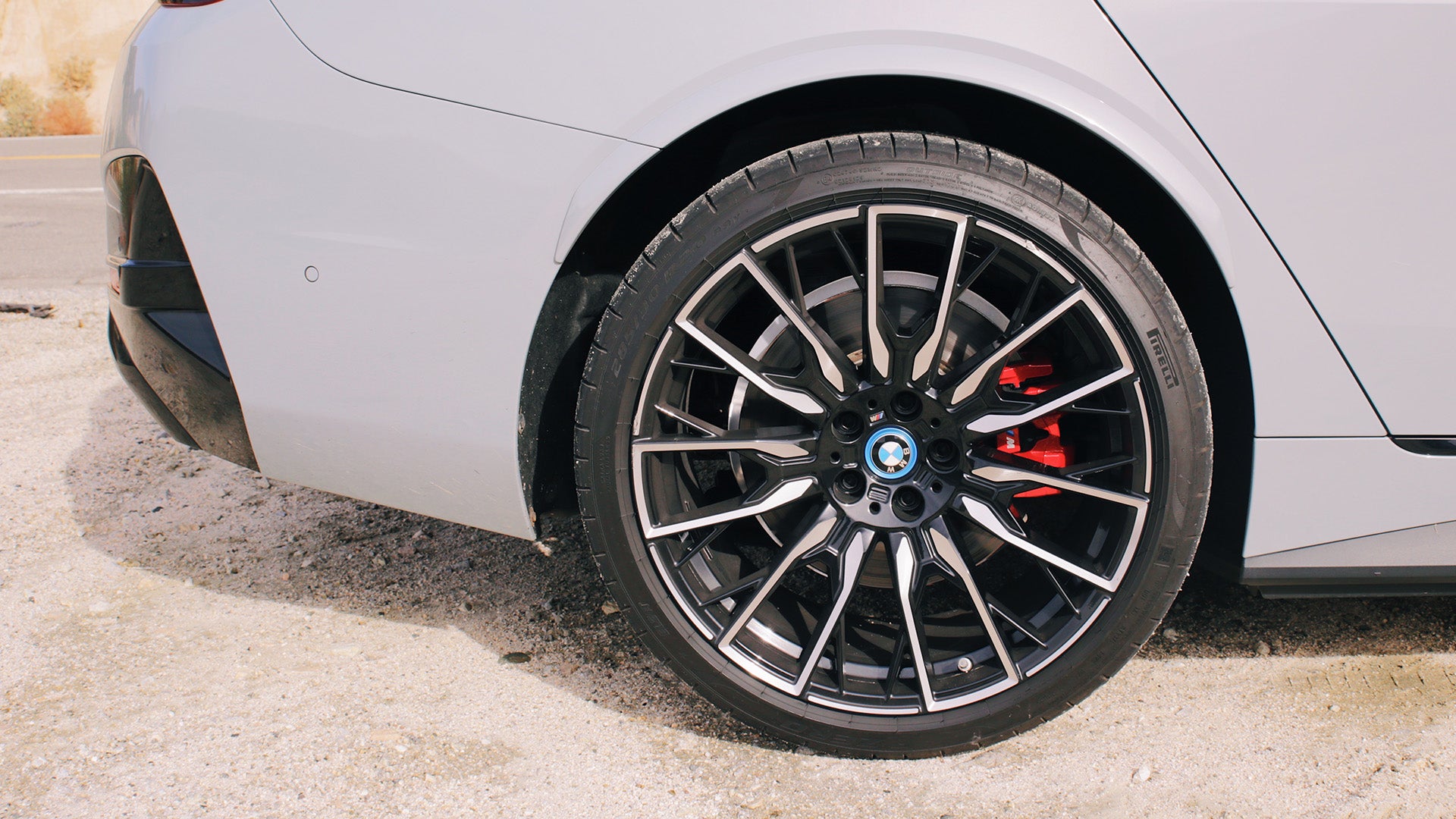 Peter Nelson
Value and Verdict
By sheer performance metrics, the BMW i4 M50 is a heck of a deal compared to the M3 Competition. Nearly all of the same interior niceties in a four-door, yet with thrilling EV torque. Plus, it possesses front-end sharpness and a variable steering action and ratio that eats the 3's lunch. All for $76,670 fully loaded.
However, due to a mix of performance range anxiety and a lack of internal combustion zest, it's not necessarily a better overall experience. Sure, the g-forces are wonderful, but there's no thrilling, angry baritone inline-six, quick-shifting automatic, or engaging manual transmission to create an all-encompassing fun backroad rip. It also has all-wheel drive that will absolutely never allow traction control to be turned off in any form, so there will never be any chance for slide-around, sideways rascality. But perhaps that's for the better.
It's a very good and thrilling EV, but it's not for everybody. Or, rather, it's good for someone who wants big power and less environmental impact in a safe, capable, and comfortable daily four-door (er, five-door since it's a Gran Coupe, but this is a concept I'll never fully understand), but also has a proper ICE sports car in the garage for every other occasion.
Still, BMW hit its mark by offering a comprehensively good car that's a lot like the rest of its lineup, except it pulls its power from the plug rather than the pump.
Got a tip or question for the author about the i4 M50? You can reach them here: [email protected]