For 2021, the Chicago Auto Show was moved to the summer as a result of COVID-19-forced rescheduling, but it's back to its regular frigid February dates in 2022. Before it opens to the public on February 12, the media had a chance to preview new debuts and featured products today and tomorrow. The size of the show was much smaller than normal, but there were still plenty of vehicles to ogle, touch, and sit in, and even try out, to a very limited extent.
With a plant that builds its Explorers in Chicago's south side, Ford has a large presence in this city and is typically a heavyweight at this show, and this year was no different. It had a full gamut of Mustang Mach-E models, the Ford F-150 Lightning, and tons of Broncos. As is usual, special-edition models and trucks were heavily in the spotlights, as well. After walking the floor several times over, we selected our favorites, and not all of them are brand-new rides. Check out our recommendations for the 2022 Chicago Auto Show.
Nissan's Trio of Custom 2022 Frontiers
Nissan had the best crop of new vehicles at the show thanks to a gang of retro- and adventure-themed Frontier Crew Cab 4×4 pickups.
Project Adventure
Project Adventure is a response to all the recent hype around overlanding. It features a five-inch lift kit, 34-inch mud terrain tires, a carbon fiber snorkel, a folding tent top, and a custom wrap with a U.S. atlas design.
Project Hardbody
The red Project Hardbody looks back on D21 Hardbody truck from the company's past. It features a three-inch lift kit, block-style wheels, a bed-mounted spare tire carrier, and retro graphics.
Project 72X
The Project 72X was possibly my favorite vehicle at the show, purely because old-school truck graphics are one of the greatest things ever to happen to the automotive industry. The 72X is inspired by the Datsun 720 of the late '70s, which Nissan points out was nicknamed the Lil Hustler, because it was a cheap truck without any frills that was ideal for camping and other outdoor activities. The 2022 iteration has those awesome 4×4 graphics. white lettering on the tailgate, steel wheels painted white, a 2.5-inch lift kit, and a bed-mounted sport bar.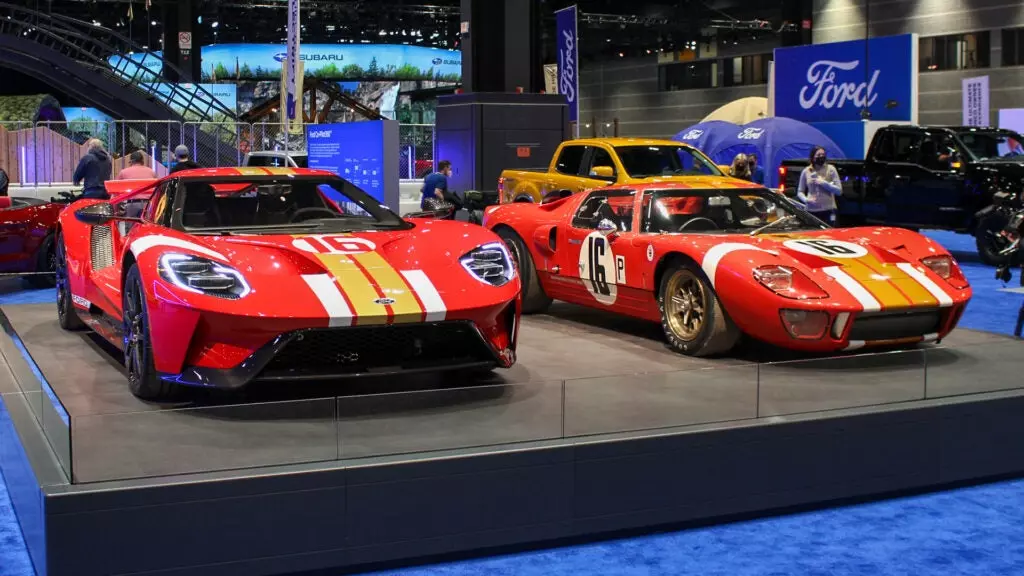 2022 Ford GT Alan Mann Heritage Edition
The monumental Ford GT has been around for years and is wrapping up its lifespan, but it's still a star worth visiting at every show it attends. This year, it debuted in a new special-edition livery next to one of its elder relatives. The 1966 Ford AM GT-1 Prototype sat side-by-side with the 2022 GT Alan Mann Heritage Edition it inspired.
Because the '66 prototype experimented with lightweight materials, that's the theme for this sparkly red and gold GT, with carbon fiber used for the 20-inch wheels, the front splitter, the side sills, the mirrors, the engine louvers, and the rear diffuser. Ford also used carbon fiber inside for the door sills and the console.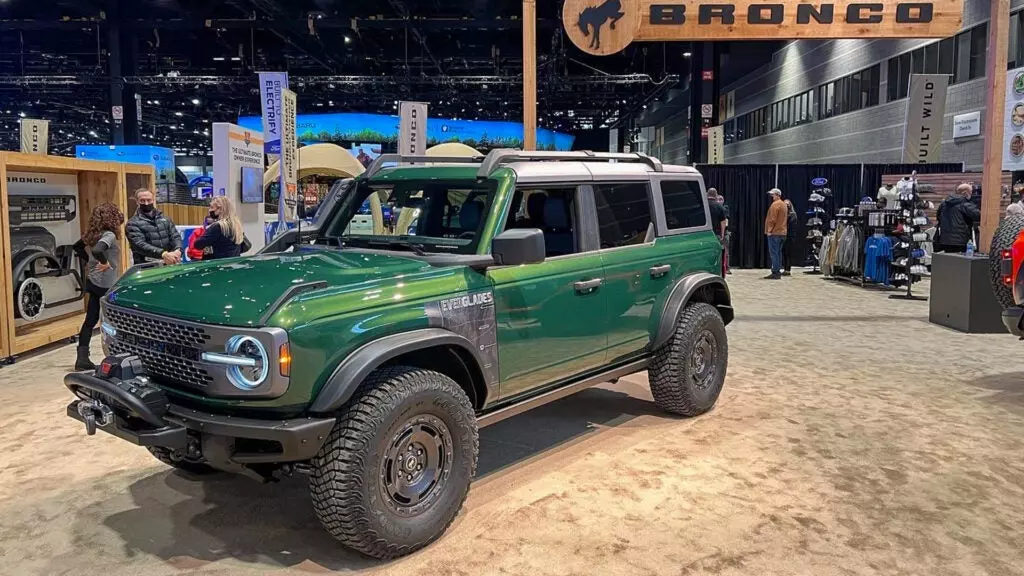 2022 Ford Bronco Everglades
The Ford stand is massive, and a variety of Broncos were spread throughout the floor. In addition to the new Bronco Raptor and a Bronco with a red, white, and blue racing livery, Ford showed off an all-new special-edition model called the Bronco Everglades.
The Everglades comes equipped with the Sasquatch Package and is made for adventurers who might find themselves dipping into a bit of water. Not only does it have a snorkel, Ford says the axles, the transfer case, and the transmission have "raised vents" that allow the Everglades to ford up to 36.4 inches of water. Don't even think about going 36.5.
The Everglades model also has a custom Carbonized Gray grille, a Zeon 10S Warn winch capable of pulling 10,000 pounds, a safari bar, rock rails, and bash plates.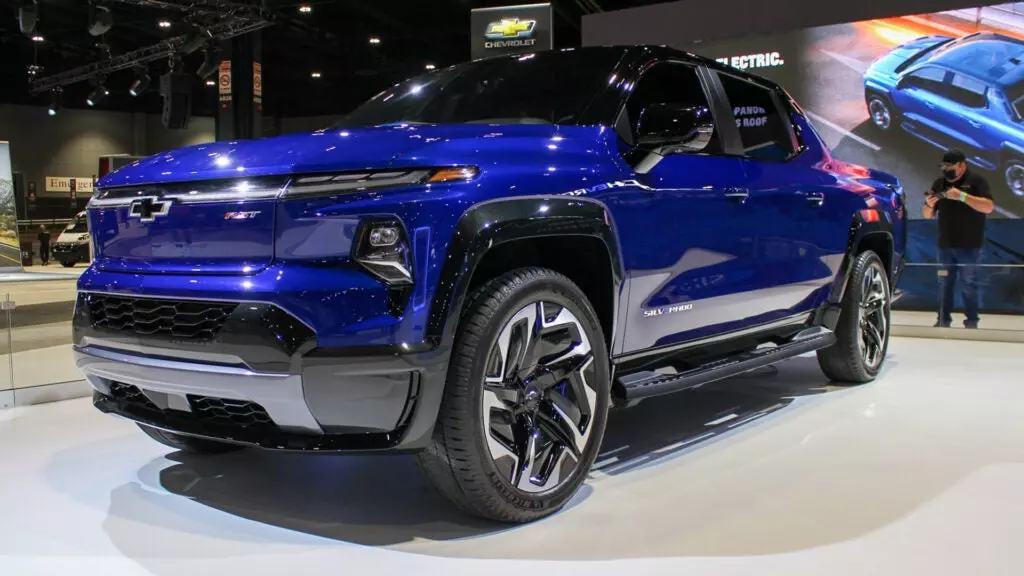 2024 Chevrolet Silverado EV RST
The battery-electric truck wars are just getting started, and both the Ford F-150 Lightning and the Chevrolet Silverado EV are at the show to flaunt their new metal. While the F-150 essentially looks like any other F-150, the Silverado EV looks significantly more unique, thanks to its new shape that everybody and their mothers relate to the old Chevy Avalanche.
The model on display is the RST, and although we couldn't sit inside, the pass-through mid-gate that flows from the bed into the cabin is visible. Maybe it's the sheer size, maybe it's the lack of grille, or maybe it's the two-tone color scheme, but it looked extremely cartoonish in person. It's nice to see some variety in the truck segment.
Chevy claims the Silvy EV will have about 400 miles of range, about 10,000 pounds of maximum trailering, and 10.2 kW of offboard power.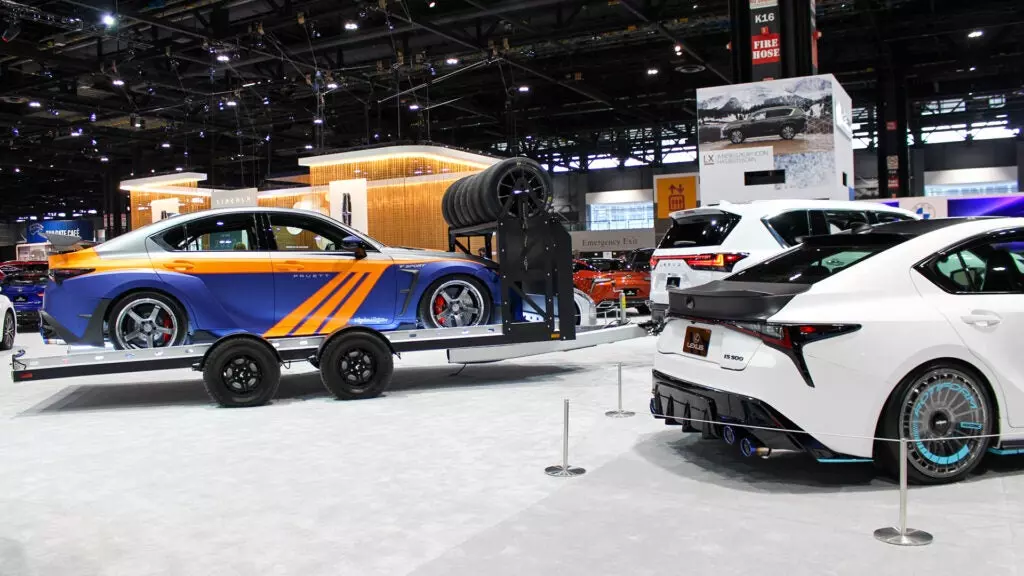 The Lexus SEMA Projects
Although it's already been a few months since the 2021 SEMA show, some of the cars that debuted in Las Vegas are still making the rounds, which is nice for midwesterners who didn't get a chance to escape to Sin City. Toyota brought out its super-cool retro Tacozilla camper, and Lexus had two different customized IS model, one on the floor and another on a custom trailer pulled by a new LX 600 F Sport.
The one on the trailer is an IS 350 that was imagined and built with the help of DSPORT Magazine and Scott Pruett. It features an Artisan Spirits body kit, overfenders, carbon fiber on the wing and splitter, a custom four-point roll bar, KW variant adjustable coilovers, and 20-inch Rotiform KPS wheels.
The white model is an IS 500 that was made in partnership with Hiraku Co. and Townsend Bell. It's unique not only for its Rotiform LAS-R Aerodisc wheels, but also its front fenders, front lip spoiler, side step, rear diffuser, front bumper canard, rear roof spoiler, and side mirror trim that were made with a 3D printer. The white paint is classic Lexus, but the light blue accents are a perfect addition.
What to read next: