While it may seem like the compact sedan segment is a dying breed, there's still some solid variety available. Four that particularly stand out, and have been around for a long time now, are the Honda Civic, Mazda 3, Toyota Corolla, and Hyundai Elantra. The latter's been hanging out in the American market since 1991, which is only bested in age by the Honda and Toyota. This 2023 Hyundai Elantra is part of the nameplate's seventh generation.
Sporting a unique exterior design, spacious cabin, and a wide variety of power plants, this might be the most versatile Elantra, ever. It's also offered in a variety of trims, from the sparsely appointed SE to apex-conquering and thrilling N. Somewhere in the middle lies the Limited, a spec where reasonable cost of entry, versatility, and non-hybrid propulsion is found, and with some nice luxury appointments to boot.
Recently, Hyundai threw me the keys to the 2023 Hyundai Elantra Limited, and while it at first seemed to be engineered to a T as an anonymous, economical, A-to-B-only appliance, it quickly surprised me in some ways, namely in how it took on twisty roads.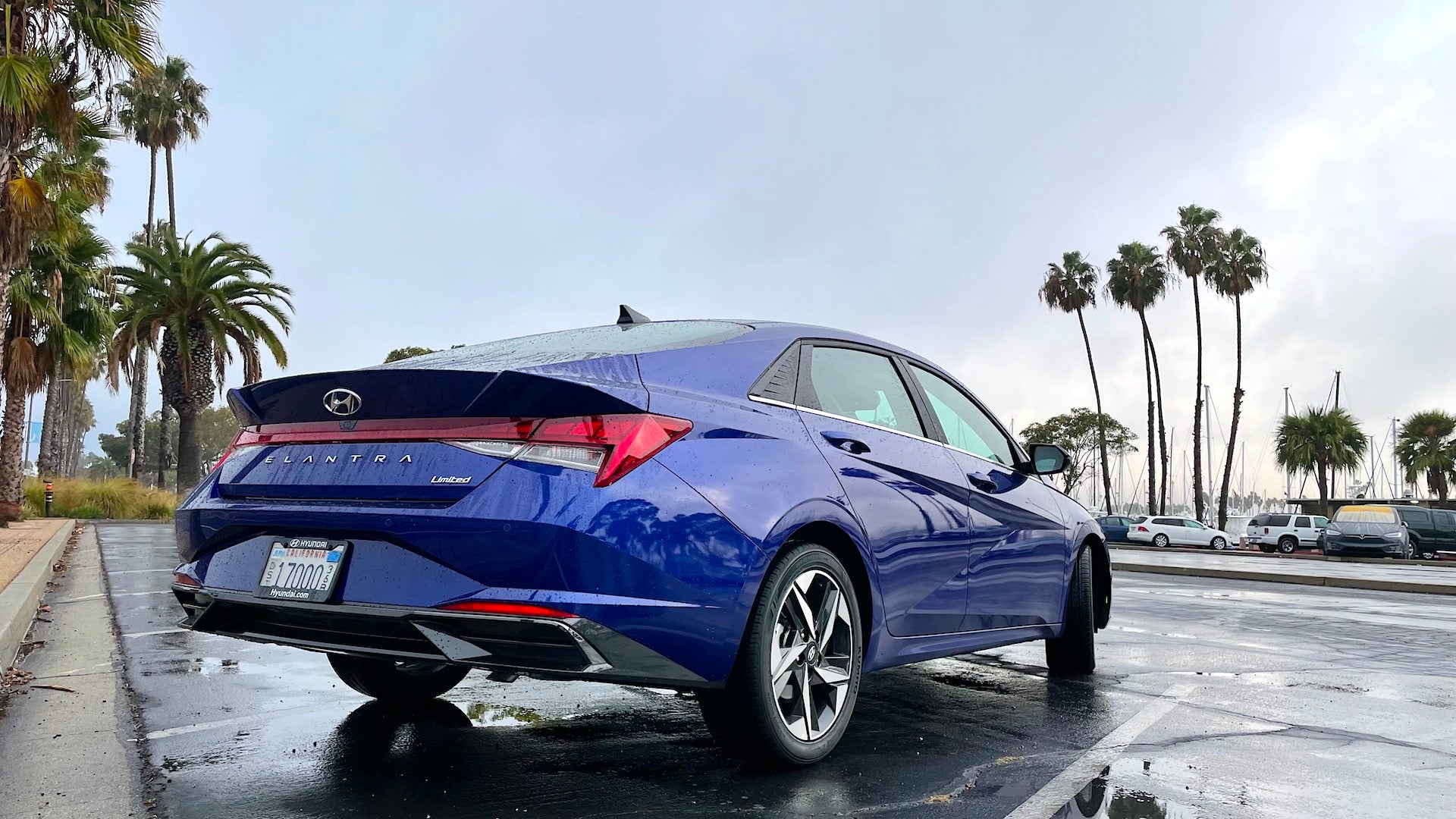 Peter Nelson
2023 Hyundai Elantra Limited Specs
Base Price (as tested): $26,350 ($27,655)
Powertrain: 2.0-liter four-cylinder | continuously variable automatic transmission | front-wheel drive
Horsepower: 147 @ 6,200 rpm
Torque: 132 @ 4,500 rpm
Seating Capacity: 5
Curb Weight: 2,868 pounds
Cargo Volume: 14.5 cubic feet seats up | 113.5 cubic feet seats down
0-60 mph: 8.5 seconds
EPA Fuel Economy: 30 mpg city | 40 mpg highway | 34 mpg combined
Quick Take: Great value wrapped up in a unique-looking package
Score: 9/10
Inside, the Elantra Limited gets Hyundai's top 10.25-inch LCD digital gauge cluster, eight-speaker Bose premium audio system, and 10.25-inch touchscreen navigation system with satellite radio, Android Auto, and Apple CarPlay. It's all integrated into the dashboard and center stack quite well, and when combined with a generally spacious, airy interior and dual automatic climate control, makes for an overall nice place to tick off the miles. The heated, power-adjustable front seats are leather and have adjustable lumbar support.
Beneath the Elantra Limited's hood lives a 2.0-liter four-cylinder and continuously variable automatic transmission, which is the sole engine and transmission combination available for this trim. 147 horsepower and 132 lb-ft of torque don't sound all that impressive, and in fact, isn't far off from what 2.0-liter engines were making in this class 15 years ago albeit with worse fuel economy. But it's enough to scoot the sub-2,900-pound compact sedan around without issue, and hit 60 mph from a standstill in 8.5 seconds.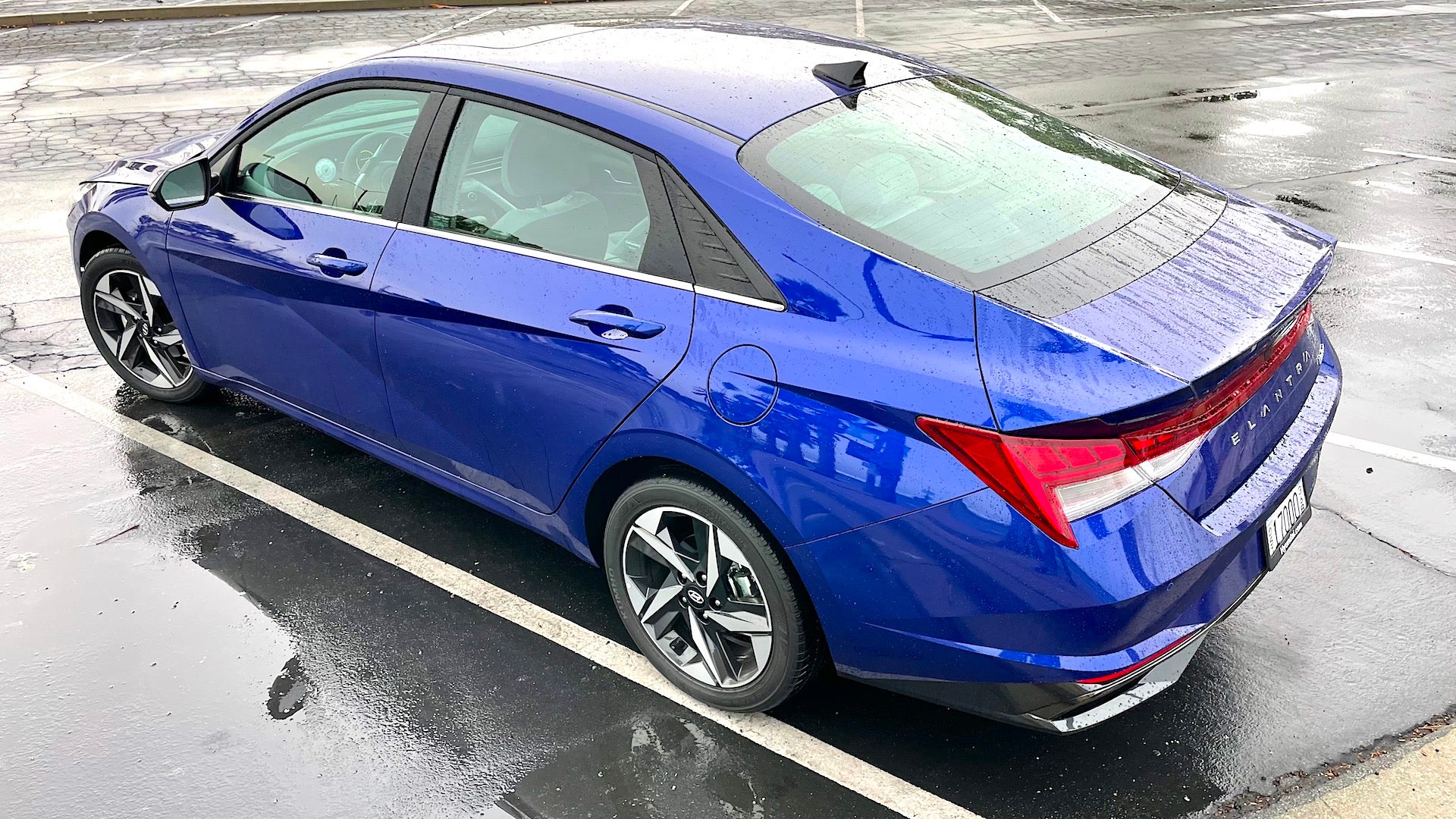 Peter Nelson
Driving the Hyundai Elantra
Overall, the Elantra Limited has a very good ride quality. It soaks up all degrees of bumps quite well, yet never feels too floaty or insecure of itself—in fact, it's actually very well-rounded in how it handles. Carving along Los Angeles' Mulholland Drive late at night, I was pleasantly surprised by how little body roll it possessed, how confident it turned into corners, and how much grip it made out of its otherwise bland all-season tires. The brake pedal had a confident and progressive feel to it as well, while the steering developed a nice weight at highway and fun-road pace, which then turned brilliantly feather-light while rolling around at city street and parking lot speeds.
Hitting the 60 mph mark in 8.5 seconds is acceptable for a car like this by modern standards, however, the powerband is a bit awkward. I wasn't expecting turbo-like instant torque, but the first couple thousand rpm are a bit lazy—almost to the point of precariousness joining traffic on a 45 mph street from a standstill. However, once up to speed, the Elantra has no major issues accelerating for highway passes. When combined with its surprisingly (well, actually unsurprisingly, since it's the same structure as the glorious Elantra N) athletic chassis and strong brakes, both emergency and enthusiastic maneuvers are well within its wheelhouse, and this overall confidence will translate to a safer experience for any motorist.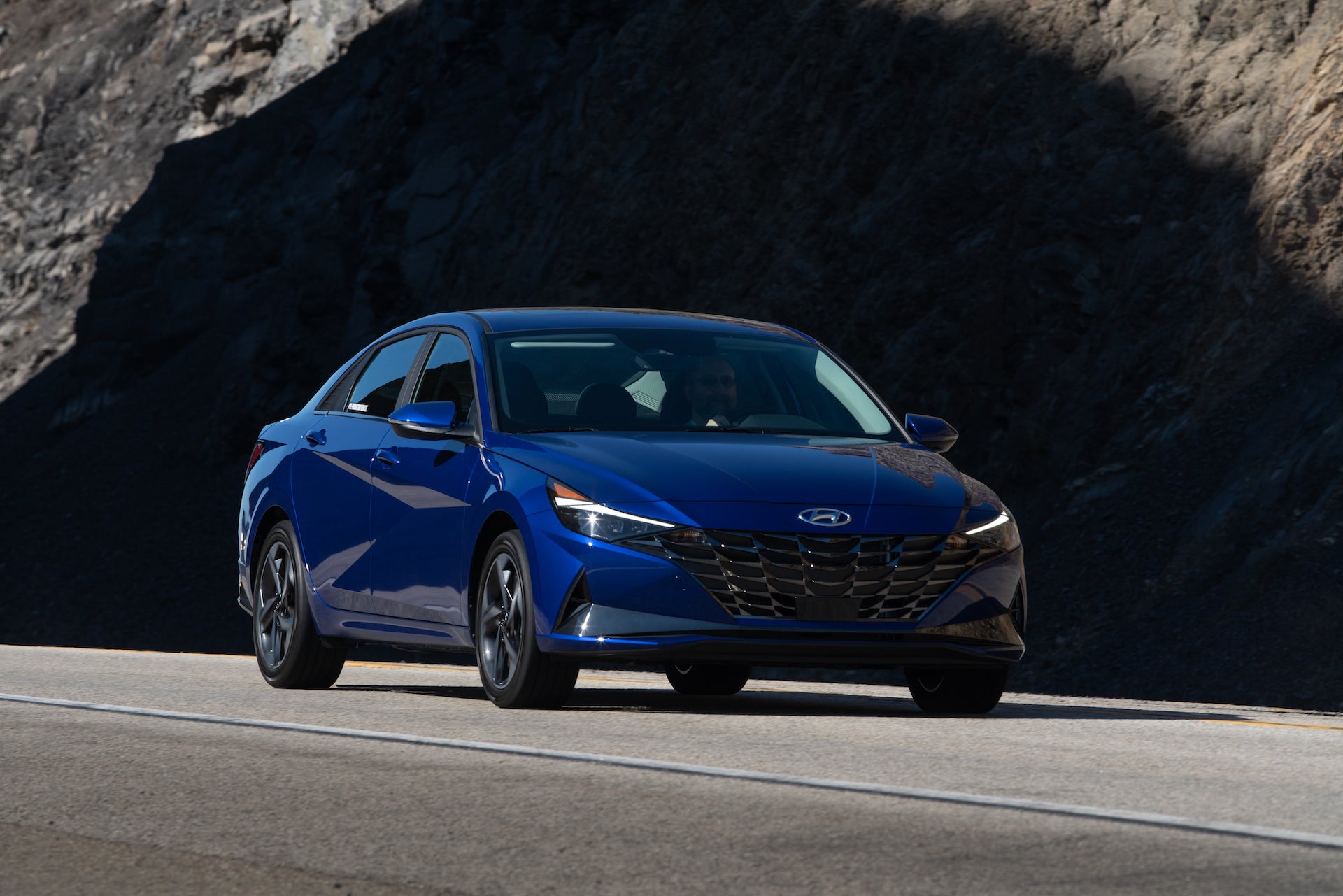 Hyundai
The Highs and Lows
Between its well-appointed interior, solid road manners, and spaciousness, the Elantra Limited is a strong buy in its segment. Though, its odd powerband, as well as the fact that it's only available with a dreadful CVT, aren't ideal. Sure, these negatives are generally matched by most of its competition, but why not go just a mild step further and offer a little more power or an intuitive and more engaging conventional automatic?
Still, getting down the brass tacks, there's more positive stuff to discuss. While it's not as commodious as the N with its low-down sport seats, it still has great interior room. I had to recline my seat a bit more than I prefer at six-foot-three, but otherwise, it had great shoulder and legroom, up front and in the back. Trunk room is quite good as well—a run to Harbor Freight for some heavy equipment revealed that its wide opening made for easy loading and unloading. 
The Limited's higher-tier infotainment system is easy to use, the HVAC controls are thankfully outside of its almost-entirely-touch-only configuration, and it sports excellent audio quality. It gets a bit laggy, but that's probably something that most consumers would quickly get used to.
In addition to being well-rounded in the handling, tech, and comfort arenas, the 2023 Hyundai Elantra Limited also sports a massive suite of driver assistance technology as standard. These take the form of blind spot awareness, rear cross-traffic alert, lane-keep assist with radar cruise control (with stop and go!), and forward collision avoidance that pays special attention to pedestrian and cyclist traffic. These systems all function quite smoothly as well and are never inaccurate in their predictions or annoying. Bolstering driver awareness even further is a cabin with excellent overall visibility and a low belt line.
Hyundai Elantra Features, Options, and Competition
The 2023 Hyundai Elantra Limited faces competition from the Volkswagen Jetta, Toyota Corolla, Mazda 3, Honda Civic, Subaru Impreza, and Kia Forte. While the variety in this segment might not be as numerous as it once was, it's stiff competition nonetheless. Considering the Limited's healthy list of standard features, including intuitive tech, LED headlights, and an excellent suite of driver assistance, it definitely fares well within the segment. Plus, its athleticism would put a smile on anybody's face.
The absolute-most-base Elantra trim, the SE, starts at $21,595, including a $1,095 freight and handling fee. The Limited starts at $27,395 post fees, and after including this tester's $210 optional carpeted floor mats, it came out to $27,605.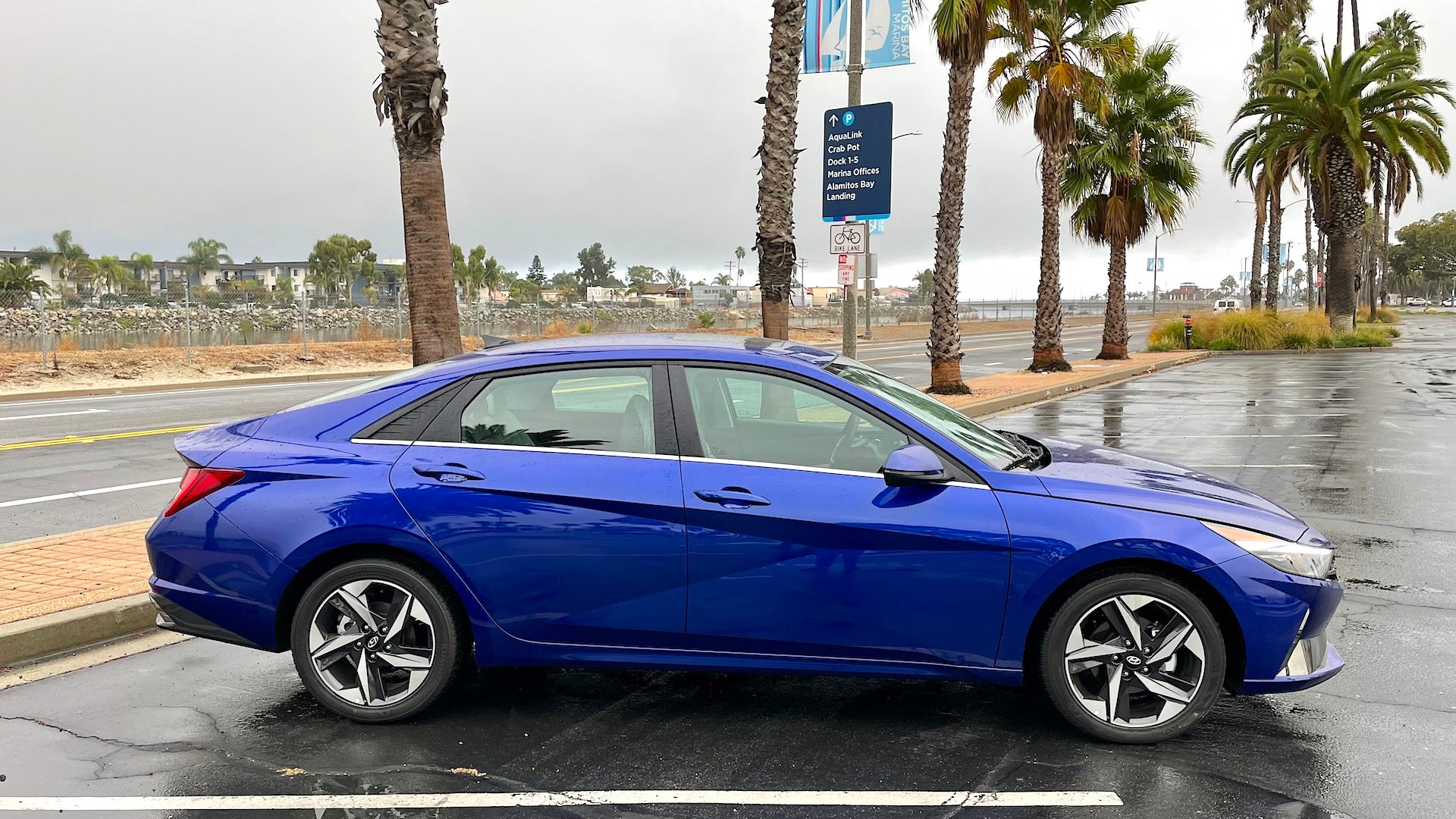 Peter Nelson
Sustainability
The 2023 Hyundai Elantra Limited is rated at 30 mpg city, 40 mpg on the highway, and 34 mpg combined, and I was able to best the latter figure with 200 miles of mixed driving, achieving 32.2 mpg. Considering there was a healthy helping of heavy-footedness thrown in, I was impressed. Especially considering there's no hybrid assistance under its hood.
It's become pretty common for cars across a wide range of price points to have an Eco mode to help ensure the highest marks in fuel economy, but the Elantra Limited didn't have it. Or need it. It did have auto stop-start, however.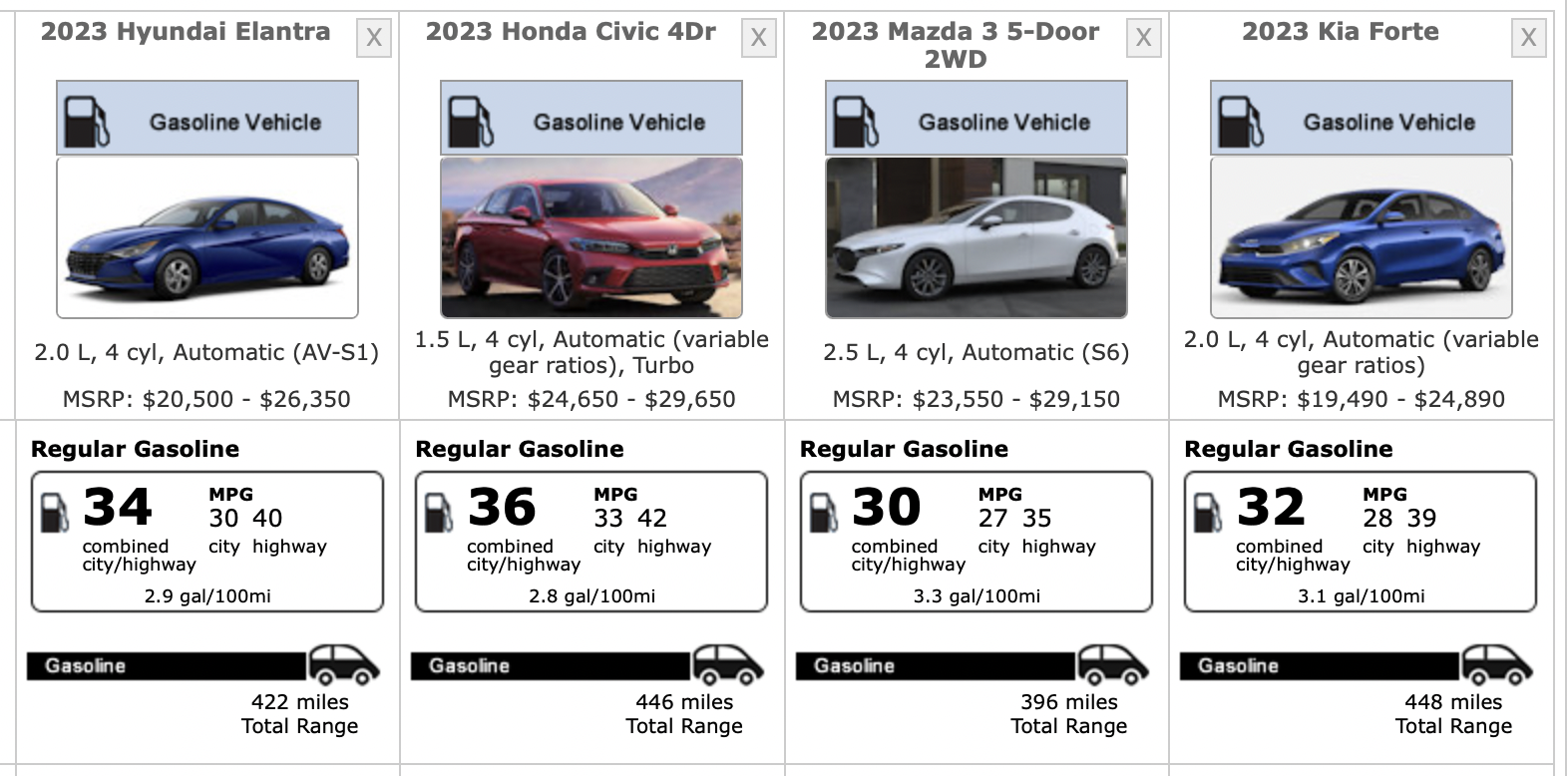 EPA
Value and Verdict
Overall, the 2023 Hyundai Elantra Limited is a great value. It's comfortable, versatile, tech-laden, and even fun to drive. Plus, it sports solid marks from NHTSA and returns very good fuel economy.
For anyone after an economical sedan for both warm and cold climates that is as sure-footed as it is versatile, they'd be hard-pressed to find something better for less than $28,000. Plus, it's got unique styling that stands out a bit—it's nice to roll around in something with a unique shape and face that generally follows standard, modern compact dimensions and styling, yet also doesn't.
The compact sedan segment may be shrinking, but the field is arguably stronger than ever. Even in the midst of some seriously fierce rivals, the 2023 Elantra is a strikingly-styled frontrunner.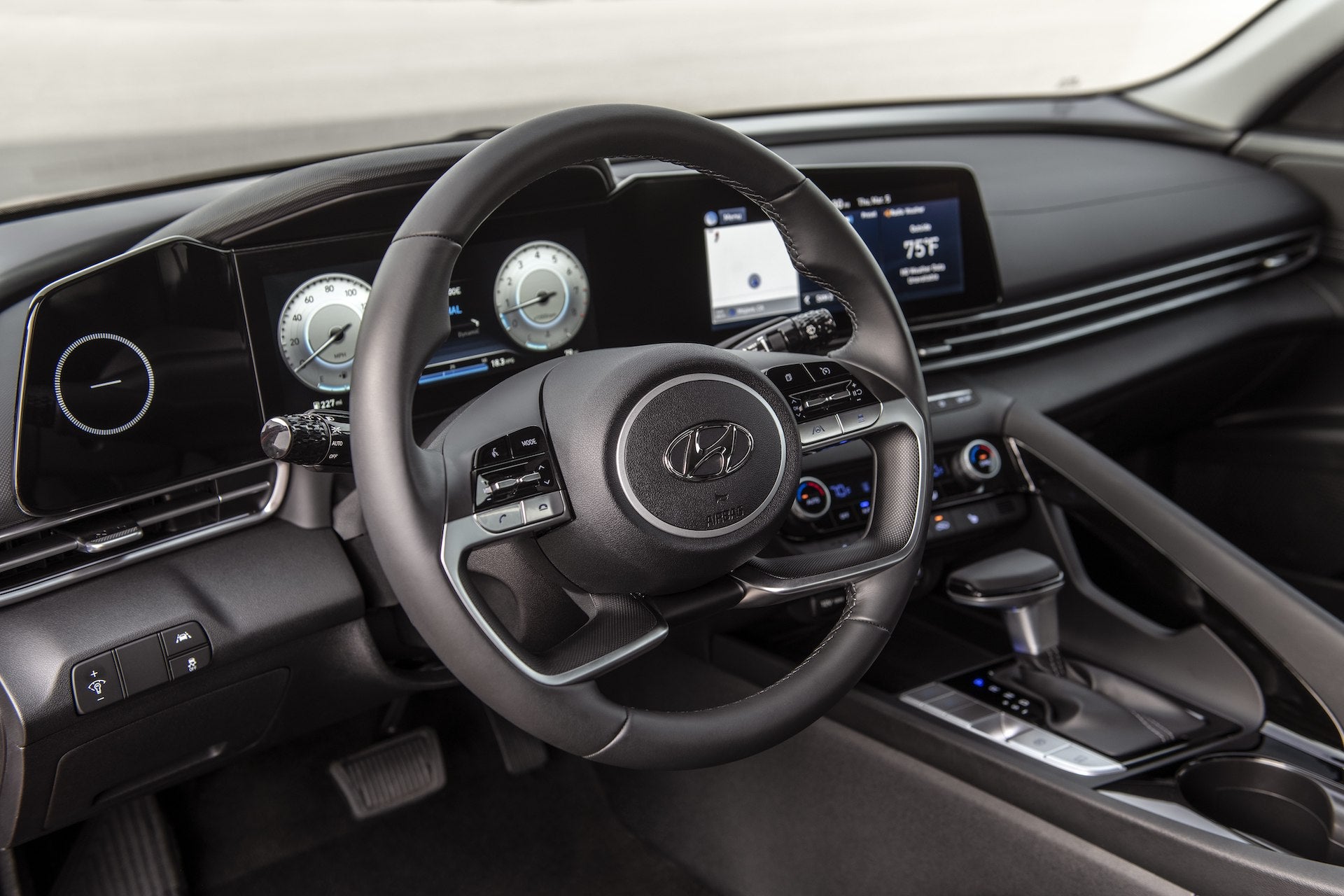 Hyundai
Got a tip? Send us a note: [email protected]