Hyundai is beefing up the contractor-spec version of its quirky Staria van with a new top-tier trim. The South Korean automaker has officially introduced the 2023 Hyundai Staria Load Premium, and it aims to make motorists enjoy their time in the driver's seat just a little bit more than less equipped lower trims (plus address some general shortcomings as well).
Now, make no mistake—just because the trim is called Premium doesn't mean that the newest version of the Staria Load is going to come with all of the bells and whistles of the proper spaceship-styled people mover version of the Staria. Instead, this is a more commercial version for contractors and the like. Think of it like the base Ford Maverick XL you see doing PDQ at an auto parts store, or the Ford F-150 Lightning Pro at a construction site. Get the picture? Good.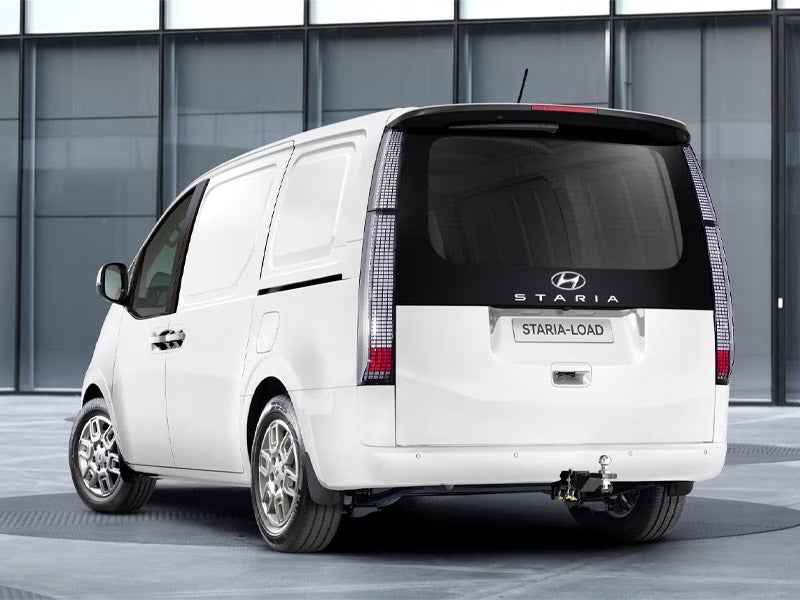 Visually, onlookers might notice the new LED headlights, light bar, and Ioniq-like pixel taillights equipped on the Staria. Additionally, the Premium trim gets new 17-inch wheels, and a power liftgate. Unfortunately, the twin-swing doors available on lower trims won't be an option for the Premium version. The real amenities, however, are inside the van.
For starters, the vehicle comes with a pair of two large 10.25-inch displays for the crew inside. One display replaces the base-spec 8-inch infotainment system, while the other is used for the gauge cluster. The van also gets automatic climate control, blind-spot view monitor, high beam assist, and a pushbutton start with proximity key.
Nothing has changed under the hood. The Staria Load Premium will get the same 2.2-liter turbocharged diesel four-cylinder as its brethren. And it's unsurprisingly mated to the same eight-speed automatic transmission that pushes power just to the front wheels.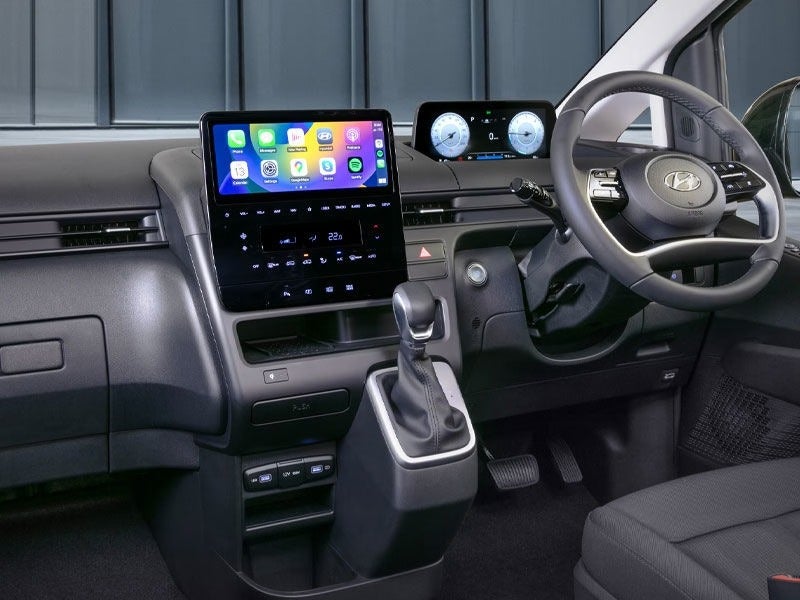 The good news is that drivers who sit behind the wheel of these appliance-like vehicles are going to get a taste of modernity, and at a pretty decent price. The 2023 Staria Load Premium costs a fairly reasonable $34,889 ($51,240 AUD), compared to the base two-seater version at $31,145 ($45,740 AUD). If you need five seats, you'll have to spring for the non-Premium "Crew Van" trim at $33,787 ($49,640 AUD).
The bad news? Despite being the second-best-selling van in Australia, the Staria is still not available in the U.S., in any variant. Despite this, it's still cool to live vicariously by proxy. Watching other markets get these special base-spec trims, albeit with a little modern pizzazz, fills my minimalist car-loving heart with some joy.
Got a tip or question for the author? Contact them directly: [email protected]