Toyota is no stranger to rugged SUVs, even those with three rows. The Sequoia model line has been around for decades and is a relative hit with normal drivers and enthusiasts alike. However, with the new 2023 Toyota Sequoia Capstone, the automaker takes its most family-friendly SUV into more luxurious territory occupied by trucks like the Chevy Tahoe High Country. Thing is, it's a cut-throat segment that could either transform the Sequoia's identity for the good or water it down significantly.
Now that Toyota discontinued the Land Cruiser in North America for 2023—though it may be coming back soon—the Sequoia is the brand's flagship SUV. It comes standard with seating for seven, a new (and immensely powerful) hybrid powertrain, and a complete redesign inside and out. The foundation is solid, then.
After spending a week with the Toyota Sequoia Capstone, I couldn't help but fall for its refined yet still adventurous attitude. There's an endearing feeling of invincibility that quickly won me over. It isn't without its flaws, and I'll come right out in saying I'd get a lower trim, but we're talking about a segment where buyers often make their decisions based on panache and price alone. With that in mind, it's likely to steal some market share from the domestic automakers, but not enough to be a real disruptor.
2023 Toyota Sequoia Capstone Specs
The Basics
The 2023 model year marks the third generation of Sequoia, and it's also the first one to not offer a V8 engine. It's packed with new technology, too, both inside the cabin and underneath the hood. While the idea of the Sequoia is the same as it always was, the execution this time around is entirely different.
The new Sequoia gains an exterior redesign that's inspired by the current-gen Tundra, one that's boxier, more muscular, and more aggressive. The previous gen was softer with rounded, smooth edges—this wants to crush everything in its path. And when you see it in person, it looks like it can; it's massive. My brother-in-law has a 2008 Escalade and it was dwarfed by the Sequoia. If there was one real exterior complaint, it'd be the black plastic valance under the front bumper. It looks cheap and it lowers the front-end clearance, so I had to back out of my driveway on an angle, despite its massive size—otherwise, I'd scrape.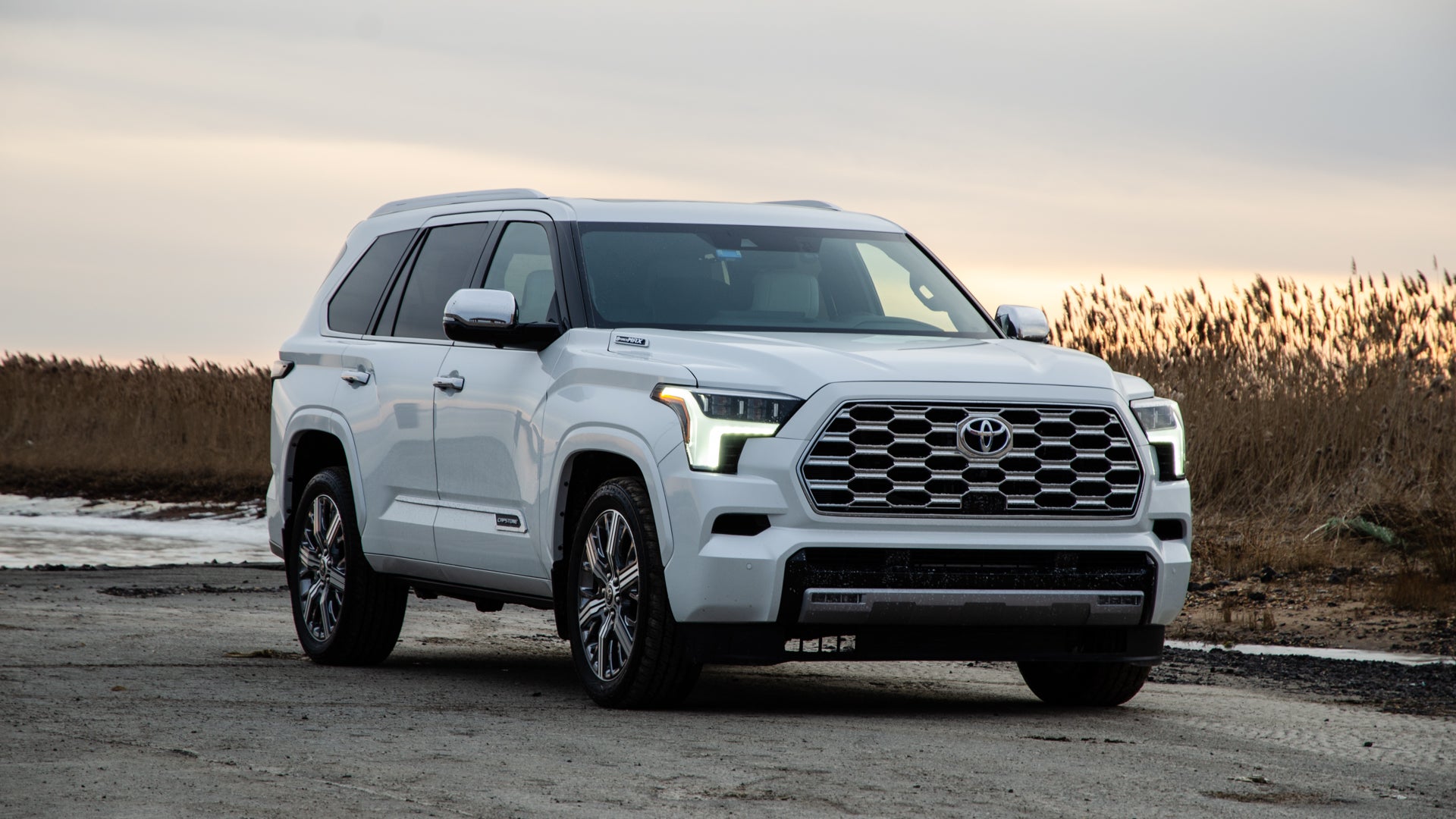 Nico DeMattia
On the inside, the Sequoia Capstone is an interesting mix of rugged and luxurious. All of the touch points—the steering wheel, shift lever, and dashboard buttons—are chunky and durable. You can tell Toyota intended for all of the switches and buttons to be used on the move or with thick gloves on, because everything's well laid out and easy to learn, and every button is enormous. I especially liked the surround-view camera button, which is just above the shift lever and, like every other button, clearly labeled. So when you're either pulling into a tight parking spot or trying to navigate through rocky terrain, you can quickly pull up the car's cameras to guide you. In that scenario, there's no fussing through menus or touchscreens, just a single button push and every angle of the Sequoia is visible on the massive new touchscreen.
The Capstone trim's white and black leather looks nice and up-class—so much so that I was a little nervous that my kids would ruin it. I also felt like I had to be overly careful with my boots while inside of it, but if you're spending your $80,000 on the Capstone instead of the off-road TRD Pro model, that might not be such a concern for you.
For the first time ever, the Sequoia is powered by a six-cylinder engine, and it's a hybrid unit with twin turbochargers. What it loses in cylinder count, the iForce Max Hybrid powertrain more than makes up for with torque. The outgoing Sequoia's 5.7-liter V8 made 381 horsepower and 401 pound-feet, while this new hybrid V6 makes 437 horsepower and 583 pound-feet. It's the same powertrain you'll find in the new hybrid Tundra and it's more than capable of replacing the old naturally aspirated lump, at least from a performance perspective. Time will tell if it's anywhere near as dependable as the V8
Driving the Toyota Sequoia Capstone
Just climbing into the new Sequoia is an event, especially for someone of average height or shorter. Open the door and the power running boards fold down, which caught me off guard the first time and wrecked my left shin (they can be turned off or kept open). But once you climb aboard—and I do mean climb—the Sequoia is a treat to drive. Its hybrid V6 powertrain makes far more than enough power, so much so that I kept forgetting it wasn't a V8. Its power comes on effortlessly and easily hauls the big Toyota's heft. It even sounds pretty good, with a V8-like rumble and the occasional turbo whistle.
It rides like a truck, with a hard but durable feel over bumps. It wasn't the most comfortable vehicle to drive for a week, especially if you're used to sedans, but its unstoppable feeling made it charming enough to overlook the occasional jostling.
Though, it's no surprise that it rides like a truck. This new generation of Sequoia is built on Toyota's TNGA-F platform, which uses rear coil springs and a solid rear axle. Many of its new competitors, such as the Chevy Tahoe, use independent rear suspension these days. Many enthusiasts feel that solid rear axles are better for off-roading, which might attract some customers to the Sequoia, but independent rear suspensions are better for on-road comfort, which is what the Capstone is supposed to cater to.
Speaking of off-roading, during my last day with it, I decided to take it to a mild trail where I test all of my off-roady vehicles. Despite its immense capability, four-wheel drive, and clever off-road software, I couldn't push it too hard, otherwise I would have ripped the Capstone's plastic front splitter off. However, during my time off-road, being careful not to damage any body panels, I could feel just how competent it was. It handled loose sand, uneven dirt ruts, and slippery mud as if they weren't there. It's not a Land Cruiser, so it won't go that far off the beaten path, but the Sequoia was able to simply delete a lot of obstacles that might stump smaller SUVs or crossovers.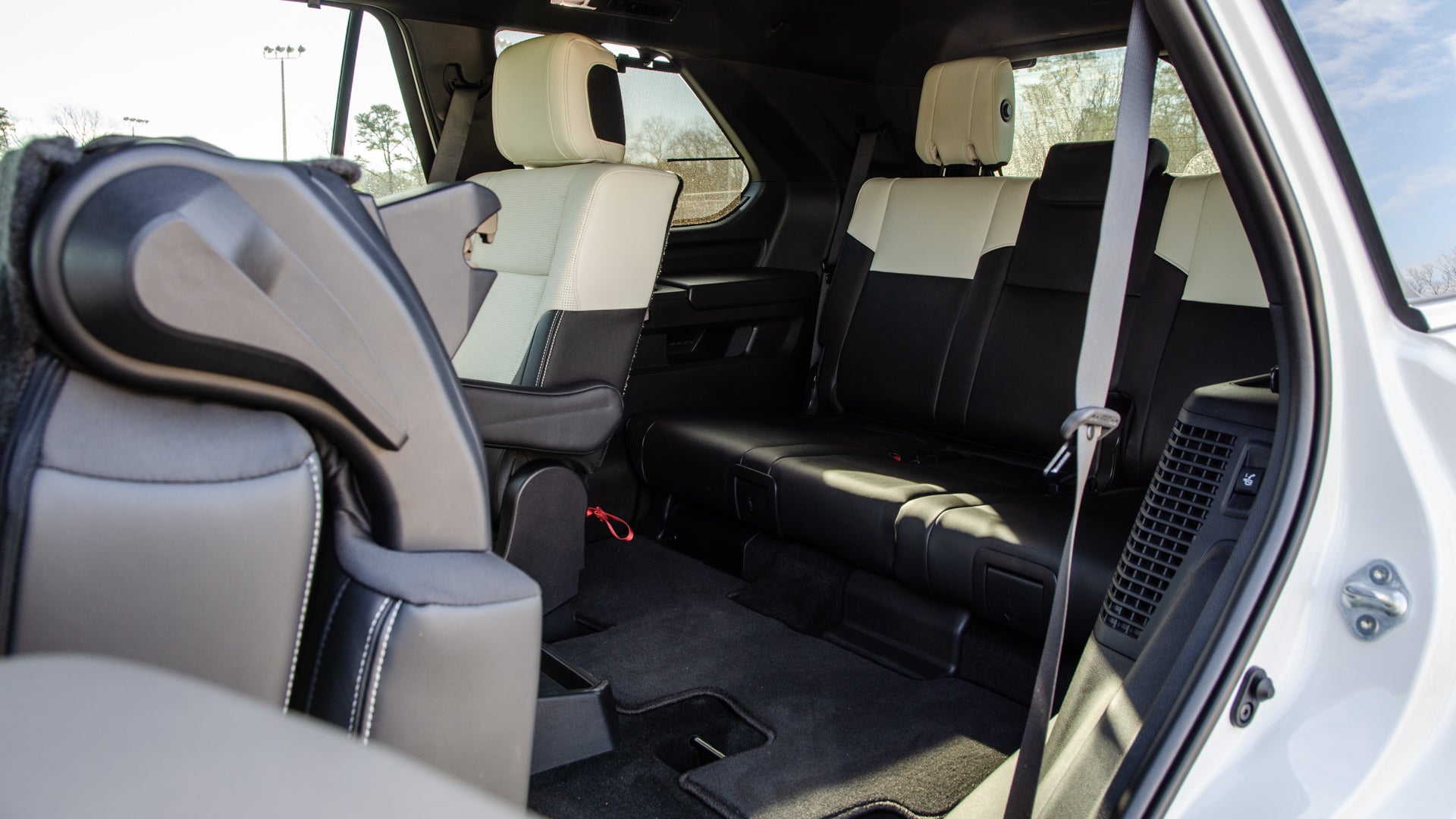 Nico DeMattia
Those cameras came in handy, too. At one point, I couldn't tell if my wheel was going to hit a rock or not, but a quick button push brought up six viewing angles—including the two that show each front tire's path—which allowed me to safely avoid it.
The Highs and Lows
For me, the 2023 Sequoia's powertrain is its shining star. The twin-turbo hybrid V6 might actually make you forget about V8s. Not only does it pull harder than the old 5.7-liter, but it also makes a great noise. In fact, its noise might even be more characterful, due to its fun turbo whooshes. Admittedly, much of the engine sound is fake and comes through the exhaust but, either way, the sounds are there. The new Sequoia is surprisingly quick in a straight line for such a big truck, and stomping its go-pedal really never gets old.
It also handles respectfully for such a massive vehicle. Toyota engineers did a great job making its steering light and easy but not vague and sloppy. They also gave it some of the best brakes I've ever used on a large SUV. There's a bit of squish at the top of the pedal but after that initial softness—which prevents twitchiness in a very heavy car—its brakes bite extraordinarily well. When you're piloting something as big and as heavy as the Sequoia, especially when it could be loaded with precious cargo, you want confidence in your steering and your brakes. This rig gives you both.
Nothing in life is perfect, though, as I did find a few annoyances with the big three-row Toyota. For starters, the third-row seats don't fold into the floor, likely due to its battery pack hiding under there. That means you can't load really big items because even with the third row folded, the back seats still take up a ton of room. They can't come out, either, which meant I couldn't load a small couch.
I also had some nitpicks with the cabin that are worth mentioning. The wireless phone charger sits your phone upright on the charging pad, which is fine. However, it doesn't have any mechanism to hold the phone in place, which means every bump in the road jostles it loose, stopping its charge. I experienced that when my phone battery was low and I didn't have a cable, so my phone died because it couldn't consistently get a charge from the wireless charge pad. Another annoying quirk comes from the infotainment system. When using Apple CarPlay, the music volume wouldn't lower independently of navigation instructions, so I could never hear where it was telling me to go.
2023 Toyota Sequoia Capstone Features, Options, and Competition
The base Sequoia SR5 starts at $59,960 and comes with the same hybrid V6 powertrain, a panoramic sunroof, LED headlights, an 8-inch touchscreen infotainment system, wireless Apple CarPlay and Android Auto, and seating for eight. Step up to the Capstone trim, though, and that starting price bumps to $76,960. For that extra money, you get the larger 14-inch infotainment screen, heated and cooled front and rear leather seats, adjustable rear air suspension, 22-inch wheels, and those power running boards. It's the most premium Sequoia on offer and its price reflects that.
As far as competition goes, the Toyota Sequoia Capstone faces SUVs like the Chevy Tahoe High Country, GMC Yukon Denali, and the Jeep Wagoneer Series III. Looking at those three cars, the Sequoia is the only hybrid, which is the biggest difference between them. Aside from that, they're all priced in the neighborhood of $75,000, they all come with optional four-wheel drive, and all have third rows. The Sequoia handily takes the power output crown, however, as the Chevy and GMC max out at 420 hp with the non-L Wagoneer mustering 392 hp.
Sustainability
Toyota's hybrid powertrain might not be the traditional choice for an SUV but it pays off at the pump, at least relatively. The Sequoia's 19 mpg city, 22 mpg highway, and 20 mpg combined isn't outstanding but it's better than the 6.2-liter Tahoe's 15/20/17, respectively, and it's a huge improvement over the outgoing Sequoia's thirsty V8. Hybrids can often feel like half-measures in cars, because the added weight of their batteries can often offset the fuel economy gains of the electric motor. However, in the case of big trucks, I think hybrid setups can work particularly well, with the Sequoia being a great example. It has all the power of a V8 but with noticeably improved fuel economy. And while 22 mpg on the highway isn't amazing, it's respectable for an SUV that weighs more than 6,000 pounds.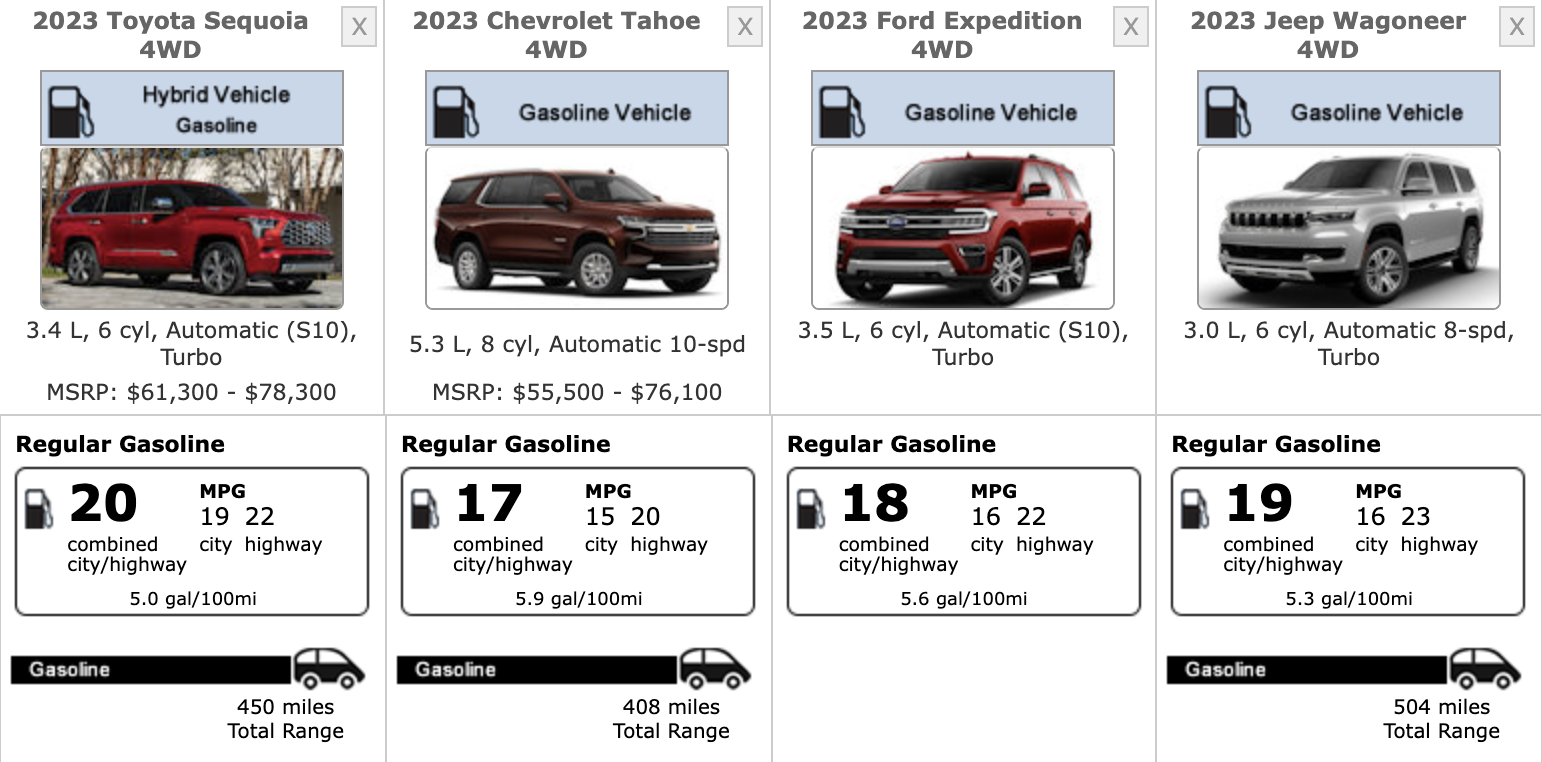 EPA
Value and Verdict
During my week with the Sequoia Capstone, I couldn't help but feel like it was posing as something it's not. It's undoubtedly nice, but the trim just doesn't fit the truck well. If you want a few extra luxuries, there's the Limited trim, which makes it nicer inside and will still come in under $70,000 while playing to the SUV's practical strengths.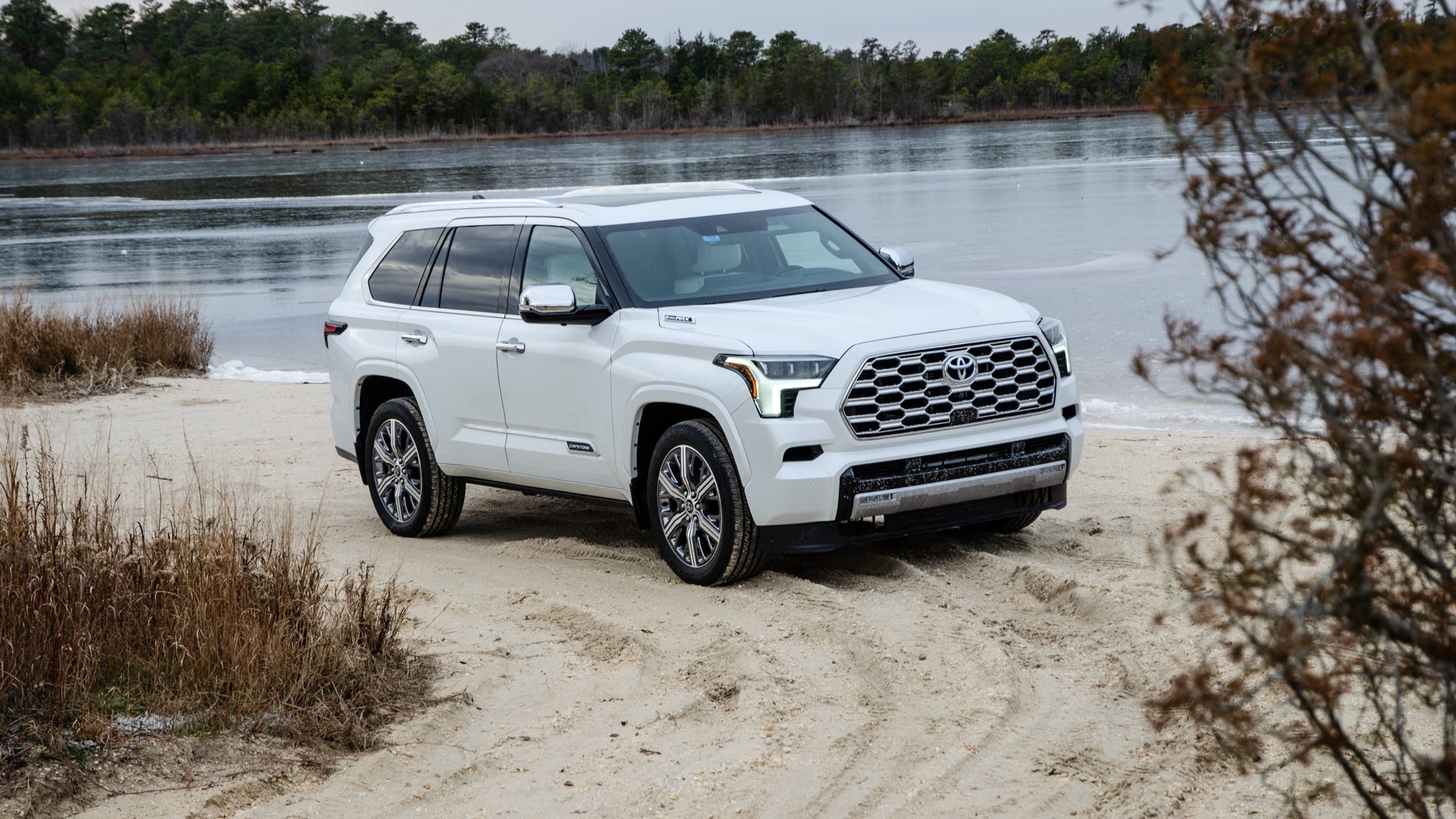 Nico DeMattia
The 2023 Toyota Sequoia is a solid truck. It's massive, capable off-road, comes with a great powertrain, and drives far better than a truck its size could. It also has a ton of character, which is noticeable the moment you lay eyes on it. The Sequoia has built its reputation as a go-anywhere family vehicle for more than two decades, and this new generation keeps that tradition alive with an all-new recipe. It mostly hits the mark, but unless you absolutely need the highest trim, I'd suggest skipping the Capstone's premium.
Got a tip? Email [email protected]