Automakers occasionally place short yet interesting details about upcoming products in seemingly unrelated press releases. It's kind of like those stipulations in software terms and conditions that say, if you find this, here's $5,000. We'll be the first to tell you we haven't won any money for what was hiding in plain view in a recent Ford press release, but it's interesting nonetheless.
As we covered yesterday, Ford is bringing three Bronco-branded rock crawling buggies to King of the Hammers in California. Near the bottom of that same release, Ford also says that "one never-before-seen Bronco model debuts live Wednesday," which, while it could mean quite literally anything, gives plenty of reason for excitement. To be clear, this is all speculation, but we can make some informed guesses about what this truck might be.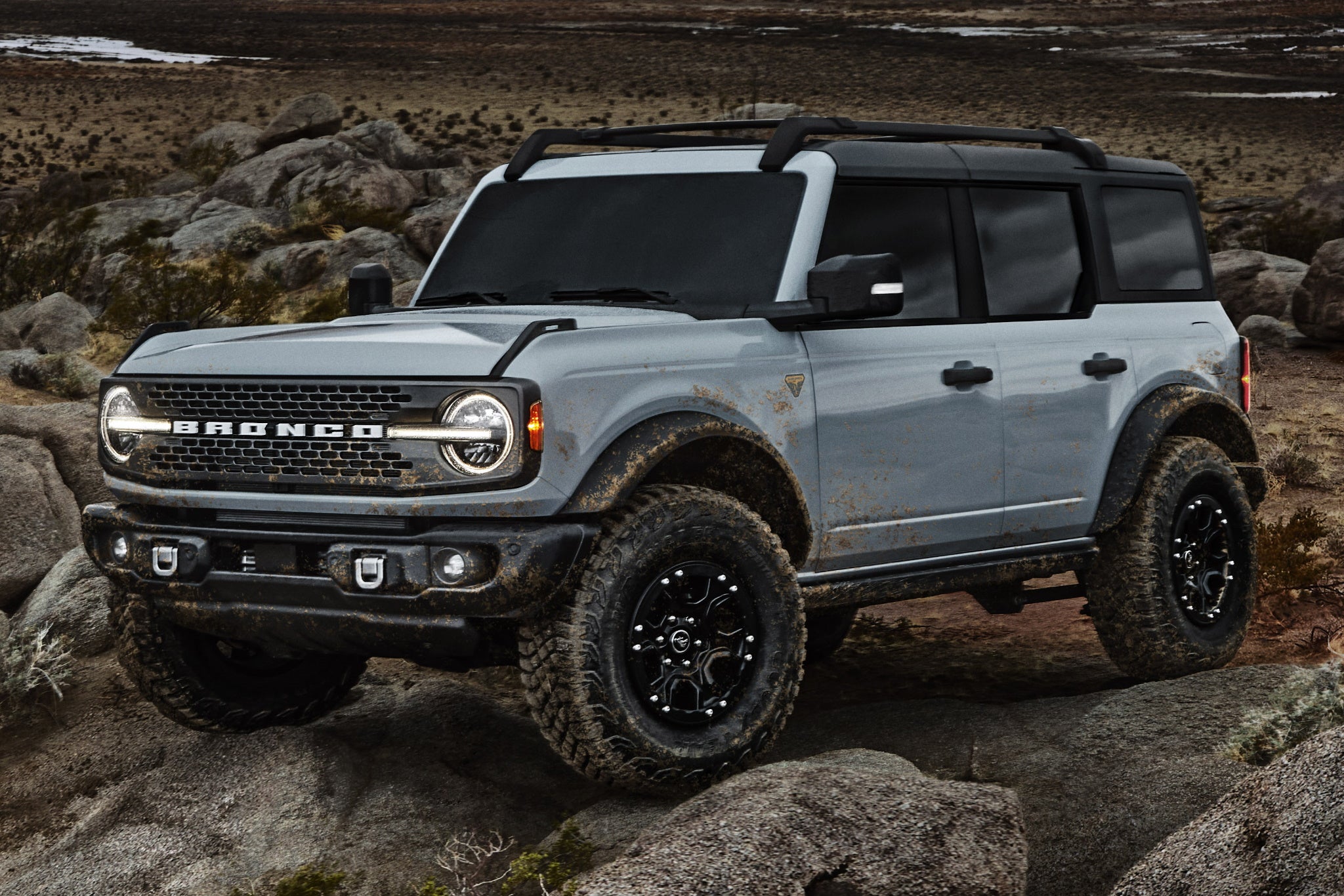 Ford
The most exciting possibility is that we might see the new Bronco Warthog, a forthcoming high-performance variant that's been spotted wearing 37-inch tires around town and the desert. So far, we know that truck has some of the same parts as the F-150 Raptor pickup, but no official name or designation for it has been officially released. The only official photos of the vehicle were released on Ford's weird, Kool-Aid-sipping Bronco blog and on Twitter.
We're not sure if Ford would skip the fanfare of a big release for what's bound to be an absolute money-printing machine, but it would be appropriate for the hardcore off-road Bronco to be revealed at a hardcore off-road race. According to a Ford engineer's LinkedIn bio, a Ford Bronco "Raptor" is on the way, but it won't be around until the 2023 model year. February of 2021 would be a bit early to unveil a truck that won't go on sale for another year, but then again, the regular Bronco is tracking to hit dealers about 12 months after its initial reveal. Maybe it's not so unreasonable in this new pandemic-delayed world that we live in.
A high-powered Bronco with 37-inch tires is an exciting possibility. A few other interesting ones include a Bronco Hybrid or maybe one with a whole new drivetrain, although we think that's unlikely this early on. What's actually more likely to be revealed is either a new racing Bronco or a production model tarted up with any number of accessories that Ford plans to sell for the truck. The company has done this before with the Adventure Concepts,
Wildland Fire Rig Concept, and Overland Concept, so it wouldn't be too shocking if it repeated itself and put out another one of those.
Some of those accessories include large fender flares, tube doors, and heavier-duty drivetrain components. Also on offer is some manner of upgraded off-road suspension, underbody lighting, and a winch. These are all upgrades that would be plainly visible if Ford was to make another concept Bronco, and there are dozens of others like new axle ratios and trail armor that the Blue Oval could throw in. People are literally waiting in line to eliminate their paychecks on new accessories for their trail-tackling SUV.
So, in a nutshell, we might see something cool tomorrow, or we might not. Either way, Ford insists it's something we've never seen before, so whether or not it's good, we'll at least be surprised. And that's the best kind of prize, after all. Well, my second-grade teacher told me that. She could've been wrong.
Got a tip? Send us a note: [email protected]