After years of waiting, customers will finally be able to purchase the long-promised Standard Range Model 3. The vehicle, which is priced at $35,000 before incentives, will be available for customers to order immediately with a $2,500 deposit and delivery is estimated within two to four weeks.
The Standard Range Model 3 will have 220 miles of fully-electric range and feature a top speed of 130 miles per hour. Its 0-to-60 mph time will also suffer slightly when compared to more premium variants of the EV sedan, completing the task in 5.6 seconds.
In all, the vehicle is offered in two configurations: Standard Range and Standard Range Plus.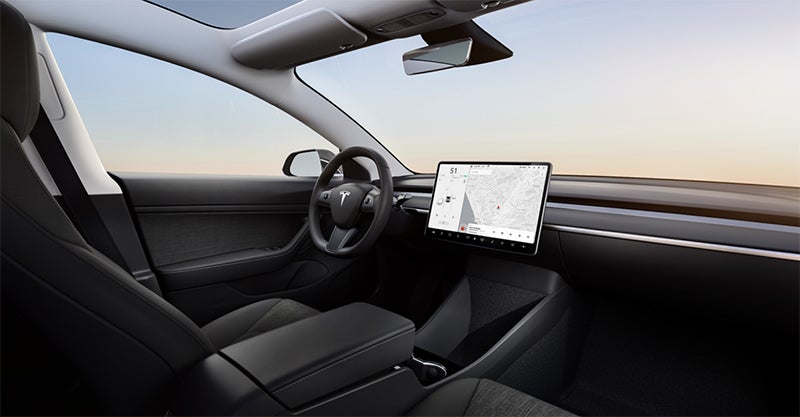 Model 3 Standard Range Interior, via Tesla
The Standard Range variant comes with a fairly basic interior when compared to other Teslas. While it lacks some creature comforts, such as power seats and power steering wheel adjustments, this variant finally delivers the Model 3 which Musk and Co. have been talking about since the car's reveal. 
Tesla also utilizes cloth seats and base-level trim which some might argue looks cleaner than the wood-laden trim offered in higher-cost models. This particular option will also limit the features on the large center-mounted 15-inch touch screen display, making only "standard maps and navigation" available. Tesla also mentions that a center console with storage and four USB ports will be included.
Though Tesla's Standard Interior description does not mention it at the time of writing, a Tesla spokesperson told The Drive that heated seats will be included in this configuration.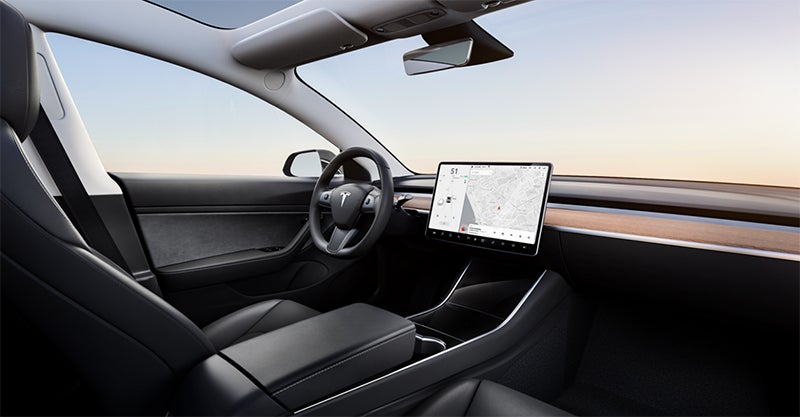 Model 3 Standard Plus Interior, via Tesla
For those feeling a little bit boujee, the Standard Range Plus is a $2,000 upgrade over the base and is a bit more feature rich. Tesla will throw in "Partial Premium" interior which upgrades the seats to a higher-end material and adds power adjustments to the front thrones. Tesla will also upgrade the audio system in the car and add docking areas for two smartphones in the center console. LED fog lamps are also affixed to the vehicle's front fascia.
The Standard Range Plus also brings the vehicle's overall range to 240 miles and the top speed to 140 mph. Zero-to-60 sprint is improved as well, taking just 5.3 seconds this time around.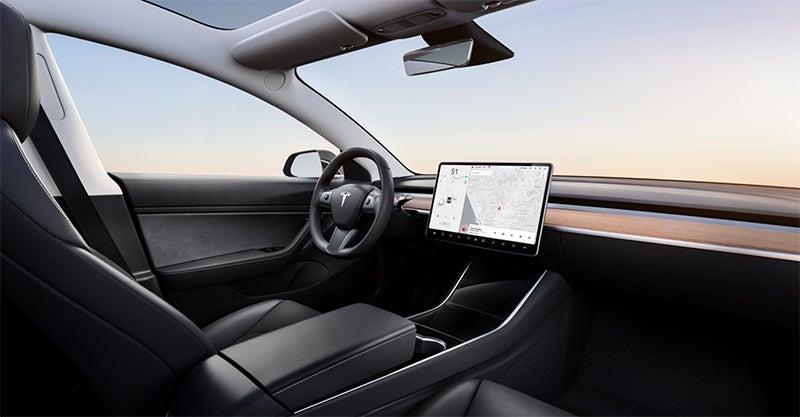 Model 3 Premium Interior (Which looks fairly identical to the Standard Plus in this photo), via Tesla
Perhaps those most familiar with a Model 3 will recognize the term "Premium Interior." This has been the standard option for all Model 3s purchased up to this point. However, Tesla will offer this option going forward only with the Mid Range variant and above.
The Premium Interior keeps the power front seats from the Partial Premium, but also includes heated rears. Overhauled is the vehicle's audio and infotainment system, which receives a big upgrade in this trim. Premium audio (which includes a subwoofer and two amplifiers), in-car streaming music, live view maps with satellite-view, and an internet browser are all included. Tesla also throws in a location-aware automatic garage door opener.
All vehicles will retain Tesla's tinted glass roof and side mirrors which feature heated, auto-dimming, and power-folding functionality.
Tesla also lowered its cost on its Mid Range Model 3 sedan to $40,000—the third price drop in 2019 alone. Its Long Range, rear-wheel-drive-only model is $43,000, while the Long Range Dual Motor is now priced at $47,000. The top-tier Performance variant will cost buyers $58,000.
The automaker also cut the price of its claim-to-fame Advanced Driver Assistance System, Autopilot, by 40 percent, making it available to buyers for only an additional $3,000. However, some features are locked behind the full self driving feature, which is also back on the ordering menu, albeit available for an additional $5,000 on top of the price of Autopilot.
As of now, the Standard Range variant is only available stateside, and only for purchase online. This means that all sales around the world will condense to internet-only retail, a move which Tesla suggests helps cut costs enough to drop the price. Europe and China will be graced with its presence within "three to six months," according to CEO Elon Musk.