Audi is reportedly preparing an electric off-road SUV to rival the Mercedes G-Wagen for later this decade. Like the G-class, it's expected to be based on a truck-style ladder chassis that could come from VW's off-road EV brand Scout.
The overall ethos of the vehicle is apparently foreshadowed by the Audi Activesphere concept according to Autocar. The electric crossover, with its streamlined bed cover, high-performance drivetrain, and air suspension, is meant to be a sort of electric Allroad; a road-friendly cruiser as much as an off-road performance pickup. It won't be the dedicated off-road model, of course; that's reportedly a wholly separate product that Audi's management is reportedly on the cusp of approving.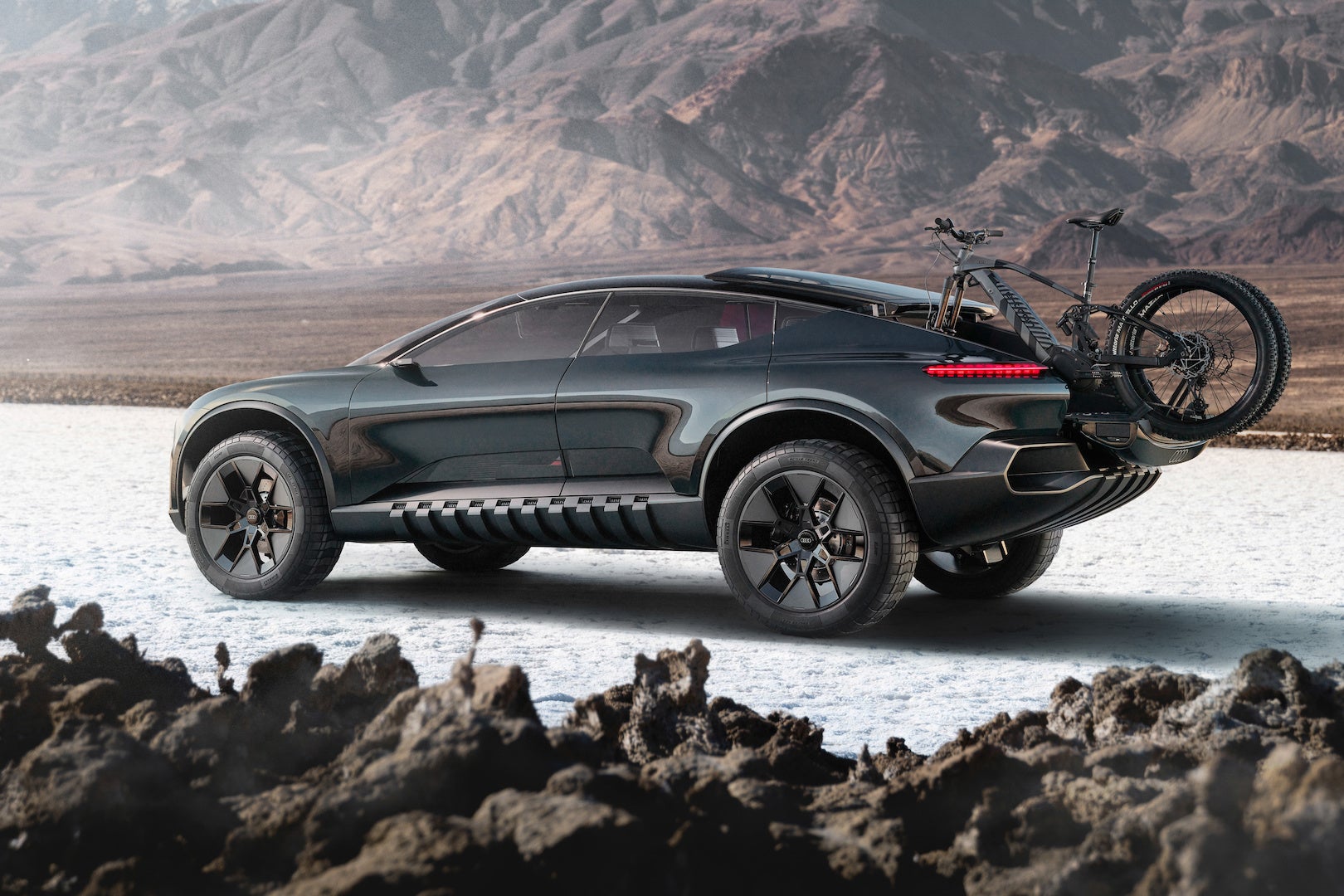 Audi Activesphere concept. Audi
Coming around 2027, the unnamed off-roader (Allroader?) will not be based on Audi's PPE platform (co-developed with Porsche) or VW's next-gen SSP architecture but another framework entirely. Instead, it's believed to use the truck-style ladder chassis intended for use by Scout—VW's off-road EV brand that's kinda Rivian-meets-International Harvester.
Its body is hinted by Audi's design chief Marc Lichte not to be as squared-off as the G-Wagen or Land Rover Defender it'd compete with, instead possibly echoing the Activesphere concept. There's a chance it could use off-road performance tech under development in the RS Q E-Tron Dakar truck, though Audi's 2026 ICE phase-out indicates we shouldn't expect it to use the racer's range extender. The VW Group reportedly favors outsourcing production of the Audi and Scout off-roaders to Magna Steyr, which also builds the G-Wagen for Mercedes. (Scout production has also been linked to iPhone manufacturer Foxconn.)
Audi's off-roader would arrive at the tail end of a plan to introduce 20-plus new EVs by 2026, as Lichte told Auto Express. This scheme encompasses electric versions of existing models, successors to models that don't make the jump, and entirely new products. Lichte named the A6 E-Tron with an Avant wagon variant and a larger A8 E-Tron flagship as examples we'll see, which opens the imagination to an RS6 E-Tron Avant. One of Lichte's statements also gave hope for the possible TT and R8 successors recently discussed by the head of Audi Sport.
"We're working on EVs and successors to the ICE models," Lichte said. "We're about to see the biggest product launch in the history of Audi with more than 20 cars in the next two and a half years."
Audi Activesphere concept. Audi
Mercedes' struggle to keep up with G-class orders (as reported by Which Car) offers Audi the perfect chance to swoop in and steal some customers. It's already having enough trouble bringing a decent infotainment system to market, so if its tech struggles continue in the electric EQG, Mercedes could be vulnerable to whatever Audi's cooking up.
Got a tip or question for the author? You can reach them here: [email protected]