As the world attempts to resume normal operations following the COVID-19 pandemic's initial hit, more and more drivers are finding their way back onto public roads. One such driver in Taiwan did so errantly, quickly finding himself in local headlines after traffic cameras captured his Tesla Model 3 failing to stop for an overturned commercial truck. And per the driver himself, Autopilot was engaged.
According to reports from local news, the 53-year-old driver, known as Mr. Huang, was said to be driving his Tesla at 6:40 a.m. on Monday when he failed to spot an overturned box truck occupying the two left-most lanes of the highway.
As shown on this video uploaded to YouTube by Drive Tesla Canada, smoke is pouring from the Model 3's tires about two seconds prior to impact—Huang says he slammed on the brakes once he noticed the truck, however, it was too late to stop the nearly two-ton sedan traveling at reportedly 68 miles per hour. The Tesla collided with the truck, crashing into the roof of the box with enough force to move the entire commercial vehicle several feet.
According to local news, the driver admitted to the police that he had engaged Tesla's partially automated driver assistance system, Autopilot, prior to the crash and it was active at the time of the collision.
The cause of the crash is still being investigated by local authorities, but if Autopilot was engaged, as the driver claims, this may be an eerily similar circumstance that dates all the way back to 2016. A Tesla driver named Joshua Brown was killed in Florida earlier that year when his Model S collided with an upright semi-trailer that it didn't recognize while on Autopilot. In 2019, another Tesla driver named Jeremy Beren Banner was killed after his Model S also didn't recognize a semi-truck in cross-traffic and had its roof lobbed off.
These are just two examples of Tesla vehicles striking semi-trucks, but we also know of several other examples in which Tesla vehicles struck several stationary police cruisers and even a motionless fire truck. Perhaps more alarming is that the Tesla reportedly didn't slow down for the driver of the truck who was standing about 100 feet before the overturned vehicle attempting to warn the Tesla driver of the upcoming danger.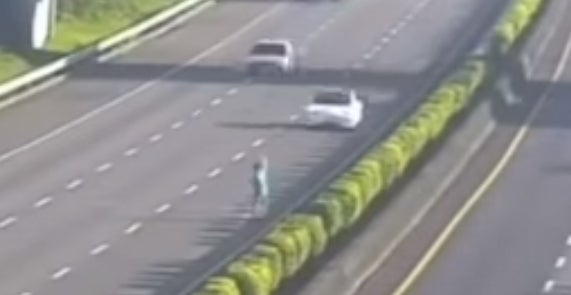 via YouTube
Despite what the name might suggest, Autopilot and its close relative feature-set, Full Self-Driving Capability, does not automatically make a Tesla autonomous in their current state. Even Tesla's website has a disclaimer to warn drivers about the dangers of not paying attention:
"Autopilot and Full Self-Driving Capability are intended for use with a fully attentive driver, who has their hands on the wheel and is prepared to take over at any moment."
In any case, this backs up previous claims by the U.S. National Transportation Safety Board that drivers become complacent with in-car partial autonomy. Couple that with a usage outside of an unacceptable operational design domain, and it becomes a potential recipe for, well, this.
Perhaps this is yet another reason why LiDAR is necessary before Tesla begins to launch a million robotaxis later this year.
Got a tip? Send us a note: [email protected]