The Tesla Model 3 and Y famously rely on touchscreen controls, but a new aftermarket kit is aiming to bring real buttons and knobs to the popular EVs.
As reported by InsideEVs, the Ctrl-Bar accessory from Greenmission sits neatly beneath the Model 3's screen. It features two dials and four buttons that can be used to control varous features on the Model 3. It also features an RGB LED lighting system that illuminates the center console below.
A wide variety of features can be controlled with the hardware. The buttons can be configured to turn on seat heaters, open the trunk or chargeport, or to enable dog mode, among other things. The knobs are setup to control the HVAC temperature setting for the driver and passenger. An extra subscrpition feature will also be available in which the Ctrl-Bar is configured to provide drivers with an audible warning of upcoming speed traps.
The Ctrl-Bar itself is powered via a hidden cable, which connects to one of the USB ports in rear center console. The Ctrl-Bar doesn't send commands to the vehicle directly. It instead connects via Bluetooth to the driver's smartphone, which must be running the Tesla app. Pressing buttons and turning dials on the Ctrl-Bar sends commands to the Tesla app, which then controls the various features on the car.
Notably, this method introduces a small delay as commands pass from the Ctrl-Bar to the phone and then to the car. To improve the user experience, the device features a small screen of its own. When temperature changes are made with the dials, this screen updates instantanteously. When the user has selected a final temperature, the command will then be sent to the vehicle "in less than a second", and the Tesla's center screen will be updated to reflect the final setting. We don't get to see this in the demo video, but it's likely coming to the production version of the Ctrl-Bar.
Those eager to purchase the device can contribute to the crowdfunding campaign on Indiegogo. Of course, as with any crowdfunding campaign, there is the risk inherent in paying for a product that doesn't fully exist yet. This isn't Greenmission's first rodeo, though. The company has been selling a Tesla wireless phone charger accessory for some time. That's indicative that the company has the experience to develop and bring a product to market.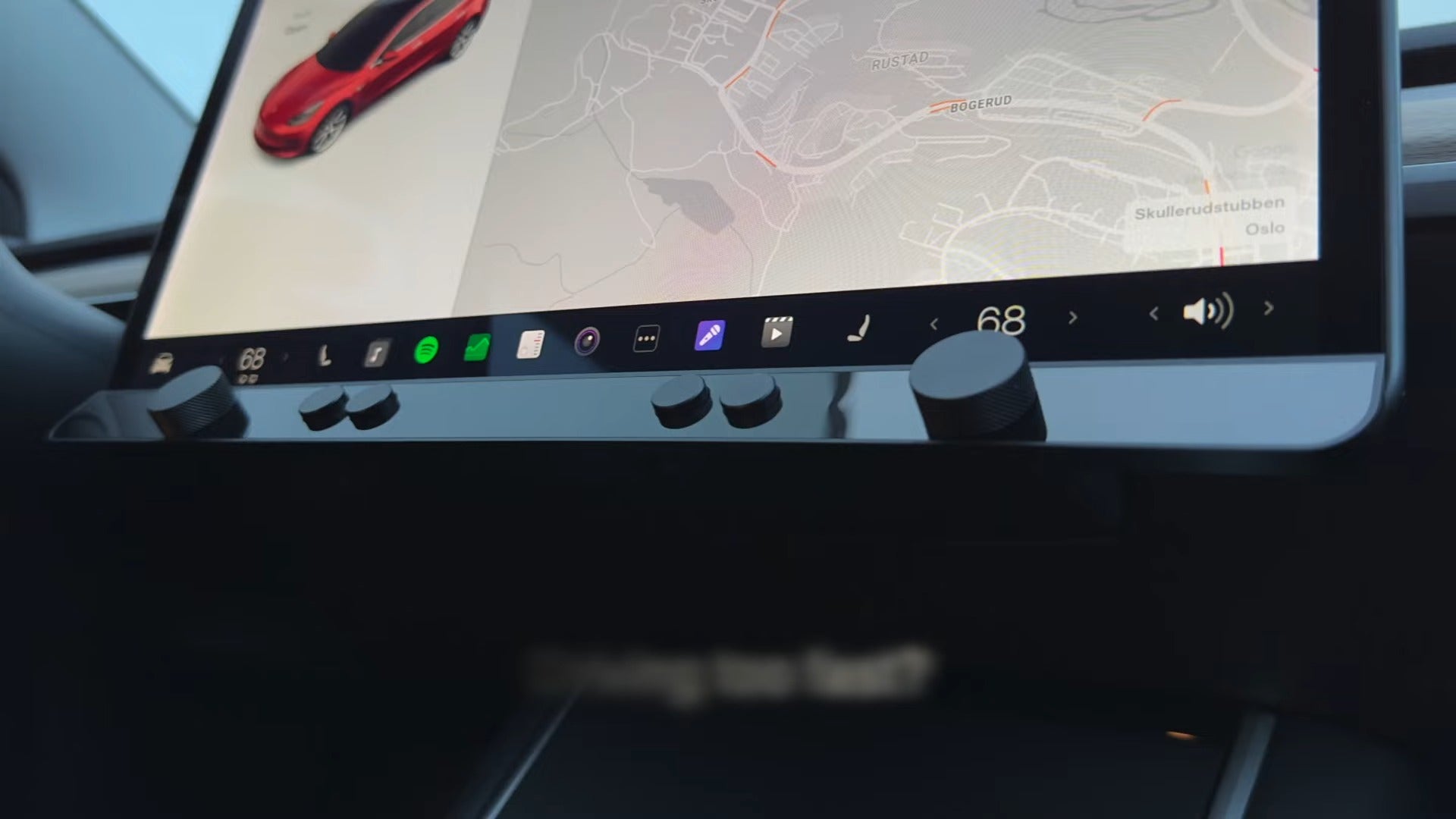 YouTube/Greenmission
Tesla made waves in the automotive industry when it debuted the Model S and its large center-stack touchscreen. It similarly made a big statement when it shipped the Model 3 without a traditional instrument cluster. The aftermarket stepped up to offer a cluster solution in that case, just as Greenmission is offering real buttons for the Model 3 and Y. Tesla may have its clean and minimalist ethos, but there's clearly some demand amongst customers for more traditional and proven controls.
Got a tip? Let the author know: [email protected]