Aretha Franklin, aka the "Queen of Soul" and lifelong resident of Detroit, lost her battle with advanced pancreatic cancer Thursday. She was 76.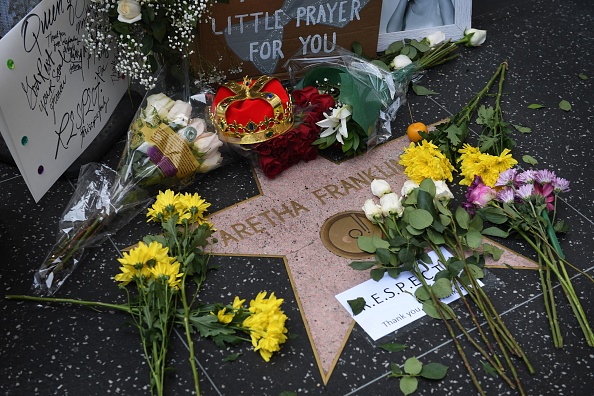 Flowers and tributes are placed on the Star for Aretha Franklin on the Hollywood Walk of Fame in Hollywood, California, August 16, 2018, after the music icon, legendary singer and 'Queen of Soul' loved by millions whose history-making career spanned six decades, died, her longtime publicist announced. - Franklin, 76, influenced generations of female singers with unforgettable hits including 'Respect' (1967), 'Natural Woman' (1968) and 'I Say a Little Prayer' (1968). She passed away August 16, 2018 at home in Detroit from advanced pancreatic cancer. , MARK RALSTON/AFP/Getty Images
Franklin had a deep-rooted loyalty to the culture of the "Motor City." From the music as an adopted member of the Motown family, to cars as a cheerleader of Detroit's "Big Three" automakers.
She rallied for her city in 2013, according to the Associated Press. Detroit may be "bankrupt monetarily but we are well-funded in spirit and what it takes to come back," Franklin wrote in a statement. She went on to say, "between new and dynamic leadership with the Big Three, the private sector and a little help from D.C., Detroit's best and most glorious days are still ahead."
Her most notable connection may be in the video and lyrics of the song Freeway of Love, which reached No. 3 on the Billboard 100 in 1985.
She was even recruited for a television commercial for Chevrolet.
It has also been widely reported that Franklin coined the title to the Sir Mack Rice hit song, Mustang Sally.
The Chicago Tribune reported that Rice was a close friend of Franklin's and her one-time husband, Theodore White, who suggested Rice have Franklin "put a little music on there with the keyboards" while Rice was writing the song.
"Aretha said, 'Mack, why don't you change the name of that song to "Mustang Sally"? Because that's what you're saying,'" according to a recounting of the event by Rice himself. And the song peaked at No. 15 on the Billboard charts in 1965.
Franklin performed all over the world and for three U.S. presidents: Jimmy Carter, Bill Clinton, and Barack Obama. But it was her love for her hometown city that earned her much R.E.S.P.E.C.T from the car companies.
In 1995, Aretha Franklin was asked by Ford Motor Company to perform a concert at Radio City Music Hall as a treat to dealers and customers, according to Auto News. The event was presented to introduce the 1996 Ford Taurus. 
The late Bob Lusko, then Ford's regional sales manager who organized the concert, said customers were "wildly enthusiastic."
"She [Franklin] told them to stand on their seats and dance, and they did it," Lusko said of her performance and presence at Radio City.
Franklin's accolades reach far and wide from her 18 Grammy wins to her being the first woman inducted into the Rock and Roll Hall of Fame, being presented with the Presidential Medal of Freedom, and in 2017, she was given the key to the city during her last performance in Detroit for the inaugural Detroit Music Weekend. During the same weekend, her beloved city unveiled Aretha Franklin Way.
"Every time I come down here, I want to see it," she said. "I'm gonna dance down it. Thank you," Franklin told the crowd.
Make no mistake, Aretha Franklin gave us the soundtrack to our lives. She is as American as apple pie, baseball, and pink Cadillacs.