With 840 supercharged horsepower, the 2018 Dodge Challenger SRT Demon can burn through a quarter-mile in a Guinness-record 9.65 seconds. Today, Dodge announced a novel plan to ensure dealers don't burn customers with stiff markups on a muscle car that already starts from $86,090, including a gas-guzzler tax.
Dodge said that its earliest production run of Demons, with lower VIN serial numbers, will go to dealers who promise to sell them "at or below" the manufacturer's suggested retail price. Dodge will demand a notarized "acknowledgment document," signed by both dealer and potential customer, that includes their agreed-upon contract price. That document must be received by a so-called "Demon Concierge" at Dodge before the car will be counted as a sold order and slated for production. Dealers can begin placing those orders on June 21.
Call it a version of "first dibs": Dealers who insist on selling a Demon for more than sticker price will be pushed back in line, and their cars won't be built until the "priority production" is completed. But with only 3,000 Demons coming to American showrooms beginning this fall in a single-year, 2018 model run (plus 300 more for Canada), it seems possible that dealers with dollar signs in their eyes might end up so far back in line that they risk getting no Demons at all.
Tim Kuniskis, head of passenger car brands for Fiat Chrysler North America, defended the unusual dealer allocation terms, saying the plan "makes it easy for our customers to understand how they can put a Demon into their garage and, ultimately, out on the drag strip."
"We know some dealers may be tempted to sell to the highest bidder, but we are encouraging them to leverage the Demon as a halo for both the brand and their dealership, to bring customers into their showrooms and see everything we have to offer."
It's not clear why the Demon's halo status should be brightened or dimmed by its out-the-door price; or why, say, a Dodge Durango shopper would stay away if he knew a Demon buyer had to pay extra. But be that as it may.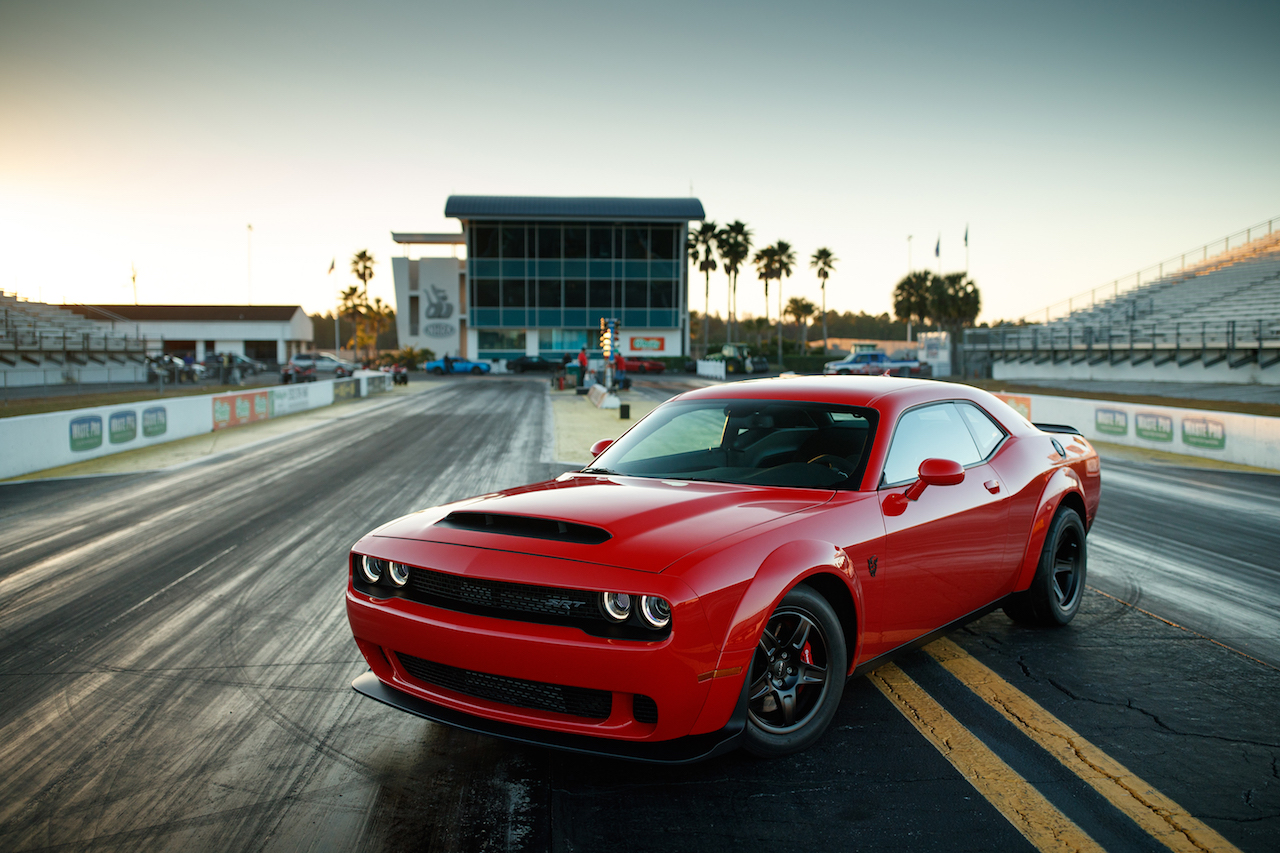 How much would you pay for this SRT Challenger Demon? , Dodge
Other criteria for the Demon's allocation are familiar, giving preference to larger dealers that reliably move more cars, including specialty models. To be eligible for a Demon, a dealer needs to have sold at least one SRT Hellcat – the Demon's satanic, 707-horsepower sibling – in the past year. Dodge will also consider a dealer's past muscle-car volume, weighted at 60 percent of SRT Hellcat sales and 40 percent for standard Challenger and Charger models.
Dodge surely expects its blue-collar fan base to cheer the move. And at first blush, Dodge's allocation plan does seem a populist defense of fair play, an antidote to Gekko-style Greed. But hang on a second.
It's always easy to shake a fist, or wield a poison pen, at dealers who dare to mark up a car whose demand is exponentially greater than supply. But no one sheds a tear, or even thinks twice, over the far-more-routine scenario: Dealers that are forced to discount slow-selling cars, sometimes heavily, to move them off their lots. To consumers, that's just business. But when the tables are turned, suddenly it's called "opportunism" at best, "gouging" at worst.
Dealers who sell Fiat Chrysler brands, of course, have often borne the brunt of the company's product missteps and boom-and-bust cycles. A short list of the company's orphaned cars over the decades – sad shelter animals that could never find a "forever" home – might include the Mercedes-based Chrysler Crossfire sports car, Chrysler 200, Jeep Commander, Dodge Nitro and Dodge Dart. For some Chrysler dealers, a satellite Fiat store has become the latest albatross, filled with dusty, unpopular merchandise like the 500X and 500L.
Imagine the dealer who spent a year unloading a backlog of Dodge Darts, possibly at a loss. Now Dodge tells him that, if he really wants a Demon, he should consider selling it for below sticker price? Hoo, boy. 
Those Dodge dealers finally have a bona-fide hit on their hands, albeit in tiny numbers. And they're essentially being told by the parent company – which, by the way, is legally forbidden to dictate pricing to their independently-owned dealer franchises – that their Demon profits will be capped, or else. There's probably a contractual dispute in there, somewhere, if a dealer chose that route. But a dealer who complains too loudly, I imagine, will end up waiting for Demons like an actor waits for Godot.
The upside for customers may be more palatable, transparent pricing – but also less ability for Dodge fanatics to use supply-and-demand in their favor, by offering a higher bid to pry a Demon loose. A loyal customer who would happily pay a reasonable premium to ensure he gets a dealer's first Demon is basically SOL; because that premium itself will shove both dealer and customer to the back of the allocation line, or prevent them from getting a Demon at all. Some smaller dealers, I guarantee, will only be seeing one Demon, period. If that general manager at Boise Dodge has had six customers clamoring for the car for the past year, who's he supposed to sell it to? He might as well keep it for himself, or his brother-in-law, rather than play favorites and deal with the grief from the customers who couldn't get one. And we're talking Mopar guys, so that's some Hemi-sized grief.
Those Demon fans may instead find themselves at the mercy of the secondary market, where there's no stopping the invisible hand from stuffing cash into its pocket – and where markups might be the opposite of "reasonable." One shameless Demon scalper has already sought $250,000 to hand over his order. People who do manage to score a rare Demon will be free to float it on eBay or AutoTrader within days or weeks if they choose, or sell it back to a secondary dealer. Fiat Chrysler's plan won't stop anyone from making money on the Demon, aside from their own cut-out dealers: Resellers, including the inevitable owner/speculators, will enjoy the mark ups and profits that Dodge dealers might say rightly belong to them, at least for the first bite of the apple. Will those owners be accused of "gouging" for successfully securing the Demon's true market value? Say, a Demon with 666 miles on the odometer, for $20,000 above sticker price?
Some dealers, of course, choose to sell high-demand cars at or near MSRP, even if they could get more – especially to longtime customers who the dealer wants to keep happy and coming back for more. But that choice has always been up to the dealer. Fiat Chrysler's approach, in contrast, suggests enough arm-twisting to match the Demon's 770 pound-feet of torque.
Dodge clearly wants to come off as the angel here as it doles out and divvies its most sought-after model in years, perched on dealers' shoulders to help them avoid economic temptation. But there's no real protection for buyers here. And some Dodge dealers must be hotter than a Hellcat right now, or the smoking tires of a Demon.