We were jackals, a couple of scoundrels traveling at triple-digit speeds, strapped into a supercharged roadster packed to the gills with explosives, howling at the night sky.
The Drive's west coast editor, Chris Cantle, was riding shotgun. I was behind the wheel. Our car, a new Jaguar F-Type R convertible, was instigating. We'd been on a tear halfway across the continent, apropos of Labor Day, searching for the best damn fireworks store in America. We found it. Along the way, I learned a few truths about the immigrant experience, and paid homage to the foreign-born hellraisers that shaped this holiday, this country and this car. Then we blew stuff up.
Approaching an underpass, I dropped two gears. Some loose mortar shells rolled around in the trunk. Cantle's people emigrated from Italy and England, mine from Russia. They understood that here, in America, you can either agitate or stagnate. Top down, throttle pinned, we tore into the tunnel and howled a little louder.
***
Our trip started in Chicago, Gilded Age boomtown built on the backs of Italians and Slavs and Irish and Germans. The city's foreign-born population doubled during the 1880s. Corporate profits, from freight and meat and lumber, multiplied twenty-seven times, ten times faster than the average yearly wage. Chicago became ground zero for the Eight-Hour Workday Movement; labor activists took up all flavors of civil disobedience. Unionizing. Picketing. Rallying. Publishing. Anything to raise a little hell. Mass strikes ground the city to a halt in 1886.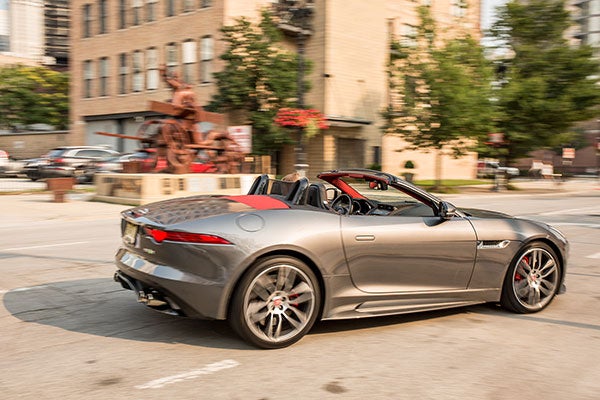 Chris Cantle
Things came to a head here, just off Desplaines near Randolph Street, at Haymarket Square. During a rally on May 4, a bomb exploded, and police opened fire on a crowd of picketers. The Tribune called for sweeping deportation of "ungrateful hyenas" and protection against "foreign savages who might come to America." Authorities rounded up immigrant leaders across Chicago. The witch-hunt, and subsequent show trial, culminated in seven life sentences and one jailhouse "suicide." George Engel, a German-born activist who'd been at home playing cards during the Haymarket riot, was hanged along with three others the following November.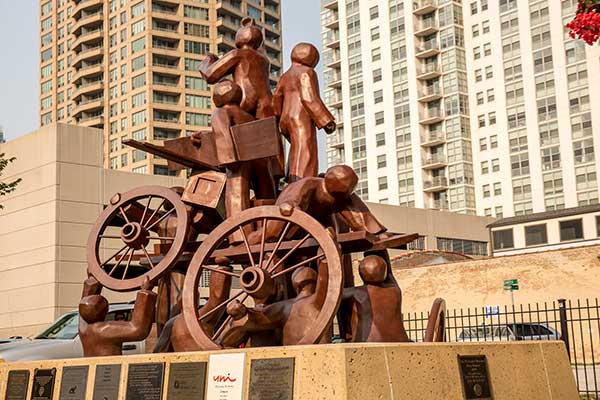 Chris Cantle
There's a monument now, a bronze statue of the wagon that demonstrators used as a pulpit before the shooting started. It is offensively inoffensive, in an underdeveloped part of town, flanked by for-rent office space and a gravel parking lot. The Eight-Hour movement, the riot, the Haymarket trial—no other event in American history holds as much significance for working people, especially in Europe and Latin countries. It's why every other nation celebrates its Labor Day in May.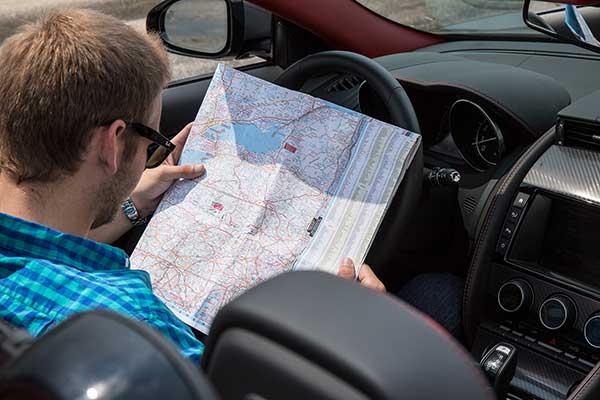 Chris Cantle
There were still a few troublemakers left in Chicago. Between Cantle, the F-Type and myself, I counted three. We bought some maps, burned a little rubber and switched the exhaust into loud mode. This year, the V8 convertible gets 550 horsepower and all-wheel drive. Jaguar hopes the latter will make for less of a hooligan. But it's still got Trans-Am racecar lungs, throttle overrun like a steamroller in a bone yard. We let it breathe into the tunnels and iron trellises downtown, drowning out the click-clack-clack of trains overhead.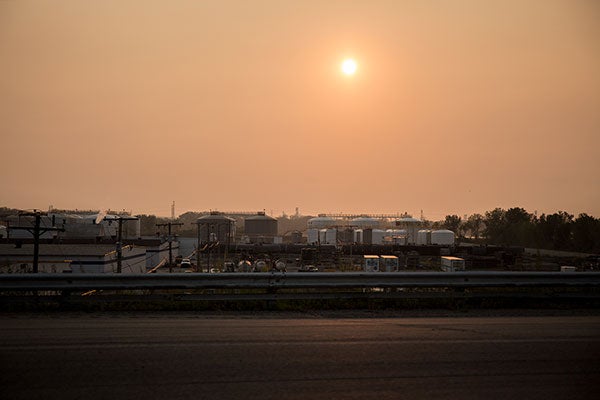 Chris Cantle
Thirty miles past the Illinois line, we'd already spent a tank of fuel. The F-Type R roadster is a greedy thing, greedy for gasoline and hateful rubbernecking. Open space, too, and Interstate 70 has plenty of that. The heartland smells like it's burning around the old steel towns, Northwest Indiana and onward.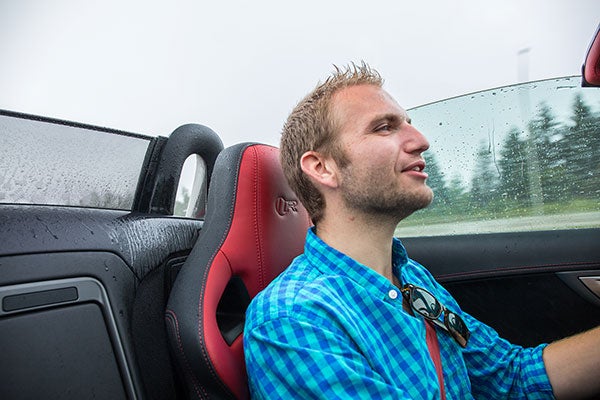 Chris Cantle
The sky was bruised, and when it opened up we left the top down, letting rain wash the smelter stink out of our hair.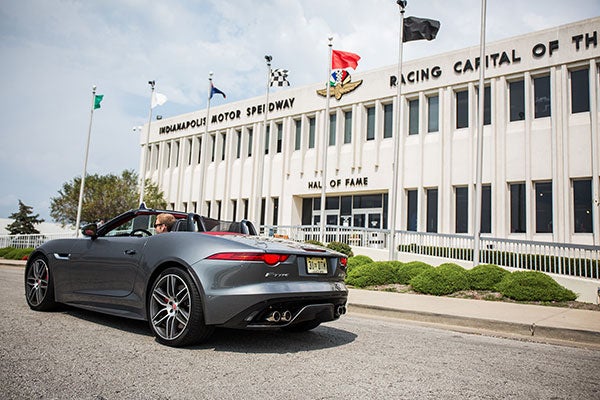 Chris Cantle
If you're looking for foreign-born disrupters, Indianapolis Motor Speedway is a fine place to stop. Inside the track museum, I learned that Jules Goux was the first European to win the 500. He drove a Peugeot and refused a relief driver. During pit stops, he'd pose for photos and chug champagne. The following year, Indy banned alcohol consumption during competition. (Jules Goux is now my favorite racing driver.)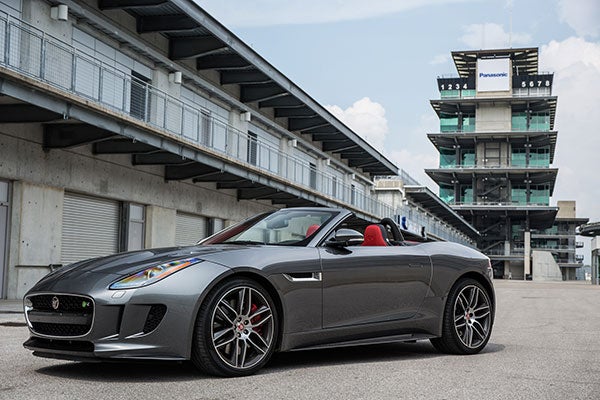 Chris Cantle
We pulled into Gasoline Alley, talked a new friend into unlocking the gate, and walked onto the speedway. The first thing that grabs you is the scale, the ozone-scratching grandstands surrounding an expansive asphalt moat. The front straightaway is wide as an Olympic basketball court and, on foot, seems every inch of that. At 220 mph, it probably looks like a toothpick.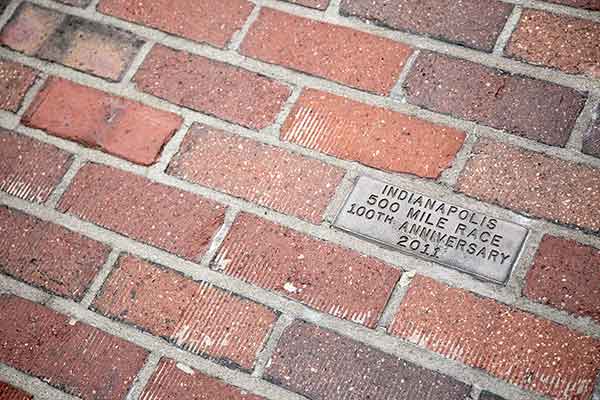 Chris Cantle
They don't tear up the track surface at Indy, just pave over it. So the history is literally piled on, layer over layer, motorsport's own Troy. The echoes, the bricks, the bones of giants—it'll make you feel like a foreigner, too.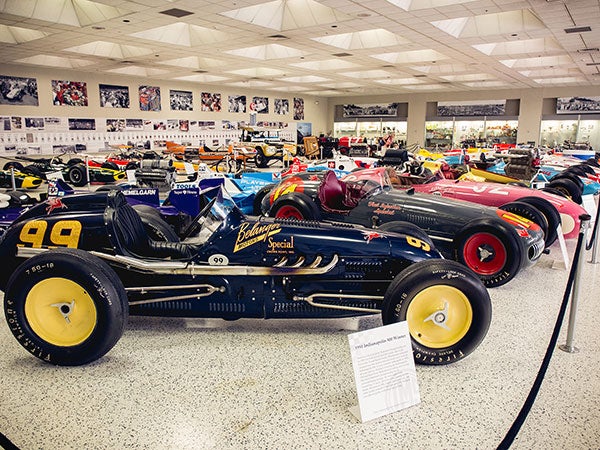 Chris Cantle
British engineer John Cooper and Aussie ace Jack Brabham kicked off the 'Decade of Innovation' here in 1961. They sourced a four-cylinder lump from Coventry-Climax, a stone's throw from where Jaguar built the E-Type. Cooper's Grand Prix-style design was alien to Brickyard: Engine in the rear over super-wide tires, chassis riding several inches higher than the field, the green mantis in a possi of beetles. Purists laughed. Brabham finished ninth. Another rear-engine British car, a Lotus driven by Scotland's Jimmy Clark, finished first in 1965. No front-engine car has won the Indy 500 since.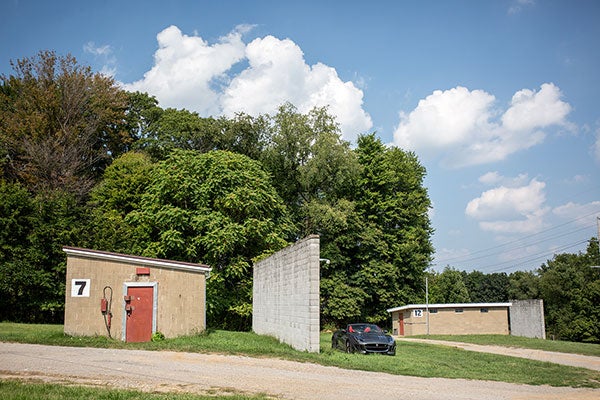 Chris Cantle
The next morning, we drove to Eidenberg, Pennsylvania, an unincorporated county outside New Castle, where Zambelli Fireworks Internationale is situated on a plot sprawling over several hundred acres. George Zambelli Jr., the company chairman, agreed to meet us there, but only after he'd finished with patients. Because, when he's not running a fireworks operation, Mr. Zambelli is an ophthalmologist. (Cantle: "Isn't that kind of like being a whorehouse obstetrician?")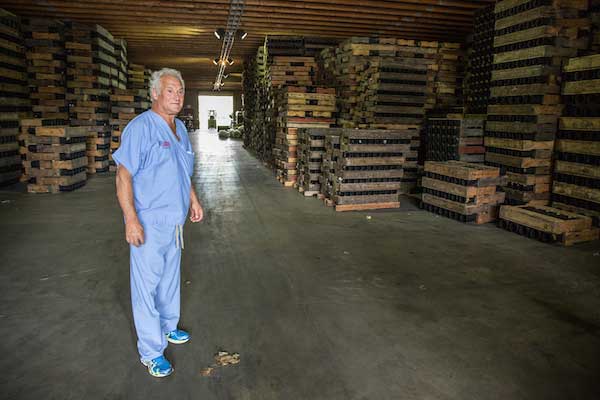 Chris Cantle
George Jr.'s grandfather, Antonio, came over from Italy in 1893. He stepped off at Ellis Island and kissed the ground. "My grandfather worked in the steel mills," George Jr. told us. "At night, he toiled with fireworks. All his sons got involved, and my dad took it to another level." Now, Zambelli Internationale is the best damn fireworks shop in America.
Papal events, Super Bowls, U.S.A.F. tours, World's Fairs; indoors, outdoors, on stages and off barges. They do all of it. George Jr. has put on shows for every President, since and including John Kennedy. There's a letter from Laura Bush hanging in the Zambelli offices, a thank-you for the "beautiful display at Camp David." Next to it, a framed poster: I AM AMERICA.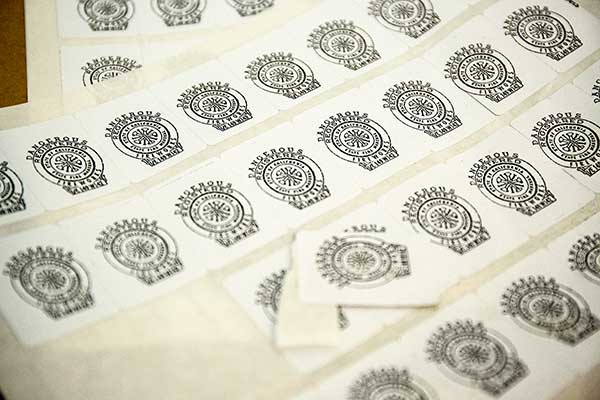 Chris Cantle
The campus in Eidenberg is incredible. Zambelli Internationale moved here in the early Sixties after outgrowing the original spot across town. It's a colossal farm, essentially, dirt and gravel trails snaking between and into the woods. Fifty-some-odd pillboxes are scattered throughout, little cement ones with faded red bank vault doors, double padlocked. Inside? That's where the good stuff's stashed.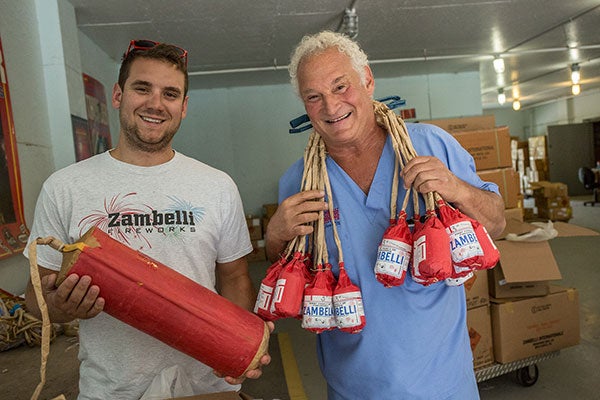 Chris Cantle
Explosives are numerically graded by potency, 1.1 and 1.2 and so on, as are the bunkers that house them. Some are small shacks, others deep and expansive, windowless gunpowder tombs. They're musty, too, that wonderful wood-and-tobacco aroma all old things in the countryside seem to share. George Jr. and his college-age son, Jared, toured us around the property in a Wrangler. (Doors off, manual gearbox, Rubicon trim. If you needed evidence the Zambellis are our kind of people…)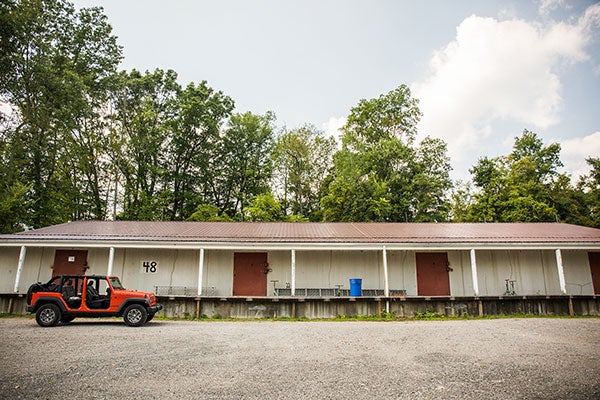 Chris Cantle
We peeked inside a warehouse for recycled mortar tubes, then the shipping center, a single-bay depot teeming with boxes, lids open. Each was filled with shells, little coconuts packing enough firepower to peel your extremities off. Standard mortar sizes are six, eight and ten inches. They used to be a lot bigger. One old discontinued shell, basically an incendiary wrecking ball, measured 24 inches around. But Zambelli Internationale doesn't do much production these days, mostly assembly and distribution.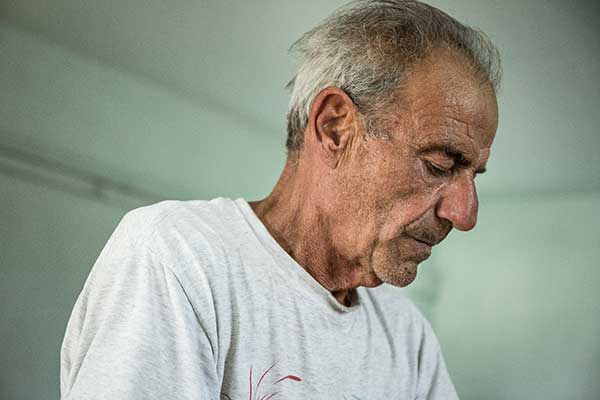 Chris Cantle
Except for Ray. He'll be 70 soon, and he's been making fireworks since he was nine years old. He does it like Antonio Zambelli did, the Old Country way, by hand. Measuring out black powder and packing it neatly into paper, clipping and creasing and knotting in twine, all with a shoe-shiner's rhythm.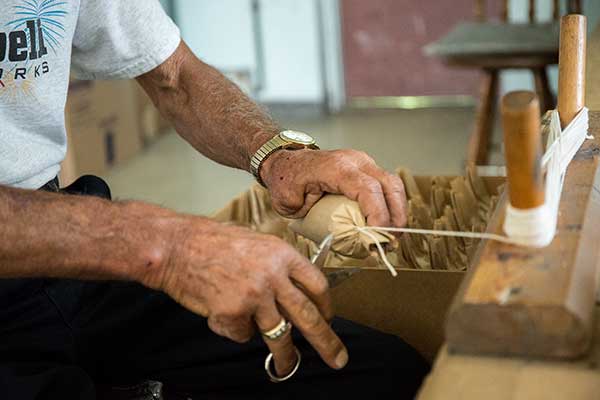 Chris Cantle
"The Chinese invented fireworks," Ray told us, not looking up from his work. "But Italians made the display an art form."
And the Zambellis are Italian. God, are they Italian. George Jr. and Jared don't do soft-spoken. They bickered between posing for photos, then hugged and kissed before parting ways, affection genuine as diamonds. Jared's moving more into the day-to-day operations, and he's got big plans for keeping Zambelli Internationale relevant. More computerization, mostly. The company's in good hands. The holiday, the family, all the talk about fireworks, it stuck in Cantle's craw. Mine, too…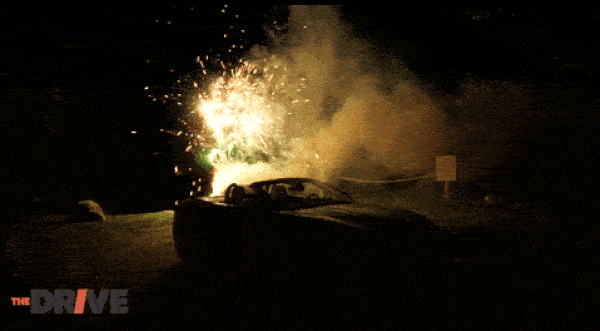 Jonathan Harper
Fifty-four years ago, the E-Type redefined motoring, a sports car Moon Landing of sorts. The F-Type? It ain't that. This car has flaws, plenty of them. (My kingdom for a manual transmission and halfway-decent navigation system.) Our grandchildren won't be worshipping at its altar, cataloging chassis numbers and breaking auction records. But the F-Type R is everything a foreign car should be: Unapologetically flashy, obscenely loud, more than a little dangerous. It'll trophy-mount your eardrums over its fireplace or possibly wear your intestines as a scarf. It's the 24-inch mortar, the expat rearranging your workday, the shit disturber from across the pond bombarding the front row. And we need that. Without it, we'll stagnate. It took Jaguar the better part of a century, and plenty of missteps, to get us here, the new F-Type R convertible. One hell of a grand finale.