The Ford Bronco R is the off-road racing version of 2021's most hyped SUV, and soon, your desert racing squad could own one yourselves. According to Muscle Cars & Trucks, Ford is considering selling the Bronco R to customer teams if there is enough demand. 
Muscle Cars & Trucks asked Ford Chief Product Development & Purchasing Officer Hau Thai-Tang about the possibility of selling the Bronco R to non-factory teams, and Thai-Tang's was pretty positive for a maybe. 
"If there's interest we'll look into it," Thai-Tang told Muscle Cars & Trucks. "We've done that with our Mustang and even our GTs." 
As Thau-Tang notes, Ford is no stranger to providing customer teams with its coolest race cars, such as the Ford GT endurance racer and the Mustang GT4. As far as demand goes, so many people expressed interest in buying a roadgoing Bronco that its reservation site crashed. Despite that, the Blue Oval still managed to get 150,000 reservations for the Bronco in just 18 days.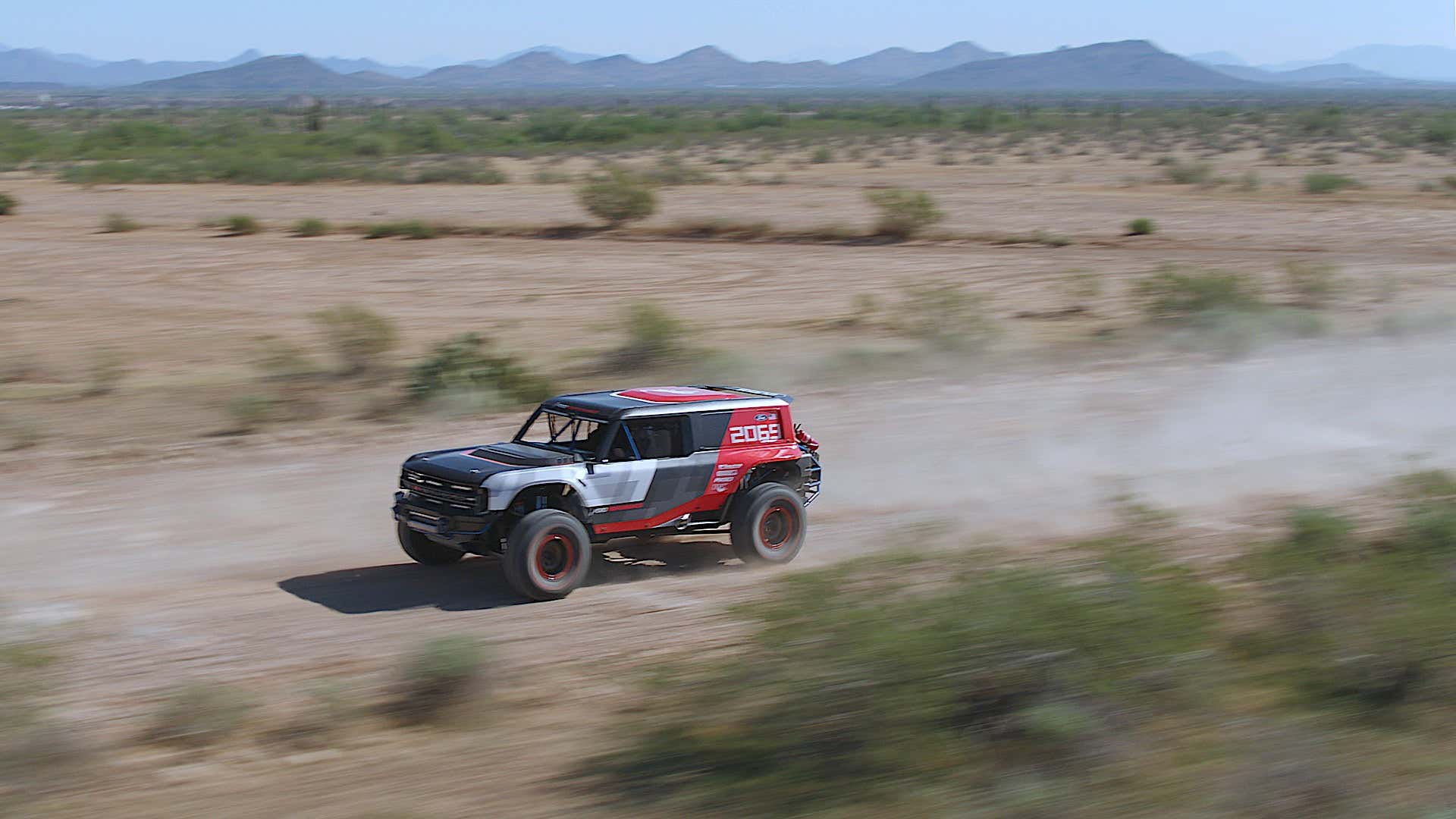 Ford
With it being that popular with the general public, surely there are racing teams out there who want to race the Bronco R. A popular rig like that would get plenty of eyeballs as it did when Ford ran a prototype Bronco R in the Baja 1000 last year, making it a ridiculously easy sell to sponsors. It failed to finish the 2019 race, but still got plenty of coverage for that entry and eventual DNF, including from us. 
The fully-caged Bronco R was built for the Class 2 division rules for off-road racing and packs an impressive list of features, including a composite body and a suspension system with 14 inches of travel in the front and 18 inches in the rear.
Ford is trying again to win the Baja 1000 with it this year, so if the plans are to develop it into a customer race truck, here's hoping it does well enough to pique some teams' interest. It won't come cheap if it goes for sale, though. Desert-racing rigs simply aren't, and to use an example of another Ford Performance customer race car, Muscle Cars & Trucks notes that the Mustang GT4 costs a whopping $225,000. 
Got a tip? Send us a note: [email protected]