Despite electric vehicles only recently beginning to grow in popularity, automakers have been experimenting with battery-electric power as far back as the late 19th century. In the 1990s, spurred by impending emissions legislation in places like California, several major manufacturers attempted low-volume EV releases. The most well-known example is the doomed GM EV1 coupe—less known is the fact that GM adapted that powertrain to create the world's first electric pickup truck in the 1997 Chevrolet S-10 Electric, some of which are still on the road today.
In 1990, GM showed the world a concept for an electric car called the Impact that would later go on sale as the well-documented EV1. When the EV1 launched in 1996, GM's engineers were inspired by its newly developed modular electric powertrain and plopped a modified version into the Chevrolet S-10 midsize pickup, beginning production of the so-called S-10 Electric in 1997.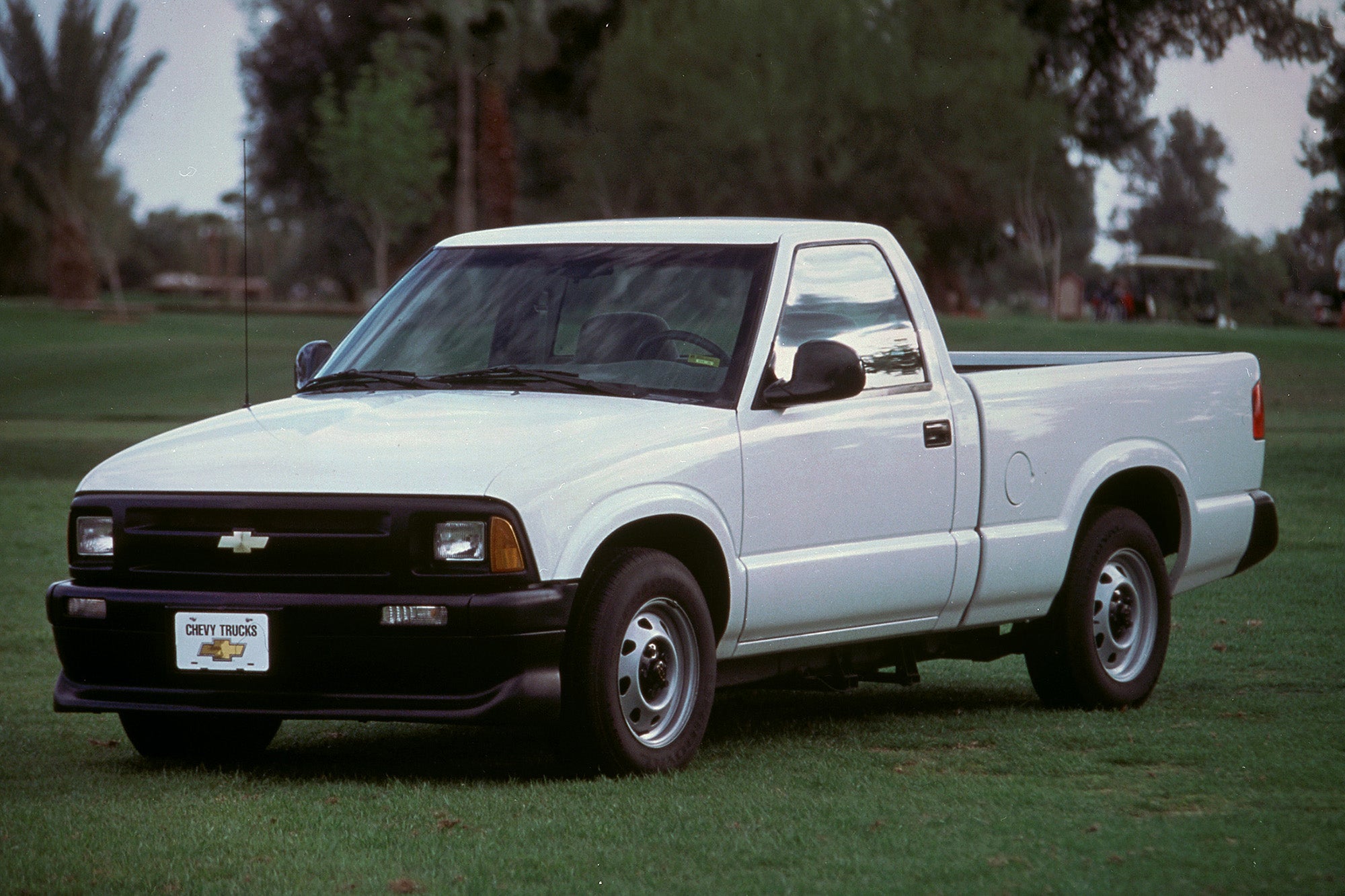 GM
GM started with a base, regular cab S-10 with a six-foot bed and placed an array of lead-acid batteries between the truck's frame rails, similar to the method recently patented by Ford. From the outside, it was nearly indistinguishable from any other S-10 from the era unless you noticed the different front splitter, small "Electric" badging along the the rocker panel, or took a peek at the undercarriage. (The positioning of the batteries dropped ground clearance to five inches.) Inside, it was also identical to the normal truck with the exception of a new (and still analog) gauge cluster that featured a remaining charge display and a "power use" ammeter that swung around during acceleration and regen braking.
In total, the 1,400-pound batteries supplied 16.2 kilowatt-hours of power, meaning the finished truck weighed well over two tons—an equivalent gas-powered 1997 Chevy S-10 weighed around 3,000 pounds. Just like the EV1, later models offered a lighter (1,043 pounds), more energy-dense nickel-metal hydride battery as an option.
To put the power to the road, GM placed a toned-down version of the EV1's AC induction motor under the hood which resulted in 114 horsepower flowing to the front wheels—another difference from the regular truck. Engineers believed the less-powerful setup was more suited to handle the truck's increased weight and drag compared to the slippery EV1 without stressing the batteries. Remember, this was still 1997.
"It was pretty straightforward," S10 Electric program manager Gary Insana told PickupTrucks.com in 2012. "We had to take out the gasoline engine, fuel system and everything else on the gasoline side, modify the chassis and put in the electric components—the motor, power electronics, heat pump, electric power steering and the large battery pack. We set up a satellite facility just outside the Shreveport S10 plant and did chassis assembly there, then transported the chassis back to the main plant for final assembly."
The lead-acid S-10 EV could sprint from zero to 50 miles per hour (not 60 mph) in 13.5 seconds at first, though independent testing showed it was a little quicker than that. It also posted better times with a full charge. Top speed sat at 70 mph—less than the EV1, because drag—though it retained an appropriate 951-pound payload rating. The later NiMH-equipped trucks gained an additional 12 miles of range and dropped to a stated 10.5 seconds from zero to 50 mph.
A charge port was located under the front license plate and made use of GM's now-defunct Magne-Charge system built by Delco Electronics, a subsidiary of GM that also supplied the powertrain. This used a paddle-shaped insert to provide a 6.6 kW inductive charge—meaning that the electric contacts were present on the charger itself. The lead-acid S-10 could fully recharge in five hours and 15 minutes, while the denser nickel-metal array took a full eight hours to reach 100 percent.
Where this nascent EV effort shows its age most is range. Lacking the slippy aerodynamics of the EV1, the lead-acid version of the truck was not what you'd call practical: U.S. Department of Energy (home to the early independent EV America testing program) trials revealed a mixed-use range of 43.8 miles against a stated goal of 60 miles. Steady-state highway cruising at 60 mph dropped it to just 39 miles. However, that nickel-metal pack available in the 1998 model year more than doubled the range: 88 miles on the highway and a DoE-tested 95-mile mixed-use range. Not that it was a ton of fun to drive.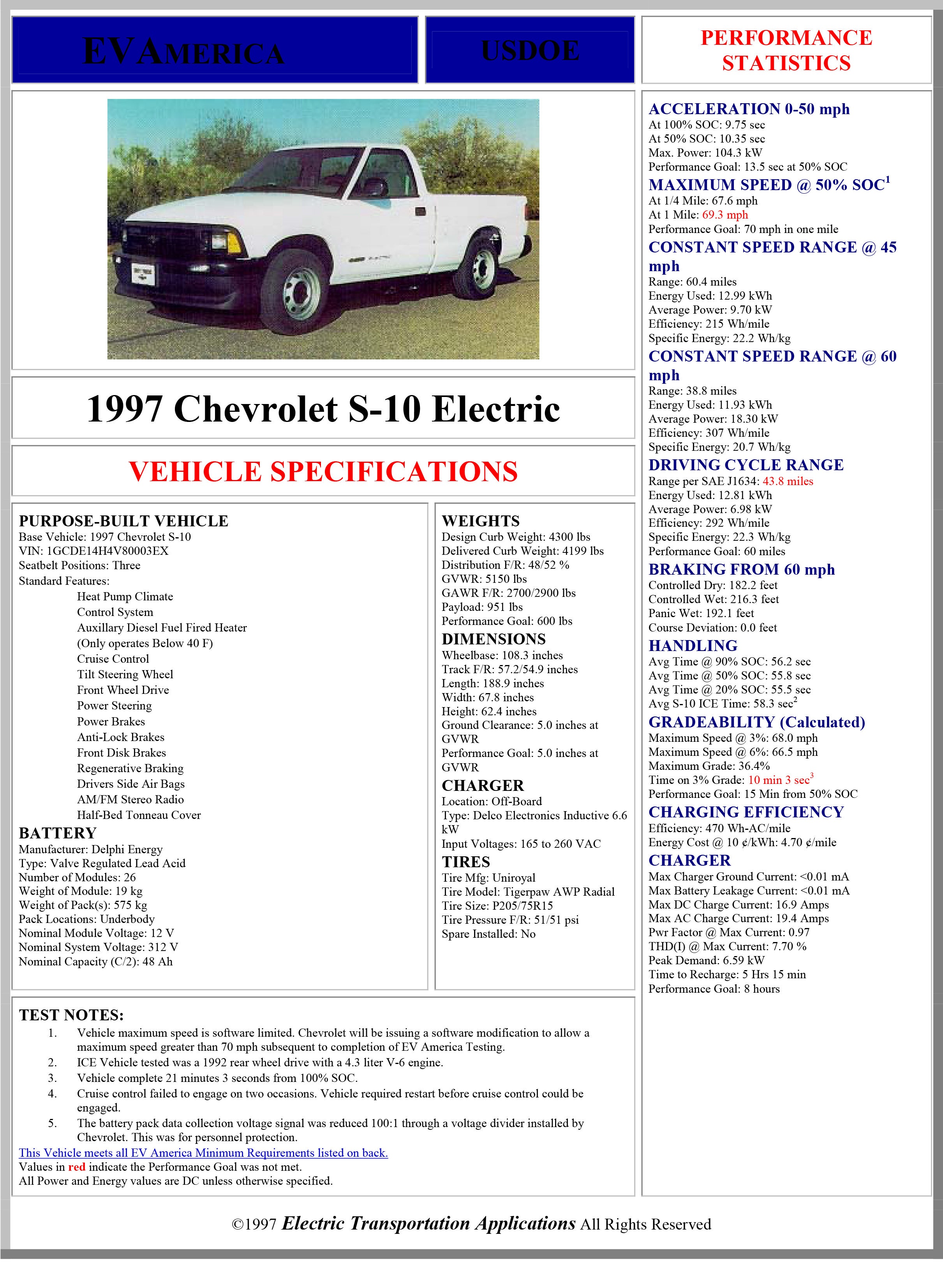 U.S. Department of Energy
"I did a minimal amount of tuning and found the handling pretty gruesome," GM development engineer Clive Roberts said to PickupTrucks.com. "But I was told by more experienced truckees that was how life was with a heavily laden truck. We played with the rear-axle kinematics to get something bearable and did a small amount of damper tuning, but then I was told to stop by the chief engineer because it was 'good enough.'"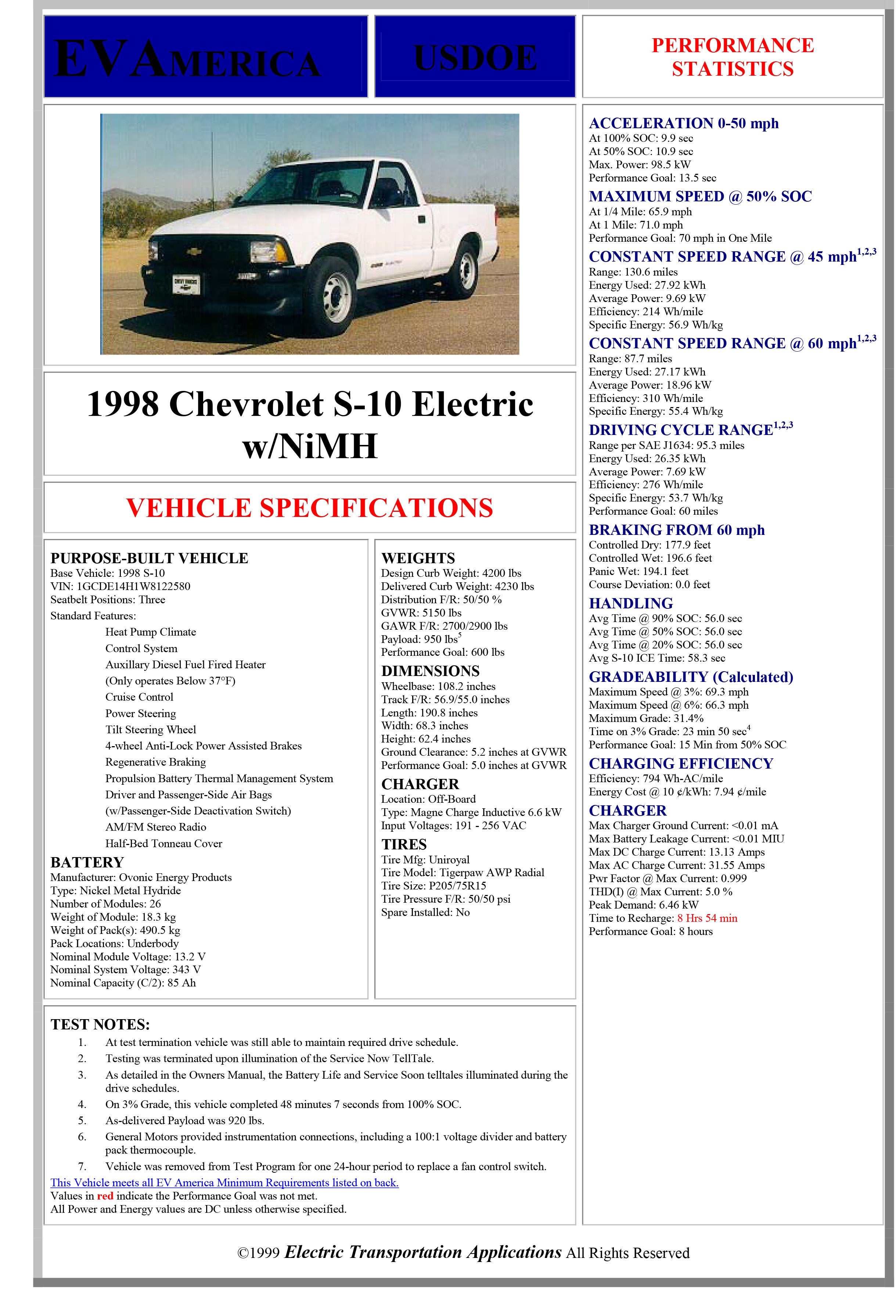 U.S. Department of Energy
Another weird quirk for the time is GM's effort to regulate cabin and battery temperature while maintaining as much of that mediocre range as possible. In addition to an ultra-efficient heat pump, trucks sold in colder climates were equipped with a diesel heater and a 1.7-gallon fuel tank to warm the battery and keep it at peak efficiency.
A total of 492 S-10 Electric trucks were built during the entire length of the project, which was shut down in 1999 for the same reasons that doomed the EV1—cost, complexity, and cheap gas. Like the EV1, the S10 EV was affordably leased to interested consumers as a public beta test of sorts, while the $33,305 (over $52,000 today) sticker price reflected GM's much higher cost of making them. Unlike the EV1, though, GM actually sold around 60 S-10 Electrics to fleet customers. It was able to do so because the Department of Transportation could certify its crashworthiness based on testing the normal truck.
So while all the lease vehicles ended up in the crusher, GM couldn't do anything about the electric pickups it had sold free and clear to utility companies and government agencies. That's how an occasional survivor ends up in private hands these days, like one example that was recently saved from a government fleet auction and now resides with a positively ecstatic new owner who shared their joy on Facebook along with a plethora of reference materials that came with it.
"The truck has been a government truck it's whole life. I believe it started life at Robins Air Force Base in Georgia due to some paperwork I found in the truck. After that, it was handed down to the University of Georgia in Tifton, GA. The batteries were no good at that point and they wouldn't give them a budget to retrofit it so it sat." Keith Dillman wrote in the S10 Connection group. "We are a semi-truck dealer and was scouting GSA [General Services Administration] for trucks when I ran across it. At first, I assumed it was some homemade job done by the school but the front spoiler looked way too factory. They had a few bad pictures and not much of a write up to verify anything. Then, I ran the VIN and was amazed when it came back Chevy S10 Electric! So with the very limited pics and info I decided if it goes cheap I'll buy it."
Dillman paid just $1,800 for the truck and spent another $750 to ship it. A small price for a pretty significant part of our modern EV history. He doesn't plan on modifying it to run off a modern lithium-ion battery, either, writing:
"After looking into lithium-ion, far too much modifying would need to be done to the truck. Due to the rarity of the truck, I will be sticking to the lead-acid [battery] in order to keep it original and use the also obsolete Magne Charger. I will accept poor range before chopping things up. It's far too unique to customize."
The Chevrolet S-10 Electric and GM EV1 weren't the only options for a battery-electric vehicle in the 1990s. Buyers or lessees interested in other environmental offerings could seek out an electrified version of the Ford Ranger, which came out in 1998, and the Toyota RAV4. Chrysler even pushed an all-electric Grand Caravan dubbed the "TEVan" for a cool $120,000 a pop. Compared to the electric cars of today, that's like buying a brand new Tesla Model X P100D or the Porsche Taycan Turbo, except, you know, it was a Grand Caravan.
Tesla's upcoming dual-motor Cybertruck is said to be priced at $49,900 and is estimated to achieve more than four times the range of the S-10 with significantly more power whenever it goes into production. And Rivian, Ford, and Chevrolet are all working on similar EV pickup truck offerings as well—GM says it will have a full-size electric pickup on sale in 2021.
We're still a few years until the next generation of electric vehicles are ready for public consumption, but weird gems like Chevrolet's S-10 Electric are still out there to be rediscovered. Maybe our electric future will see these soon-to-be-historic machines rise in prominence and value? Only time will tell.
Got a tip? Send us a note: [email protected]