It's been 13 years since one of Aérospatiale/BAC's Concorde jets last took to the skies. Plans to bring the Franco-British aviation icon back into service, long in the making, won't be realized until 2019 at the earliest. Fear not though, friends. Richard Branson wants to get the world's "affordable" supersonic groove back.
With backing from the Virgin Group CEO, aviation upstart Boom Technology has unveiled a new passenger jet, which has a claimed cruising speed of 1,451 mph. Dubbed XB-1 Supersonic Demonstrator, or "Baby Boom," this is a functional one-third scale prototype of a future full-size commercial production craft.
Revealed Tuesday evening at Centennial Airport in Denver, XB-1 is based on a Concorde study and will be used for testing. It features a 17-foot wingspan and seats two (pilot and engineer). Max takeoff weight is just 13,500 lbs, but the eventual full-sized version aims to be a proper passenger plane. It'll measure 170 feet long, have a 60-foot wingspan, 10,300-mile range, two lavatories, and room for up to 55 passengers, plus six crew.
Boom claims XB-1 will make its maiden flight late next year, and conduct supersonic tests near Edwards Air Force Base, with the full-size production commercial jet arriving in 2020.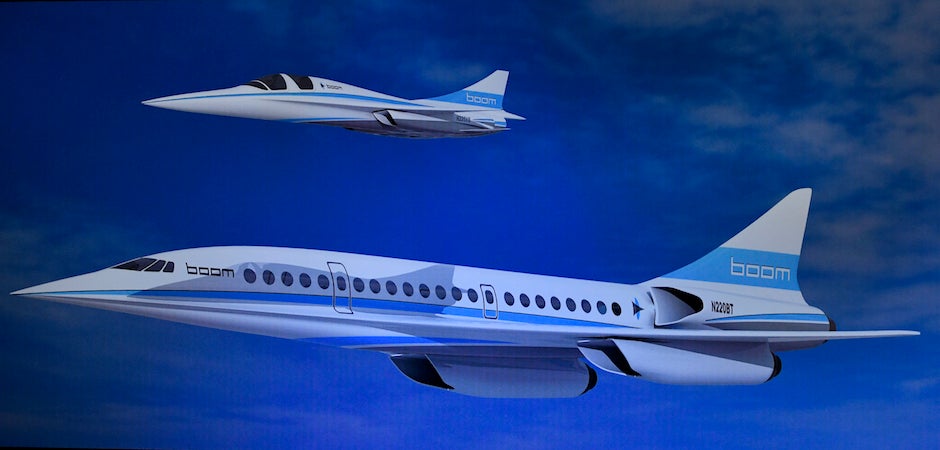 Renderings of Boom's XB-1 Supersonic Demonstrator (top) and its future commercial sibling (below). , Helen H. Richardson/The Denver Post via Getty
Some other claims: New York to London in 3.5 hours, L.A. to Sydney in 6 hours and 45 minutes, one-way tickets starting from $2,500. And if that Mach 2.2 figure is achieved, Boom's supersonic jet will be 10 percent faster than an old Concorde. Except this new craft doesn't need an afterburner. That should significantly boost fuel economy, a major contributing factor in the Concorde's downfall.
Besides providing working capital, Branson is also helping with R&D and manufacturing. (In exchange, Virgin Group maintains an option to buy the initial batch of ten supersonic jets for its fleet.) It looks like he might've called in called in some hardware deals, too: XB-1 uses a trio of General Electric J85-21 engines, Honeywell avionics, carbon composite materials from Tencate, and fabrication by Blue Force Tech. Oh, and Boom's design team includes veterans pinched from the likes of NASA, SpaceX, and Boeing.
Of course, Boom is far from the first aviation company to promise a Concorde successor. But the partnership with Branson and Virgin, plus serious hardware and know-how on staff, makes this one seem more legit than others. And, should it come to fruition, XB-1 will make history, becoming the first ever independently-developed, privately-funded supersonic jet in the sky. Even if a $5,000 round-trip ticket is only "affordable" in the Branson-sphere, you can't help but pull for Boom to make this happen.
Godspeed, you supersonic eggheads. Godspeed.