Near the end of a long, stressful week, it was the Singapore Motor Show of all places serving up a much-needed laugh: the new Subaru Forester Ultimate Customized Kit Special edition in all its acronymic glory. As you might guess, the automaker stuck its head in the sand when we asked about the name of this freaky Forester—but The Drive has now acquired the sheepish apology note Subaru of America sent to dealerships on Friday, shedding light on how the best car of 2020 came to be.
Sent in by an anonymous tipster, the letter calls the whole thing an "unfortunate situation" and pins blame on the company's local distributor in Singapore, who apparently created the special model for the auto show. There's a distinct tone of indignation in Subaru of America's words, which is both understandable given the note's intended recipients and a little unnecessary given how silly the whole thing is. It wants dealers to know it "had nothing to do with this... it goes without saying that this car will not be available in the United States market."
The full text has been reproduced below, and the original letter is included at the bottom of the story.
Dear Retailer:
Yesterday afternoon we learned about an unfortunate situation related to the name given to a special edition Forester by the independent distributor in Singapore. We want to make sure that you and all of your customers know that Subaru of America, Inc. (SOA) and Subaru Corporation (SBR) had nothing to do with this.
We apologize for any negative feedback this may have caused. SBR has had the name removed from the car at the Singapore Auto Show. We work very hard to build a strong brand image for this company and the naming of this vehicle in no way reflects the values and standards we hold true. Furthermore, we will always do our best to protect our brand's integrity.
This vehicle was created by the distributor for the Singapore Motor Show and it goes without saying that this car will not be available in the United States market.
Though the note claims the offending name had been removed from the show floor, the Subaru Forester Ultimate Customized Kit Special appellation could still be seen prominently displayed in new pictures taken by show attendees, location tagged and uploaded to Instagram on Friday. We haven't seen any reports on a rechristening, if one is actually happening. Reading between the lines, Subaru of America never mentions anything about a new name.
And really, why should it be changed? If there were ever to be a Subaru F.U.C.K.S., it's hard to get it more right than a garish Forester with body underglow, Enkei wheels, and an STI interior. And lost among all the hilarity over missed translations is that English is one of four common languages spoken in Singapore, and in fact is the most widely spoken in schools and international businesses. It seems pretty likely that independent distributor knew exactly what it was doing: building a legend.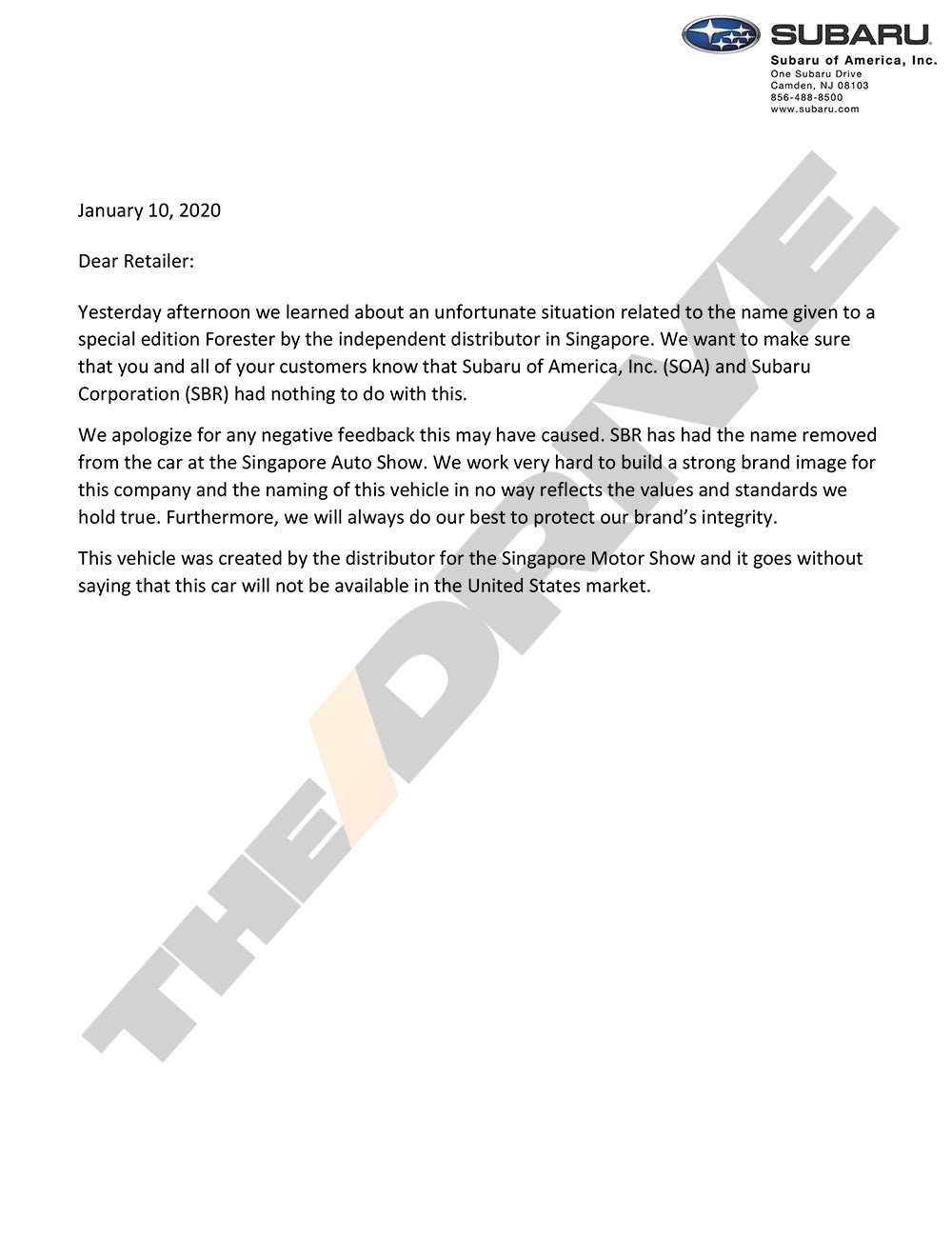 Subaru via Anonymous
Got a tip? Send us a note: [email protected]