We finally know when the 2021 Ford Bronco will be revealed: July 9 July 13. Still, that isn't stopping anyone from hunting for more info about the revived off-roader. Supposed leaks have been coming out regularly for the past few weeks and now, it looks like another picture of an uncamouflaged Bronco has found its way onto the internet. 
A post to the Bronco6G forum shows a brightly colored two-door model in a sandy setting alongside its little sibling, the Bronco Sport. Also in the background is a Chevy Colorado ZR2, which Ford could've possibly been using to bench test against.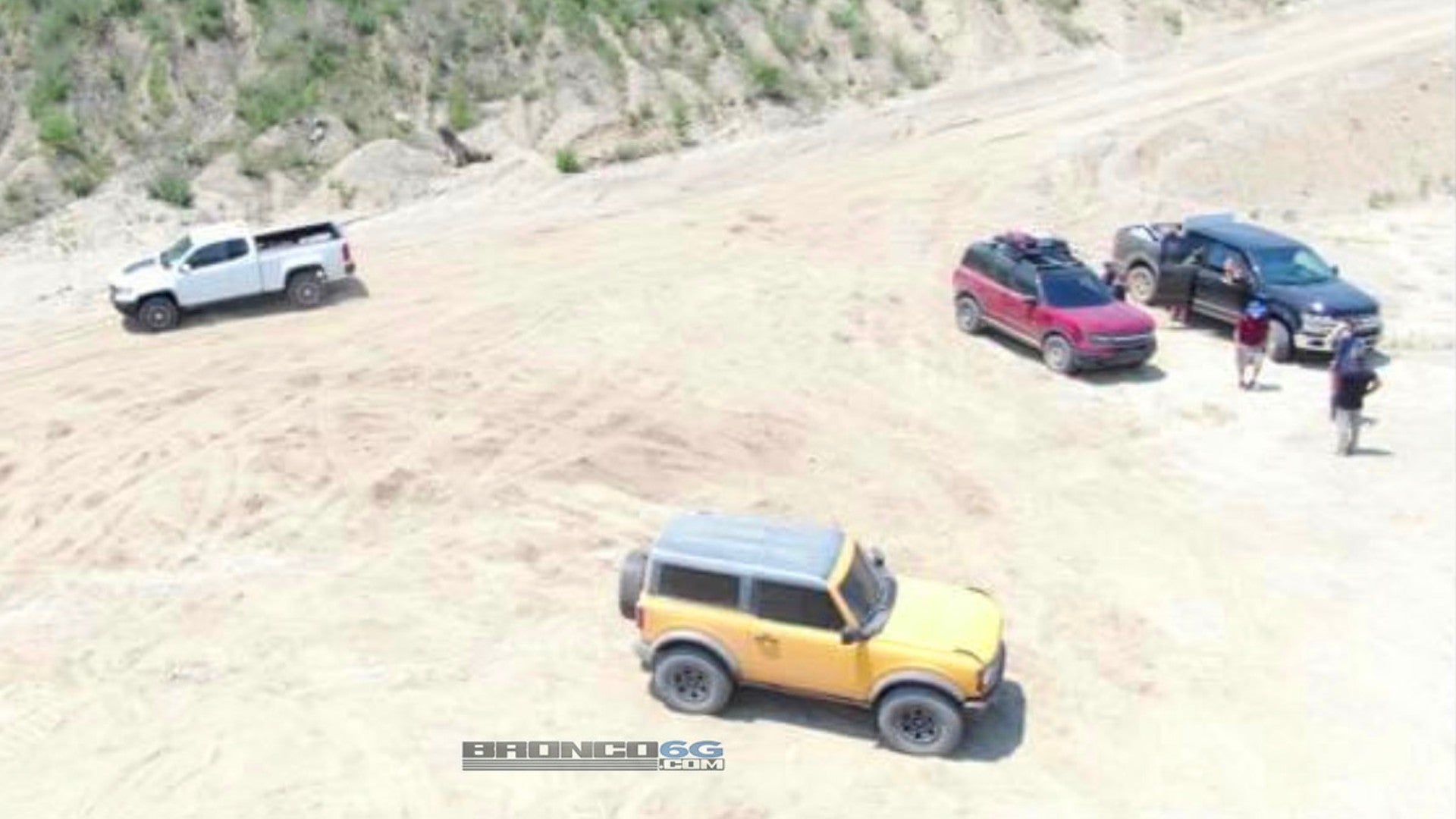 Via Bronco6G
It's unclear exactly where the drone photo was taken, though some forum users suggest it could've been at Ford's Arizona Proving Grounds in Wittmann. We've seen the 2021 Bronco cold-weather testing more than once, and now that it's heating up outside, it's likely time for a final round of warm-weather trials. The climate in Arizona certainly fits the bill for that—triple-digit temperatures are in the forecast every day for at least the next week.
While there doesn't look to be any major new design traits to glean from the spy image, we do at least get another angle of the two-door. Enhanced versions of the image provide a close-up look, from which we can clearly spot a removable roof, hood-mounted tie-down hooks, and black fender flares which are filled out nicely with a set of chunky all-terrain tires. The wheels appear to sport a revolver-style design, adding to the Bronco's expansive catalog of available wheel options.
The full-size Bronco also looks to be significantly larger than the Escape-based Bronco Sport, giving a nice frame of reference. We still expect the Bronco to be similar in size to Jeep's Wrangler, with the two- and four-door models competing directly against each other when the Ford finally reaches production.
Details regarding the Bronco's powertrain are starting to clear up as it's still anticipated to launch with the Ranger's 2.3-liter EcoBoost four-cylinder as standard. Ford's 2.7-liter EcoBoost V6 may also be in the cards, while a seven-speed manual transmission with an ultra-low crawler gear is all but confirmed. It's also rumored to have a locking front differential with electronically disconnecting sway bars—a feature that's currently only available on the Jeep Wrangler, Gladiator, and Ram Power Wagon.
Got a tip? Send us a note: [email protected]