Finding a very cheap Fiat Abarth to restore has been the surprise of the year to me. I got this job writing about cars right as my 200,000-mile Chevy Sonic was ready for retirement, and anyway a car enthusiast job requires a car enthusiast daily driver. I was not about to fall into the trope of being a car journalist who never drives their own vehicle! I lucked out on a deal with this $1,500 Fiat, and putting it back on the road has taken some work but nothing crazy or egregiously expensive. Now it's driving reliably enough to take me all across state lines and all over the place, so it's time for a rundown on what went into this "restoration."
Before I picked this thing up, all I knew about Fiats was that a friend of mine had a 500 that got lemon law'd. And yet… I was always curious about them. When I was 18 I even got on a waiting list for a regular 500 — I wanted a brown manual Pop, but I couldn't afford one. Now that I'm older, and so are the cars, that's changed.
The internet loves to hate on Fiats and the song usually blasting from the bandwagon's speakers says "they suck, they're unreliable, they're junk." Is that even true, though? Fiat 500s have been on sale since 2008 in Europe, and it still sits at the top of sales charts despite being so old. They're charming vehicles. Even my lemon Fiat friend couldn't resist the allure of buying more broken ones and nursing them back to health; he's had at least five now.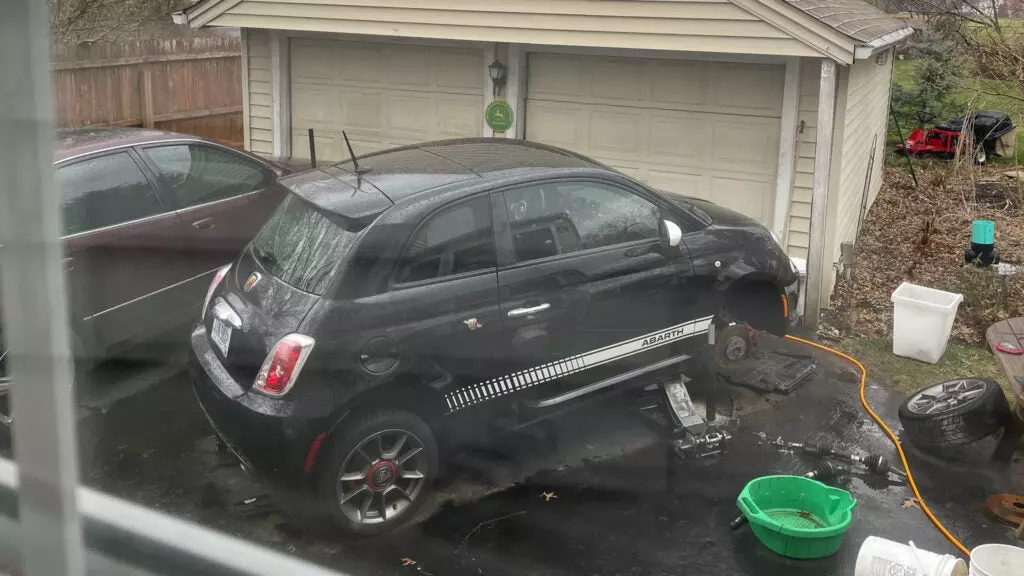 I'm glad I took the plunge and tried one of these myself. As I write this I've already put more than 7,000 miles on my Abarth since picking it up a few months ago. Its buzzy and throaty exhaust has echoed off buildings in Columbus, Chicago, and plenty of other spots in between. It's plenty quick (especially in sport mode), handles great, and the sound system bumps. Sure, it's not perfect, but I got it for dirt cheap and it hasn't cost very much to run so far. Speaking of costs, I promised a cost breakdown, and that's what you're about to get.
Here's what I've spent on necessities:
Purchase Price, Tax, Title, Registration: $1,667.50
Abarth OEM (used) Shift Knob: $64
CV Axle Boots, Multiair Filter, Spark Plug Seals: $141.65
CV Axle Spider Joints (which didn't work out): $55.80
Engine Mounts (all three): ~$250
Exhaust Hangers: $37.57
Oil Cooler Gasket: $19.57
New OEM CV Axles: $551.95
NGK Spark Plugs: 48.13
Drilled and slotted rotors; ceramic high-performance pads: $260.03
TPMS Sensor: $9.97
Clutch and Flywheel: $637.57
Random odds and ends (missing bolts for the rear seat install, PCV gasket): ~$15
Labor (clutch job, oil cooler gasket): $660
With that, I'm at $4,418.74 to get the car driving nicely. And most of the items listed above are consumables; stuff that wears out on all cars regularly.
Here's what I've spent on modifications and upgrades:
Window Tint: $235
Abarth 17-inch OEM wheels: $300
Kumho ECSTA PA31: $344
Tire Mount and Balance: $147.28
Wheel alignment: $96
Double-DIN Kenwood Stereo: $219
Stereo Wiring Harness: $156
Stereo Double Din Bezel and dash install kit: $125.93
That's $1,623.21 on modifications.
So all in, for a personalized and (so far) reliable Fiat 500 Abarth, I'm at about $6,000. This car was so cheap to buy because the previous owner thought he'd blown the engine and was generally in a rush to get rid of it — I took the risk, put in the research and wrench time, and it's paying off.
According to Kelly Blue Book, a used Abarth at a reputable dealership with 125,000 (when I purchased it in March) would have listed in the area of $8,000. The cheapest Abarth listed near me now has ugly wheels, is worse-equipped (no Beats audio, no sunroof, no automatic climate control), and is listed for $10,000. I've seen a few in the $7,500 neighborhood but they don't last long on the market. I'm feeling pretty good about where I'm at with this one.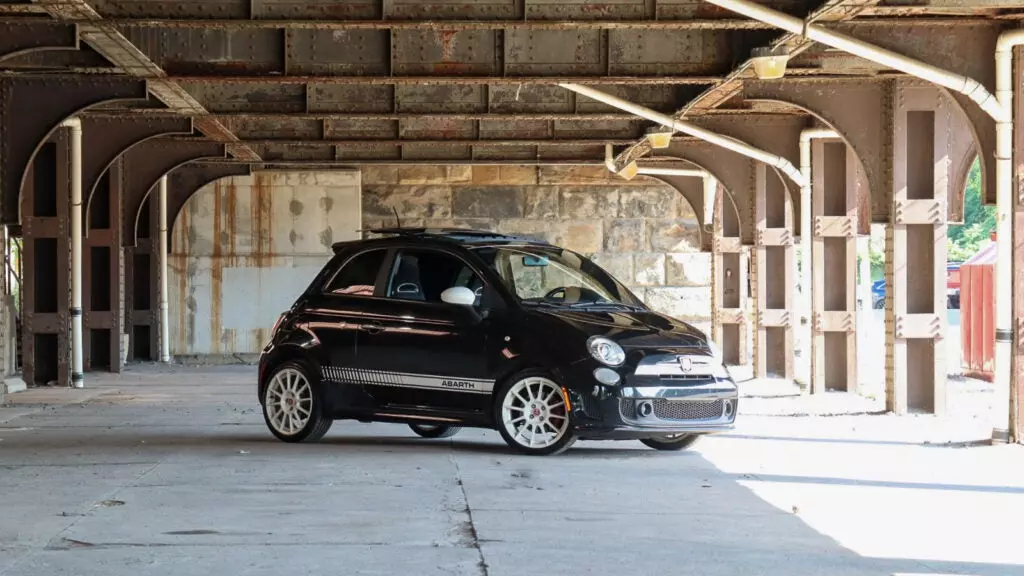 Sometime in mid-April of this year, I realized that I genuinely liked the Abarth a lot. I had grown tired of my Sonic, and even though I made some plans for it I just kind of found myself ready to let it go. After briefly wanting to hold onto it, so I'd have a four-door car in case I ever had to go back to rideshare driving, I figured… to hell with that. I hated rideshare driving, it's a soul-sucking, futureless job that didn't do anything but wear my car out, destroy my social life, and make me depressed. So out the door the Sonic went. it's living its best life as somebody else's track rat now, and the Fiat is my daily driver.
As it stands, KBB private party for a "Very Good" condition Abarth puts me at around $7,000 on the high-side of private party Abarths. Due to the market, and rarity, I earnestly believe I could get around $7,500 for my Abarth. It has a clean title, is in good shape, and runs well. I have no plans to sell the Abarth, though. I genuinely like the way this car feels, looks, and drives. I love the exhaust pop and crackle, I love the powerband you've got to work for. I love the cutesy, yet aggressive styling, and the sporty demeanor. I make up reasons to get behind the wheel and take it for a spin, I drive the damn thing nearly every day. When I'm behind the wheel, I smile. I ask myself "why the hell did I waste so much of my life behind the wheel of boring and slow econoboxes?"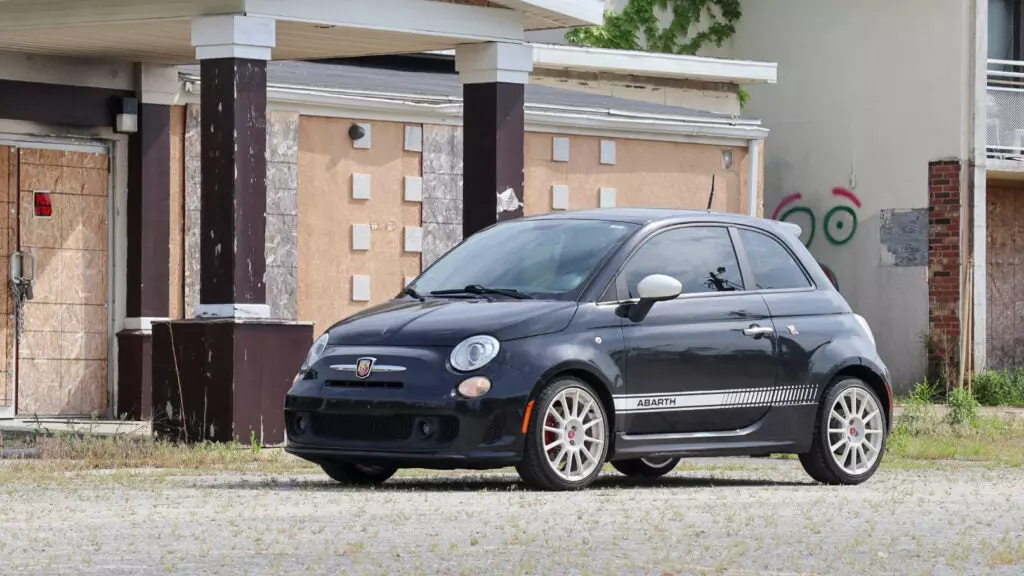 The Fiat 500 Abarth is one of the last cars in what is a nearly dead segment: the sport compact. The market forces are swiftly shifting towards everything being an expensive EV, or charisma-less crossover, murdering charming cars like the Fiat 500 Abarth in the process. The 500 Abarth isn't the best, but it doesn't have to be. No car does, really. It makes me smile, it makes me happy, it makes me want to drive it — and that's enough for me.
Best $1,500 (plus about $4,541.95) I've ever spent.