If there's a mid-engine performance car more delayed than AMG's own troubled Project One, it's Aston Martin's upcoming trio of the Valkyrie, the smaller Valhalla, and the promised mid-engine Vanquish. While the Valkyrie hypercar uses the combination of a naturally-aspirated Cosworth V12 and a Rimac-developed hybrid system, for the 2023 Valhalla, Aston Martin developed a brand new 3.0-liter twin-turbo V6 ready to be electrified for the 2020s. However, new CEO Tobias Moers seemingly hinted to the company's investors that given their technological partnership, the Valhalla is likely to end up with an AMG powertrain instead.
"Valhalla at the minute will get a redesign," Moers said, according to a report from Autocar. "Probably it's a bit of a different drivetrain than the company thought before because with the transformational technology agreement with Mercedes there are other chances for us regarding the combustion engine. But we still have an electrified powertrain, we still have kind of a hybrid style, we still have really breathtaking technology. But we have to talk with our clients first and we have to show the new Valhalla, so to speak, to our customers. We're going to do that over the course of the next three to four months."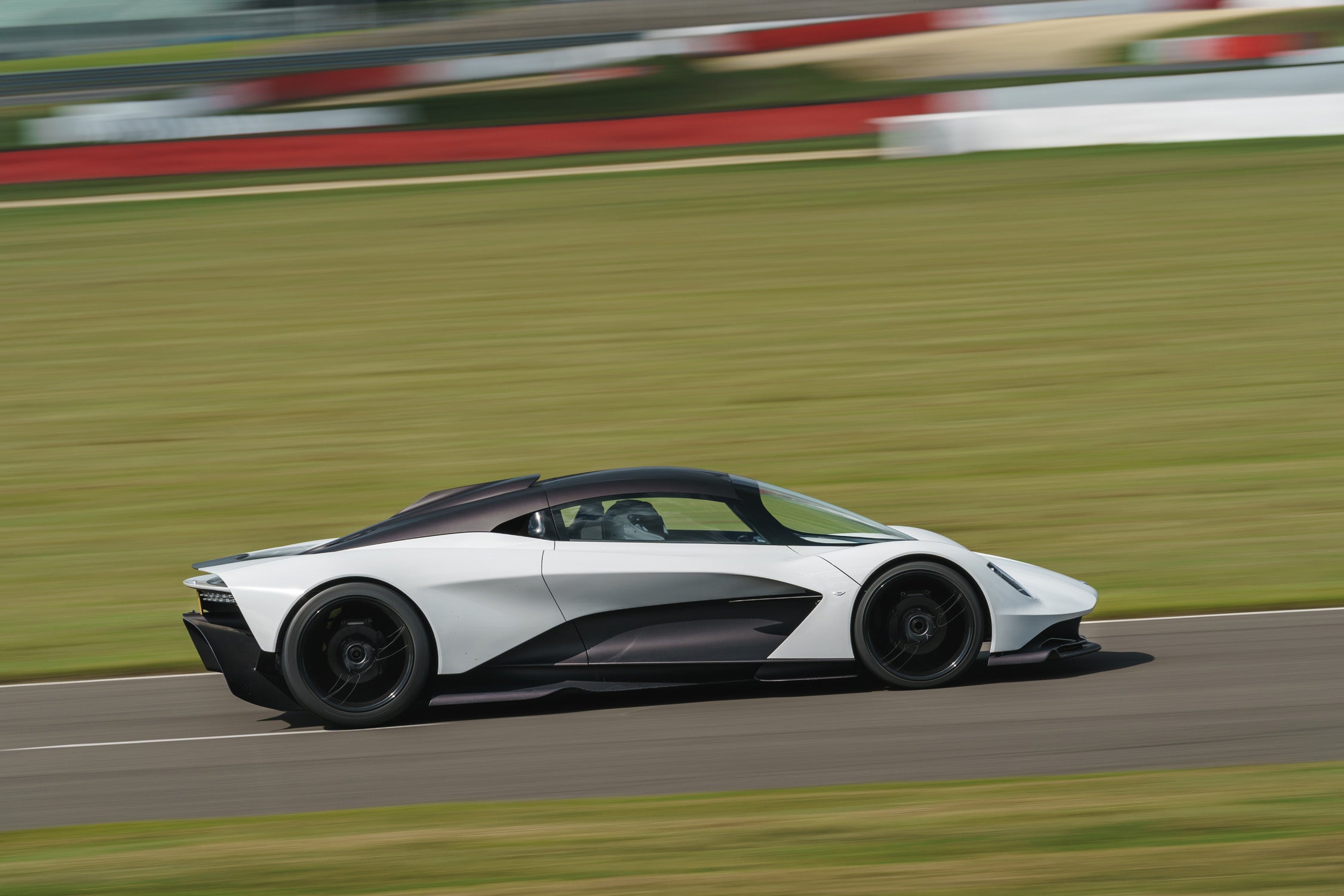 Aston Martin
This is intriguing news for a number of reasons, starting with why Aston Martin can be proud of its engine heritage.
Introduced in 1958, the double-overhead-cam straight-six designed by Tadek Marek is a legendary racing engine, which Aston's master engineer from Poland followed up with his fuel-injected V8 in 1969. This tuneable beast kept the company in business until the AM11 V12 could emerge as the twelve-cylinder torque monster of luxury. In twin-supercharged form, Marek's V8 design gave Aston the crown for the most powerful series-production car with the 1992-98 V8 Vantage V600. Used from 2001, the old Aston Martin V12 was essentially a pair of Ford Duratec V6 engines fused together, yet it was also a Cosworth development capable of 847 horsepower in naturally-aspirated form.
When it was time for something new, despite its reemerging financial troubles, Aston Martin developed a brand new twin-turbo V12, which debuted in the 2016 DB11 and became a true force of nature in the following DBS Superleggera, probably still the best GT car money can buy. Of course, Aston Martin had no budget to come up with a second engine for its volume sports cars, and so the new Vantage, entry-level DB11 V8 and DBX SUV ended up with AMG's 4.0-liter twin-turbo V8 instead.
Former CEO Andy Palmer wasn't happy about losing Aston's powertrain independence, which is why for the upcoming 2023 Valhalla, the brand developed its own 3.0-liter twin-turbo V6, designed with electrification in mind. Before being ousted by the shareholders led by Lawrence Stroll, Palmer went as far as saying that the AMG V8 will be gradually replaced by the hot-V 3.0-liter in all models. Now, that seems highly unlikely as even the mid-engine Valhalla is set to feature a German powertrain.
On one hand, this makes a lot of sense. As Mercedes-Benz is getting more and more comfortable in the role of Aston Martin's big brother, the smaller British company is getting valuable hybrid, battery-electric, safety and infotainment tech from Daimler, as now the plan is to make 90 percent of its lineup electrified by 2030, along with the launch of a full EV as a successor to Andy Palmer's ill-fated Rapide E idea.

The canceled Rapide E plan is still visible on Aston Martin's website., Aston Martin
Due to the pandemic, Aston Martin is also losing money faster than expected, which means cutting costs and launching models like the upcoming plug-in hybrid DBX SUV that enjoy absolute priority over everything with an engine in the middle. As Moers put it:
"The PHEV DBX will be before 2024, but we have to run the adaptation of all the Mercedes' technology transfers, and that needs time—but in 2023 we're going to have that with us."
Due to the Stroll family's ties to what became Aston Martin F1 for 2021, the company ended its joint venture with Red Bull Racing and its chief engineer Adrian Newey, which consequently made the Newey-designed, 1,160-horsepower Valkyrie's development a lot more difficult.
Now, it appears that Aston Martin's McLaren, Maserati and Ferrari-rivaling hybrid V6 will be scrapped before ever making it into production, which is in line with the integration, electrification, validation and cost-cutting ambitions of Mercedes-Benz, as well as the fact that Aston Martin's new CEO is the former boss of AMG.
Keeping that in mind, here's how Aston Martin described its new V6 just a year ago, which is codenamed TM01 in honor of Tadek Marek:
"Confirmed today as a 3.0-liter turbocharged V6, the full powertrain will be electrified—an aspect that has been key to the engine's development from day one. The decision to develop the engine with a 'hot V' structure was clear from the start, with the configuration allowing for this compact engine to weigh less than 440 pounds."
"Higher engine speeds, in combination with the benefits of electrification, will offer the performance characteristics of a mid-engined sportscar on an extreme level," continued Aston of 2020. "Naturally, the engine will be positioned directly behind the driver's cabin and equipped with a dry sump system to guarantee the lowest possible centre of gravity. The system will also deliver exceptional lubrication performance during on-limit, high-speed cornering. Despite the overt nature of this powertrain, the engine is designed to meet all future emission requirements for Euro 7."
As Tobias Moers also explained to investors, Aston Martin's current sports car line of the DB11, the DBS and the Vantage are unlikely to get a hybrid drivetrain:
"They have been on the market for a few years and need a refresh. This is what we're doing currently. Do we have a chance to electrify them? This is what we're investigating at the moment—I'm not sure about that because they have a transaxle layout [where the gearbox is mounted on the rear axle], it's a specific sports car layout and it's not that easy. It's really complicated."
What isn't complicated to see is what Aston Martin will lose when it becomes fully powertrain-dependent for the first time since the 1940s. Still, looking at its financial situation after 2020, one could argue that the British firm could have ended up with a much worse deal than getting bailed out by AMG.
Got a tip? Send us a note: [email protected]