For whatever reason, having one usually-broken work truck wasn't enough for me, so I went out and got another. This time, though, it's bigger and even a little older than my 1966 Ford F600. My new prized possession is a '63 International Loadstar 1800 with a 16-foot bed and patina for days. But before I got started with it, I had to dig up a little more on where this rig came from and how it landed in my possession in 2020.
Luckily the guy who sold it to me, Craig, had sent off to International for a build sheet on the truck, and he tossed it in the glove box before I headed home. On it is a list of numbers that are hard to decipher, though several of them are spelled out in plain English alongside—options like a heavy-duty front bumper and a T51 transmission. I turned to the web in hopes of translating these cryptic digits and, for the most part, I was able to find out all the important bits about the Loadstar.
I've yet to track down what the truck was originally used to haul, though the linesetting ticket tells it was manufactured and then shipped directly to the St. Louis area. I assume it stayed there for most of its life since I purchased it just outside the city's metro area in a town called Augusta, more than 250 miles from my home.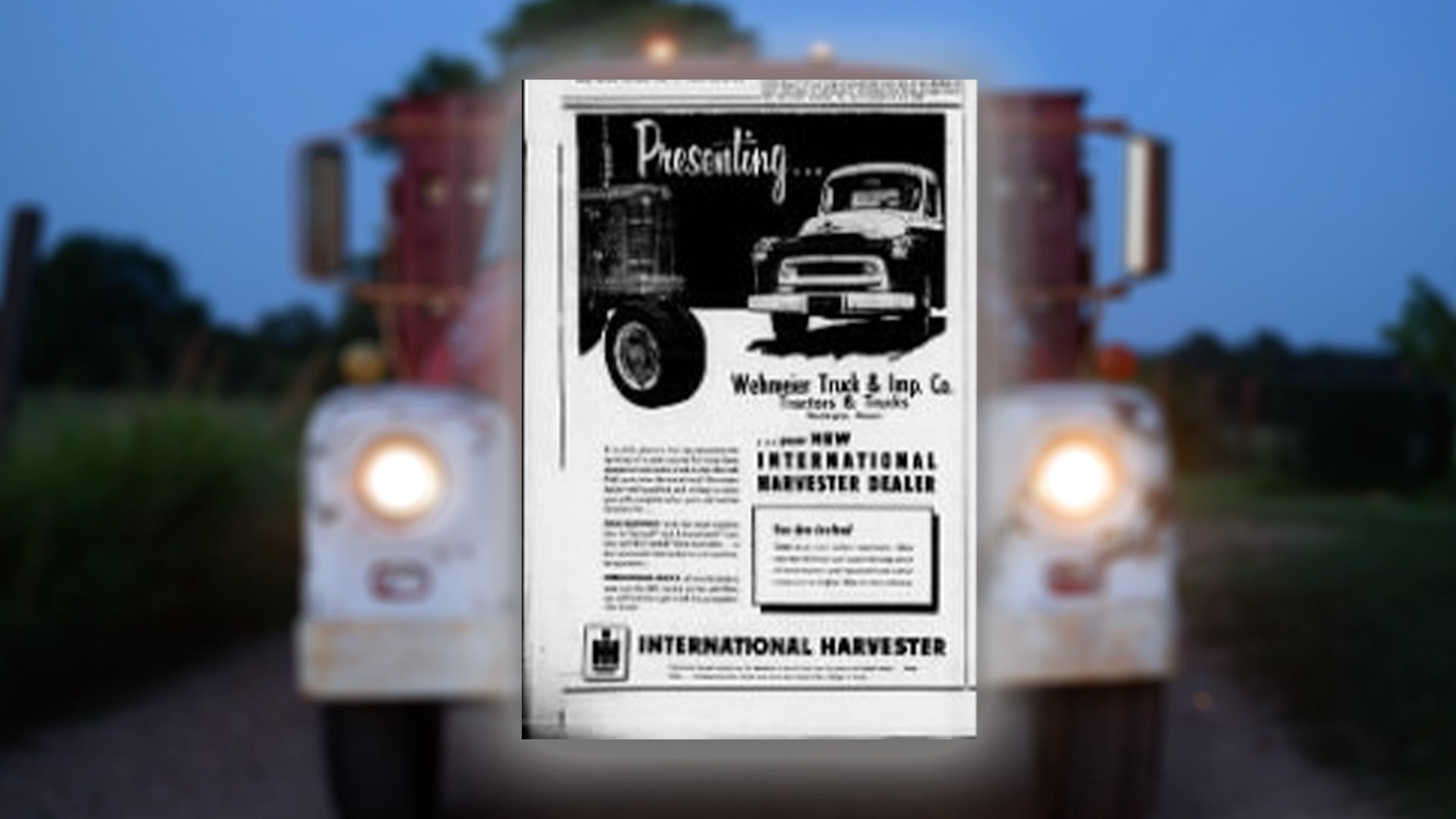 The Drive/Caleb Jacobs
The name on the ticket is listed as 'WEHMEIER TRUCK&IMPL CO" with the neighboring town of Washington, Missouri typed underneath. Wehmeier was an International dealer from 1956 to 1969, and a sister store seems to have survived until 1980 a few towns over. There's little info on the company online, though I was able to find a few old newspaper ads as well as track down the store's location downtown. Now the address pops up on Google Maps between a U.S. Bank and a building dedicated to the town's rich riverfront history.
As for the truck itself, it hasn't changed much since it was assembled some 57 years ago. It still sports a 345-cubic-inch V8 like so many other Internationals, and it's retained its four-speed manual transmission with an extra-low granny gear to boot. The interior is in primo condition, save for some coloring on the metal panels and the vice grips that double as a door handle. The glass is good with one vertical crack on the passenger window that's being held together with...something, though it doesn't seem too flimsy, so that's a plus.
It's not difficult to drive, though it is an adjustment from my Ford. The transmission is void of any synchros, so I had to learn the art of double-clutching in a hurry all while splitting the gears with the two-speed rear-end. Likewise, you have to allow yourself plenty of room to turn around—that comes with the 169-inch wheelbase, or a little over 14 feet from hub to hub. It has zero issue pulling hills; I guess that's thanks to its 185-ish gross horsepower at 4,400 rpm, though I've not even come close to that rev count.
While the Loadstar now has a two-tone paint job with white fenders, you can see the original shade of red underneath that they once shared with the cab. As the build sheet claims, it was coated in "2150 Harvester Red" and it doesn't look to have ever been resprayed. I'm undecided here on whether to leave it as-is or return it to its initial form. For now, I'm focusing on maintaining it more than anything.
The bed itself is a treat and can be configured in three ways. As I mentioned, it measures 16 feet from one end to the other, and it's got wooden baseboards that seem to be in solid shape. I'm yet to haul anything with it, though rest assured its time will come soon. When I first bought it, there were grain bedsides placed in the stake holes with homemade wooden sides thrown in with the sale. These are shorter at a smidge over one foot tall, and they're likely what I'll use more often because they just look right.
Or, you could take the sides off altogether and have a flatbed. That works, too! Just don't try taking off the grain sides by hand. They're too damn heavy—ask me how I know.
It has a strong single-cylinder Knaphoist dump with supports on each side, which will come in handy when I haul logs, firewood and whatever else back there that's too much to unload by hand. The previous owner had a manually operated winch mounted near the cab, but he decided to keep it for another project. Not a bad idea, and it's one I might try out myself.
The Drive/Caleb Jacobs
There's a laundry list of options to make this truck more suitable for my needs, and I'll find those out over time. I plan to keep it as period-correct as possible, though I can't promise to pay $400 for an International-branded slave cylinder when I can pay a quarter of that for a makeshift Chevy part.
I'm sure there are many more layers to my International's story, and that's undoubtedly the best part about owning these old trucks. I may never haul with it on a daily basis like past owners surely did, but I'll be danged if it sits as a lawn ornament for years on end. When shows and cruises start back up, it'll be eagerly awaiting its spot on the town square. Until then, I'm planning on at least one night at the local drive-in. There should be plenty of room for a couch, a grill and whatever else on the back.
And in the meantime, if you have any intel on Internationals that you think I might find useful, feel free to shoot me an email. I'm always looking to learn more about these trucks, and you may get featured on The Drive. Is there any greater honor on the internet? 
Caleb Jacobs is Deputy News Editor at The Drive. He buys weird things, like a '66 Ford dump truck, a '65 Chevy school bus and now, a '63 International Loadstar. We continue to employ him, though we can't seem to understand why. Send him a note: [email protected]