Like many questionable plans, this one got hatched in a noisy barbecue joint. The chief engineer of the 2020 Ram 1500 was saying he couldn't reveal the fuel economy of the half-ton truck's 3.0-liter EcoDiesel V6 because the EPA had yet to ratify the numbers. But he was itching to tell me something over the smoked brisket—with a smile, he let on that one should be able to drive from where we sat Duluth, Minnesota to Dallas, Texas on a single tank. My eyebrows shot up as I snuck a peek at my phone and thumbed down a route of 1,074 miles.
He qualified the claim by saying you'd need the optional 33-gallon fuel tank, and though he wouldn't confirm it, I surmised it'd only be possible in a two-wheel drive truck with the standard 3.21 axle gearing. You know, some stripper Tradesman model with no more than a few options, maybe even with the lighter, smaller Quad Cab. There were clearly a number of asterisks involved, but ever since then I've wanted to put it to the test. Can you really drive a new Ram 1500 EcoDiesel for 1,000 miles without stopping for fuel?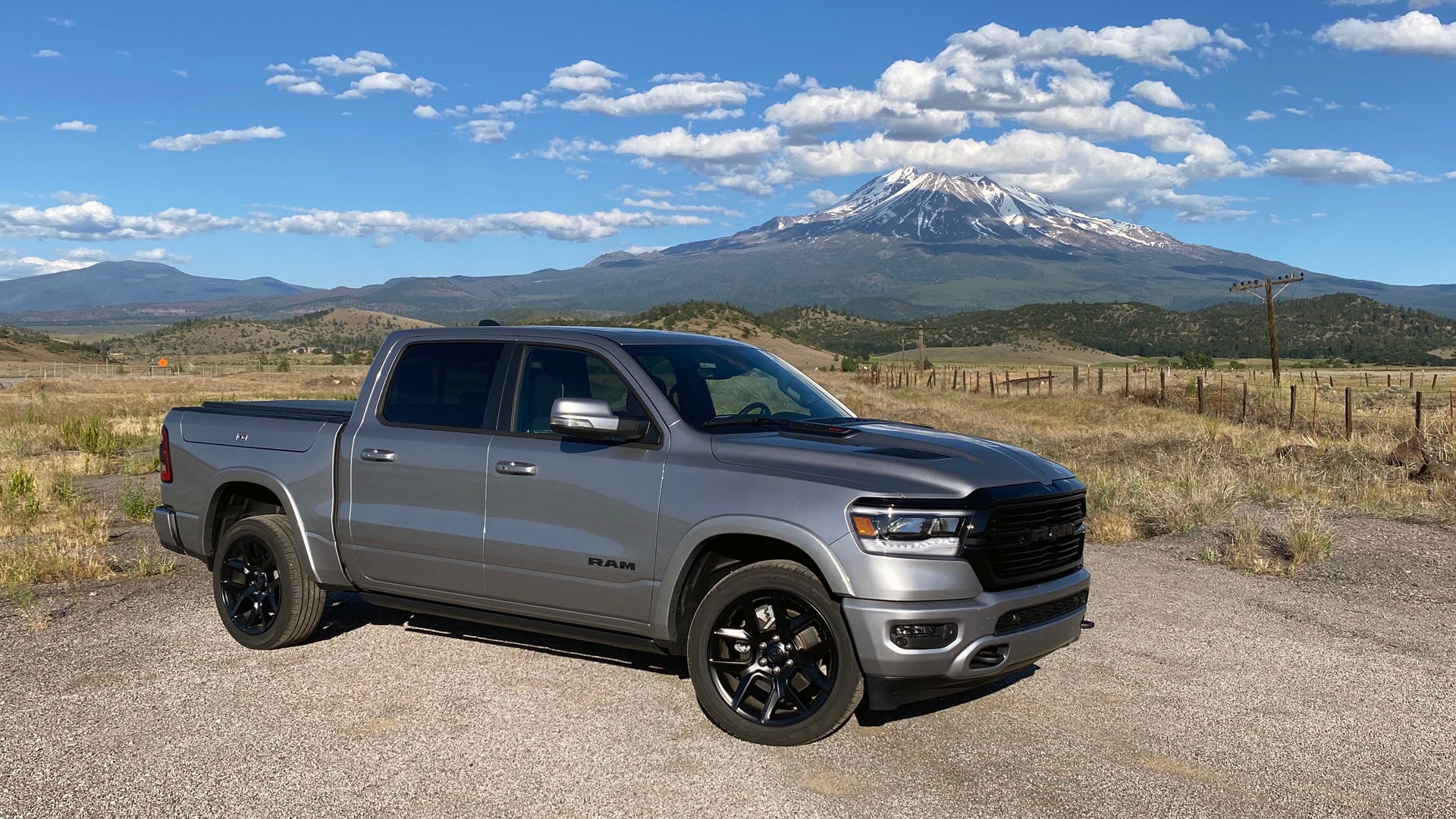 Dan Edmunds
The engineer's reluctance to share the truck's official miles per gallon rating at the time proved to be a wise move. The 4x2's EPA highway rating later came out at 32 mpg, which equates to a theoretical maximum highway range of 1,056 miles. Not quite Duluth to Dallas, but comfortably over 1,000 miles without stopping nevertheless.
Of course, the EPA didn't derive that number from a real-world road trip with all the variables—traffic and terrain especially—such an undertaking entails. That's where I come in.
The 2020 Ram 1500 EcoDiesel, By The Numbers
Base Price (as Tested): ($72,115)
Powertrain: 3.0-liter turbodiesel V6 | eight-speed automatic transmission | rear-wheel drive with available four-wheel drive and low range transfer case
Horsepower: 260 hp @ 3,600 rpm
Torque: 480 lb-ft @ 1,600 rpm
Towing Capacity: 8,010 pounds
Payload Capacity: 1,800 pounds
EPA Fuel Economy: 21 mpg city | 29 highway | 24 combined (4x4)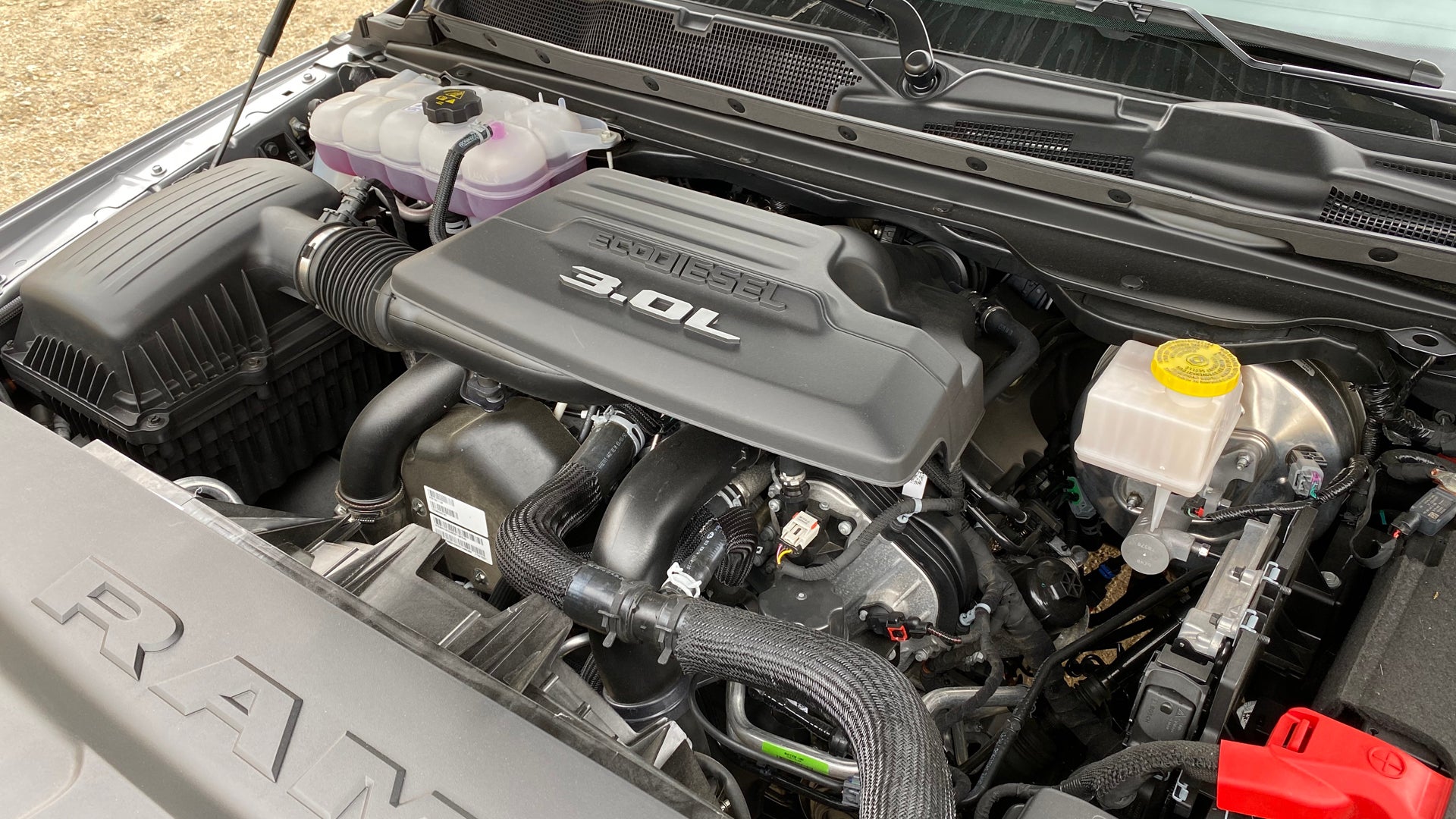 Dan Edmunds
Finally Underway
World events—you know—kept delaying this all-important experiment, but last month I finally found myself rolling south on Interstate 5 out of Seattle in a 2020 Ram 1500 EcoDiesel with the necessary 33-gallon tank and 3.21 gearing. I'd topped off the truck and at a station on the south edge of town, then laid in a course 1,161 miles south along Interstate 5 to my home just south of Disneyland in Southern California. I would probably need to stop just once for fuel, but I intended to cover the promised 1,000 miles in a single shot before that happened.
I had serious doubts as I got underway, not least of which was the truck Ram had supplied for the challenge: a $72,115 Laramie crew cab laden with substantial options like the Ram Box, the new multi-function tailgate, a dual-pane panoramic sunroof, full-length power running boards, and weighty 22-inch rims shod with fat 285/45R22 tires. It had a tonneau cover too, but those neither help nor hinder fuel economy, at least according to Mythbusters.
But by far the worst part was this: It was a 4x4 truck, and as a result its EPA highway rating dropped down to 29 mpg. Multiply 29 by 33 and you get a range of 957 miles—assuming you can even use all 33 gallons. The route itself raised further doubts. The terrain between Seattle and SoCal included three times the elevation gain of the chief engineer's imagined run across the flat Midwest craton.
Whose idea was this, anyway? Oh, right. Mine.
All of this weighed heavily during the first miles, but I stuck to my plan of driving like a normal human and avoided hypermiling. I drove no slower than the speed limit, no faster than about five or so over, and did not draft any semis or box trucks. As it has in the past, this casual approach consistently slotted me midway between the leadfoots and the slowpokes.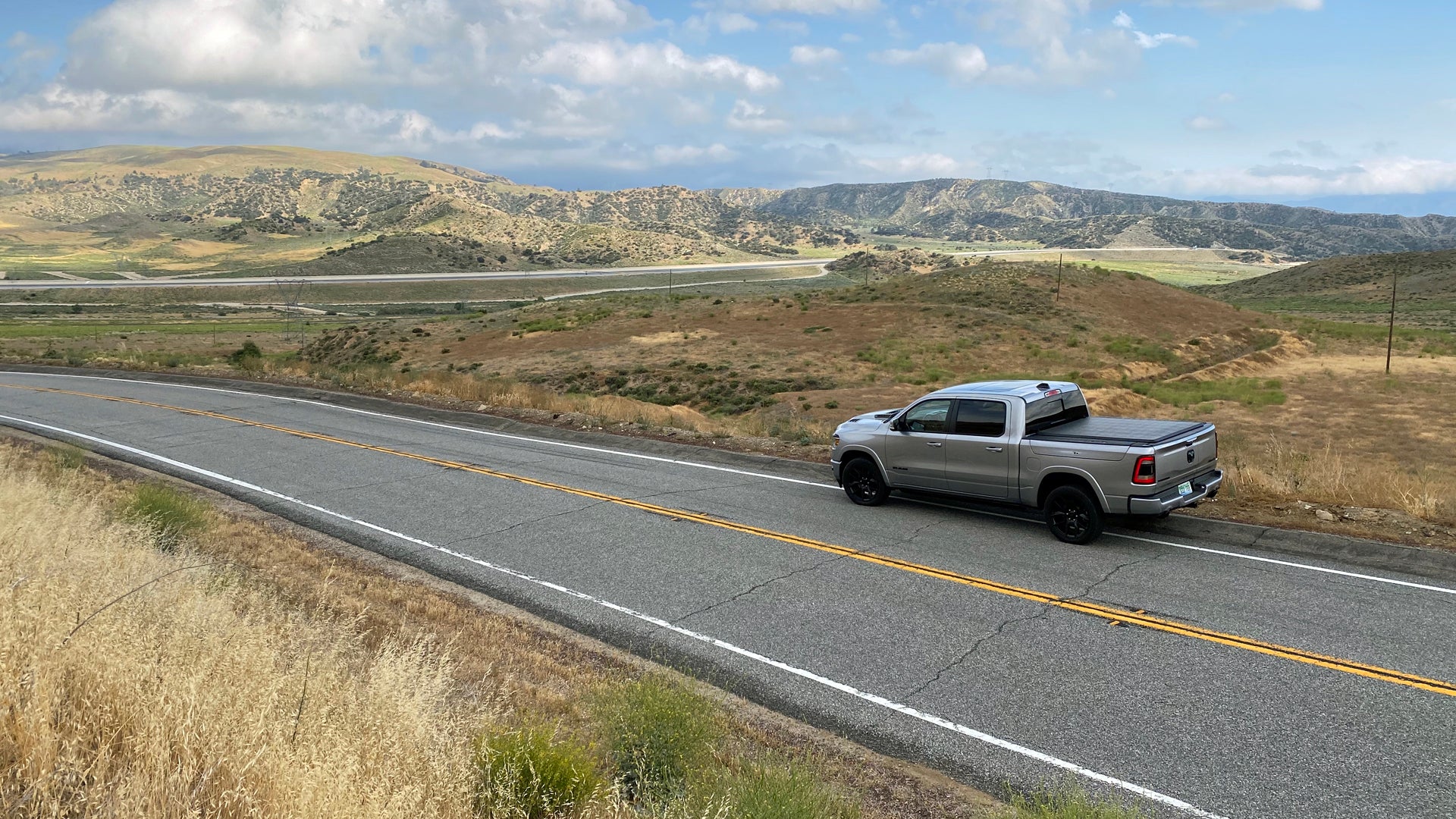 Dan Edmunds
The Oregon border came up after just 159 uneventful miles, and as I crossed over the Columbia River the truck's distance-to-empty (DTE) readout indicated 764 miles remaining. I had no idea if a DTE of 0 miles would accompany a sputtering engine or not, but I knew the sum of 159 and 764 was decidedly less than 1,000.
Still, it takes more than one reading to project a trend. After threading through Portland I chanced another glance at the 200-mile mark just north of Salem. The DTE meter read 750 miles, so the sum was inching closer to the magic number. But I was never going to enjoy the trip if I obsessed over the readouts. There was still a long way to go. Best to settle in.
Diesel Details, Before and After
The original 3.0-liter EcoDiesel V6 introduced in 2014 produced 240 horsepower and 420 pound-feet of torque, which was great when the truck was empty or towing something like an open car hauler. But its tow ratings weren't stellar. The advertised maximum was 9,200 pounds, but that was a regular cab Tradesman with optional 3.92 gears. A 2014 Crew Cab 4x4 Laramie like mine was rated at 6,800 pounds with standard 3.55 gearing and 8,500 pounds with 3.92 gears.
This second-generation 3.0-liter Ecodiesel V6 is nearly a ground-up redesign that shares few parts with its predecessor. It now makes 260 horsepower and 480 lb-ft of torque, and that torque peak arrives a full 400 revs lower than before. Ram engineers leveraged the extra grunt to replace the former 3.55 standard gearing with 3.21 gears.
These changes snowballed into big fuel economy gains. A 2020 EcoDiesel 4x2 is rated at 26 mpg combined (22 city/32 highway), which is 3 better overall, 2 better in the city and 5 better on the highway. My 4x4's rating of 24 mpg combined (21 city/29 highway) represents gains of 2 more overall and in the city and 3 more on the highway. But it took another change to make this 1,000-mile attempt possible: the big fuel tank was finally added to the EcoDiesel options list.
For all that, tow ratings actually went up just over 1,000 pounds for most variations. A Laramie Crew Cab 4x4 like mine (but without Ram Box) is now good for about 8,010 pounds. The same truck with 3.92 gears is capable of around 9,710 pounds. But the marquee tow rating of 12,560 pounds is a unicorn: a Tradesman Quad Cab 4x2 with 3.92 gearing and a special max towing package they only offer on that truck.
Letting the Miles Roll By
Every Ram 1500 Crew Cab I've driven has been comfortable, but this was especially true of my loaded Laramie with its ventilated leather buckets and highly adjustable tilt/telescope steering wheel. The steering delivered just what I needed on this run: a reassuring sense of straight-ahead, with enough on-center precision to respond to subtle commands without much conscious thought.
Ram's coil-spring rear suspension delivered a thoroughly composed ride, enough that I didn't miss the optional air suspension. That said, I could have used it for its slicker aerodynamics. Trucks with this option have less static rake because they can compensate for payload. They also lower the ride height substantially at highway speeds to save fuel. Of all the options for my truck to not have, why did it have to be this one?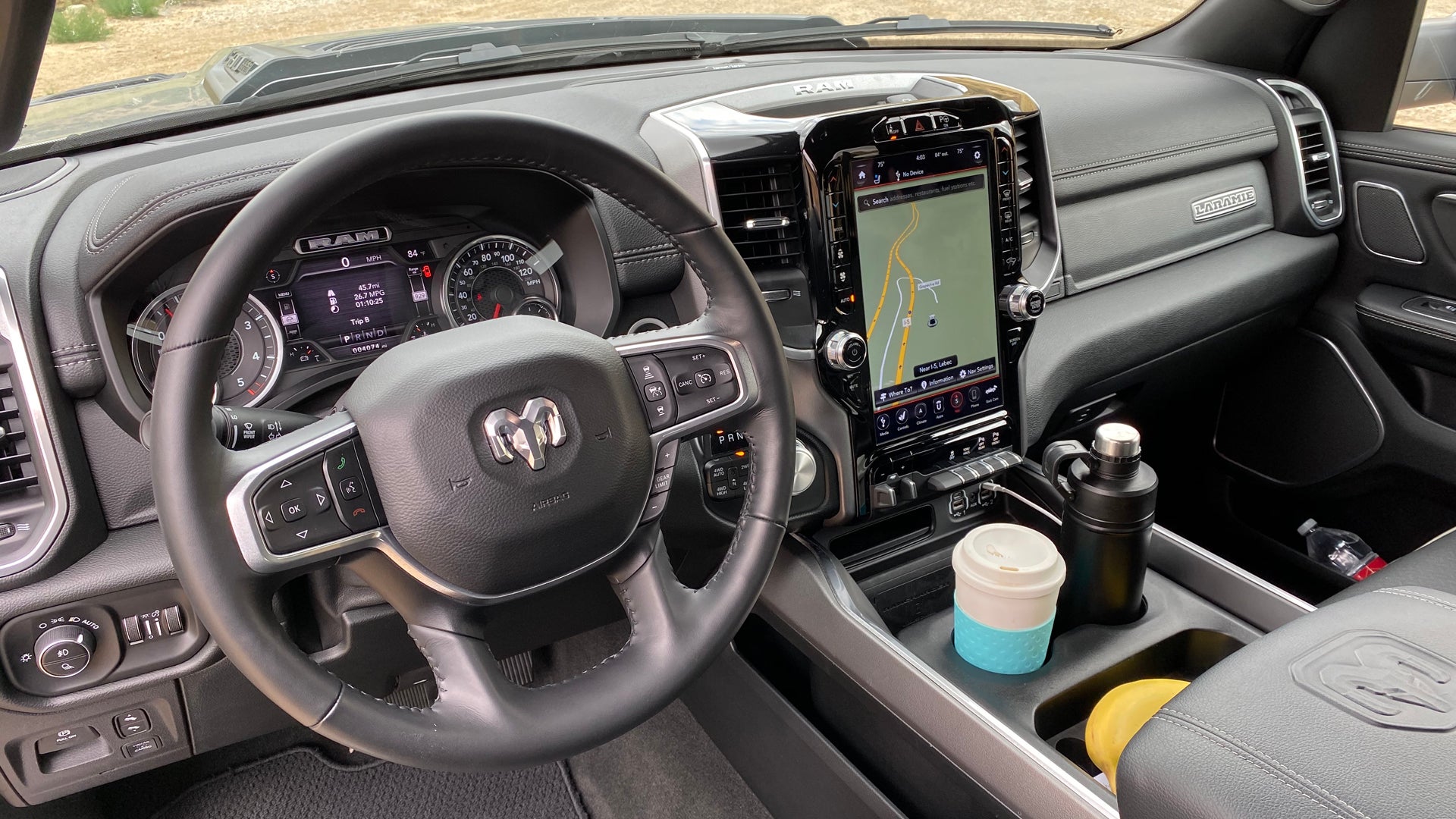 Dan Edmunds
Still, the new EcoDiesel V6 typically purred along at about 1,400 rpm, giving off no clear indication that it was, in fact, a diesel engine. Wind and road noise were generally nil except for an occasional whiff from the mirrors. It was the perfect opportunity to crank up and enjoy the 19-Speaker Harmon-Kardon premium stereo, but I spent most of the time going through my podcast backlog using Apple CarPlay.
We Rejoin Our Test In Progress
The odometer rolled past 300 miles just south of Eugene, and I pumped my fist when I saw 717 miles on the DTE gauge. Things were looking good. But the mountainous part of the journey was still ahead. The miles to the California border would include numerous small climbs and narrow valleys, culminating in a long steep pull up to the Siskiyou Summit.
The 400-mile mark came before I got there, and the ups and downs of the interstate were doing the same with my prospects. The DTE meter now read 587 miles, so I was back in the red as I approached Grants Pass, Oregon. Another hour later I was chugging up toward the summit and tearing my hair out in a construction zone that trapped me behind a conga line of laden 18-wheelers laboring at a cyclist's pace.
Thankfully, I soon cleared the summit and rolled down into California. But the interstate pitched steeply up again to climb another pass before descending once more towards Yreka and on into a high valley with incredible views of Mt. Shasta. Here, the odometer ticked over to 500 miles, while the DTE gauge said I had 482 miles left. I'd lost ground in the mountains, but not as much as I'd feared.
I exited the freeway to chance a few scenic photographs at a clearing I knew, knowing it wasn't much farther until I passed the town of Mt. Shasta and began a long winding descent into California's great central valley. Once at the bottom I aimed for a motel and shut down the engine in the town of Anderson with 591.7 miles on the clock and 441 remaining, a combined total of some 1,033 miles. The final run from here would be essentially flat, so I began to smell victory as I munched on Chinese takeout.  
The Wind Shifts
Morning dawned crisp and clear, but not thirty minutes after I got underway the weather literally turned against me in the form of a stiff headwind. It was so strong that at 700 miles my remaining range was down to 262 miles. At Stockton, I altered my route to increase my chances of success. Interstate 5 would have only a few widely spaced gas stations in what I deemed to be the most likely endpoint. I needed more options.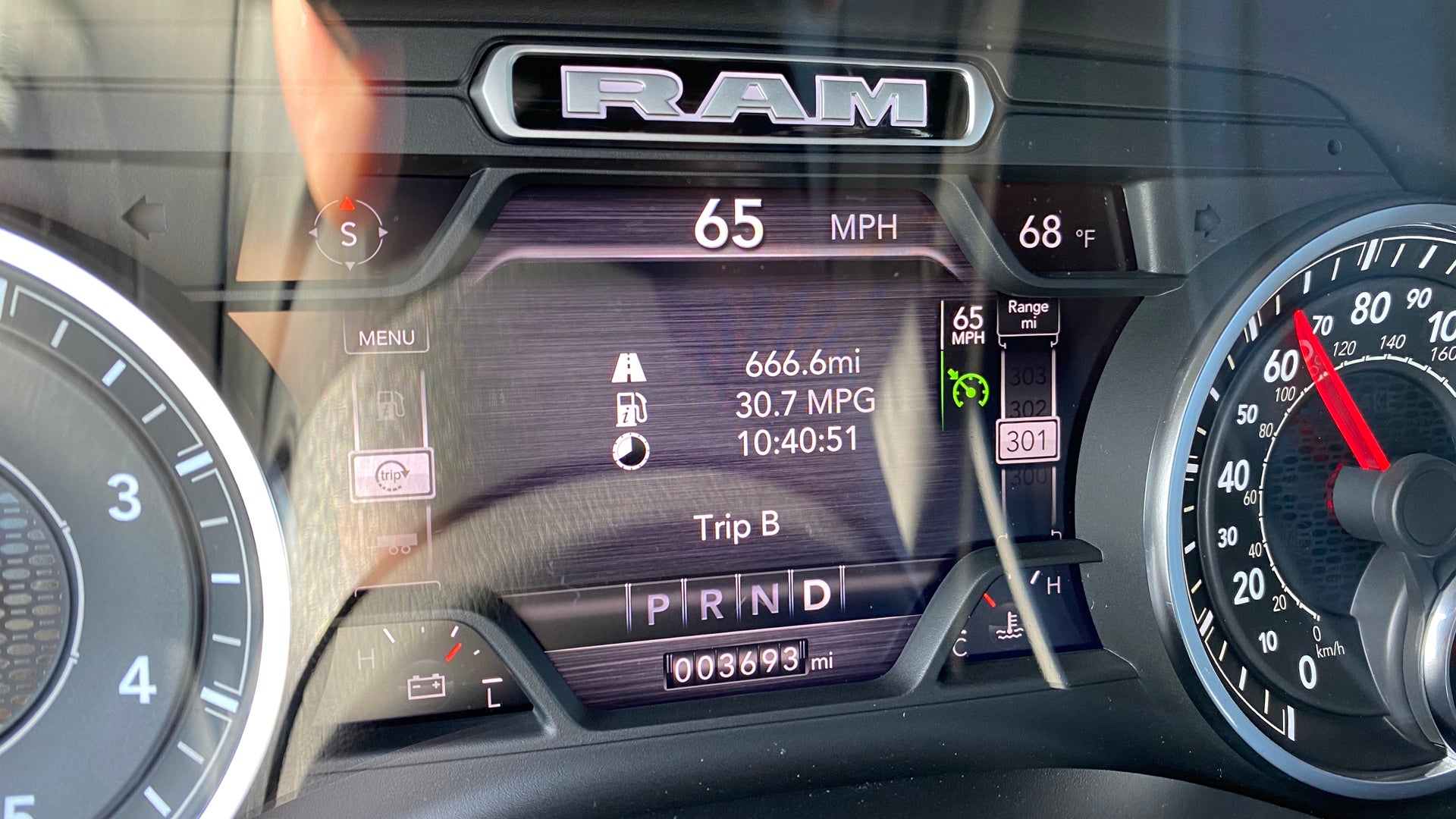 Dan Edmunds
I jogged over to Highway 99, a parallel route that had more potential fuel stops in the critical area north of Bakersfield. This route also had three lanes instead of two, and its speed limits bounced between 65 mph and 70 mph instead of holding steady at 70 mph. The headwind had turned to a sidewind when I arrived at the 800-mile mark, but I still only had 167 miles remaining.
Over the next couple dozen miles the wind continued to shift and became a light rear three-quarter breeze. The numbers continued to improve until at 900 miles there were 101 remaining. I might just make it if things continued like this. But they didn't. The freeway came to a full stop at a construction zone with a two-lane closure. I did not need this. Not now.
Thankfully, that backup only lasted ten minutes, and at 950 miles I still had 61 miles in hand. It was now crystal clear I was going to need to make my stop in farm country with stations spaced about 10 miles apart. But which ones would have diesel? It's farm country, so probably all of them, right?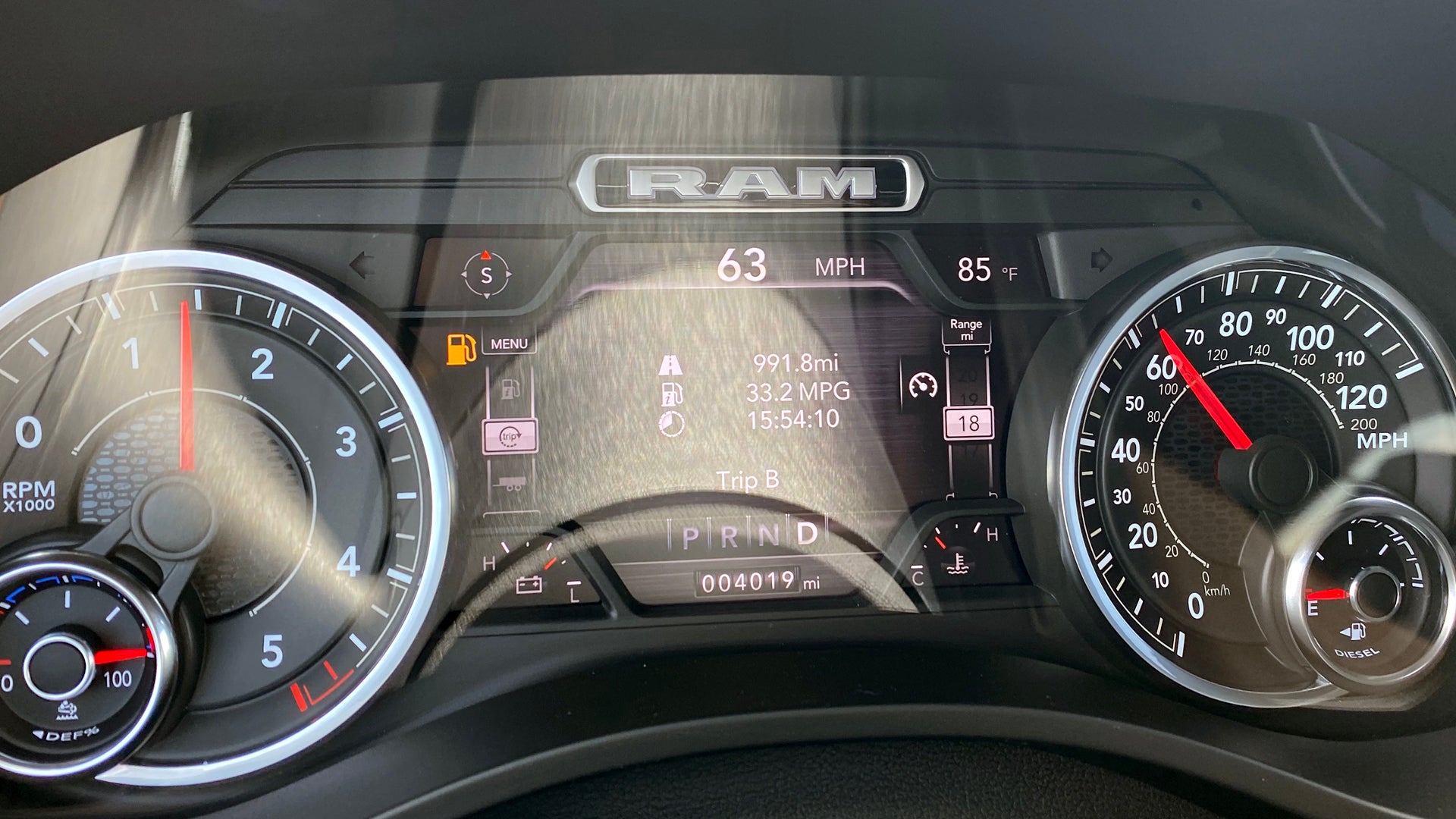 Dan Edmunds
The Final Push
I set my sights on a particular station off of the Merle Haggard Drive exit. It was 55 miles ahead, but the Ram's DTE gauge only displayed 58 miles. Then the low fuel warning came on with 50 DTE miles to go. At 975 miles the truck was showing 38 miles remaining. At 993 it read 17 miles, and not long after that the DTE gauge changed from numbers to the word "LOW."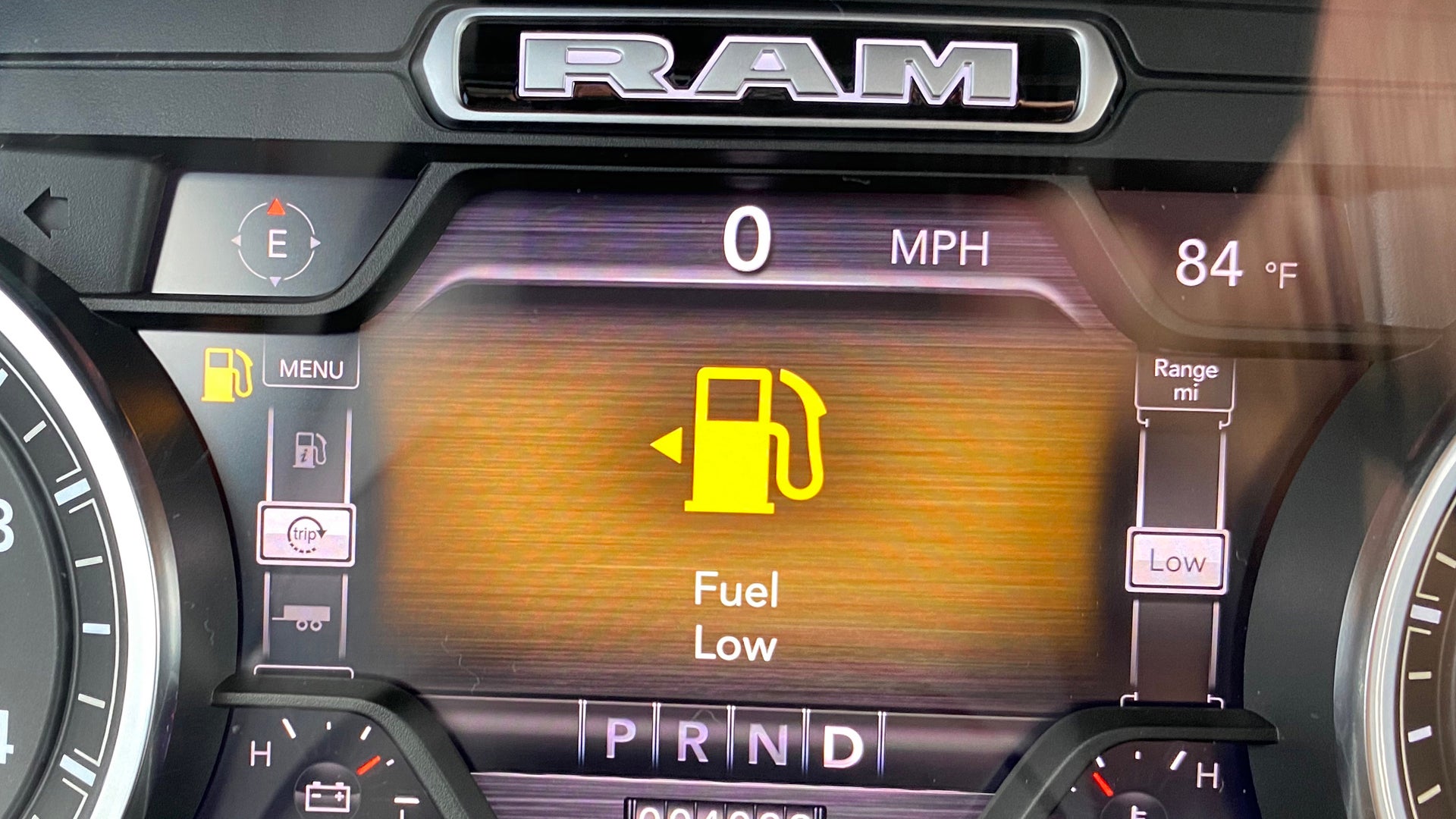 Dan Edmunds
LOW? I was no longer able to estimate my chances of making Merle Haggard Drive. But I'd forgotten about a station at Lerdo Highway, which was only a handful of miles ahead. Did it have diesel? I couldn't remember, having only ever bought gasoline there. And then several things happened nearly all at once.
I passed a "Lerdo Highway - 2 Miles Ahead" sign that had the diesel fuel "D" symbol on it. Then the trip odometer finally clicked to 1,000 miles just a half-mile before the ramp. Merle Haggard Drive was far from certain at this point, so I dove for the Lerdo exit and pumped my fist in celebration.
The station did indeed have diesel, but a couple of F-150s were blocking the pumps. I shut off the engine for fear of running out while I waited for them to come out of the mini-market, but regretted that instantly over fears the engine wouldn't restart. But it did. I crept to a final stop at pump #4 after having covered 1001.7 miles on a single tank.
The best part is I pulled this off with a loaded crew cab 4x4 saddled with the heaviest available options. If this truck could do it, any of them can—so long as they have the optional 33-gallon tank and standard 3.21 axle gearing to pair with the diesel.
Finally Filling Up
Pump #4 clicked off unexpectedly after dispensing just 27.034 gallons. Not enough, surely. And then I saw why: I had reached the station's $100 credit card limit. Fortunately, I had another card handy and was able to restart the pump and dispense another 5.686 gallons. The two figures added up to 32.720 gallons. The tank barely had a quarter-gallon left.
The numbers work out to an impressive trip average of 30.6 mpg. But there was one final gotcha. I re-plotted my actual route when I got home and discovered I hadn't covered 1,001.7 miles after all—Google Maps says my 2020 Ram 1500 EcoDiesel 4x4 had traveled all of 1,012 miles on a single tank. That's roughly Portland, Oregon to Disneyland with a dozen miles left over. 
And after I filled up in Lerdo, the truck's onboard computer grew even more confident, projecting over 1,030 miles from the topped-off 33-gallon tank.
Dan Edmunds
Would I do this again? Not like this. I'd gladly drive anywhere in one of these because the Ram 1500 EcoDiesel is comfortable, quiet, and tracks as straight as anything. But next time I would tank up wherever I stopped for the night, because unless you're in the middle of nowhere, why wouldn't you?
And that's just it. You may not be motoring across a third of the country every day, but the impressive real-world mileage means that one fuel stop at the end of a long road trip day is all a Ram 1500 EcoDiesel would ever need—maybe even when towing. That's a helluva thing.
Got a tip? Send us a note: [email protected]