The 21st NASCAR Cup Series win of Joey Logano's racing career was his biggest. The 28-year-old Team Penske driver triumphed at the Ford EcoBoost 400 season finale race on Sunday at Homestead-Miami Speedway, and with that win came the title of 2018 Series champion.
"We did it! We won the championship! I can't believe it! I don't know what to say," Logano said. "This team, Roger Penske, Todd Gordon, the pit crew. Oh my God, they gave me the car I needed at the end to do my job. Put me in position to do my job. I couldn't be more proud of them."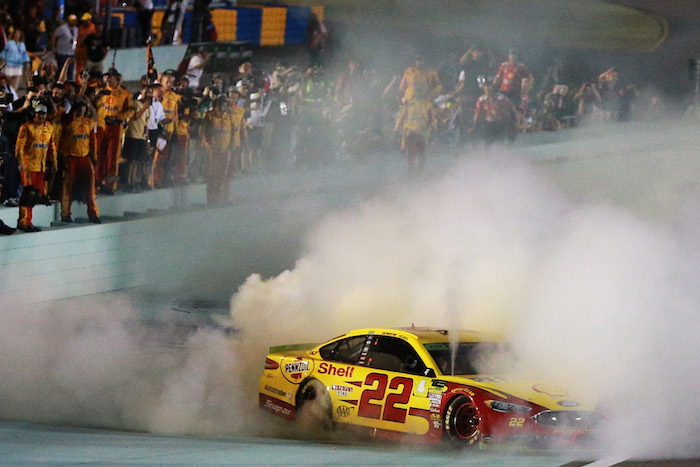 Getty Images for NASCAR
, Joey Logano celebrates a race win and NASCAR championship simultaneously at Homestead-Miami Speedway on Nov. 18, 2018.,
The championship is Logano's first in NASCAR's premier series, the first for Ford since 2004, and the second ever for Team Penske.
"Just a lot of screaming. I think I pulled a muscle," Logano said. "Man, I worked my whole life to get here to win a championship. We have been so close. It has been 10 seasons of fighting for this. I wasn't sure we were going to get it but Todd [Gordon, crew chief] made a good adjustment at the end and we had that no-quit attitude."
Logano's win also sealed the manufacturers' championship for Ford, the first for the company since 1999.
"It means a lot to me personally to have both the drivers' and manufacturers' championship," Edsel B. Ford II said. "It has been since 1999, and I was there with Robert Yates and Dale Jarrett. Doing it again, 19 years later, it is absolutely indescribable to me."
The four championship contenders were the top-four in the race finishing order, with reigning series champion Martin Truex Jr. taking runner-up honors in the final race for his No. 78 Furniture Row Racing team. Kevin Harvick was third and Kyle Busch finished fourth.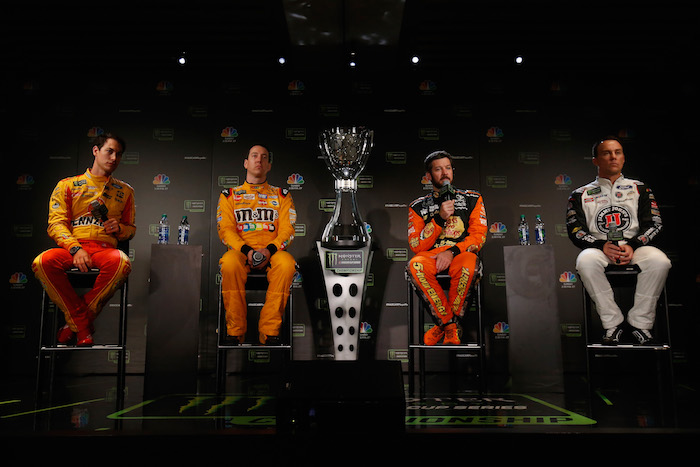 Getty Images for NASCAR
, The 2018 Monster Energy NASCAR Cup Series 2018 Championship Four Drivers [L to R] Joey Logano, Kyle Busch, Martin Truex Jr., and Kevin Harvick answer press questions in Miami on Nov. 15, 2018.,
Logano took his race-winning lead from Truex Jr. on Lap 255 of the 267-lap race. Truex Jr. had taken the lead on the final restart with 15 laps to go, and he and Logano battled closely for the remaining trips 'round Homestead.
"I just needed time. That's all I needed," Truex Jr. said. "They were faster than us for 15 or 20 laps all day long. It was like a reverse scenario from last year. Last year we took advantage of the short run car at the end – the 18 [Busch] car should've won the race, and tonight, we should've won the race and they [Logano] took advantage of the short-run car. I don't know what else we could've done. Honestly, we worked our guts out all weekend and just to get here. I told you earlier we shut a lot of people up and made them eat crow, and that felt good. To come here and almost upset the field and almost win it back-to-back was really awesome. I just wish that last caution hadn't come out. Other than that, I don't know what we could've done."
The four title candidates ran inside the top-10 throughout the race. Harvick was the winner of the first 80-lap stage after taking the lead from polesitter Denny Hamlin on Lap 43. 
Kyle Larson led most of the second stage while battling with Harvick, eventually taking the Stage 2 victory. Larson wound up hitting the wall later in the race, bringing out a caution on Lap 193.
Logano began the final 107-lap stage up front. He and Truex Jr. both led before a Busch pit strategy of staying out during a green-flag cycle of stops began on Lap 229, hoping for a caution. Busch got the yellow flag he was hoping for when Joe Gibbs Racing teammate Daniel Suarez suffered a flat tire on Lap 248.
Busch's No. 18 JGR team struggled on pit road to that point, with Busch losing multiple positions during a handful of stops. On its final stop, though, the No. 18 team retained Busch's lead. Busch lost that lead to Truex Jr. on the final restart with Logano decisively commandeering the position to gain his inaugural Cup Series trophy.