Kenny Rogers, the legendary musician and all-around entertainer, was 81 years old when he passed away of natural causes in his Georgia home Friday. While he was well-respected for his role in bringing country music to the mainstream, some also knew him for his hand in motorsport—more specifically, dirt track racing. In fact, he garnered a cult following after the release of his racing-themed dramedy Six Pack, and Rogers even lent his name to a company that built hugely successful World of Outlaws sprint cars during the '80s and '90s.
Long before John Travolta highlighted the sport of dirt racing in his straight-to-digital film Trading Paint (you can skip that one if you want), Rogers was tearing up short ovals in a 1970 Chevrolet Camaro late model as Brewster Baker. He starred alongside Oscar nominee Diane Lane in Six Pack, playing a down-and-out driver whose luck was turned around thanks to his unlikely pit crew ran by six race-loving kids. Through this, he developed a massive grassroots fanbase that followed him to the real WoO circuit. 
Rogers paired up with Sprint Car Hall of Famer C.K. Spurlock and campaigned his own team for several years before the two formed Gambler Chassis Company. Taking its name from Rogers' famous song The Gambler, this project was anything but a gimmick. The company would go on to win races with stars like Steve Kinser, Sammy Swindell, and Doug Wolfgang behind the wheel. Simply put, Gambler cars were consistently some of the fastest in the United States, taking victories at primetime events like the Knoxville Nationals.
Gambler-branded machinery even gained fame on an international level as Garry Rush and Steve Brazier drove them to several Australian Sprint Car championships.
Here's a 1980 Gambler that popped up for sale a few years back: 
Collectors around the States vie for Gambler sprint cars while maintaining their legacy within the sport. Given how tight-knit the open-wheel dirt community is, many can still be tracked down to this day with tidbits of trivia that make each one unique. None of this would've been possible without Rogers, who not only wrote the check to have these cars built but also turned up at the track to watch them compete on a regular basis.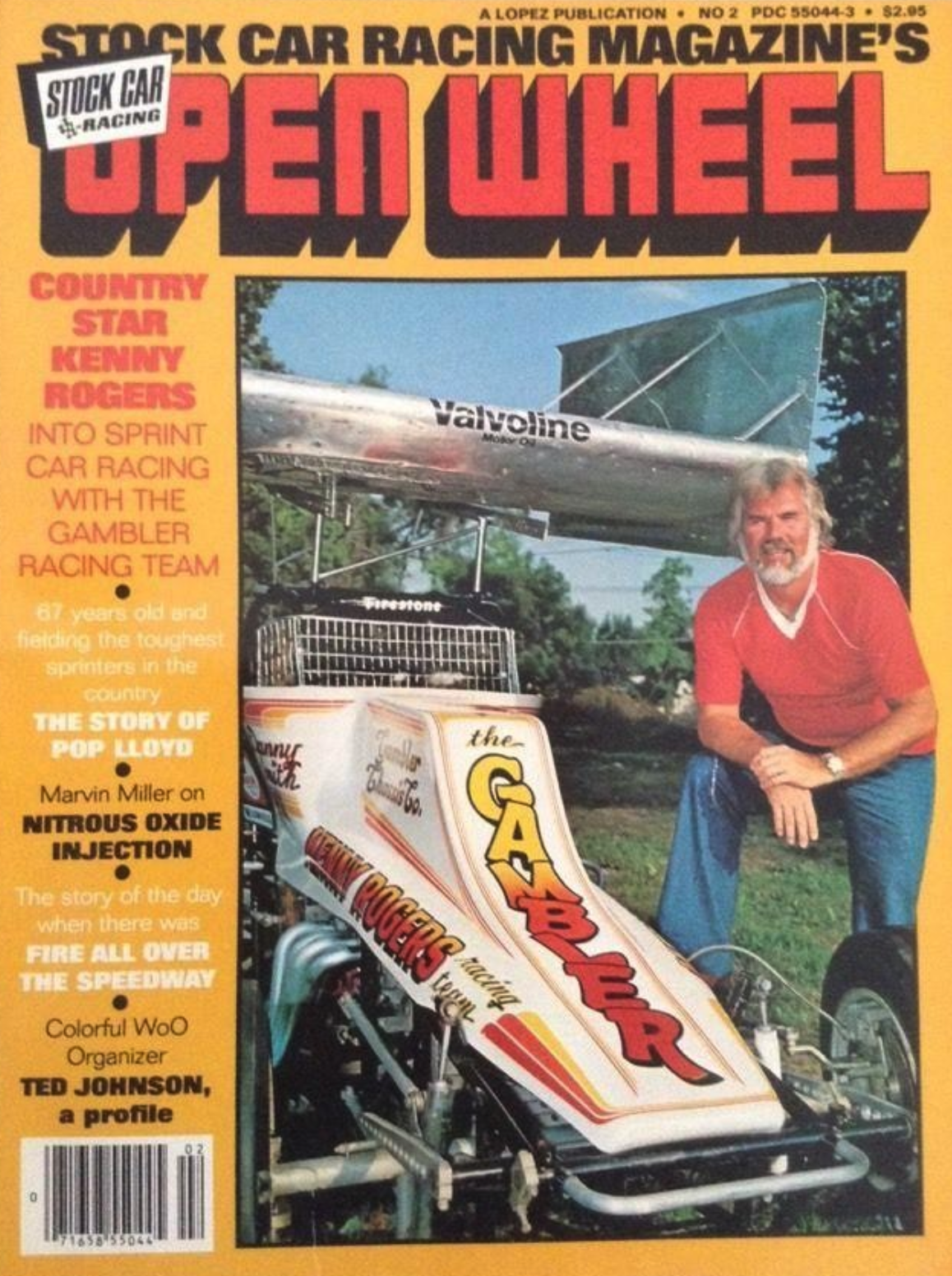 Rogers on the cover of Open Wheel Magazine in 1980., Courtesy of Open Wheel Magazine
While everyone else is playing Islands in the Stream to honor Rogers this weekend, dust off your VHS player and find some classic World of Outlaws tape. They're all pretty great—and Six Pack ain't half-bad either.
Got a tip? Send us a note: [email protected]