With no spectators in sight, the 24 Hours of Le Mans of this year was always going to be Toyota's route to victory for the third time, unless something went unbelievably wrong like back in 2017. Yet while the trio of Sébastien Buemi, Kazuki Nakajima and Brendon Hartley managed to push their No. 8 Toyota TS050 Hybrid five laps ahead of the second LMP1 machine driven by Bruno Senna, Gustavo Menezes and Norman Nato, Rebellion Racing's second place overall meant that the No. 7 Toyota had to settle for third, one lap behind the Swiss entry. Rebellion Racing also grabbed fourth with its other Rebellion R13, leaving LMP2 winner United Autosports and their Gibson V8-powered Oreca 07 at fifth 17 laps behind the leading Toyota.
The LM GTE Pro and Am crowns were both taken by Aston Martin Vantage AMRs, which is truly splendid news for the financially troubled carmaker that's all set to enter Formula 1 next season by re-branding Racing Point while we wait for its trio of mid-engine concepts to reach production. Mind you, the 1,160-horsepower Valkyrie hypercar remains the creation of Red Bull's Adrian Newey, meaning that the termination of their partnership at the request of the new Aston ownership can't be helping. Plus, Aston Martin won't be sending the Valkyrie AMR to race in the World Endurance Championship in 2021 despite that being the plan earlier into the program.
As the smaller tire supplier of the two, Goodyear came sixth overall with the second LMP2 Gibson V8 Oreca 07 ran by the Jota team, while Ferrari's AF Corse 488 GTE Evo had to settle for second between the two Aston Martins in LM GTE Pro, also taking fourth. In the GTE Am class of Le Mans, Aston Martin's Vantage was followed by the #77 Dempsey Proton Racing Porsche 911 RSR, with AF Corse crossing the line in third.
When it came to the American teams, two ran into significant trouble. Texas auto dealer Ben Keating's Porsche 911 RSR crashed into a spinning LMP2 car in the fifth hour, finishing at 14th in the GTE Am class afterward. WeatherTech's No. 63 Ferrari also got too close to an LMP2 contender, leading to a last-place finish in GTE Pro.
The all-female Richard Mille Racing LMP2 team saw the trio of Tatiana Calderón of Colombia, Sophia Flörsch of Germany and Beitske Visser of the Netherlands at ninth in class after 24 hours, which is a huge achievement considering that no female team has competed in a class as high as LMP2 before. The Women in Motorsport Commission was created in 2009 by the FIA and 11 years on, its work resulted in a 13th overall for the ladies. The Commission is led by Michèle Mouton, who led an all-female crew to victory at Le Mans in the two-liter prototype class in 1975, driving a Simca-powered Moynet LM75.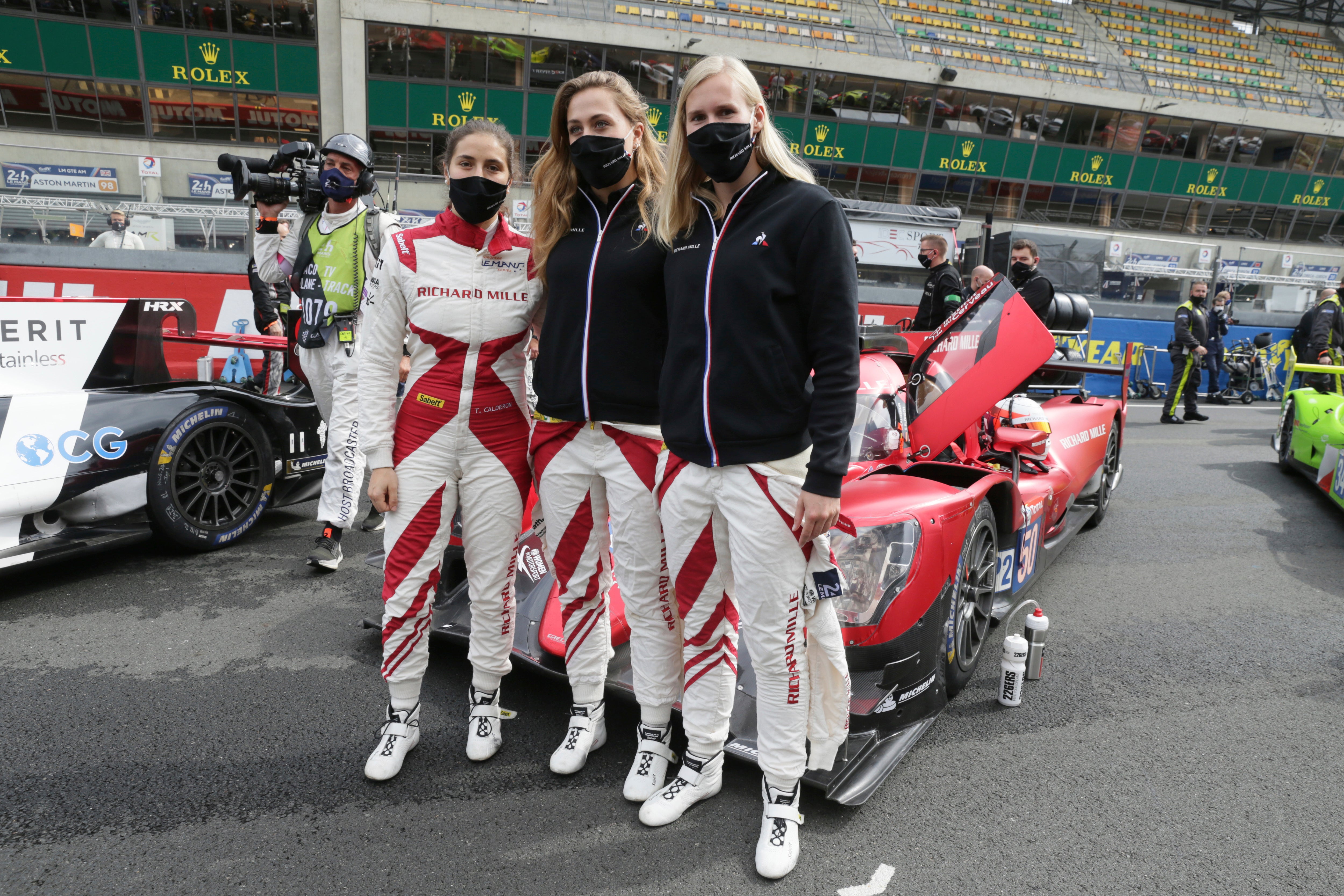 AP Images
The 24 Hours of Le Mans will be back in 2021 for its 89th running, hopefully with spectators to cheer for the new Hypercar (LMH) class. The excitement is already in the air, while 2020's WEC season finale will take place in Bahrain in November. After that, Toyota should be pretty close to launching its road-bound hypercar based on the retired TS050 HYBRID, the GR Super Sport.
Got a tip? Send us a note: [email protected]