McCarren Park, Williamsburg, Brooklyn.
I'm living in an RV. I go from street to street and park to park. I've sublet my apartment in Brooklyn—one with sinks and Verizon FIOS and toilets that flush—and set up shop in a recreational vehicle. Specifically, it's a motor coach, which is the type of RV where the driving space is part of the living space, like Willie Nelson's touring bus, only smaller, and without all the kind bud. In the RV universe there are also Class B, B+, and C, as well as pop-up campers, truck campers and travel trailers. I like motor coaches because I can go from the bed to the steering wheel without getting dressed. That's always been a fantasy of mine. In a couple weeks, I'm moving into a fancy travel trailer. That'll be nice too. I'll keep you posted on that.
The Thor is my first motor coach, and it's a lot of coach for a novice to handle. This is the smallest of the big boys—the Class A—an 11-foot tall, 25-foot long house-on-wheels fresh off the factory line at Thor Motor Coach in Indiana. This is one of Thor's primo Vegas line coaches. It has a Ford Triton V-10 engine, three widescreen TVs (one of them is outside), a microwave, shower, toilet, a 30-amp generator that can power everything for as long as there's gas in the tank, and a propane-powered stove/refrigerator/freezer set up. 
Above the driver's seat: a deployable double bed. In the rear: a queen size bed that extends 3-feet out the back when I'm parked. I've only tried the queen size. It's nearly as comfortable as my bed at home. But not really all that close.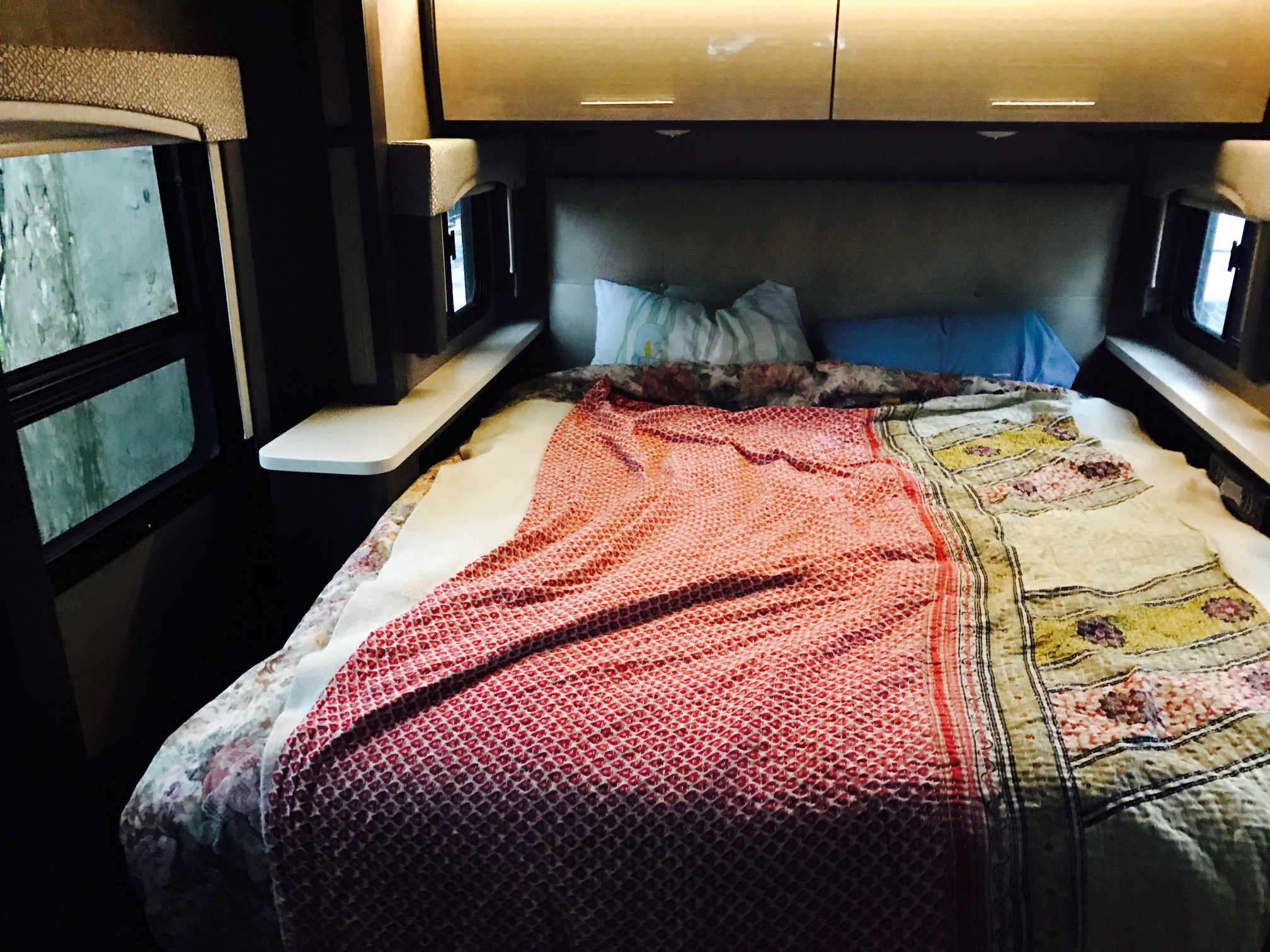 The Queen size bed, rear., Carl Groenick
There are curtains, drawers for candles, knives and flashlights, hangers for my shirts. I found a nook for my Martin acoustic guitar, so it'll stay in place when I drive around and be ready when I need to strum a sad song early in the morning. The mirrors have little clips that I can stick pictures of my friends and family in.  
I'm going to spend the summer living on the streets of New York City in this Thor, a boxy oasis of Carl that I will park between the patter of sidewalk pedestrians on one side and the steady beat of bikes, cars, trucks and city buses that sometimes pass so fast they side-draft the Thor and it feels like a stiff wind.
On this first night, a rainy one, the last one in May, it is cold as April outside. I had dropped anchor along McCarren Park, in Williamsburg, Brooklyn, near the building where I actually have an apartment, and run outside to one of the nine small compartment doors that open along the Thor's exterior to open the propane valve. Back inside, the furnace ignites. The drivers and passenger seats both swivel, and I set them to face the living room and to make it feel more like a home. I play the Allman Brothers Band on a bluetooth speaker because Gregg Allman just died, and I know he spent most of his life on the road, in one type of RV or another. Then I start to think about everything I don't know about this strange house on four wheels.  
I make a list of a couple things that I'm worried about right off the bat, in no particular order:
1. The Blackwater Tank
This is where the evil lives. I grew up in brick-and-mortar housing with sewage that taps into the city lines and in boats where toilets flush basically straight into the ocean. You do your business, it disappears, you light a match. Problem solved before you knew you even had a problem. In the Thor—as in every RV—there is a tank attached to the vehicle that collects all the stuff you flush down your toilet. That scares me.
2. Dirt
Beyond my threshold is the city, and all its filth and noise. There is no doorman, no permanent welcome mat. Tonight I'm debating whether to open the windows on the street side, on account of the exhaust fumes from the cars going past. I'm also wondering, perhaps a little wistfully, if I arrange for routine maid service in an RV. Surely there's an app for that? 
3. Security
I'm no scaredy-cat, but I'm no hero either. The door on the Thor is solid, and the windows are, well, windows. But I'm at street level for the first time in a few years, and the city has a way of reaching out and messing with you when you least expect it. So I'm thinking about security, about keeping valuables out of sight and out of the RV altogether.   
4. Running out of stuff
There is a bank of four batteries under the stairs that power the lights, water pump, radio and various other things. There is also a finite water tank. I'm not that worried yet. But I'm not planning on getting hooked into city electricity or water, so conservation overall is something I have to think about for the first time in a while. This is entry-level eco-living. I'm a wasteful guy, in a way. I like a long steamy shower.
5. Parking 
Who knew it was legal to park an RV in New York City? Not me, until I was suddenly living in one and it seemed like an important detail. The good news is, on this stretch of Bedford Avenue, the sides switch at 3 am. So I can set my alarm for 2:50 am, crawl to the wheel in the my skivvies, swap sides, and crawl back into bed. 
6. My sanity
This house-on-wheels is not my home. It is an exquisite bridge from one life to something else. Who knows? It is what Thor calls "the only Recreational Utility Vehicle." And it is quite nice. More than enough space for a free American to see the peaceful countryside. In the city, things aren't so simple. On the one hand, if I dislike my neighbors, I can crawl up to the wheel, fire up the Triton, and find new neighbors on another block. On the other hand, the neighbors comprise the entirety of New York City, which has 8 million people. And I'm not much of a people person. 
There's a much longer list forming in my head. There are a lot of hows and whats that go along with the mysterious why I'm living in an RV in NYC. I'll get to them as I go. Meanwhile, it's day 1. I haven't used the toilet yet, and I'm set for alternate side parking for another 48 hours. Here we go.
Read day two: Born to Park, or Why NYC Dwellers Love RVs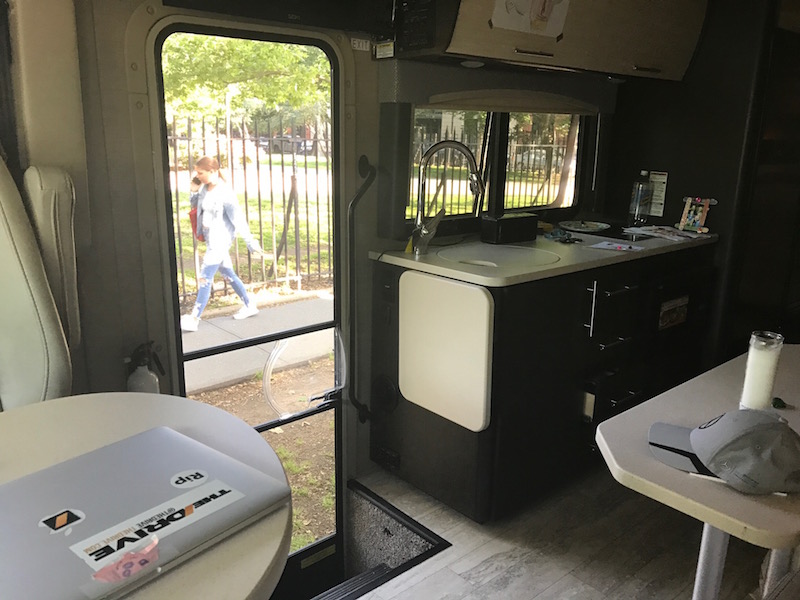 Carl Groenick / TheDrive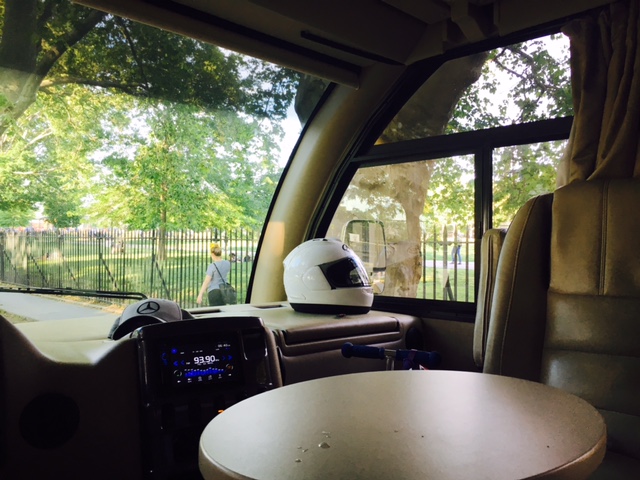 Carl Groenick