Mercedes-Benz's latest addition to the lineup, the 2017 Mercedes-AMG C43 Coupe, serves as the less-caffeinated sports coupe in the souped-up C-Class family. It's less intense than the C63 AMG, the driving equivalent of brewing doppio espresso with a lighter and spoon and injecting it into your veins.
Like the Mercedes-AMG C43 sedan (which, confusingly, is currently called the C450 AMG) the C43 coupe gets its pep from a twin-turbocharged 3.0-liter V6 tuned to crank out 362 horsepower and 384 lb.-ft. of torque. (The name is strictly nostalgia for the AMG version of the W202 C-Class, which actually was powered by a 4.3-liter V8.) Using the traditional definition of "one man, one engine," this mass-produced motor isn't technically an AMG mill. Still, while not as special as the engine beneath the hood of the big-bore 63s, according to Mercedes it's still strong enough to kick the C43 coupe from 0–60 in 4.6 seconds—a full 1.5 seconds faster than the old C43, which did feature a hand-made motor.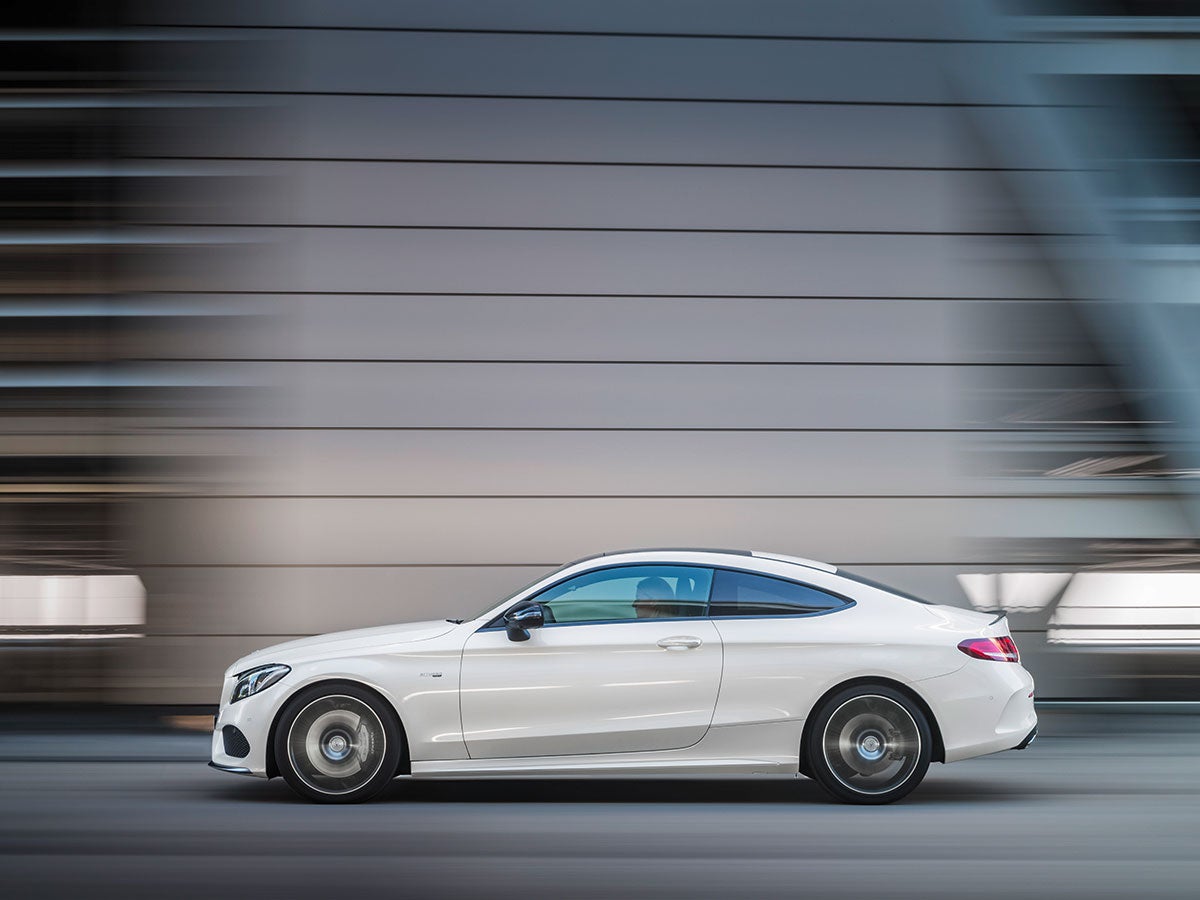 Of course, some of the credit for that rapid acceleration has to go to the engine's partners in crime: the AMG-tuned all-wheel-drive system and nine-speed automatic transmission. The AWD defaults to a 31 percent front/69 percent rear torque bias, ensuring the car feels at least somewhat rear-wheel-drive. The 9G-TRONIC transmission was tweaked to provide rev-matching downshifts, and like many of today's transmissions it can leap down multiple gears in a single bound. It also offers a manual mode, but with so many gears to choose from shuffling between cogs yourself goes from "involving fun" to "busy work."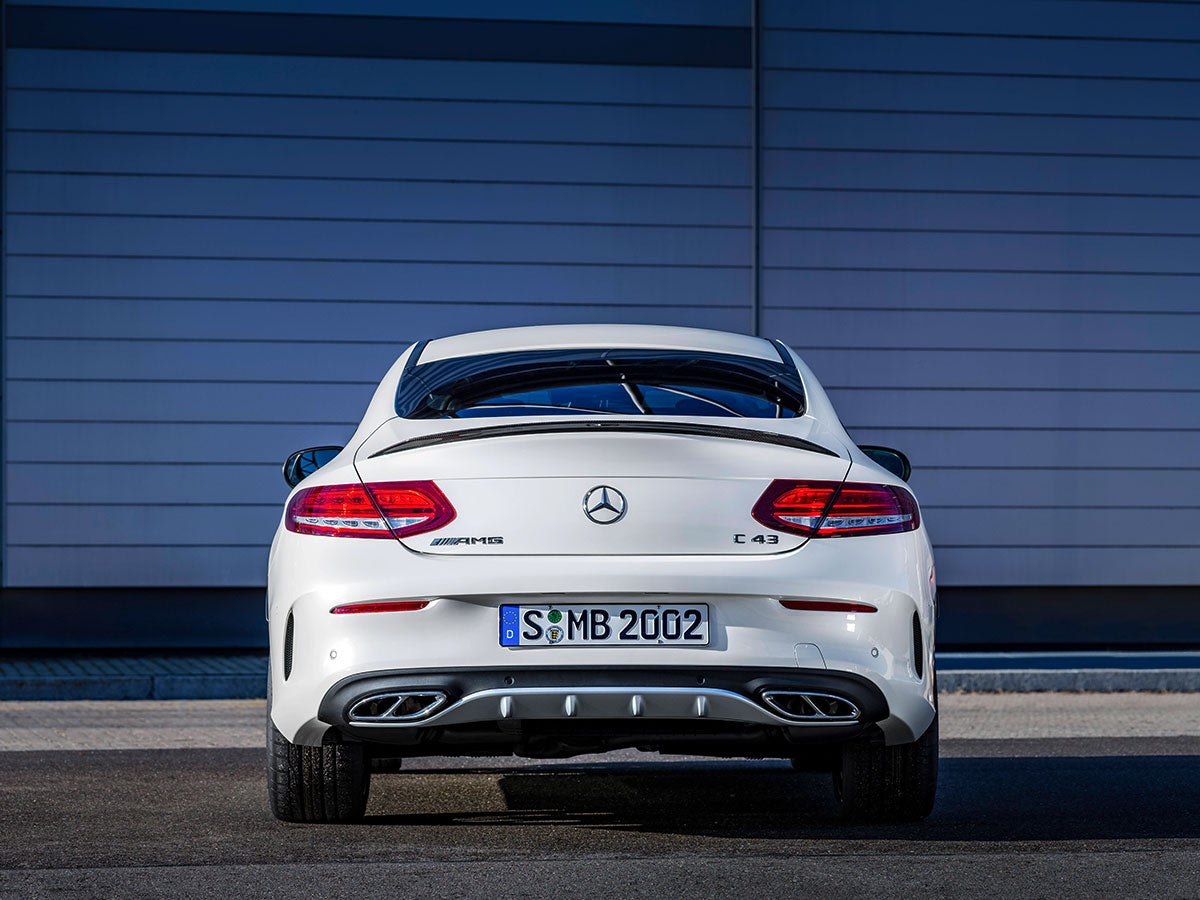 The C43 should handle turns like the mid-level AMG it is thanks to a revised suspension that utilizes negative camber on both axles, special steering knuckles and load-bearing joints up front, and a suspension that switches between Comfort, Sport, and Sport Plus modes with the touch of a button. Guess which part of that sentence C43 buyers will think about most?
The "C63 lite" treatment extends to the car's styling. Quad tailpipes, aggressive front air intakes, a chrome front splitter and a bright rear diffuser give it the visual panache the average buyer expects from an AMG. Cognoscenti will know it's not a full-blown C63—the single-bar grille and lack of flared haunches give it away—but the overall look is bold enough to show up those basic bitches in their A5s and 4 Series.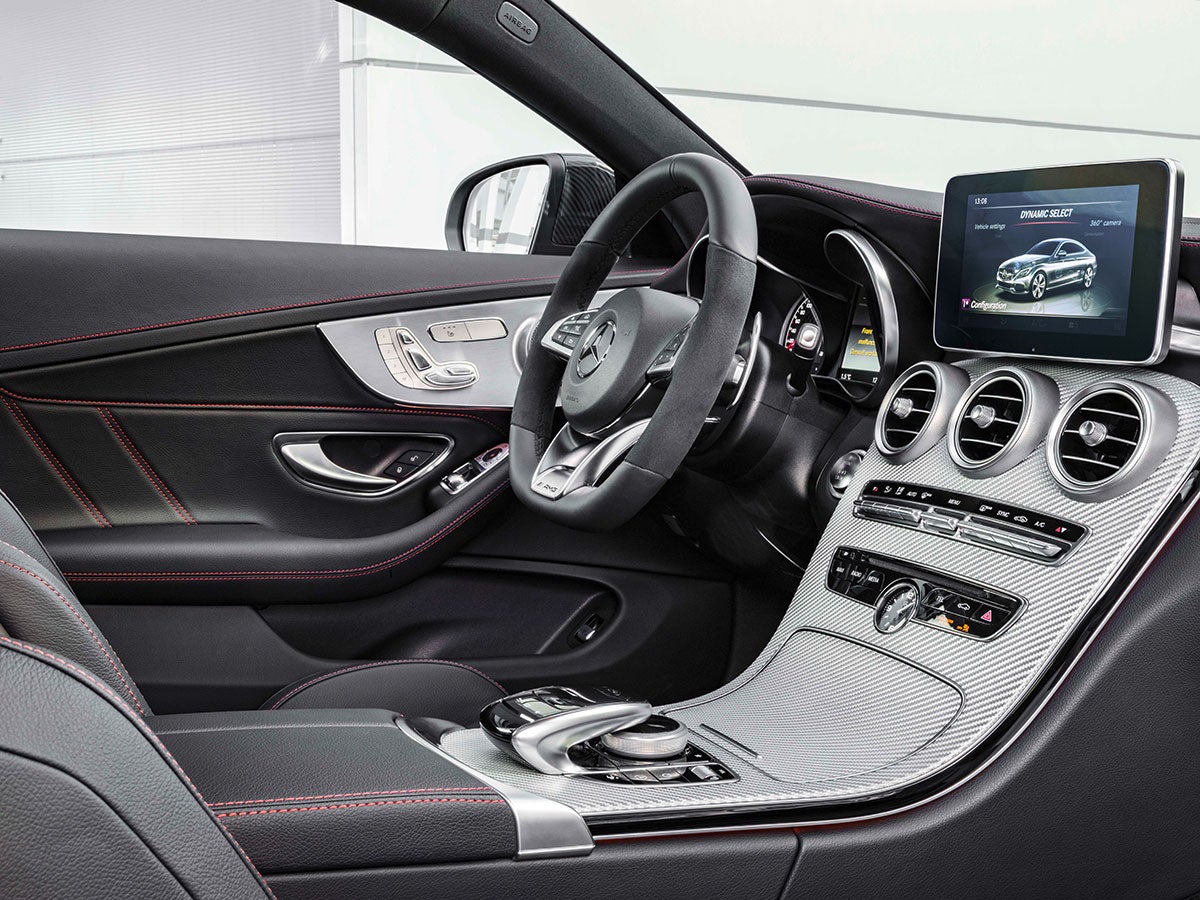 Sure, it's no C63. But for the large number of buyers out there mostly interested in looking good and winning the occasional streetlight drag race, the C43 is just right.