When Mercedes-Benz unveiled their new family of inline four and six-cylinder engines last fall, car enthusiasts were thrilled for a return to the heyday of silky-smooth powerplants, and an end to the autocratic rule of the more economical "V" configuration that's dominated the performance market for the last two decades. But at the time, Mercedes was very upfront about the fact that this new engine family was "systematically designed for electrification," not to appease the nostalgia of a bunch of rabble-rousers. 
And now the brand's ultimate intentions are becoming clear. According to a report by Wheels, Mercedes-AMG will be unveiling a new "53" hybrid powertrain in the 2018 CLS four-door coupe, featuring a turbocharged version of the M256 inline six tuned up to 430 horsepower added to a 70-horsepower electric motor.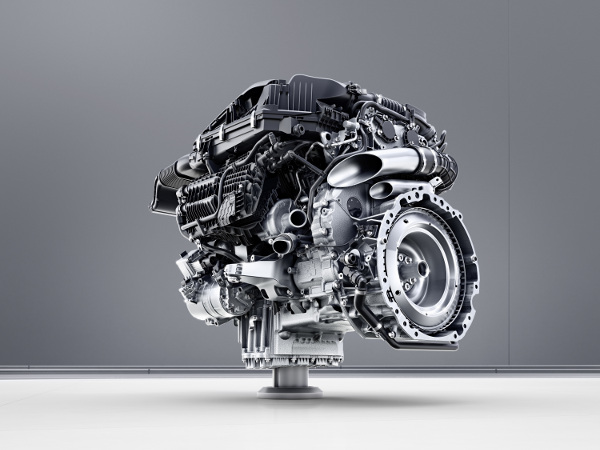 Picture this, plus electricity and some go-fast bits., Mercedes-Benz
Those numbers mean the new CLS53 will be more powerful than the current Mercedes-AMG E43 and its turbocharged V6, putting it right on the doorstep of the 503-horsepower C63 S. The -53 powertrain will reportedly replace the -43 models as the "entry-level" AMG when it debuts, slotting below the rollicking twin-turbo V8 found in its top-of-the-line cars.
A source told Wheels that these won't be plug-in hybrids, and won't be able to drive purely on electric power. Instead, the electric motor will likely comprise a "mild" hybrid system that assists the gas engine under load and recovers energy through some form of regenerative braking.
Expect the 53 designation to make it to AMG models of the E-Class sedan, coupe, and convertible, as well as the S-Class sedan. Wheels's source also hinted at the powertrain eventually making its way to the GLC, GLE, and GLS sport-utes, though some of the smaller models could reportedly lose the hybrid component to cut down costs.