Everyone's hopping on the performance SUV bandwagon, and Mitsubishi's submitted its own idea for what this ought to look like, a concept vehicle aptly named the Vision Ralliart Concept. It is billed as an electrictrified vehicle, and it will debut at the 2022 Tokyo Auto Salon this week.
[Ed. Correction: We previously stated that this vehicle is fully electric, but it is actually based on the Japan-market Outlander PHEV.]
Car: Mitsubishi Vision Ralliart Concept
Location: Unknown
Photog: Unknown (used with permission from Mitsubishi)
Camera: Unknown
Based on the plug-in hybrid Outlander, this brute features styling that's quite homogenous among the rest of the brand's lineup, and that's not a bad thing. Personally, I dig the sharp headlights and massive fog lights, which is all tied together with a grille that sort of looks like a fat and stretched-out letter "H."
There's no word on performance figures, as this is merely a concept, but it is said to have "powerful torque," so it'd likely be quicker than anything else currently in the lineup. Mitsubishi does seem to have performance driving in mind given its Ralliart branding. That's further shown by the big 22-inch wheels, large brakes, and widened stance.
Cool stuff indeed. It'd be neat if they developed something a bit smaller to utilize Ralliart tuning and EV performance, like a new Lancer Evolution. But hey, enthusiastic tuning is enthusiastic tuning. Like several other brands, the future of Mitsubishi will likely be electrified crossovers and SUVs with performance variants and sport visual upgrades.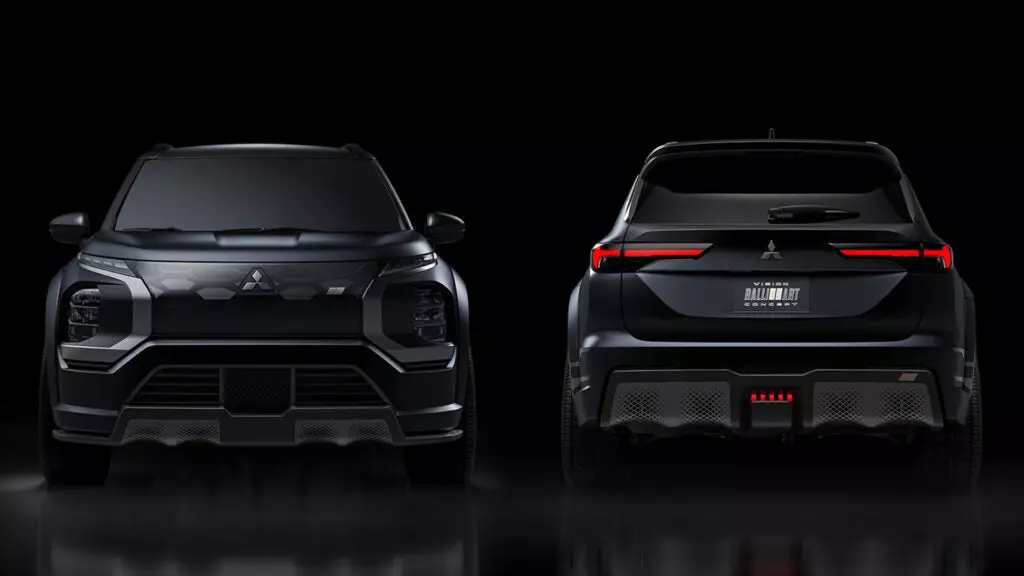 What to read next:
Car Autance launched a new series, Car Confessions and Hard Lessons. In the second installment, Matt Farah explains why ignoring his own advice on a vintage Ferrari cost him $10,000.
Kevin Williams explains why his Mazda 3's sticky melted dashboard left him infuriated with technical service bulletins.
VinFast is looking to enter the U.S. market, and the upstart Vietnamese automaker might be using an old Ford playbook to grab your attention.
This $1,902,000 Porsche is now the most expensive car ever sold on Bring-a-Trailer. Can you guess what it was?
Toyota got the Initial D creator to illustrate a GR86 commercial, and it's pretty incredible as far as advertisements go.