Last month, Tesla reported its third-quarter earnings to investors and surprised the world by posting an astonishing profit of $312 million. Friday, Tesla published its quarterly 10-Q filing with the United States Securities and Exchange Commission (SEC) which revealed that approximately $189 million of the total profit may have originated from the sale of regulatory credits, not necessarily revenue from product sales.
In the United States, at least 10 states (including California) require automakers to produce a certain number of Zero Emission Vehicles. If the automakers do not produce the required number of vehicles which fit the criteria, they are able to purchase credits from automakers who have. In this case, Tesla only manufactures zero-emission vehicles (ZEVs), thus possesses a staggering number of credits.
Essentially, these credits are pure profit for the automaker, however, due to their nature of being government mandated and the controversial rollback of EPA regulations effectively threatening to gut the Corporate Average Fuel Economy (CAFE) standards, this credit may not always be a money maker for Tesla.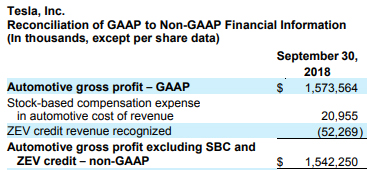 Tesla's published earnings report shows $52.3 million in ZEV credit sales, Tesla
Per Tesla's quarterly 10-Q SEC filing, which measures the performance of a publicly traded company:
"ZEV credits sales were $52.3 million and non-ZEV regulatory credits sales were $137.2 million in the three months ended September 30, 2018, compared to $0.6 million ZEV credit sales and $19.5 million in non-ZEV regulatory credit sales in the three months ended September 30, 2017."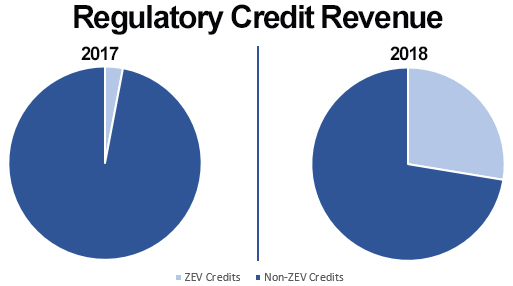 ZEV vs Non-ZEV regulatory credit revenue for 2017 vs 2018, Data via Tesla
Regulatory credits are not linear when compared to revenue over a set period of time. This is due to ZEV and many non-ZEV regulatory credits, which Tesla also sold, having a non-finite leniency of cash-out. Tesla could theoretically opt to hold the sale (and therefore recognition of the revenue generated) of regulatory credits from quarter to quarter, then cash them out in one lump sum. As shown above, the revenue posted from ZEV and non-ZEV credits are imbalanced from year to year, which could indicate either claims for additional non-ZEV credits or holding credits to pad profitable earnings.
In Q3 2018, Tesla delivered "almost 70,000" units to the United States (56,065 of which were Model 3s), and a total of 83,775 combined units worldwide. Comparatively, in Q3 2017, Tesla delivered 26,137 vehicles (222 of which were Model 3s) but did not designate the market differential in its earnings report. This would lead to an inflation from $22.96 to $624.29 per vehicle in regulatory credits.

via Tesla's SEC 10-Q
Additionally, Tesla reports that one entity represents 10 percent of its total accounts receivables; meaning that an entity is on Tesla's books for nearly $115 million in revenue; that kind of money could buy a fleet of between 1,666 and 2,346 Model 3s. It is unknown at this time if this is a bulk volume purchase from a company, a generous credit provided to Tesla from one of its vendors, or a completely different scenario altogether.
Though a valid form of profit, the earnings pose a question of just how much of a profit Tesla made on its vehicles alone, sans other fiscal deductions and credits. On the last few days of the quarter, CEO Elon Musk tweeted that the company was "close" to being profitable for the quarter and was relying on a strong push to bring the automaker into the black.