This GT2 RS launch sure has been a slow burn, right? The car was first seen in the 'flesh' back at E3 in Los Angeles, but Porsche wouldn't officially admit that it existed. They've been teasing us for months with unrestricted Nurburgring test runs, teasers of the car in other videos, and a general clickbait-esque air of "you'll never believe what's coming next". We totally believed it, because we'd seen it, and now it's been officially unveiled as part of Porsche's display at the Goodwood Festival of Speed. This is the halo car for Porsche's 911 lineup, a super performance turbocharged devil of a car, capable of more than anything else Porsche has ever built. We wouldn't be surprised if this car is capable of 918 Spyder-level lap times. We'll have to wait and see what Porsche claims its Nurburgring time is, not that it really matters. In any case, Porsche is calling this the "fastest and most powerful street-legal 911 model ever", which means it had better be good. 
Here's the important stuff you really need to know, then we'll dive into the nitty gritty. 
0-60 in 2.8 seconds. 
211 miles per hour top speed. 
700 Horsepower, 553 ft-lb of torque.
The engine - 
The direct fuel injected 3.8-liter engine is sourced from the 911 Turbo S model but has been fitted with larger turbochargers to produce a whole lot more power. The new intercoolers feature a water sprayer system to reduce intake charge temperatures during peak load. The exhaust system has also been specially crafted of titanium to drop over 15 pounds of weight from the back of the car, and "deliver a particularly emotional sound". 
The transmission - 
As expected, the GT2 RS will only be offered with a 7-speed PDK dual clutch transmission. 
The chassis -
Porsche
Porsche has engineered in exceptional grip, thanks to a motorsport-oriented chassis, specially engineered sticky tires, and rear wheel steering. The large, wide wheels with 265/35 ZR 20 tires at the front and 325/30 ZR 21 tires at the rear help ensure outstanding braking and cornering potential. The stability management system has been tuned for spirited driving. PCCB carbon brakes are standard, obviously. Of course, the chassis has been lightened with extensive use of carbon fiber, including the front lid, the front fenders, the air intakes, the rear wing element, and the exterior mirrors, to name a few. The standard roof is made from magnesium to lower the car's center of gravity (though a carbon roof can be optioned with the Weissach package. More on that in a second.). The GT2 RS, like the GT3 RS, features a large rear wing, huge air intakes on the rear quarter panels, NACA ducts on the front lid, and much more. 
The interior -
Porsche
The standard interior features red Alcantara, black leather, and carbon fiber trim. A flat-bottom Sport steering wheel with PDK shift paddles is also standard. Full carbon-reinforced bucket seats offer a high level of comfort and lateral support. The center stack PCM serves as the central control unit for audio, navigation, and communication. Porsche also mentions that "Porsche Connect Plus and the Porsche Track Precision app are also included as standard, enabling detailed recording, display, and analysis of driving data on a smartphone".
There is an optional "Chrono Package" that expands the PCM's functions to include a performance data display, which can be used to evaluate lap times at certain tracks. As usual, this package also includes a stopwatch on the dashboard. For the first time Porsche has included a "lap trigger" device, which works in conjunction with the infrared timing transmitter at the side of the track. The lap trigger receiver will allow drivers to record lap times with higher precision. Porsche is nothing without precision, right?
The Weissach Package - 
For a massive $31,000 bill, Porsche will reduce the weight of your 911 GT2 RS by 'nearly 40 pounds'. This package includes magnesium wheels (good for over 25 pounds of unsprung weight loss), a carbon fiber roof, carbon fiber anti-roll bars, and end links. With the Weissach package, your front lid and roof panel are left in bare carbon with just a central stripe painted on them.  
The watch -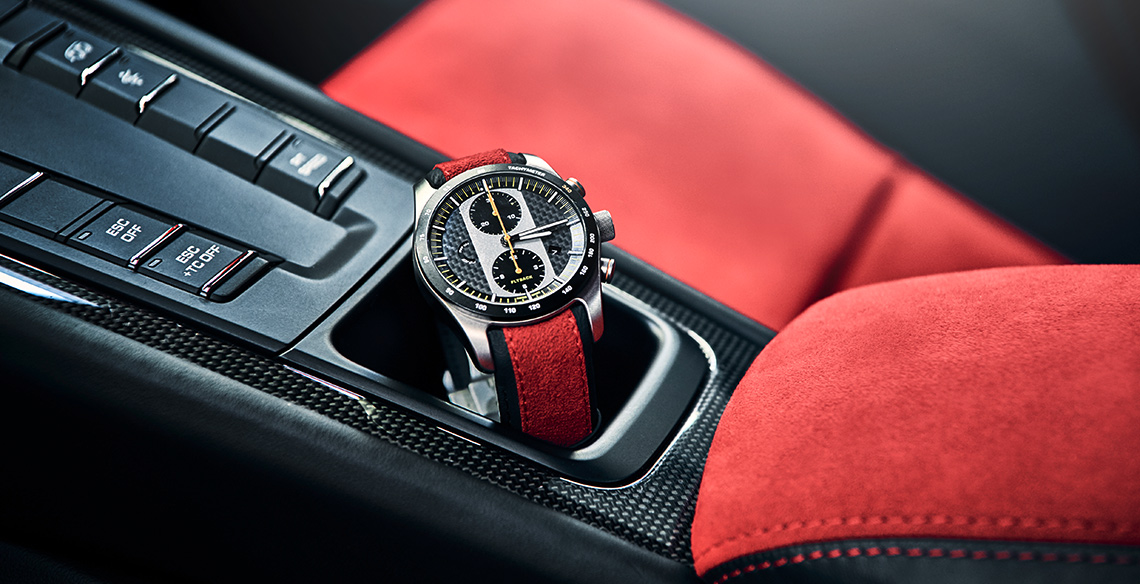 Porsche
Porsche Design is offering an optional watch to GT2 RS buyers. This watch includes Porsche Design's first in-house developed chronograph watch movement, which they've been working on for three years. The case is crafted of lightweight titanium. No word yet on how much extra this watch option will cost GT2 RS owners.
Pricing and availability -
The 2018 Porsche 911 GT2 RS model is available to order with a base MSRP of $293,200, excluding the $1,050 delivery, processing, and handling fee. It will reach U.S. dealers in early 2018.
For more information, check out Porsche's full press release here.