Lemons of Love, a non-profit organization, is giving away a chance to win a brand-new Mazda MX-5 Cup Car to one lucky winner in exchange for a $100 raffle ticket. 
The Illinois-based 501(c)(3) was founded by Jill Swanson, a lifelong member of the motorsports community and owner of the F.A.S.T. company, which manufactures cool suits and racing ventilation systems for racing drivers. More importantly, Swanson is a survivor of stage III colon cancer.
In 2014, Swanson found herself surrounded by other chemotherapy patients while undergoing treatment, and that's when she decided to make the best out of a tough situation and began bringing gifts to her fellow patients at the oncology center. The idea for Lemons of Love came from the popular expression: "When life gives you lemons, make lemonade," which she then modified into, "When life gives you lemons, laugh out loud." As a result, Swanson and her charity organization have distributed more than 6,800 "LOL" bags to cancer patients since 2014.

Lemons of Love Mazda Global MX-5 Cup Car., Lemons of Love
"The motorsports community – and especially the Mazda community – has really helped to sustain and grow Lemons of Love, starting back when I was undergoing treatment. Our hope with raffling off the MX-5 is to bring additional awareness to Lemons of Love, but also to provide the opportunity for someone to become involved in Global MX-5 Cup who may not have the opportunity. Much like with racing, the only way you don't have a chance to win is if you don't show up – last year the person who won the raffle last year only bought a single ticket!" Jill Swanson told The Drive.
The LOL bags include items that Swanson found essential during her own treatments, including body lotion for dry chemo skin, lemon drops to aid with the metallic taste the chemotherapy leaves behind, dark chocolate acai to provide fiber and anti-oxidants, water, superhero socks, and even a "happy" picture drawn by a child. All in all, these items are designed to put a smile on patients' faces.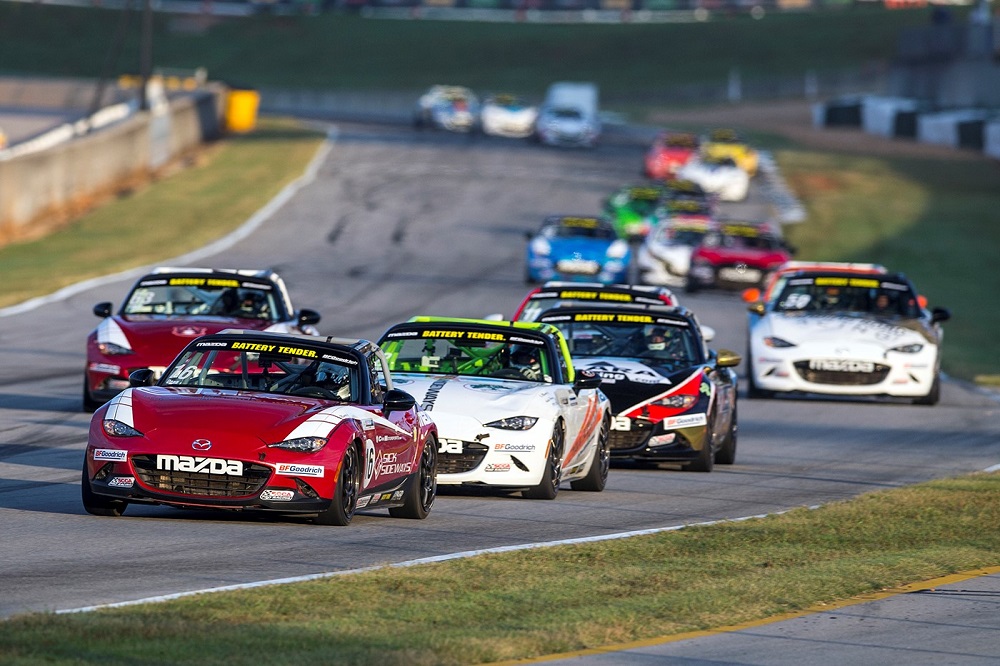 Mazda Global MX-5 Cup at Road Atlanta in Braselton, Georgia., Mazda
"For the last 5 years, our Mazda Drive for Good initiative has provided more than $18 million in financial support and more than 263,000 employee service hours to make a positive impact across North America. When we encounter like-minded organizations, like Lemons of Love, we are certainly interested in working together when our goals align. What Jill and Lemons of Love have done to lift people's spirits is remarkable. And, to link it up with the Global MX-5 Cup car give-a-way ties directly with our overall brand and motorsports strategy. We are proud of our Lemons of Love relationship and look forward to continuing to work with Jill and her team." John Doonan, Director of Mazda Motorsports told The Drive.
The race car at stake participates in the Global MX-5 Cup, which in 2018 will host 12 races at six premier road racing venues ranging from the season opener at the world-class Circuit of The Americas in Austin, Texas, to the iconic Road America in Elkhart Lake, Wisconsin. The winning ticket will be drawn on Saturday, March 17 at the 12 Hours of Sebring by Doonan.
Aspiring racers can buy into the raffle for a chance to win the MX-5 Cup Car by visiting the Lemons of Love website.