Renaissance man of racing Robby Gordon has always been known to flout a local traffic rule or two in putting on a good show. Unfortunately, that penchant for pushing the limits has finally come back to haunt the Stadium Super Truck series owner after an Australian judge threw the book at him and the country's motorsport governing body handed down an indefinite racing ban over a particularly public display of hooning this weekend. We hope those donuts were tasty, Robby.
Gordon, who's raced in everything from NASCAR to Baja to IndyCar to Dakar, was apparently in a fine mood on Saturday night after taking second place in the weekend's Stadium Super Truck race and decided to celebrate in downtown Darwin, Australia. The competition took place at nearby Hidden Valley Raceway, but with one of Gordon's trucks parked outside a bar on Darwin's main drag as part of a promotional appearance, the veteran off-roader couldn't resist climbing behind the wheel for a few quick, smokey spins.
"We had a truck on display, I asked the two security guards, 'Hey, you think I could flip a couple of doughies?' They said, 'I don't care'," Gordon said, according to ABC. "I think I did two doughnuts, maybe at speed—not to make excuses, but maybe less than 5 kilometres an hour. Obviously the wheels were faster than that, but I did two doughnuts and put it back on the trailer."
None of those excuses flew with Judge Richard Coats, who reprimanded Gordon in court yesterday after police reviewed videos of the stunt, impounded the truck, and charged him with a whole slew of offenses from "driving an unregistered and uninsured motor vehicle" to "driving a vehicle causing loss of traction." Australia invented the phrase hooning, but in recent years authorities have really cracked down on vehicular shenanigans in the country—Ken Block was forced to abandon plans to shoot Gymkhana 9 in Sydney last year after officials refused to grant necessary permits. 
Following in that unfortunate new tradition, the judge suspended Gordon's local driver license, fined him over $4,000 AUD, and threatened him with jail for any future repeat offenses. More importantly, he expressed hope that motorsport officials would step in and revoke Gordon's racing license, laying the groundwork for what came next: an indefinite ban from the Confederation of Australian Motorsport on "competition visas," meaning the American effectively can't race professionally in the country until the decision is reversed.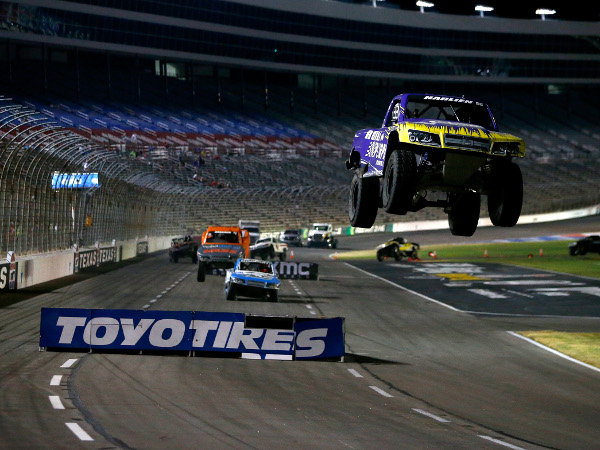 Getty Images
That's an extremely harsh punishment, but Gordon's been testing officials at CAMS for months now. Speedcafe.com reports that CAMS had previously fined him $1,800 AUD earlier this year over other unspecified "breaches" of safety regulations, and Gordon was allegedly forced to apologize after publicly burning the paperwork in a show of defiance. Stadium Super Trucks—now called Speed Energy Formula Off-Road—is incredibly popular in Australia, and as both the series' owner and one its most well-known drivers, it's not clear what impact Gordon's ban will have on future races in the country.
For his part, like always, Gordon seems to be taking it all in stride. When asked about the punishment, Gordon told ABC he's "good with that" if that's what the judge believes is fair, and noted that he's not worried about the incident affecting either him or any other Stadium Super Truck races outside Australia because "I own the series, [and] we make the rules."
"I've done stuff like this probably 200 or 300 times over my career," Gordon told reporters outside the courthouse "Heck; some cities promote it... It is what it is, and if we come back next year, obviously no donuts on Mitchell Street."