Yeah, we know this is probably fake, somehow, but it's just so damn good we had to share it. A woman in Billings, Montana appears to be trying to dump her husband's 2009 Chevrolet Corvette ZR1 for pennies on the dollar—because her husband apparently slept with her sister.
According to the Craigslist ad, posted on the evening of April 25, someone who goes by "Rachel" is kicking off the bidding for her husband's ZR1 at $1,000. She claims the title of the car is in her name, thus giving her the legal right to sell the car to whomever ponies up the most. Which will probably teach her husband a lesson about trying to commit tax fraud by registering cars in his wife's name...on top of the larger lesson about getting busy with his wife's sister.
There is one caveat, though. She's asking the buyer to come by with cash by Saturday at the latest, as she wants the car gone before her husband gets back into town on Sunday. Still, with C6-generation Corvette ZR1s going for roughly $60,000–$80,000 on eBay Motors these days, it's totally worth dropping a few hundred bucks on a one-way flight to Montana to score the deal of the century on a 621-horsepower super-Vette.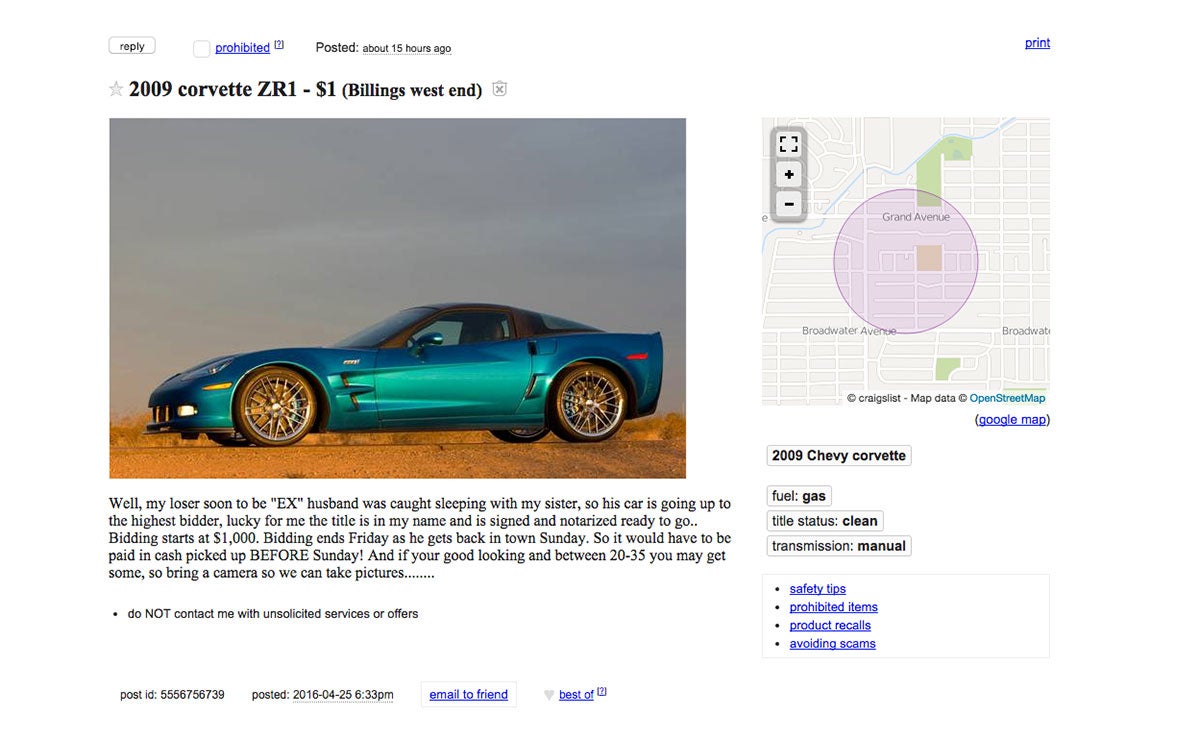 Besides, you might even get laid in the process. The ad tapers out with a teasing, grammatically-incorrect come-on: "And if your [sic] good looking and between 20-35 you may get some, so bring a camera so we can take pictures...."
Unfortunately, the ad does not make clear how many miles there are on the Corvette. (Or "Rachel," for that matter.) The Drive reached out to the poster for comment, but did not hear back at the time of publication. We'll keep you updated if we learn any new information, or if Rachel sends us a picture of herself posed on the Corvette's hood like Tawny Kitaen.