There's a hierarchy in Nissan Skyline fandom and it seems everybody wants a goddamn R34. Or an R32. The rest, though? The internet collectively straight up ignores them. Internet kids are too busy living their best Gran Turismo 3 and Tokyo Extreme Racer life, using their Dualshock 2s to take the Calsonic R34 to 230 mph at Brands Hatch.

That stuff was definitely cool to me too… when I was eleven. I'm older now, and I like more cars. Different cars. Better cars. OK, the Nissan Skyline R34 GT-R is still a dream car of mine even if I'm being a contrarian chowder head, still, there are other cars out there to pine for. Hell, even other Skylines are worth your time!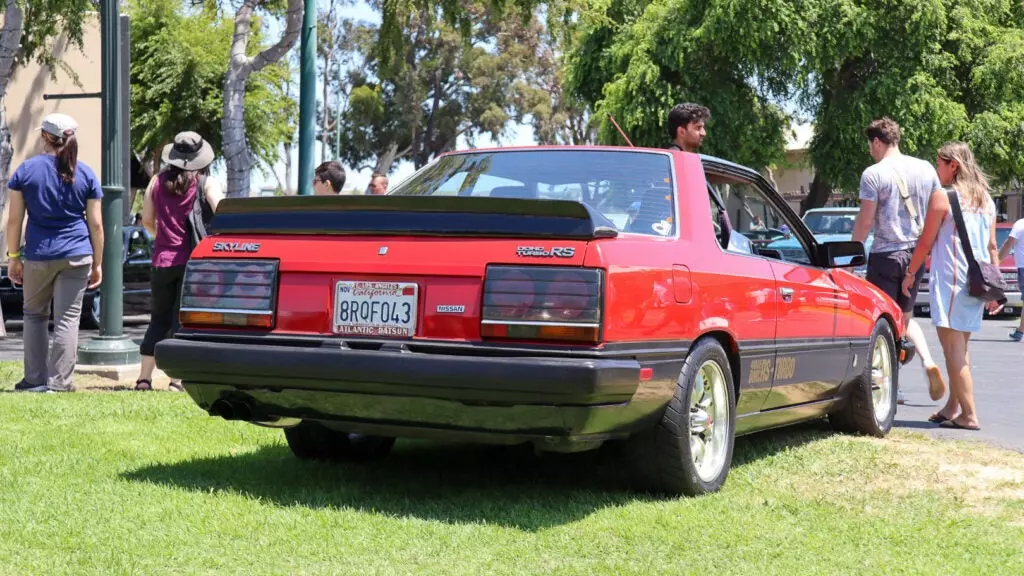 While at Radwood NorCal, I took pictures of this Nissan Skyline GT-R. Well, technically, Nissan Skyline RS-Turbo.
Car: Nissan Skyline RS-Turbo
Location: San Fransisco
Photog: me (Kevin Williams)
Camera: Canon EOS M
This car is sort of a precursor to the hyper-powered GT-R that's on sale today. The RS-Turbo's powerplant comes from a 2.0-liter straight six. No ATTESSA AWD system, just all those ponies, going straight to the rear wheels. It's a popular, collectible car, no doubt — but at least here in the United States, it's overshadowed by its Fast and Furious-era R34 cousin.
The Nissan Skyline RS-Turbo is a quintessentially Radwood car. Late 1980s boxy styling? Check. Pillarless coupe design? Uh-huh, got it. The two-tone red and brown paint job with gold accents? Yep, that's straight out of the Rad era? The clear proto-Toyota Altezza rear lights? Yep, check. Hell, it feels like every time I look at the rear of the car, my mind automatically adds a Fox-body Mustang-esque rear window louvers.
I wonder what life would have been like if Nissan had offered the Skyline in the U.S. in place of the Maxima or 240SX. Would they still be as revered as they are now?