There's no telling when the next generation of Subaru WRX will take the stage, we've heard rumors, whispers, and all sorts of soothsayings that have all come and gone. But when it finally does, and it will, its face may already look familiar to people who've cast their gaze on the Subaru revealed at Tokyo Auto Salon 2020: The Levorg Prototype STI Sport.
This Levorg concept also offers our first glimpse of how Subaru's STI models could look in the 2020s, and could foreshadow the new WRX's styling. Don't expect the next WRX to look like a downsized Levorg, though—rumor has it that the upcoming WRX could be produced as a coupe for the first time since the legendary 22B. That's not to say Subaru couldn't offer it in a variety of body styles, but if we had the choice, we'd take the coupe nine times out of ten.
If you aren't a vape enthusiast Subaru fanatic, you may have not heard of the Levorg, so have a primer. Simply put, it's a Legacy-based station wagon with a greater emphasis on tarmac performance than the mildly ruggedized Outback. With up to 291 horsepower and 295 pound-feet of torque in the outgoing model, Subaru isn't overselling the Levorg when it describes it as a grand touring wagon. This should give markets where the Levorg is sold (Europe and Japan) high hopes for the new model, which will be powered by a new, turbocharged 1.8-liter engine, presumably a Subaru-signature "Boxer" flat-four.
Should the Levorg Prototype STI Sport reach production, this powertrain will pair nicely with the model's multitude of drive modes, which will alter throttle, steering, and suspension response. The third of these will be managed via electronically controlled shock absorbers, a first for Subaru, though we doubt it'll be the technology's only implementation. Fine control of damping rates is of the utmost importance for performance cars, and if Subaru's toying with the idea of using the tech on a wagon, it seems certain that they'd consider including it on the more sport-oriented WRX (and STI variant thereof).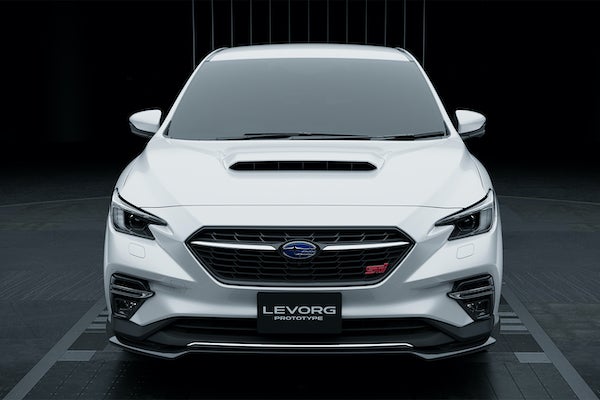 Subaru Levorg Prototype STI Sport, Subaru
Come on Subaru, get with it and debut the new WRX and WRX STI already. We've been waiting patiently but we're getting really antsy. Get on it. 
Got a tip? Send us a note: [email protected]