In June of this year, Tesla confirmed that it became the first manufacturer to have sold over 200,000 electric cars, and warned potential buyers that their time was running out to receive the full $7,500 federal tax credit. Friday, Tesla has added a disclaimer to its vehicle configuration page that informs new buyers of the last day an order can be placed to guarantee delivery and full tax incentives before the end of the year.
It appears that Oct. 15 is the final day to purchase a customized Tesla vehicle if you want it in 2018, according to the disclaimer that appears on Tesla's configurator. The date is the same for all Model 3, Model S, and Model X vehicles in order to guarantee delivery by the end of the year.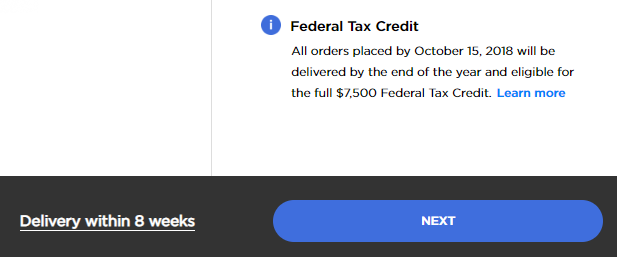 A disclaimer on Tesla's vehicle configurator page shows the delivery guarantee and tax credit warning., Tesla
Tesla is allowing for some wiggle-room in its delivery window, as it has struggled with delivery logistics in the past. Despite the Model 3 being quoted for an 8-week delivery time, which would be the first week of December, the vehicle must be ordered within the next three days in order for the delivery date to be guaranteed.
The 200,000 car-limit is the product of the original program which provided a $7,500 incentive for early-adopters of new electric cars. Owners who take delivery before the end of the calendar year will be eligible for the full $7,500 credit. Afterward, the limit will be halved to $3,750 for deliveries by the end of June before being halved once again, this time to $1,875 until the end of 2019 when it will be entirety diminished. Currently, the $7,500 tax credit represents 15 percent of the purchase price of a new Model 3.
Unfortunately, it seems that owners holding out for the long-awaited $35,000 Model 3 will not be able to receive the federal tax credit. The full credit made the effective cost of the standard battery Model 3 under $30,000, making the car even less expensive than the Chevy Bolt EV. As of now, only the long-range battery model is available for purchase and costs $49,000.
It is currently unknown how this tax credit will affect the sales of the Model 3, however, it is important to note that the phase-out of the tax credit effectively removes the federal incentive to purchase an electric car only from Tesla. This has been regarded as controversial, especially since two other domestic automakers are in the running for tax credit elimination in the near future. Respectively following Tesla for the phaseout is GM, Nissan, Ford, Toyota, and BMW, though the only automaker that is remotely close to joining Tesla in crossing the threshold during 2018 is GM.