Automobili Pininfarina is Mahindra's relatively new luxury EV venture headquartered in Germany. Yet the company's design and engineering teams are still based in Torino, maintaining a very close relationship with the traditional Italian design firm and coachbuilder Pininfarina SpA. While Automobili Pininfarina is a 100 percent the subsidiary of the Mahindra Group, the Indian conglomerate is also the major shareholder of Pininfarina SpA since 2015.
The Battista hypercar, which costs up to $2.8 million in Anniversario edition form is a joint project, meaning that both design and engineering briefs are held at Pininfarina SpA's Cambiano headquarters. What's more, the Battista will be hand-built in a dedicated space right there in Italy. However, while named after the Pininfarina founder Battista "Pinin" Farina, the backbone of Italy's first high-performance electric two-seater actually originates from Croatia. Automobili Pininfarina paid $91 million to Rimac Automobili for the C_Two's all-carbon chassis and 1914-horsepower quad-motor EV tech.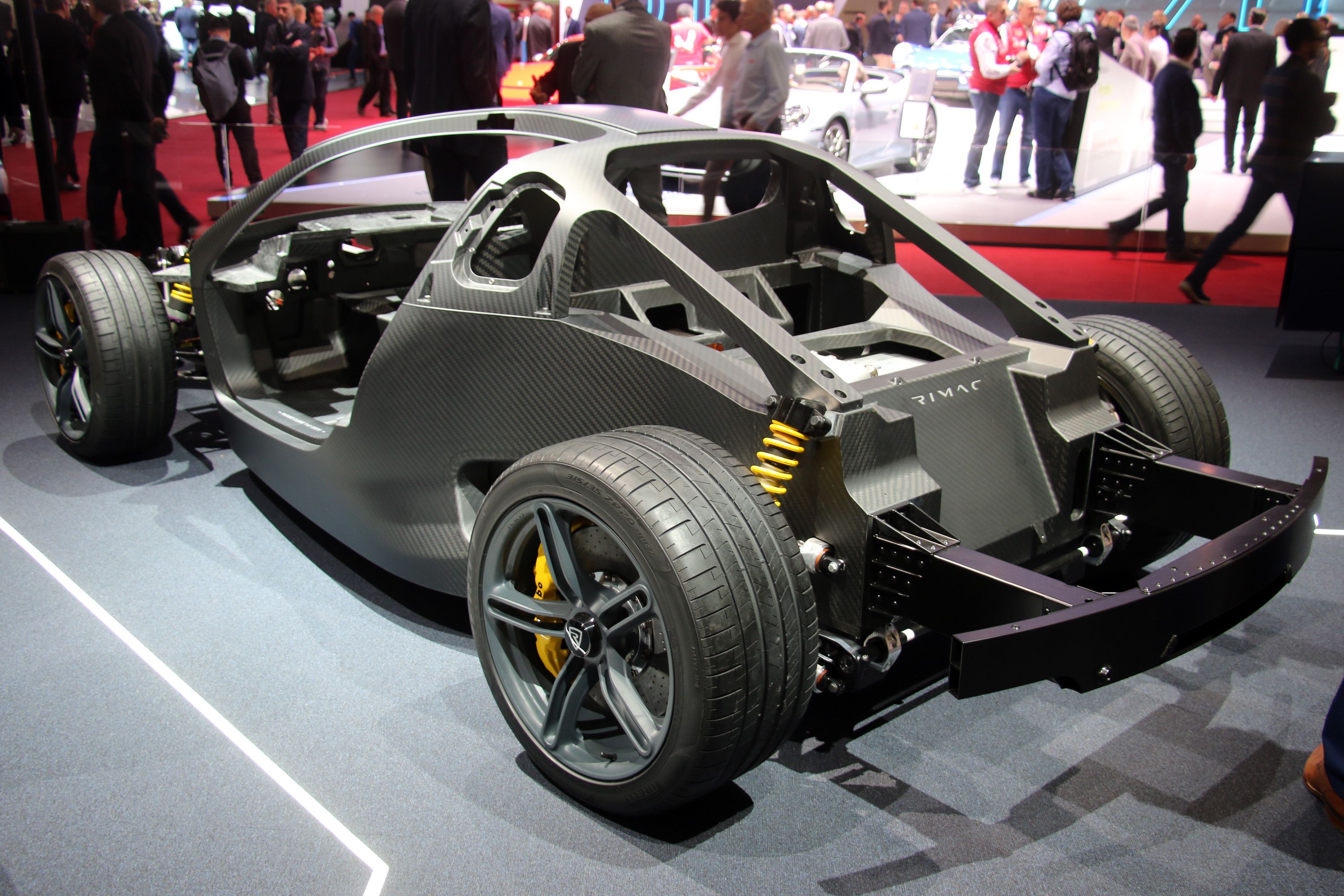 Rimac C_Two rolling chassis, Máté Petrány
Fitting the C_Two's hardware with a new body and interior still requires plenty of work from Pininfarina's side, a team which has already optimized its initial concept design to make the production Battista more aerodynamic. It's also unclear how much they intend to change in terms of chassis tuning and drivetrain calibration compared to Rimac's setup, yet the core specs remain pretty much the same for both EVs.
Just like the Rimac C_Two, the Pininfarina Battista promises a zero-to-62 time of under 2 seconds, roughly 1,900 horsepower (with Rimac being more exact at 1,914), 1,696 pound-feet of peak torque, and a range of 310 miles thanks to a T-shaped 120 kWh lithium-manganese-nickel battery pack.
With both the Rimac and the Pininfarina units limited to 150 units each, the world will see a total of 300 such hyper EVs hit the road. Each will sport independent torque vectoring on all four wheels, 390mm carbon-ceramic (CCMR) Brembo brakes with six-piston floating calipers and ultra-efficient energy recuperation, as well as active aerodynamics.
Automobili Pininfarina is now long past assembling its first driving Battista prototypes, with the cars completing their dynamic evaluation programs as we speak.
Pininfarina's chief product and engineering officer Paolo Dellacha talks about the design and performance of the car for over eight minutes in the video below—while using the pronoun "we" very liberally indeed.
Got a tip? Send us a note: [email protected]