A decade ago, the Audi S5 entered the scene like a 1930s gangster. It was suave and sharply tailored, with the naughty charm of a 40-valve V8 that punched in at 3,500 rpm and tingled the spine all the way to 7,000.
Style, bluster, plus an available six-speed manual, a compliant-but-sturdy ride, and a hypermodern bachelor-pad interior made the S5 a favorite among young professionals earning—and aging—out of Subarus, or older A4s.
If that first, double-breasted S5 was George Raft in Each Dawn I Die, then the 2018 model is George Boole, the 18th-century polymath who combined numbers and philosophy into the logic that gave us the information age. Indeed, while the S5's urbane, grand-touring spirit lives on, it's now in a more intelligent, discreet, and grown-up guise.
That's not to say the new model's a snoozer. With 369 lb-ft of torque from 1,370 rpm, the S5's new, 3.0-liter twin-scroll, single-turbocharged V6 carries a slingshot punch neither the V8, nor the supercharged V6 that replaced it in 2013, could equal. Horsepower peaks at 354, or 21 more (and 44 more lb-ft) than its blown predecessor. Throttle response is acute, particularly for a boosted powerplant, and Audi says reaching 60 mph from a standstill takes 4.4 seconds. Plant the pedal and a silky wave of torque washes over, belying the intricate clockworks lurking underhood.
A Polymath's Engine
The new turbo-six benefits from the now common "hot V" setup: the turbine, fed by reverse-flow headers, nestles into the maw between the heads, with each scroll serving a separate bank of cylinders. Engine nerds will note a variable cam on the intake side, which allows the V6 to mimic a Miller-cycle engine by leaving the intake valve open an extra beat at heavy load—such that the expansion phase exceeds the compression phase—to maximize output derived from each fuel-air mixture.
That hardware sits atop a closed-deck aluminum block with bonded cast-iron sleeves, not plasma-coated bores. In all, the engine weighs around 30 pounds less than the previous S5's supercharged V6. Better still, it delivers its drone-free baritone purely by exhaust valving. There's no attempt at aural bragging rights here, but no lip-synching to an electronic synthesizer, either.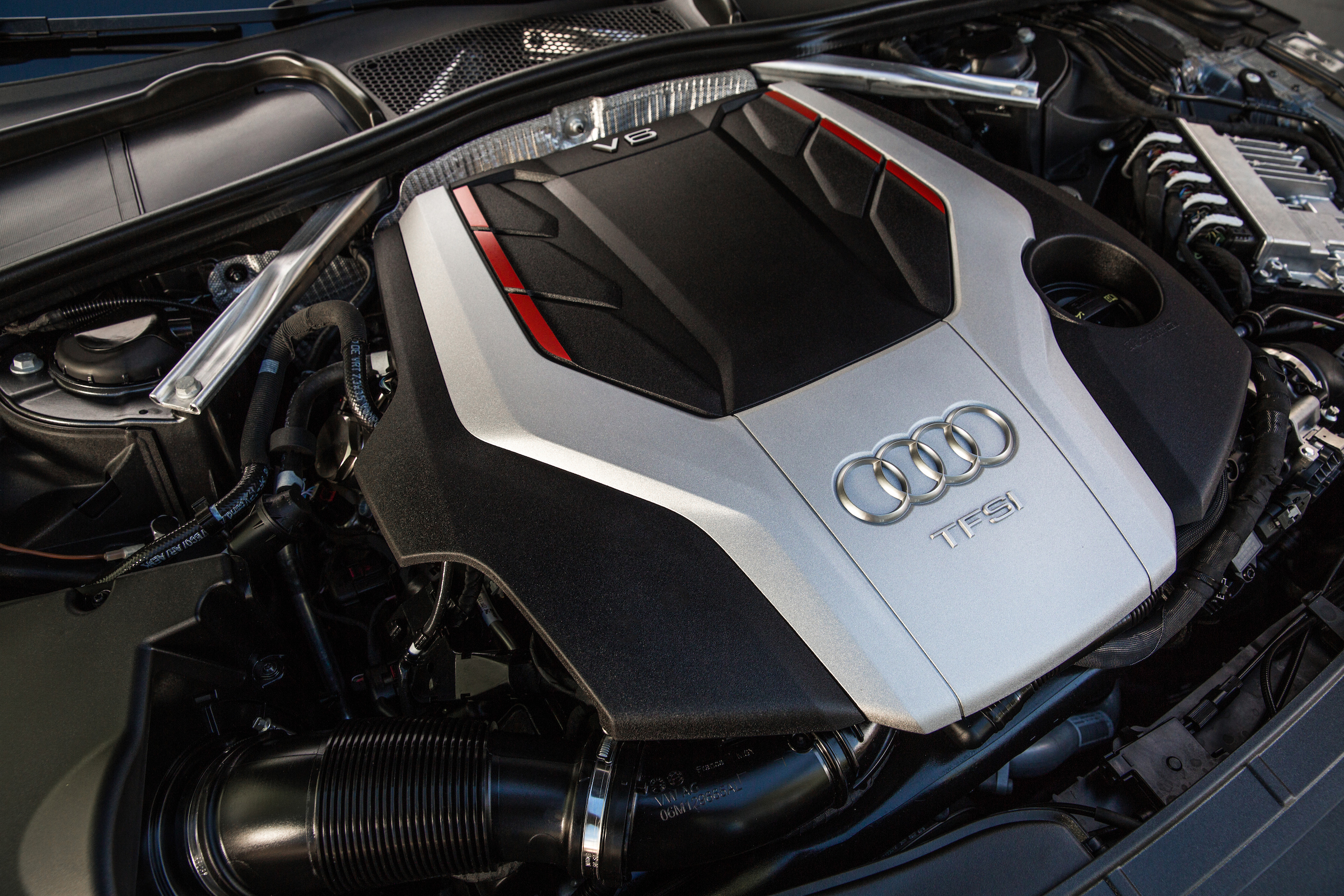 If only you could see what's underneath that engine cover., Audi AG
For the '18 model update, Audi replaced the S5's previous seven-speed S-Tronic dual-clutch transmission (still available on the A5) with a ZF-derived eight-speed Tiptronic. Reps say the automatic is well suited to the turbo's new, lower-end torque curve, and that S5 buyers tend to prefer its smooth power delivery over the harder-edged dual-clutch box. That may be true, but it's no secret that a torque-converter system is also more appropriate for when our autonomous overlords take the controls.
Cold comfort to the sports-car crowd, but this is the best autobox in the business. With Audi's software on top, the Tiptronic is quick-acting and precise, if less urgent in manual mode than the S-Tronic was. Needless to say, the A5's stick-shift manual isn't available on the S5, sacrificed to the gods of low market demand.
Over the Desert and Through The Woods
The foothills above Palm Desert, California, typically russet-colored and scrubby, sparkle in the bronze light of early spring like a packet of emeralds. Winter rains have super-greened California's Santa Rosa and San Jacinto Mountains, and despite the southwest winds that will soon gust to hurricane force through the Coachella Valley, it's a good day for a drive.
As the scene morphs from arid shrubland to pine forest, the S5 stomps across the landscape with the speed and sure-footedness of a Star Wars podracer. Suspension damping, among the S5's best traits, is road-car perfect. With its active system, Audi's achieved stellar ride quality, even in the stiffest "Dynamic" mode, without sacrificing wheel-locating precision or introducing excess lolling.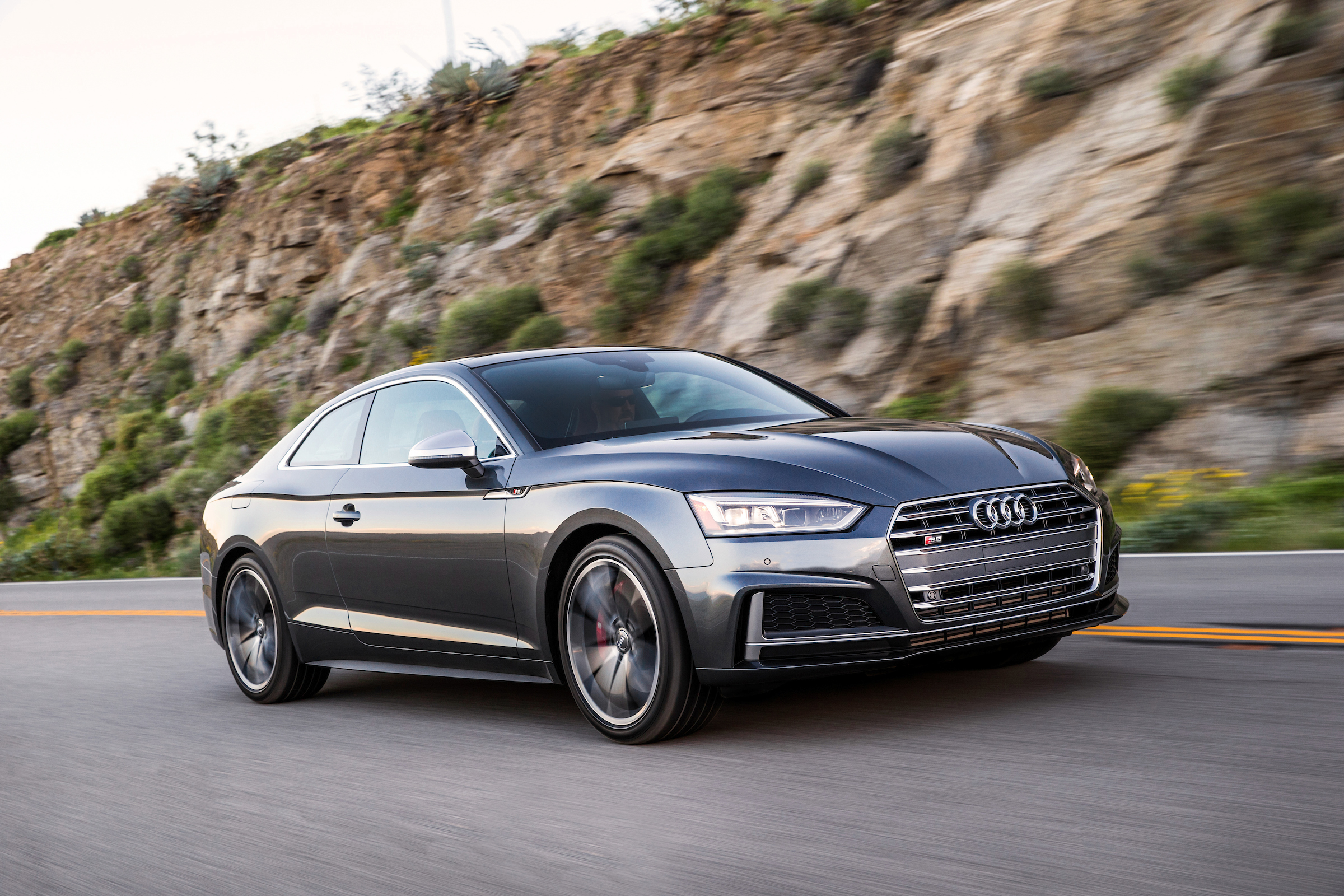 California rains have "greened up" the arid Coachella Valley., Audi AG
In fact, the only time I futzed around with the driver adjustment modes—which also include Normal and Comfort presets—was to choose "Individual." Along the switchbacks of Route 74 and the faster stretches that wended southwest toward the foothills of Palomar Mountain, the S5 responded best with throttle, gearbox, and steering set in its most aggressive "Dynamic" mode, and the dampers set in "Comfort." The compliant suspension helped the S5 take a set in corners and hold on before launching out of fast bends at full throttle like an F4 Phantom.
In slower corners, those early-on, mash-the-throttle-midcorner odysseys came courtesy of Audi's new electronic differential. The sensors-and-software-actuated clutch packs, and their torque-vectoring ways, helped the S5 rotate despite the engine weight cantilevered over the front axle like a cliff house from Sunset magazine. Nose-heaviness has been Audi's version of the Porsche 911's physics-defying rear-engine narrative, and engineers have gotten pretty adept at using modern tech to create balance where none should be.
A rejiggering of the front, five-link suspension using lighter parts, plus continued refinement of the electronic steering-boost calibration, gives the S5 a precise tiller. The variable-ratio option feels more seamless and less artificial than previous iterations. Brakes continue to be strong and willing, perhaps the most overbuilt in a class that, since the S5 first turned heads back in 2006, has expanded to include the Mercedes-Benz C43 AMG, BMW 440i M Sport package, Infiniti Q60 Sport AWD, Lexus RC 350 F Sport AWD and the Cadillac ATS Premium Performance package.
Inside the Tech Inside
A 12.3-inch TFT dash interface, running at 60 frames per second—via an NVIDIA quad-core processor—headlines the S5's cockpit tech. Google Earth navigation maps render crisply, and in-and-out zooms are quick and seamless. Three viewing modes, Classic, Infotainment, and Sport, edit the split display into usable groupings. Audi's focus on clarity and simplicity set it off here against the more avant-garde displays from (mostly Japanese) competitors.
Side note: After high winds blew down trees along Palm Spring's main drag, caused traffic delays, I turned to Audi's Traffic Jam assist for, you know, assistance. The system uses radar and ultrasound sensors, plus the front camera, to guide a semi-autonomous takeover of the controls, following street markers and other traffic during heavy volume. It's uncomplicated to use, and a clever and accurate piece of early self-driving gear. Even variables in stop-and-go speeds couldn't foul it up. It reduced stress better than a two-screwdriver tennis lunch with Ann Sheridan at the Desert Inn, circa 1939.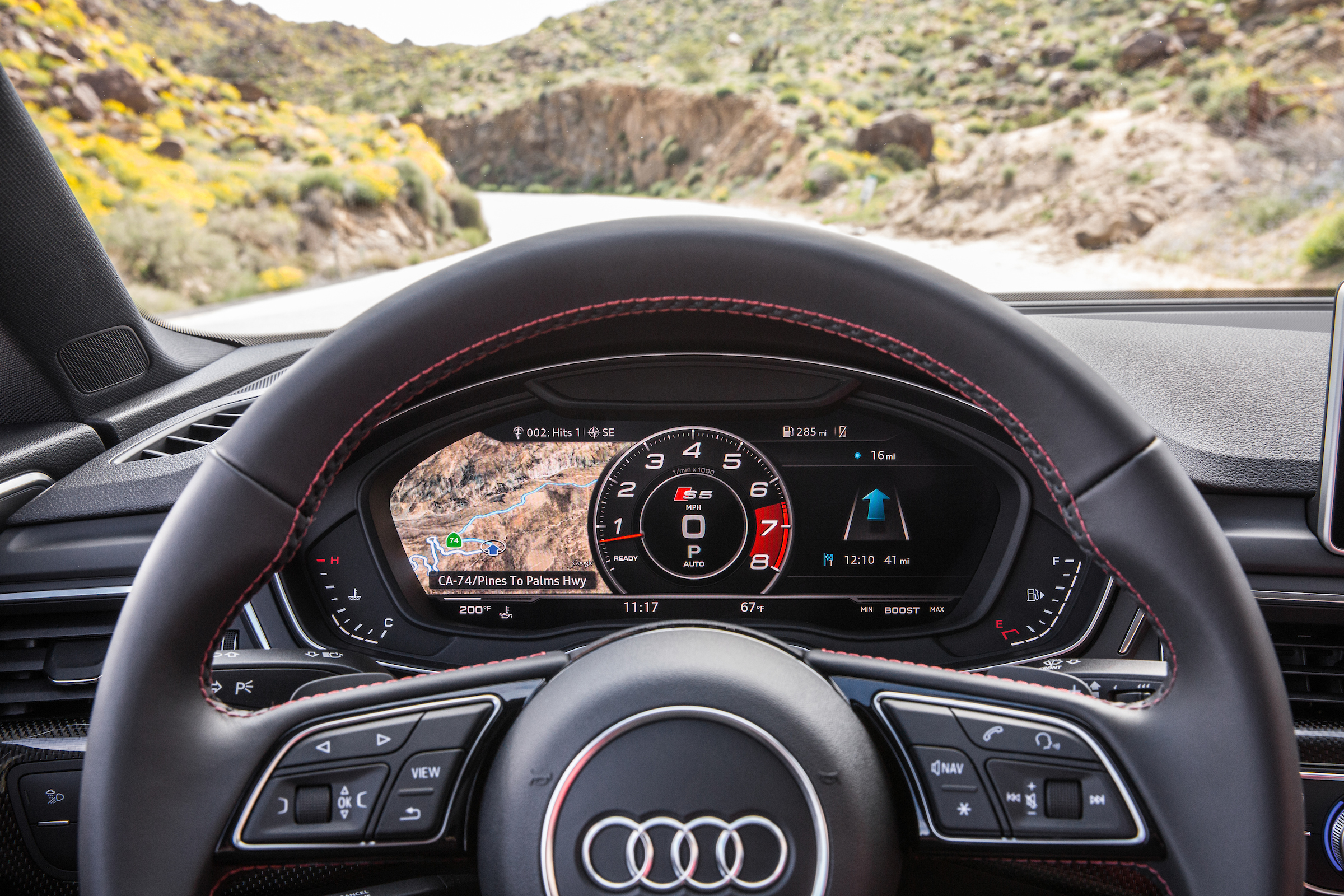 The Audi S5 interior is still a space-age bachelor pad, with more tech swing., Audi AG
Design About Face
The S5's interior is suitably stunning, with comfortable, supportive seats, supple leather, and attractive diamond-stitched coverings. Audi has lost zero ground in interior design, lo this past decade, and continues to deliver on a promise of smart layouts and exceptional materials quality, even while the competition continues to up their respective inside games.
The outside is where things get interesting. While the earlier A5/S5 styling achieved its taut look by employing straight cut lines to break up gentle contours, the new model has rounder through-lines that compliment, rather than counterpoint, the larger curves of fenders and rear quarters. Clever surface facets ahead of the A pillar mask some of the soft shapes that have helped the S5/A5 reduce its frontal area, in part to achieve a slippery drag coefficient of 0.25 while also meeting pedestrian safety requirements. But as some competitors, Lexus and Infiniti in particular, have taken their coupes into more daring design territory, it's clear Audi's staked out the other direction. The overall effect is more conventional, which may attract luxury buyers turned off by modern flash. Time will tell whether that gambit pays out, and if the new S5's reputation will be viewed as timeless, or traditionalistic.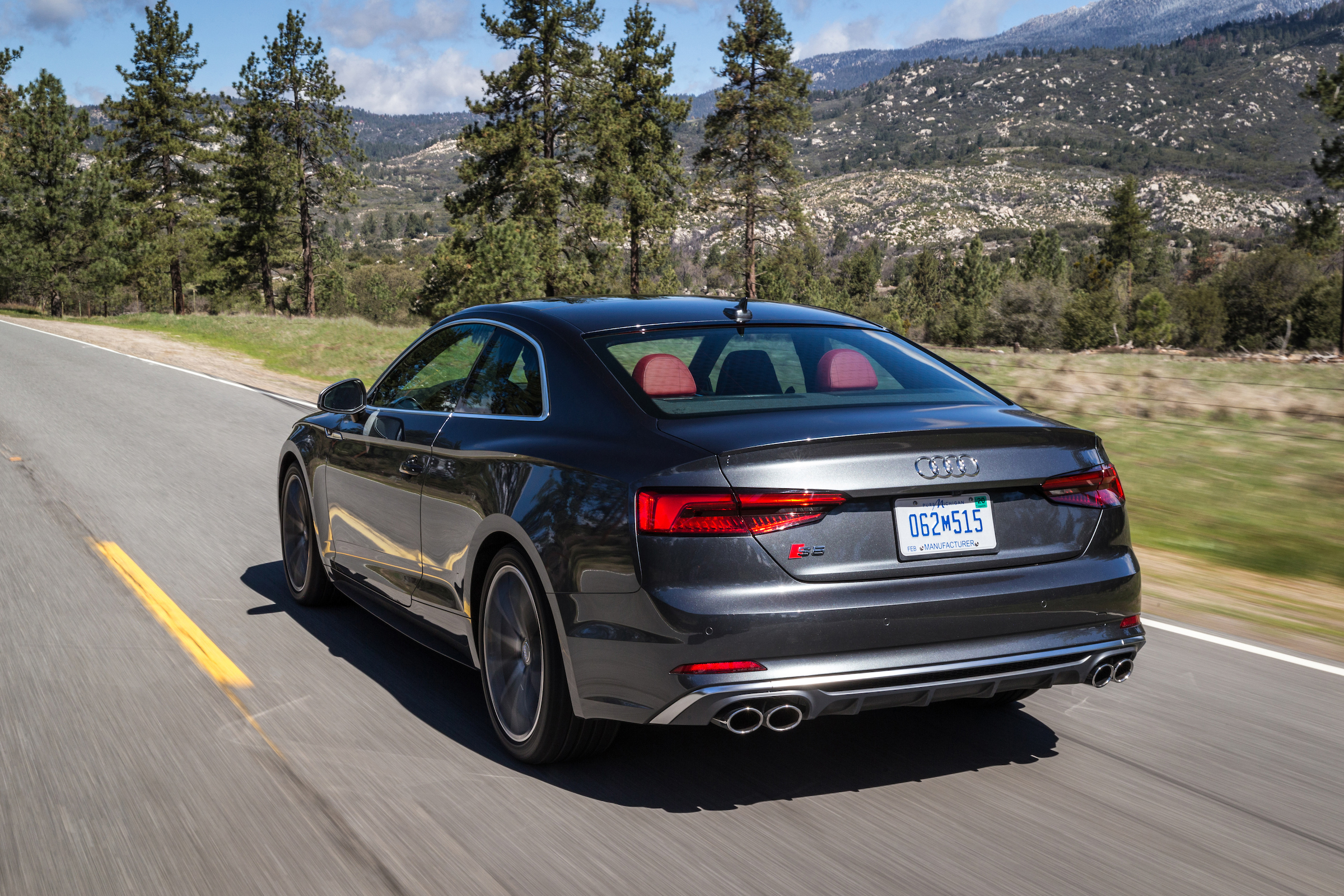 Will more conventional styling bring in luxury buyers?, Audi AG
Mike Spinelli,The Autance's executive producer of video, keeps watch over a 2002 Jaguar XJR 100 and a neglected Toyota MR2 Spyder, which really needs some TLC. Maybe this spring.